Alwar
Urban in Rajasthan, India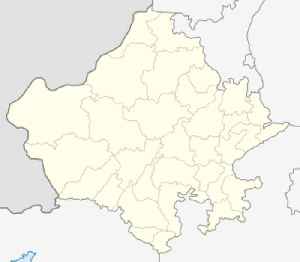 Alwar located 150 km south of Delhi and 150 km north of Jaipur, is a city in India's National Capital Region and the administrative headquarters of Alwar District in the state of Rajasthan. Alwar is a hub of tourism with several forts, lakes, heritage havelis and nature reserves, including the Bhangarh Fort, the Sariska Tiger Reserve and Siliserh lake.


Chargesheet filed against 6 accused in Alwar gangrape case
Police on Saturday filed a chargesheet against the accused in the Alwar gang-rape case in a court here.
DNA - Published
Rahul Gandhi meets Alwar gang-rape victim, promises justice
Gandhi was accompanied by Chief Minister Ashok Gehlot, deputy CM Sachin Pilot and Congress national general secretary Avinash Pandey.
DNA - Published
Also reported by •IndiaTimes
Ahead of Rahul's Alwar visit, Congress says rape victims denied justice in BJP-ruled UP, J&K
Facing flak over allegations that the Congress government in Rajasthan tried to hush up the rape of a Dalit woman, a combative Congress attempted to turn the tables on its saffron opponents and said..
IndiaTimes - Published
Alwar gang rape: Gehlot accuses PM Modi of 'ignoring facts'
"The state government has already taken action in the matter. All the accused have been arrested. The SP was removed, the SHO was suspended and we will take all steps (needed)," Gehlot told reporters..
DNA - Published
'Unfit for public life': Jaitley slams Mayawati after her remarks on PM Modi
Finance minister Arun Jaitley on Monday slammed BSP chief Mayawati over her remarks on Prime Minister Narendra Modi and his estranged wife, saying that her discourse has stooped to an all-time low and..
IndiaTimes - Published
Alwar gangrape: Mayawati's personal attack on PM Modi for 'crocodile tears' jibe angers BJP
Mayawati launches no-holds-barred attack on PM Modi.
DNA - Published
Lok Sabha election 2019: PM doing 'dirty politics' over Alwar gang rape case, says Mayawati
Hours after the prime minister's remarks at election rallies in Kushinagar and Deoria earlier in the day, Mayawati said, "In the wake of this incident, Modi is doing dirty politics."
DNA - Published
Also reported by •IndiaTimes
Rajasthan: Ram Vilas Paswan demands CBI probe into rape case of Dalit woman in Alwar
The Lok Sabha polls in the state are now over. The Lok Janshakti Party chief said in a statement the state government is responsible for such a "condemnable" development.
DNA - Published
Do not shed crocodile tears, withdraw support from Raj govt if you are serious: Modi slams Mayawati over Alwar gangrape
Modi said that people were voting for an effective government.
DNA - Published
I belong to caste of poor: PM Narendra Modi's response to Mayawati
With the election campaign entering its last phase, Prime Minister Narendra Modi on Saturday kept up his attack against the Mahagathbandhan and the Congress, saying the grand alliance was questioning..
DNA - Published
You Might Like