Scottish National Party
Scottish political party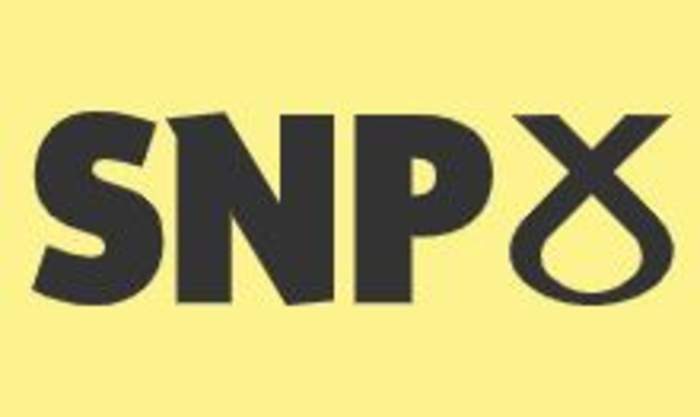 The Scottish National Party is a Scottish nationalist, regionalist, and social-democratic political party in Scotland. The SNP supports and campaigns for Scottish independence from the United Kingdom and for membership of the European Union, with a platform based on civic nationalism. The SNP is the largest political party in Scotland, where it has the most seats in the Scottish Parliament and 45 out of the 59 Scottish seats in the House of Commons at Westminster, and it is the third-largest political party by membership in the United Kingdom, behind the Labour Party and the Conservative Party. The current Scottish National Party leader, Nicola Sturgeon, has served as First Minister of Scotland since 20 November 2014.


PM says SNP are the problem – not devolution

The prime minister told the Liaison Committee that he thinks devolution was a "great thing" but criticised the SNP's "disastrous" performance in delivering education and fighting crime...
Credit: ODN Duration: 02:03
Published
Ian Blackford asks PM about Cummings texts

Leader of the Scottish National Party in the House of Commons Ian Blackford asks Prime Minister Boris Johnson whether WhatsApp messages published by his former senior aide Dominic Cummings on Twitter..
Credit: ODN Duration: 00:18
Published
You Might Like



Boris Johnson rejects claim UK-Australia trade deal would see farmers 'lose their livelihoods'

Boris Johnson has said post-Brexit trade deals provide a "massive opportunity" for UK farmers - rejecting a claim from the SNP that a tariff-free agreement with Australia would see farmers "lose their..




Sky News - Published





SNP members broke party rules in candidate selection process for Scottish parliament election

SNP members broke party rules in the candidate selection process for last week's Scottish parliament election.




Sky News - Published





Second Scottish independence referendum is 'when, not if', Sturgeon tells PM

SNP leader Nicola Sturgeon has told the prime minister it is a "matter of when, not if" there will be another vote on Scottish independence.




Sky News - Published





Sturgeon warns PM not to block indyref2 - as SNP hopes for majority fade

Nicola Sturgeon has issued a warning to Boris Johnson over a second independence referendum, declaring the prime minister will be "picking a fight with the democratic wishes of the Scottish people" if..




Sky News - Published





PM could face struggle as Labour and SNP withold support for 'confusing' COVID passports plan

Opposition parties are withholding their support for the government's domestic COVID passports plan in a warning that Boris Johnson could struggle to get his proposals through the House of Commons.




Sky News - Published





Sturgeon in thinly-veiled attack on Salmond as she launches SNP campaign

Nicola Sturgeon has launched a thinly-veiled attack on Alex Salmond as she marked the start of the SNP's campaign for May's Scottish Parliament elections.




Sky News - Published





SNP to fall short of Holyrood majority as support for independence slips, poll suggests

The SNP have a 22-point lead in a new Scottish poll for Sky News, which would see Nicola Sturgeon remain first minister after the May elections but could deprive her party of an overall majority at..




Sky News - Published





Scots are turning against SNP and support for independence is slipping, poll suggests

The SNP have a 22-point lead in a new Scottish poll for Sky News, which would see Nicola Sturgeon remain first minister after the May elections but could deprive her party of an overall majority at..




Sky News - Published





PM accuses SNP of pushing for independence 'regardless of cost'

Boris Johnson has accused the SNP of pressing for another independence referendum regardless of the cost to Scotland and the whole of the UK.




Sky News - Published





SNP accused of 'shocking' failure in handling of online harassment and abuse claims

The Scottish National Party (SNP) is being accused of a "shocking" failure to deal with complaints of harassment and abuse within the party.




Sky News - Published





Sturgeon and the SNP are past their peak - and Scotland has had enough, Ruth Davidson claims

Nicola Sturgeon and the Scottish National Party have passed their peak and Scotland has had enough of them, according to Scottish Tory leader Ruth Davidson.




Sky News - Published





Scotland's leadership has failed, Salmond tells Holyrood inquiry

Alex Salmond said Scotland's leadership has "failed" in his opening statement to a Holyrood inquiry into the SNP government's unlawful investigation of sexual harassment claims made against him.




Sky News - Published





Salmond accuses officials in SNP and Scottish govt of 'concerted effort' to damage his reputation

Alex Salmond has accused officials in the Scottish government and the SNP of a "malicious and concerted effort" to damage his reputation - "even to the extent of having me imprisoned".




Sky News - Published





Abrupt sacking of high-profile MP threatens to inflame SNP civil war

One of the Scottish National Party's most high-profile MPs has been sacked from a top post at Westminster, in a move that threatens to inflame the civil war between supporters of Nicola Sturgeon and..




Sky News - Published





SNP calls for billions in compensation to counteract 'devastating high price' of Brexit

The Scottish National Party has called for Scotland to be given billions in compensation for the "devastating high price" of Brexit.




Sky News - Published





Johnson tells Scottish nationalists to stop trying to break up United Kingdom

British Prime Minister Boris Johnson said on Thursday the Scottish National Party (SNP) should stop trying to break up the United Kingdom and focus more on delivering policy for the people of Scotland.




Reuters - Published





UK PM Johnson must accept another Scottish independence vote: Sturgeon

British Prime Minister Boris Johnson needs to "focus on reality" and recognize that the Scottish National Party (SNP) has been given a mandate for a second independence referendum, Scottish First..




Reuters - Published





UK Liberal Democrat leader Swinson loses seat to Scottish National Party

The leader of Britain's pro-European Union Liberal Democrats, Jo Swinson, lost her parliamentary seat to the Scottish National Party on Friday.




Reuters - Published





SNP would enter 'less formal arrangement' with Labour: Scottish first minister

Scotland's first minister, Nicola Sturgeon, said on Sunday the Scottish National Party would only ever enter into a "less formal arrangement" to support a minority government formed by the main..




Reuters - Published





UK Labour says 'no deals' as SNP urges new Scottish independence vote

Britain's main opposition Labour Party said it is not doing any deals as the Scottish National Party (SNP) set a second independence vote as a condition for backing Labour if next month's general..




Reuters - Published





SNP will aim to ally against Conservatives in event of hung parliament: Sturgeon

First Minister Nicola Sturgeon said on Friday her Scottish National Party (SNP) would seek to form "a progressive alliance" in the event of a hung parliament at Westminster after next month's general..




Reuters - Published





Scottish kingmakers in UK election? SNP will support 'progressive politics'

Scottish nationalists said on Friday they would support 'progressive politics' if the election threw up a hung parliament and refused to rule out propping up Labour to get another independence..




Reuters - Published





Boris Johnson to tell Scotland: vote Conservative to stop independence bid

British Prime Minister Boris Johnson heads to Scotland on Thursday to say a Dec. 12 election victory for his Conservative Party will halt Scottish National Party (SNP) plans to hold another..




Reuters - Published





Scotland's Sturgeon says to demand powers for new independence referendum

Scottish National Party (SNP) leader Nicola Sturgeon said on Friday she would make a demand before Christmas for the powers to hold another independence referendum.




Reuters - Published





Scotland's Sturgeon asks Labour's Corbyn to back snap general election: The Sun

Scottish National Party (SNP) leader Nicola Sturgeon asked British opposition Labour leader Jeremy Corbyn to back a snap general election during a secret meeting, The Sun reported on Thursday.




Reuters - Published





Scotland's Sturgeon says SNP will not vote for Johnson's Brexit deal

The Scottish National Party (SNP) will not vote for Prime Minister Boris Johnson's Brexit deal in parliament because it poses a much harder exit from the European Union, leader Nicola Sturgeon said on..




Reuters - Published





Sick of Brexit, Scotland's Sturgeon vows new independence vote in 2020

Scotland must hold another independence referendum in 2020 and will soon request the powers needed to hold it legally, Scottish National Party (SNP) leader Nicola Sturgeon said on Tuesday.




Reuters - Published





Scotland must hold independence referendum in 2020: SNP's Sturgeon

Scotland must hold an independence referendum in 2020 and will soon request the powers needed to hold it legally, Scottish National Party (SNP) leader Nicola Sturgeon said on Tuesday.




Reuters - Published





SNP to back Labour UK government only with Scottish independence vote: FT

The Scottish National Party (SNP) would only support a minority Labour UK government if it agrees to authorize a second independence referendum for Scotland, the Financial Times report on Friday.




Reuters - Published





SNP spokesman: Remove PM Johnson and no-deal threat, then have an election

Scottish National Party spokesman Ian Blackford on Wednesday said parliament needed to remove Prime Minister Boris Johnson and eliminate the threat of a no-deal Brexit before it would agree to hold a..




Reuters - Published





UK will have election 'when the time is right': SNP

British opposition parties will not back Prime Minister Boris Johnson's preferred timing for an early election but voters will not have to wait long before going to the polls, the Scottish National..




Reuters - Published




SNP says priority is avoiding no deal Brexit, then election date

The opposition Scottish National Party (SNP) will only agree a date for a general election when it is sure Britain will not leave the European Union without a deal, its Westminster leader said on..




Reuters - Published





We will not rule out any option to stop Brexit: Scottish leader Sturgeon

The leader of the Scottish National Party, Nicola Sturgeon, said on Thursday her party and its 35 lawmakers would explore any option to stop Brexit in parliament and did not rule out backing opposition..




Reuters - Published