Ravi Pujari
Indian mobster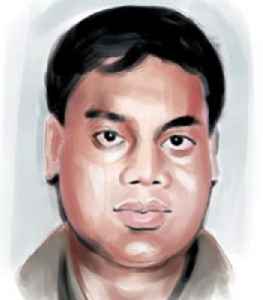 Ravi Pujari is an Indian gangster who was involved in various murders and threats to celebrities in India and Australia throughout the 2000s. In January 2019, he was arrested in Dakar, Senegal.


You Might Like
Visit to Senegal salon sealed Ravi Pujari's fate
In January 2019, when a policeman called out his real name, the gangster who had assumed the false identity of a man named Anthony, couldn't stop himself from responding. Pujari had been under the..
IndiaTimes - Published
25 year chase for Indian gangster ends
After over two decades, gangster Ravi Pujari was identified in photos of a football tournament that he had sponsored in Senegal
DNA - Published
Fugitive gangster Ravi Pujari brought to India
He was extradited from Senegal on February 22 pursuant to an extradition request made by India in early 2019.
DNA - Published
Gangster Ravi Pujari arrested in South Africa, extradited
Fugitive gangster Ravi Pujari has been arrested in South Africa and being brought to India by a team of officials, including senior IPS officers from Karnataka, a top police official said on Sunday...
IndiaTimes - Published
Don Ravi Pujari, who jumped bail, held in S Africa
IndiaTimes - Published
Did Ravi Pujari flee Senegal after jumping bail in fake case?
Sources in Karnataka police said there were reports that Pujari had fled to another country by road, but admitted they have not received official confirmation from the Senegalese government. Pujari has..
IndiaTimes - Published