Kashmir
Former princely state, now a conflict territory between India and Pakistan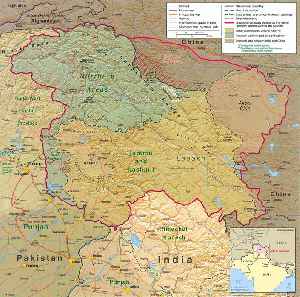 Kashmir is the northernmost geographical region of the Indian subcontinent. Until the mid-19th century, the term "Kashmir" denoted only the Kashmir Valley between the Great Himalayas and the Pir Panjal Range. Today, it denotes a larger area that includes the Indian-administered territory of Jammu and Kashmir, the Pakistani-administered territories of Azad Kashmir and Gilgit-Baltistan, and Chinese-administered territories of Aksai Chin and the Trans-Karakoram Tract.


After failed UNSC move, Imran Khan says 'ensuring resolution to Kashmir issue responsibility of this world body'
US President Donald Trump has already asked Pakistan PM Imran Khan to resolve the issue through bilateral dialogue.
DNA - Published
Imran Khan discuses Kashmir with Donald Trump over phone as UNSC holds discussion on issue; talk held in 'cordial environment', says Pakistan FM
Pakistan Prime Minister Imran Khan on Friday discussed the Kashmir issue with US President Donald Trump over the phone.
Firstpost - Published
India's opposition accuses BJP government of 'murdering' democracy
Indian opposition, Kashmiri leaders and activists condemn government's decision to scrap Article 370 of constitution.
Credit: Al Jazeera STUDIO Duration: 02:32Published
Russia has no hidden agenda, hopes divergences around Kashmir are settled by India, Pakistan bilaterally: UN envoy
We have no hidden agendas, Russian envoy to UN said.
DNA - Published
Imran Khan threatens war over Kashmir, says 'Pak army fully ready to defend our freedoms'
"Our army is battle-hardened fighting a nearly 20-year war against terrorism. Our people are ready to defend our freedoms," Imran Khan said.
DNA - Published
Pakistan requests U.N. Security Council meeting on Kashmir
Pakistan has asked the United Nations Security Council for an urgent meeting on the contested Kashmir region also claimed by India, according to a letter released by Pakistan's foreign ministry on..
Reuters - Published
'Be united on Kashmir'; Shah Mahmood Qureshi urges all political parties as Pakistan dedicates Eid-al-Adha to Valley
Pakistan has announced that it will observe 14 August as 'Kashmir Solidarity Day' and 15 August as 'Black Day' after India scrapped Article 370.
Firstpost - Published
People of Kashmir imprisoned in their own homes: Sitaram Yechury
IndiaTimes - Published
Pakistan receives little traction globally on Kashmir issue: Sources
Islamabad is being bluntly asked not to use the development in Kashmir for cross border terrorism or infiltration across the Line of Control, a diplomat closely following the massive lobbying efforts..
IndiaTimes - Published
Tricolour to be hoisted in every Panchayat of J&K on Independence Day: MoS Home Kishan Reddy
The Minister also appealed to the people of Kashmir to hoist the national flag in their homes on August 15.
DNA - Published
Centre's J&K move blurred line between mainstream parties and separatists, say people of Kashmir
IndiaTimes - Published
You Might Like