Government of India
Legislative, executive and judiciary powers of India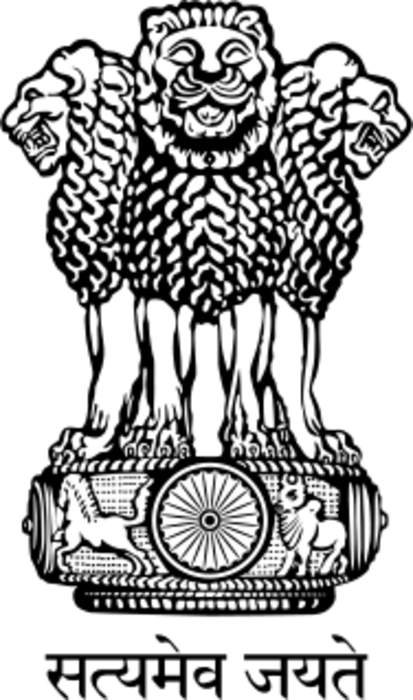 The Government of India, often abbreviated as GoI, is the union government created by the constitution of India as the legislative, executive and judicial authority of the union of twenty eight states and eight union territories of a constitutionally democratic republic. The seat of the Government is located in New Delhi, the capital of India.


Amid China stand-off & Pak terror, govt dedicates December to armed forces

As border tension with China stretches on, the Government of India announced its decision to dedicate the month of December to the country's armed forces. Defence Minister Rajnath Singh made the..
Credit: HT Digital Content Duration: 02:24
Published
Watch: Amit Shah's message to protesting farmers as they camp in Delhi, border

Union Home Minister Amit Shah issued an appeal to farmers protesting in and near the national capital. He said that the Government of India is ready for talks with the agriculture minister having sent..
Credit: HT Digital Content Duration: 03:11
Published
COVID-19: Not in writing on how many doses GOI will purchase, says Serum Institute of India

Speaking on COVID-19 pandemic vaccine, Chief executive officer (CEO) of Serum Institute of India, Adar Poonawalla on November 28 said as of now, the government of India has not given anything in..
Credit: ANI Duration: 01:22
Published
Cultural event organised in Srinagar as stress buster amid

To refresh the mood amid COVID-19 pandemic, the Government of India (GoI) organised cultural event 'Jashan-i-Chilay Kalan' in Srinagar. It was organised by North Zone Cultural Center, Patiala and..
Credit: ANI Duration: 03:21
Published
We still don't have answers for doses, price for COVID vaccine: PM Modi

Prime Minister Narendra Modi interacted with Chief Ministers via video-conferencing on Nov 24. He said, "Government of India is keeping a track of each step in vaccine development. We are in touch with..
Credit: ANI Duration: 01:30
Published
Rs 25,000 limit on Lakshmi Vilas Bank withdrawal irks customers after moratorium

The Government of India placed Lakshmi Vilas Bank under moratorium for a month on the advice of the Reserve Bank of India. A limit of Rs 25,000 has been placed on withdrawals by customers. RBI has..
Credit: HT Digital Content Duration: 02:08
Published
Piyush Goyal extends Diwali wishes highlighting Centre's efforts to overcome COVID impact

Union Minister of Railways, Commerce and Industry Piyush Goyal on November 13 extended his to everyone for Diwali with the hope that coming year will be a good one. He said, "As representative of..
Credit: ANI Duration: 01:44
Published
COVID-19: India gifts ICU ventilators to Nepal

According to Indian Embassy in Nepal, Ambassador of India to Nepal, Vinay Mohan Kwatra, on behalf of Government of India, handed over 28 Intensive Care Unit (ICU) ventilators to Nepal's Minister for..
Credit: ANI Duration: 01:02
Published
Watch: Pakistan firing damages houses in J&K border villages; people fearful

Pakistani forces are targeting civilians in border areas of Jammu and Kashmir. Ceasefire violations by security personnel of the neighbouring nation have damaged houses in border villages. People say..
Credit: HT Digital Content Duration: 02:12
Published
Centre has constituted commission to tackle air pollution: Javadekar

To combat air pollution, Government of India has established a commission led by former Delhi chief secretary MM Kutty, said Union Environment Minister Prakash Javadekar on November 06. "To combat air..
Credit: ANI Duration: 02:07
Published
Space technology Startup Company, Dhruva Space awarded with 'National Startups Awards 2020'

Dhruva Space, a space technology Startup Company has been awarded with National award in 'National Startups Awards 2020', an initiative by the Government of India under its 'Start up India' program...
Credit: ANI Duration: 02:36
Published
You Might Like



Combating Covid-19: Centre rushes high-level teams to UP, Punjab and Himachal

The Government of India has decided to depute high-level Central teams to Uttar Pradesh, Punjab and Himachal Pradesh to support these States in Covid-19 response and management, according to a release..




IndiaTimes - Published





Will not go ahead with peace deal without separate flag, constitution: NSCN-IM

The NSCN-IM, through its monthly mouthpiece 'Nagalim Voice', rejected Government of India's proposal to Naga people that the unresolved issues of separate flag and constitution can be decided..




IndiaTimes - Published





ED's summon to Farooq Abdullah shows extent of Centre's nervousness: Mehbooba Mufti

The Enforcement Directorate's (ED) sudden summons to National Conference (NC) President and former Chief Minister of Jammu and Kashmir Farooq Abdullah displays the extent of Government of India's..




IndiaTimes - Published





WHO praises India's Aarogya Setu app, says it helped in identifying COVID-19 clusters

The Aarogya Setu app, a mobile application that was launched by the Government of India for protecting the citizens during COVID-19, has now been lauded by the World Health Organisation (WHO).




DNA - Published





India provides 1.54 billion rupees to Nepal as post-earthquake assistance: Indian Embassy

"The Government of India has provided 1.54 billion Nepali Rupees to Nepal further fulfilling its commitment towards post-earthquake reconstruction assistance," the Indian Embassy said in a statement...




IndiaTimes - Published





China minutes away from reach of Indian fighter planes after this project takes off

The Indian Army soldiers are performing their duty at the border to protect the country. At the same time Government of India is making efforts to create a more conducive operational environment to the..




DNA - Published





Farmers Bill will benefit small, medium farmers: Union Agriculture Minister Narendra Singh Tomar

Narendra Singh Tomar was speaking at an event organized by the Ministry of Agriculture and Farmers Welfare, Government of India to Inaugurate the International Hostel and Skill Development Center of..




DNA - Published





India hands over disaster relief material to Nepal

India on Sunday handed over a consignment of disaster relief material to Nepal for flood- and landslide-affected families, officials said. On behalf of the Government of India, Deputy Chief of Mission..




IndiaTimes - Published





Railways Minister Piyush Goyal reviews progress of DFCCIL, suggests incentives for contractors

Railways Minister Piyush Goyal held a meeting to review the progress of Dedicated Freight Corridor Corporation India Limited (DFCCIL). Dedicated Freight Corridors (DFC) is one of the largest rail..




DNA - Published





Tamil Nadu CM Edappadi Palaniswamy writes to Modi to pay GST compensation

After Kerela, Tamil Nadu too has rejected the Union Government's suggestion to borrow GST shortfall from the market. In a letter written to Prime Minister Narendra Modi, Tamil Nadu Chief Minister..




DNA - Published





Delhi: Lawyer uses banned Chinese app 'CamScanner' to file bail application in court, Judge objects

An interesting set of events unfolded in a Delhi district court on Wednesday when a lawyer used the banned Chinese app 'CamScanner' to present a set of bail application documents when the Judge took..




DNA - Published





Rahul Gandhi again criticises govt on Ladakh situation

Congress leader Rahul Gandhi again criticised the government on the Ladakh situation on Friday, and claimed that the country will have to pay a "huge price". In a tweet, he said, "The government of..




IndiaTimes - Published





DU professor Apoorvanand instigated NE Delhi riots, monitored developments: Accused tells police

Apporvanand reportedly instigated Gulfisha to organise protests at various places and conspired riots to present a bad picture of the Indian Government on the world stage. Professor Apoorvanand was..




DNA - Published





UK, India agree on transport 'air bubbles' for international air connectivity

The Government of India has now given permission for UK carriers to re-establish bilateral air routes. The details are being worked out with the UK and are expected to be announced in an elaborated..




DNA - Published





One Nation, One Ration Card' scheme launched in Jammu and Kashmir's Rajouri

One Nation One Nation Card is an initiative by the Government of India which enables ration cardholders to access PDS benefits from any fair price shop in the country.




DNA - Published





'Won't appear for Chinese app against India': Ex-Attorney General Mukul Rohatgi refuses to represent TikTok in court

Rohatgi said that he will not appear for TikTok, a Chinese app, in a case against the Government of India.




DNA - Published





Agreement for hydroelectric project in Bhutan signed in presence of EAM Jaishankar

"The Concession Agreement for the 600 MW Kholongchhu (Joint Venture) Hydroelectric Project between the Royal Govt of Bhutan and Kholongchhu Hydro Energy Limited was signed on 29 June in Thimphu, in the..




IndiaTimes - Published





Rahul targets govt, PM for having no plan to defeat virus, as Covid cases surge past 5-lakh mark

"Covid19 is spreading rapidly into new parts of the country. The Government Of India has no plan to defeat it," Gandhi tweeted. Training his guns on Modi, he said, "PM is silent. He has surrendered and..




IndiaTimes - Published





Covid-19 lockdown delays marriage of Pak bride and Indian groom; duo appeals to PM Modi for visa

Sumaila wants to get married to Kalyan as soon as visas are granted by the Indian government. Speaking over the phone, Sumaila said: "Kalyan has prepared the papers for visa sponsorship. But he was..




IndiaTimes - Published





Rahul Gandhi: Can govt confirm that no Chinese soldiers entered India?

Former Congress chief Rahul Gandhi on Wednesday once again questioned the Narendra Modi-led BJP government at the Centre over the military standoff with China and asked if the government could confirm..




IndiaTimes - Published





Union HRD minister felicitates IIT-D scientists for developing probe-free Covid-19 detection assay

Union human resource development minister Ramesh Pokhriyal has felicitated the team of scientists from IIT Delhi involved in the development of Covid-19 probe - free real-time PCR Diagnostic Kit.




IndiaTimes - Published





Mumbai-based lawyer files plea against China at International Criminal Court over failure to contain COVID-19 outbreak

In his 33-page plea, Solani has demanded Rs 190 lakh crore on behalf of the Government of India from China, as damages covering the cost of dealing with the COVID-19 outbreak.




DNA - Published





PM Narendra Modi urged to arrange special flights to the Gulf to bring back stranded Keralites

While we appreciate the constraints faced in allowing international travel as the threat of Covid-19 has not yet receded, it is requested that special consideration to their needs be given and at an..




IndiaTimes - Published





Coronavirus lockdown: 769 foreign tourists register on govt's 'Stranded in India' portal in 5 days

On 31st March, the Government of India opened this new portal who's aim is to act as a support network for foreign tourists stuck in various parts of the country amid coronavirus lockdown across the..




DNA - Published





India registers first coronavirus death as Karnataka man, who passed away on Tuesday, tests positive for COVID-19

The Government of India has released State Helpline Numbers to deal with the COVID-19 outbreak.




DNA - Published





IAF's first women fighter pilots get Nari Shakti Puraskar

President Ram Nath Kovind presented the 'Nari Shakti Puraskar' to IAF's first women fighter pilots, Mohana Jitarwal, Avani Chaturvedi and Bhawana Kanth, on Sunday at Rashtrapati Bhawan. The trio was..




IndiaTimes - Published





Indians on board coronavirus-hit cruise ship to be brought back on Wednesday

"PCR test results for all Indian nationals declared-02 more Indians tested positive to #COVID19, taking the total to 16. Those fulfilling conditions and consenting to repatriation to India on 26 Feb..




IndiaTimes - Published





Centre replacing old fencing with anti-cut fencing at India-Pak, Bangladesh borders

The Govt of India is replacing old fencing with the latest anti-cut fencing at India-Pakistan and Bangladesh borders, BSF sources said. Sources claimed that fencing at some patches is very old which..




IndiaTimes - Published





Centre has approved eight medical colleges in J&K and Ladakh: MHA

Center also said that the Government of India has been fully committed to the overall development of the erstwhile State of Jammu and Kashmir as well as the newly created Union Territory of Jammu and..




DNA - Published





Siddaramaiah, Kumaraswamy booked for sedition over protest against I-T raids

Based on a complaint by activist Mallikarjuna A, a city court recently directed the commercial street police to register a case under various sections of the IPC including criminal conspiracy and..




IndiaTimes - Published





CBI is expected to act completely independent of government: Justice K M Joseph

The CBI is expected to act "completely independent" of the govt of the day and professionalism of "highest quality", uncompromising independence and neutrality is expected of it, Justice KM Joseph of..




IndiaTimes - Published





No illegal migrant will be allowed in India: Amit Shah

Union home minister Amit Shah on Sunday said no "illegal migrant" will be allowed to stay in the country and that the NRC exercise in Assam was completed in "time-bound manner". I want to clearly say..




IndiaTimes - Published





ISRO's journey from first baby step in 1960s to Chandrayaan-2

Under an ambitious Sarabhai, INCOSPAR grew and became ISRO in 1969 and in 1972, Government of India set up a Space Commission and the Department of Space (DOS), thereby bringing ISRO under the DOS.




DNA - Published





Centre usurping huge windfall from RBI: Jairam Ramesh

"Urjit Patel & Viral Acharya held the fort. They were forced to leave. The fort was breached. The Government of India now usurps a huge windfall from the RBI going contrary to what the central bank's..




IndiaTimes - Published





NIA arrests Jamaat-ul-Mujahideen Bangladesh Nadia module leader in connection to Burdhwan Blast case

A resident of Nadia, West Bengal, absconding Jahirul Sheikh, was charge-sheeted on July 23, 2015 for his direct involvement in the conspiracy of Jamaat-ul-Mujahideen Bangladesh (JMB) to commit..




DNA - Published





Maldives supports India's decision on Article 370

"The Maldives considers the decision taken by the Government of India regarding Article 370 of the Indian Constitution as an internal matter," an official statement by the Maldives government said.




IndiaTimes - Published





Bar Council congratulates Modi, Shah on decision to scrap Article 370

"The Bar Council of India, the Statutory body representing the entire legal fraternity in India wholeheartedly congratulates the Union Government on the historic and landmark decision to scrap Article..




DNA - Published





Govt's decision on Article 370 as a 'betrayal of trust': Omar Abdullah

"Government of India (GOI)'s unilateral and shocking decisions today are a total betrayal of the trust that the people of Jammu & Kashmir had reposed in India when the state acceded to it in 1947. The..




IndiaTimes - Published





Ansarullah terror outfit case: NIA's raids across Tamil Nadu continue

The seized people were booked under three sections of the Indian Penal Code (IPC), including under Section 122 (collecting arms, etc. to wage war against the Government of India).




DNA - Published





Trinamool Congress slams budget, calls it lengthy speech without vision

Trinamool Congress on Monday slammed the Budget 2019-20 presented by the Union Government and called it a long speech without vision.




DNA - Published





India to contribute $5 million for Palestinian refugees this year

India's Deputy Permanent Representative to the UN Ambassador K Nagaraj Naidu said the Government of India has increased its annual financial contribution fourfold to the UNRWA core budget.




DNA - Published





NITI Aayog meeting: Maharashtra CM discusses water conservation initiatives

The Chief Minister thanked Prime Minister Narendra Modi and the Union Government for timely assistance to Maharashtra this year to tackle drought situation, an official statement said




DNA - Published