Anurag Thakur
Indian politician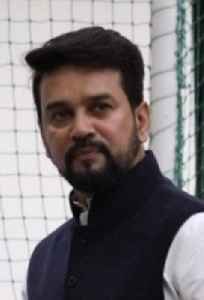 Anurag Singh Thakur is a member of the Lower House of Parliament in India from Hamirpur in Himachal Pradesh, and also serves as a Minister of State for Finance and Corporate Affairs. He is the son of Prem Kumar Dhumal, the former Chief Minister of Himachal Pradesh. He was first elected to the Lok Sabha in May 2008 in a by poll as a candidate of the Bharatiya Janata Party. He is a four time MP, being a member of 14th, 15th, 16th, and 17th Lok Sabha. He was awarded the Sansad Ratna Award in 2019.


Sitharaman's reply in Rajya Sabha, MPs doze off
There was a sequence to the events, as one MP started dozing while the Finance Minister was speaking. A little bit more into the reply and a second MP was also spotted dozing. Thereafter, Minister of..
IndiaTimes - Published
Raghuram Rajan should join politics, Anurag Thakur hits out at RBI governor
IndiaTimes - Published
Union Home Minister Amit Shah's son Jay Shah set to become BCCI secretary
While Anurag Thakur's brother Arun Dhumal will hold the position of treasurer of the BCCI
DNA - Published
Wonder if they think about India's interests': Anurag Thakur slams Mamata over Chandrayaan-2 remark
"The people who want to think negatively are free to think that way. I wonder whether the people, who find the achievement of Chandrayaan too small, even think about the interests of India," he told..
DNA - Published
Also reported by •IndiaTimes
Indian government ready with strategy, wait for announcements now: Anurag Thakur
"To boost economy a clear message has been have given to the bureaucrats by government that business community which is the wealth creator and tax contributor should be facilitated. There should be..
IndiaTimes - Published
No official estimate of black money in country, says MoS Finance Anurag Thakur
Anurag Thakur replied in Rajya Sabha after Congress leader Rathwa Naranbhai Jemlabhai asked the government to enlighten them on the estimated amount of black money in the country.
DNA - Published
No move to grant special category status to Odisha: Anurag Singh Thakur
IndiaTimes - Published
Watch: BJP MPs Anurag Thakur and Hema Malini take part in 'Swachh Bharat Abhiyaan'
BJP MPs began cleaning Parliament premises as a mark of 150th birth anniversary of Mahatma Gandhi
DNA - Published
'British went, there traditions must go,' says Anurag Thakur as Sitharaman ditches briefcase for budget papers
"Angrez chale gaye, angrezon ki paramaparayein bhi chali jani chahiye' (British went out of the country long ago, there traditions also must go). We are moving in the direction to become a superpower...
IndiaTimes - Published
Art 370 will be scrapped, cause Amit Shah said so: Anurag Thakur
Speaking to reporters here, Thakur said Friday, "If our party President (and now Union Home Minister Amit Shah) said that article 370 would be scrapped from Jammu and Kashmir, it would become a..
DNA - Published
You Might Like