Manchester City F.C.
Association football club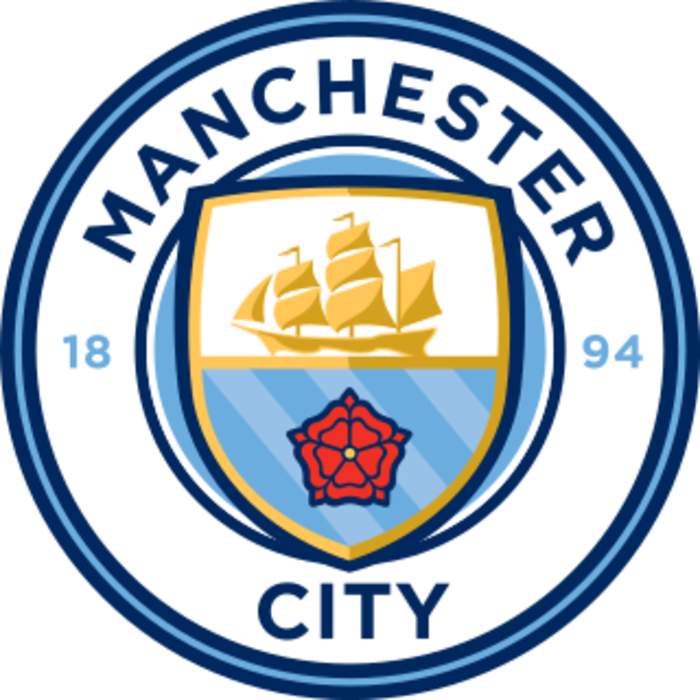 Manchester City Football Club is an English football club based in Manchester that competes in the Premier League, the top flight of English football. Founded in 1880 as St. Mark's , it became Ardwick Association Football Club in 1887 and Manchester City in 1894. The club's home ground is the Etihad Stadium in east Manchester, to which it moved in 2003, having played at Maine Road since 1923. The club adopted their sky blue home shirts in 1894 in the first season of the club's current iteration, that have been used ever since. In terms of trophies won, it is the fifth-most successful club in English football.


You Might Like



Manchester City's Phil Foden named 2021-22 Premier League young player of the year

Manchester City midfielder Phil Foden wins the 2021-22 Premier League young player of the year award.




BBC Sport - Published





'What a day, what a game' - Why 2011/12 final day was the Premier League's greatest ever

10 years on, BBC Sport looks back on a thrilling final day of the 2011/12 Premier League season, with Manchester City looking to win their first title in 44 years and both Queens Park Rangers and..




BBC Sport - Published





Steph Houghton: I have to earn the right to be in the England squad

Manchester City captain Steph Houghton says she "has to earn the right" to be in the England squad, after being named in Sarina Wiegman's preliminary squad for the Women's Euros.




BBC Sport - Published





Steph Houghton: England star 'extremely honoured' to make Euros longlist

Manchester City captain Steph Houghton says she is "extremely honoured" to be named in England's preliminary squad for the Women's Euros and remains hopeful of making the final squad.




BBC Sport - Published





Chelsea 3-2 Man City: Watch Erin Cuthbert's FA Cup final stunner from every angle

Watch Erin Cuthbert's long-range goal in Chelsea's 3-2 FA Cup final win against Manchester City from every angle.




BBC Sport - Published





Match of the Day 2 analysis: How Man City fought back to keep title race in their hands

Match of the Day 2's Alan Shearer and Jermaine Jenas praise Manchester City's mentality as the champions come back from two goals down at half-time to draw 2-2 at West Ham and keep the fate of the..




BBC Sport - Published





Erling Haaland scores in final match for Borussia Dortmund

Watch as new Manchester City signing Erling Haaland scores a penalty and is given an emotional goodbye in his final match for Borussia Dortmund, a 2-1 win over Hertha Berlin.




BBC Sport - Published





Chelsea 3-2 Man City: 'BBC pundits can't stop smiling' - The FA Cup final that had everything

BBC Sport pundits react to the Chelsea v Manchester City FA Cup final at Wembley hailing it the "FA Cup final" the competition had seen after Chelsea won 3-2 after extra time.




BBC Sport - Published





West Ham 2-2 Manchester City: 'Leaders made to wait as Hammers spoil party'

Manchester City could have been all but champions on Sunday but they were held amid a frenzied atmosphere at West Ham.




BBC Sport - Published





West Ham 2-2 Man City: David Moyes 'couldn't believe' Hammers were 2-0 up at half-time

Manager David Moyes admits he "couldn't believe" West Ham went 2-0 up against Premier League leaders Manchester City, with the visitors eventually fighting back to draw the game.




BBC Sport - Published





West Ham 2-2 Man City: Premier League title race is 'in our hands' - Pep Guardiola

Manchester City boss Pep Guardiola was pleased with his side's performance as they came from behind to draw at West Ham means victory on the final day will see them crowned Premier League champions.




BBC Sport - Published





FA Cup final: Chelsea beat Man City 3-2 in Wembley cup final classic

Sam Kerr scores goals either side of Erin Cuthbert's cracker as Chelsea beat Manchester City 3-2 in extra time of a pulsating FA Cup final in front of a record crowd at Wembley Stadium.




BBC Sport - Published





Women's FA Cup final: Sam Kerr's deflected effort puts Chelsea ahead in extra time

Sam Kerr's effort deflects in off Manchester City's Alex Greenwood to put Chelsea ahead again in the first half of extra time of the Women's FA Cup final.




BBC Sport - Published





Women's FA Cup final: Hayley Raso equalises for Manchester City in 89th minute

Watch as substitute Hayley Raso equalises for Manchester City in the 89th minute of the Women's FA Cup final against Chelsea.




BBC Sport - Published





West Ham United 2-2 Manchester City: Pep Guardiola's side keep title race in own hands

Manchester City recover from a two-goal deficit to keep the Premier League title race in their own hands at West Ham.




BBC Sport - Published





Women's FA Cup final: 'Sensational' Erin Cuthbert goal puts Chelsea ahead against Man City

Watch Erin Cuthbert score a "sensational" second-half goal to put Chelsea ahead against Manchester City in the Women's FA Cup final.




BBC Sport - Published





Sam Kerr nods in Women's FA Cup final opener after goalkeeper mistake

Chelsea's Sam Kerr nods in the Women's FA Cup final opener after Manchester City goalkeeper Ellie Roebuck misjudged the flight of Millie Bright's cross.




BBC Sport - Published





Women's FA Cup final: Lauren Hemp stunner puts Man City level

Lauren Hemp scores a beautiful equalising goal for Manchester City in the FA Cup final, getting the ball on the left, she twists, she turns, and twists again before curling sumptuously into the far..




BBC Sport - Published





Women's FA Cup final: Chloe Kelly says no WSL team can match Man City

Manchester City forward Chloe Kelly says her in-form side are confident going into Sunday's FA Cup final against Chelsea at Wembley.




BBC Sport - Published





'Best moment of my life': Man City unveil statue of Sergio Aguero on 10th anniversary of title-winning goal

A decade since the infamous moment that secured Sergio Aguero's place in football history, Manchester City have unveiled a statue of their former striker outside the Etihad Stadium.




Sky News - Published





FA Cup: Watch all the goals from Liverpool's route to FA Cup final

Watch all the goals from Liverpool's route to the FA Cup final with victories over Shrewsbury Town, Cardiff City, Norwich City, Nottingham Forest & Manchester City.




BBC Sport - Published





Sergio Aguero statue unveiled: Title-winning goal was greatest moment of striker's career

Manchester City unveil a statue outside Etihad Stadium in honour of their former striker Sergio Aguero, 10 years since his goal secured their first Premier League title.




BBC Sport - Published





Chloe Kelly: Manchester City striker does not 'fear anything' after comeback

Manchester City strikers Chloe Kelly talks to BBC Sport about returning from a knee ligament injury and facing Chelsea in the Women's FA Cup final at Wembley.




BBC Sport - Published





Women's FA Cup final: Everything you need to know as Chelsea play Manchester City at Wembley

Who will be crowned FA Cup winners this weekend when Chelsea and Manchester City face each other at Wembley Stadium?




BBC Sport - Published





Man City v QPR 2012: Ten years since Sergio Aguero's Premier League title-winning goal

Match of the Day commentator Guy Mowbray relives the incredible events of 13 May 2012, when Sergio Aguero scored a dramatic late goal for Manchester City against QPR to win the Premier League.




BBC Sport - Published





FA Cup final: Chelsea's Mason Mount & Erin Cuthbert dream of FA Cup double

Chelsea have two FA Cup finals this weekend, with Mason Mount's men facing Liverpool and Erin Cuthbert's women facing Manchester City. Can they make it a double?




BBC Sport - Published





Kevin de Bruyne: 'Unstoppable' Manchester City midfielder welcomes Erling Haaland with celebration

Kevin de Bruyne scores four and chooses to welcome Erling Haaland to Manchester City by copying the Borussia Dortmund striker's goal celebration during an "unstoppable" performance.




BBC Sport - Published





Match of the Day: How Kevin de Bruyne scored four against Wolves

Match of the Day's Ashley Williams and Martin Keown discuss Kevin De Bruyne's "sensational" performance as he scores four goals in Manchester City's 5-1 victory over Wolves in the Premier League.




BBC Sport - Published





Wolves 1-5 Manchester City: Pep Guardiola says Kevin De Bruyne is "unstoppable"

Manchester City manager Pep Guardiola says Kevin De Bruyne is "unstoppable" after he scored four of Manchester City's goals in their 5-1 win over Wolves in the Premier League.




BBC Sport - Published





Wolves 1-5 Man City: Kevin de Bruyne scores four goals to send leaders three points clear

Kevin de Bruyne's stunning four-goal haul helps Manchester City thump Wolves and restores their three-point lead at the top of the Premier League.




BBC Sport - Published





Premier League: How Man City & Liverpool could play off to decide title

With the Premier League title race set to go to the wire, BBC Sport look at how a 39th-match play-off is a real possibility.




BBC Sport - Published





Erling Haaland: The striker's meteoric rise and what happens next

As Erling Haaland agrees to join Manchester City, BBC Sport looks at the rise of one of world football's most sought-after players.




BBC Sport - Published





'He's a generational talent' – Why signing Haaland is huge for Manchester City

Match of the Day's Micah Richards and journalist Rory Smith discuss why Erling Haaland joining Manchester City is huge news for the English champions, and the Premier League.




BBC Sport - Published





'Beautiful beyond compare!' - Watch five brilliant Erling Haaland goals

Watch five brilliant goals scored by 21-year-old forward Erling Haaland including super strikes and a "beautiful volley" as he Manchester City announce they have "reached agreement" to sign the..




BBC Sport - Published





Erling Haaland: Manchester City agree to sign Norway striker from Borussia Dortmund

Manchester City reach an agreement to sign prolific Norway striker Erling Haaland from Borussia Dortmund.




BBC Sport - Published





Erling Haaland: 'Everyone knows the situation' regarding move for Borussia Dortmund striker, says Pep Guardiola

Manchester City manager Pep Guardiola says "everyone knows the situation" regarding the club's move for Borussia Dortmund striker Erling Haaland.




BBC Sport - Published





Manchester City's Oleksandr Zinchenko invites Ukrainian child refugee to training

Ukraine midfielder Oleksandr Zinchenko invites a 10-year-old Ukrainian refugee to train with him at Manchester City.




BBC Sport - Published





Man City reach deal to sign Borussia Dortmund striker Erling Haaland

Manchester City have reached a deal to sign Norwegian striker Erling Haaland from Borussia Dortmund.




Sky News - Published





Steven Gerrard: 'My job is to win games for Aston Villa' - but could he decide title race?

With his Aston Villa side still to play Liverpool and Manchester City, Anfield legend Steven Gerrard could still have a decisive say in the title race.




BBC Sport - Published





Erling Haaland: Manchester City move for Borussia Dortmund striker could be confirmed next week

Erling Haaland's £63m summer move from Borussia Dortmund to Manchester City could be confirmed as early as next week.




BBC Sport - Published





WSL 2022: Man City thrash Reading to secure Champions League next season

Watch highlights as Manchester City thrash Reading 4-0 to secure Champions League football next season.




BBC Sport - Published





Match of the Day 2 analysis: How 'wonderful' Joao Cancelo punished Newcastle

Match of the Day 2's Alan Shearer explains how Newcastle failed to deal with the threat caused by Manchester City's Joao Cancelo, in City's 5-0 win over the Magpies.




BBC Sport - Published





'Everyone supports Liverpool', says Manchester City boss Pep Guardiola

Pep Guardiola says "everyone in the country supports Liverpool" after Manchester City moved three points clear in the Premier League.




BBC Sport - Published





Man City 5-0 Newcastle: 'Perfect afternoon' for Manchester City says Pep Guardiola

Manchester City manager Pep Guardiola says it was a "perfect afternoon" as his side beat Newcastle United 5-0 to go three points clear at the top of the Premier League table.




BBC Sport - Published





Man City 5-0 Newcastle: Man City three clear of Liverpool in title race

Manchester City thrash Newcastle United to go three points clear of Liverpool at the top of the Premier League.




BBC Sport - Published





Paul Pogba: Manchester City could make move to sign France midfielder from rivals Manchester United

Manchester City could make a move for Paul Pogba when his contract runs out at Manchester United this summer.




BBC Sport - Published





Manchester City: Champions League exit 'not a failure', says manager Pep Guardiola

Manchester City's Champions League collapse should not be seen as a failure, says manager Pep Guardiola.




BBC Sport - Published





Does football need a 60-minute 'stop-clock'?

Following a controversial end to Real Madrid's Champions League win over Manchester City, BBC Sport uses Opta data to look at ball in play stats.




BBC Sport - Published





Women's Super League: Manchester City 6-0 Birmingham City

Watch highlights as Manchester City win 6-0 to relegate Birmingham City from the Women's Super League.




BBC Sport - Published





Real Madrid 3-1 Manchester City: Champions League final was 'so close' - Pep Guardiola

Manchester City boss Pep Guardiola says his side "were so close" to reaching the Champions League final after conceding three late goals to Real Madrid and losing 6-5 on aggregate in their semi-final.




BBC Sport - Published