Cambodia
Country in Southeast Asia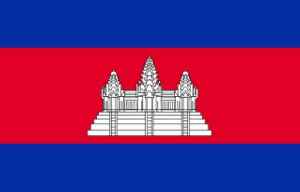 Cambodia, officially the Kingdom of Cambodia, is a country located in the southern portion of the Indochina peninsula in Southeast Asia. It is 181,035 square kilometres in area, bordered by Thailand to the northwest, Laos to the northeast, Vietnam to the east and the Gulf of Thailand to the southwest.


Thai gov't pressured to acknowledge activist's disappearance

Another Thai anti-government activist has gone missing in Cambodia, the latest in a string of disappearances of dissidents in Southeast Asia.
Credit: Al Jazeera STUDIO Duration: 02:13
Published
Giant softshell turtles return to the wild

Cambodia's conservationists on Saturday (May 23) revealed a video showing the release of critically endangered Asian giant soft-shell turtle hatchlings back into the wild.
Credit: Reuters Studio Duration: 00:45
Published
Coronavirus brings curtain down on Cambodia shadow puppets

Cambodia's shadow puppet tradition goes back to the 7th century and has survived collapse of empires and wars. Now, the coronavirus pandemic has dealt one theater in Phnom Penh a new blow, bringing the..
Credit: Reuters Studio Duration: 01:30
Published
You Might Like



Thai protesters demand investigation of exile's kidnapping

Protesters in the Thai capital held a small rally outside the prime minister's offices on Friday urging authorities to investigate the suspected kidnapping of an exiled activist by unknown gunmen last..




Reuters - Published





PM Modi discusses Covid-19 pandemic with Cambodian PM

Prime Minister Narendra Modi discussed the Covid-19 pandemic with his Cambodian counterpart Samdech Akka Moha Sena Padei Techo Hun Sen on Wednesday and conveyed India's commitment to further..




IndiaTimes - Published





Cambodia to investigate kidnapping of exiled Thai activist

Cambodia will investigate the suspected kidnapping of an exiled Thai activist in Phnom Penh, a police spokesman told Reuters on Tuesday, five days after unknown gunmen reportedly dragged him off the..




Reuters - Published





Vietnam plans to resume flights to some virus-free countries

Vietnam plans to allow a resumption of flights to and from countries that have had no cases of coronavirus for 30 days, state media cited the prime minister as saying on Tuesday, with priority..




Reuters - Published





Thai exile's kidnapping sparks protests over "missing" critics

Protests flared in Bangkok on Monday against the suspected kidnapping of a Thai activist in Cambodia which has reignited protests against Thailand's military-royalist elite, with some online..




Reuters - Published





Eight countries, including India, ask UN Human Rights Commissioner to be responsible amid COVID-19 crisis

The joint letter was written by the permanent missions of India, Indonesia, Cambodia, Malaysia, Myanmar, the Philippines, Thailand, and Vietnam in Geneva to the OHCHR




DNA - Published





Exiled Thai activist abducted in Cambodia, rights group says

Unknown gunmen abducted a Thai political activist in Cambodia's capital, rights advocates said on Friday, the latest in a series of mysterious disappearances of Southeast Asian dissidents living in..




Reuters - Published




No discussion on RCEP during India-Australia virtual summit: MEA

The RCEP is a proposed free trade agreement in the Asia-Pacific region between the ten member states of the Association of Southeast Asian Nations (ASEAN) namely, Brunei, Cambodia, Indonesia, Laos,..




IndiaTimes - Published





Cambodia lifts entry ban from six countries as coronavirus eases

Cambodia has lifted a ban on entry of visitors from Iran, Italy, Germany, Spain, France and the United States that had been put in place to curb the spread of coronavirus, the health ministry said on..




Reuters - Published





Cambodia says all COVID-19 patients recovered, no new cases for a month

Cambodia's last patient with the new coronavirus has recovered and left hospital, leaving the Southeast Asian country with zero cases, the health ministry said on Saturday, while urging continued..




Reuters - Published





Coronavirus brings curtain down on Cambodia shadow puppet theatre

Cambodia's shadow puppet tradition goes back to the 7th century and has survived the collapse of empires, wars and Khmer Rouge reign of terror that left some 1.7 million people dead.




Reuters - Published





Cambodian official says human rights 'need to be put aside' in drug war

A Cambodian official on Wednesday defended an anti-drug campaign that has been decried as rife with abuses, saying human rights "need to be put aside" to fight drugs that destroy families and fuel..




Reuters - Published





Cambodia adopts law to allow for emergency powers to tackle coronavirus

Cambodia's parliament passed a law on Friday to prepare the way for a state of emergency, which Prime Minister Hun Sen has said he might have to declare to reinforce the campaign against the..




Reuters - Published





In scrappy Cambodian casino town, Chinese plan future beyond coronavirus

When casino owner Kang Qiang looks out the window of his 20th floor office in this city on the remote Cambodian coast, he sees construction cranes sitting idle.




Reuters - Published





Cambodia PM orders casinos shut down as coronavirus cases climb

Cambodian Prime Minister Hun Sen on Monday ordered all casinos to close to curb the spread of the coronavirus.




Reuters - Published





France, Malaysia charter flights to bring home citizens stranded in Cambodia

France and Malaysia have organized chartered flights to fly out hundreds of their citizens stranded in Cambodia after Southeast Asian nation sealed borders and canceled flights in the wake of the..




Reuters - Published





Cambodia reports four new coronavirus cases, bringing total to 91

Cambodia reported four new coronavirus cases on Tuesday, bringing the total to 91, the health ministry said.




Reuters - Published




Cambodia uses coronavirus crisis to arrest 17 critics, rights group says

The Cambodian government has used the coronavirus outbreak to lock up opposition activists and others expressing concern about the virus and the government's response, U.S.-based Human Rights Watch..




Reuters - Published





Cambodia halts mainstream Mekong River dam plans for 10 years, official says

Electricity-starved Cambodia will not develop new hydropower dams on the Mekong River for the next 10 years, a senior energy official said on Wednesday, as it reviews its policy to seek energy from..




Reuters - Published





300 Indians stranded at Kuala Lumpur airport

At least 300 Keralites, including students, are stranded at the Kuala Lumpur airport following cancellation of flights to India due to the coronavirus outbreak. Those stranded have come from various..




IndiaTimes - Published





French infant among four new coronavirus cases in Cambodia

Cambodia reported four new cases of coronavirus including in a four-month-old French boy and two people who had traveled to Malaysia for a religious ceremony, the Ministry of Health said late Sunday.




Reuters - Published





Three Britons have coronavirus on cruise on Cambodia's Mekong

Cambodia has found three British nationals infected with the coronavirus on a tourist boat on the Mekong River, bringing its tally of cases to five, the Ministry of Health said on Thursday.




Reuters - Published





U.S. decries 'fabricated conspiracy theories' in Cambodia treason trial

The United States ambassador to Cambodia said on Thursday that he is troubled by "fabricated conspiracy theories" at the treason trial of opposition party leader Kem Sokha, who is accused of plotting..




Reuters - Published





First Cambodian tests positive for coronavirus

The first Cambodian has tested positive for the new coronavirus, the Health Ministry said on Saturday.




Reuters - Published





Malaysia says American coronavirus case now tests negative for virus

Malaysian health authorities on Saturday said an American passenger of a cruise liner docked in Cambodia has now tested negative for the novel coronavirus, a week after she had been declared the..




Reuters - Published





Last passengers leave cruise ship in Cambodia after virus clearance

Remaining passengers who were stuck onboard a cruise ship docked in Cambodia for almost a week left the vessel on Wednesday after they tested negative for the coronavirus, a government official said.




Reuters - Published




Virus deals new blow to Cambodian city bound to China

An influx of Chinese that some Cambodians resented for bringing noise, dust and chaos to the port of Sihanoukville, is the cause of more pain now that it has gone into reverse.




Reuters - Published





Scramble to track Cambodia cruise passengers after coronavirus case reported

Health authorities scrambled on Monday to track hundreds of passengers who disembarked from a cruise ship in Cambodia last week after a woman tested positive for coronavirus, heightening fears about..




Reuters - Published




American woman from cruise ship tests positive again for coronavirus in Malaysia

An American passenger from a cruise ship that docked in Cambodia has tested positive for the new coronavirus a second time in Kuala Lumpur, Malaysia said on Sunday, after the cruise firm and Cambodian..




Reuters - Published




Cruise firm seeks new virus test for passenger from ship in Cambodia

More tests are needed to confirm that an American passenger from a cruise ship docked in Cambodia has the new coronavirus after she tested positive in Malaysia, the MS Westerdam's operator said on..




Reuters - Published





Trump thanks Cambodia over ship in rare message to China-ally

U.S. President Donald Trump has thanked Cambodia for taking in the castaway cruise ship MS Westerdam in a rare message to a country that is one of China's closest allies and has often been at odds with..




Reuters - Published





No peak in sight as China reports 5,000 new coronavirus cases

China's coronavirus outbreak showed no sign of peaking with health authorities on Friday reporting more than 5,000 new cases, while passengers on a cruise ship blocked from five countries due to virus..




Reuters - Published





China reports 5,000 new coronavirus cases, cruise ship disembarks in Cambodia

China's coronavirus outbreak showed no sign of peaking with health authorities on Friday reporting more than 5,000 new cases, while passengers on a cruise ship blocked from five countries due to virus..




Reuters - Published




Coronavirus cases in China epicenter fall, cruise ship disembarks in Cambodia

The death toll from a coronavirus outbreak in China's Hubei province rose by 116 on Friday, health officials said, less than half the number of deaths from the day before, when Japan reported its first..




Reuters - Published





Passengers on ship turned away over virus fears disembark in Cambodia

Passengers on a cruise ship that spent two weeks at sea after being turned away by five countries over coronavirus fears started disembarking in Cambodia on Friday.




Reuters - Published





Cambodia says no passengers on castaway cruise ship have coronavirus

None of the 20 passengers on board a cruise ship which docked in the Cambodian port town of Sihanoukville on Thursday have the coronavirus, a spokesman for the Southeast Asian country's health ministry..




Reuters - Published





Cruise passengers shunned over coronavirus to head home after Cambodia reprieve

A cruise ship that spent two weeks at sea after being turned away by five countries over fears that someone aboard might have the coronavirus arrived in Cambodia on Thursday, to the relief of..




Reuters - Published





Fear of virus unnerves castaway cruise ship's Cambodian port

Cambodians voiced unease on Thursday at the arrival of a cruise ship that has been turned away by five countries in fear of the new coronavirus - despite having no suspected cases onboard.




Reuters - Published





Cruise ship shunned over coronavirus fears arrives in Cambodia

A cruise ship which had spent two weeks at sea after being turned away by five countries over fears that someone aboard may have the coronavirus arrived in Cambodia on Thursday to the relief of..




Reuters - Published




Cambodia to allow cruise ship shunned over virus fears to dock

Cambodia has agreed to let a cruise ship that has been turned away by five countries over fears that someone aboard may have the coronavirus dock and disembark its passengers, the Holland America Line..




Reuters - Published





Cambodia PM says country 'will not bow down' a day before EU trade decision

Cambodian Prime Minister Hun Sen was defiant on Tuesday, a day before the European Union is to decide whether to end the country's special trade preferences over human rights concerns, saying the..




Reuters - Published





Cambodia garments, possibly losing EU trade status, now hit by coronavirus

At least four textile factories in Cambodia may suspend operations because of delays to the supply of raw materials from China caused by the coronavirus outbreak, the labour ministry said on Monday.




Reuters - Published