Cabinet (government)
Group of high ranking officials, usually representing the executive branch of government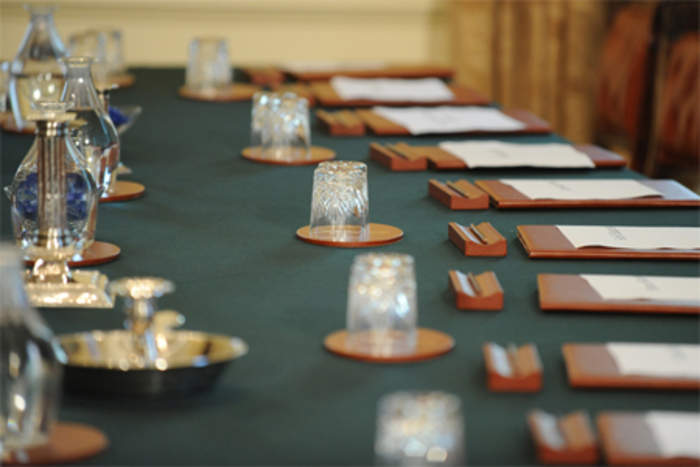 A cabinet is a body of high-ranking state officials, typically consisting of the executive branch's top leaders. Members of a cabinet are usually called cabinet ministers or secretaries. The function of a cabinet varies: in some countries, it is a collegiate decision-making body with collective responsibility, while in others it may function either as a purely advisory body or an assisting institution to a decision-making head of state or head of government. Cabinets are typically the body responsible for the day-to-day management of the government and response to sudden events, whereas the legislative and judicial branches work in a measured pace, in sessions according to lengthy procedures.


UP govt to present E-Budget this time

Ahead of Uttar Pradesh budget for the financial year 2021-2022, Chief Minister Yogi Adityanath on February 12 informed that the state government will present an E-Budget and ministers are being trained..
Credit: ANI Duration: 01:07
Published
'Cabinet approved increase in MSP of milling and ball copra': Prakash Javadekar

The government on Wednesday approved an increase in the minimum support price (MSP) of milling copra by Rs 375 per quintal and ball copra by Rs 300 per quintal to boost farmers' income. The Cabinet..
Credit: HT Digital Content Duration: 03:54
Published
Speaker Pelosi joins others in calling to remove President Trump from office

House Speaker Nancy Pelosi joined others in calling for the removal of President Trump by his Cabinet using the 25th Amendment.
Credit: USA Today News (International) Duration: 00:58
Published
Can Trump be removed from office?

[NFA] A source familiar with the effort said there have been some preliminary discussions among some Cabinet members about invoking the 25th Amendment to remove U.S. President Donald Trump from office...
Credit: Reuters - Politics Duration: 01:45
Published
You Might Like



Cabinet notes on farm ordinances cannot be divulged since matter is sub judice, says govt in reply to RTI




IndiaTimes - Published





Karnataka cabinet expansion likely to take place on Jan 13, says CM Yediyurappa after meeting Amit Shah, Nadda

Chief Minister BS Yediyurappa further said that seven new members may be inducted into the Cabinet.




DNA - Published





Madhya Pradesh Cabinet approves ordinance on Freedom to Religion Bill

There will be a provision of punishment of up to 5 years for a religious leader who has performed religious conversion before submitting application




DNA - Published





Karnataka Cabinet clears anti-cow slaughter ordinance; to be sent for governor's approval

However, slaughterhouses will continue to function and beef consumption will not be prohibited with respect to buffalo meat.




DNA - Published





Madhya Pradesh Cabinet clears Religious Freedom Bill with 10-year jail term

With this development, Madhya Pradesh has become the third BJP-ruled state to clear the anti-conversion bill after Uttar Pradesh and Himachal Pradesh.




DNA - Published





Cabinet approves revision in DTH guidelines, licence to now be issued for 20 years

The Union cabinet on Wednesday approved revisions in the guidelines for providing DTH services in the country. According to the changes, the DTH licence to be issued for 20 years while the license fee..




IndiaTimes - Published




Universities, colleges in Uttarakhand to reopen today under strict COVID-19 guidelines; read to know details

The decision to open colleges and Universities from December 15 was taken in the Cabinet meeting held on Wednesday.




DNA - Published





Cabinet approves laying submarine optical fibre to provide high-speed broadband to Lakshadweep




IndiaTimes - Published





Tejashwi can't even spell 'Cabinet' while Nitish Kumar is qualified engineer: Ashwini Choubey




IndiaTimes - Published





Productivity Linked Bonus announced by Cabinet, 11.58 lakh non-gazetted Railway employees likely to benefit

Productivity Linked Bonus equivalent to 78 days' wages for the financial year 2019-2020 for all eligible non-gazetted Railway employees has been announced by the Cabinet. About 11.58 lakh non-gazetted..




DNA - Published





Cabinet approval to Rs 520 crore package for J&K, Ladakh will further 'ease of living': PM

The Cabinet has approved a special package of Rs 520 crore for the two UTs for a period of five years till financial year 2023-24 and decided to ensure funding of DAY-NRLM in Jammu and Kashmir and..




IndiaTimes - Published





Cabinet approves to complete Kolkata East-West Metro Corridor Project by 2021 for Rs 8,575 crores

Addressing a press conference after the Cabinet meeting today, he said this will give a boost to the mass transit system.




DNA - Published





With BJP's new team in place, all eyes now on Narendra Modi-led NDA government's Cabinet expansion

After the announcement of a new team to run the Bharatiya Janata Party (BJP), there is an eager anticipation of an upcoming Cabinet expansion in the Narendra Modi-led NDA government.




DNA - Published





Cabinet approves 'Mission Karmayogi' for civil servants: Here's what it means




IndiaTimes - Published





Centre likely to discuss privatisation of 6 airports in Cabinet meeting on Wednesday

The Modi government had earlier decided to privatise operations of 12 airports of the Airport Authority of India (AAI). The decision on privatisation of six airports of Ahmadabad, Mangalore, Lucknow,..




DNA - Published





Cabinet approves new national education policy: Key points




IndiaTimes - Published




Rajasthan ministry meets after party sacks Pilot, his loyalists

Rajasthan chief minister Ashok Gehlot and other ministers reached the CM's residence Tuesday evening for a Cabinet meeting. Gehlot and other ministers arrived there from the hotel where they were holed..




IndiaTimes - Published





'Great news,' says PM Modi as Cabinet approves 'International' status to Kushinagar Airport

The decision to declare Kushinagar, a popular Buddhist cultural site, was taken at a Cabinet meeting chaired by Prime Minister Narendra Modi.




DNA - Published





PM Modi endorses Cabinet decision to increase MSP for Kharif crops

"Taking forward the mantra of 'Jai Kisan,' the Cabinet has taken major decisions in favour of the farmers. The MSP has been ensured to be affixed at least one and a half times the cost for 14 Kharif..




IndiaTimes - Published





Cabinet approves AtmaNirbhar Bharat package for allocation of foodgrains to migrant workers




IndiaTimes - Published





Cabinet approves Rs 15,000 crore for special COVID-19 response package

The decision was taken at a Cabinet meeting chaired by Prime Minister Narendra Modi.




DNA - Published





Cabinet approves Ordinance to make acts of violence against health workers cognisable and non-bailable offence

Union Minister Prakash Javdekar informed on Wednesday that an ordinance will be brought in through which an accused involved in the attack on healthcare workers could be sentenced from 6 months to 7..




DNA - Published





Cabinet approves ordinance to slash 30% salaries of MPs, ministers for a year; MPLAD funds suspended for 2 years

The Cabinet has also decided to suspend the Members of Parliament Local Area Development (MPLAD) Fund for two years for "managing health and adverse impact of the outbreak of COVID-19 in the country.




DNA - Published





Delhi violence did not figure in Cabinet meeting: Prakash Javadekar

Javadekar answered in the negative when asked at a media briefing whether the violence in northeast Delhi, which has claimed 24 lives so far, figured in the Cabinet meeting. He said Prime Minister..




IndiaTimes - Published





Cabinet approves Assisted Reproductive Technology Regulation Bill, 2020




IndiaTimes - Published




With iPads for ministers, Uttar Pradesh Cabinet meetings to go paperless

According to the new instructions, the cabinet meeting from hereon will be completely paperless. Notes will be conveyed to the ministers through their respective tablet




DNA - Published





Bill allowing abortion up to 24 weeks in special cases gets Cabinet nod

The Cabinet approved the Medical Termination of Pregnancy (Amendment) Bill, 2020 aiming to make legal access to MTP or abortion easier. The proposals suggest an increase in the upper gestational limit..




IndiaTimes - Published





Cabinet approves amendments to abortion bill seeking to raise upper limit to 24 weeks

The bill will be introduced in the upcoming budget session of the parliament.




DNA - Published





Cabinet approves creation of Chief of Defence Staff post, to head Department of Military Affairs as Secretary

According to government sources, outgoing Army Chief General Bipin Rawat is likely to be named first CDS.




DNA - Published





Cabinet clears Personal Data Protection Bill; proposes jail term, penalty for privacy violations




IndiaTimes - Published





Cabinet approves Central Sanskrit Universities Bill, to be introduced in Parliament: Prakash Javadekar




IndiaTimes - Published





Cabinet approves Personal Data Protection Bill




IndiaTimes - Published





PM's suggestion that I should be part of his Cabinet reflects his magnanimity: Supriya Sule




IndiaTimes - Published





Cabinet approves country's negotiating stand for COP25, India to insist for fairness and equity




IndiaTimes - Published





Cabinet approves Rs 5.5 lakh package for PoK families who initially settled outside J&K




IndiaTimes - Published





Sudan forms first Cabinet since fall of Bashir: prime minister

Sudan's prime minister announced on Thursday the formation of the first government since the overthrow of longtime ruler Omar Hassan al-Bashir in April.




Reuters - Published





Arun Jaitley, former Union minister and BJP stalwart, passes away at 66

Jaitley, a lawyer by profession, had been an important part in Prime Minister Narendra Modi's Cabinet in in the BJP government's first term. He held the finance and defence portfolios, and often acted..




IndiaTimes - Published





Six gets Cabinet rank in Uttar Pradesh government reshuffle

Sources revealed that names of new ministers were finalised after talks between Yogi Adityanath, UP BJP chief Swatantra Dev Singh and state BJP organisational secretary Sunil Bansal




DNA - Published





Yogi Adityanath expresses government resolve to make UP most prosperous one in the country

Hours after expanding his Cabinet, Uttar Pradesh chief minister Yogi Adityanath on Wednesday praised his five ministers, saying "those (ministers) who have done good work have been promoted"...




IndiaTimes - Published





Maharashtra Govt to set up body for EWS youth upliftment

The state Cabinet headed by the Chief Minister Devendra Fadnavis gave its approval for the establishment of AMRUT.




DNA - Published





Uttar Pradesh Cabinet reshuffle on Wednesday, over a dozen new ministers likely to take oath

The cabinet reshuffle has been much-awaited with several key promotions and induction of new ministers likely to take place.




DNA - Published





'Cabinet expansion tomorrow, will get final list from Amit Shah in few hours,' says Karnataka CM BS Yediyurappa

Yediyurappa who took oath as the Chief Minister on July 26 is yet to form his Cabinet. His move has been criticised by the opposition leaders who have alleged that the scale and quality of relief work..




DNA - Published





Karnataka: Cabinet expansion on cards tomorrow

The cabinet expansion will be done after the BJP legislature party meeting that will take place at Vidhana Soudha in Bengaluru on the same day




DNA - Published





Yogi Adityanath likely to expand UP Cabinet soon

There are presently 43 ministers in the state Cabinet including Adityanath, two Deputy CMs, 9 MoS with independent charges and 13 MoS.




DNA - Published





BS Yediyurappa to hold talks with PM, BJP chief before Cabinet expansion: Jagadish Shettar

Senior BJP leader Jagadish Shettar on Sunday said chief minister B S Yediyurappa will discuss the formation of his Cabinet with Prime Minister Narendra Modi and BJP national president Amit Shah during..




IndiaTimes - Published





Siddaramaiah flays Yediyurappa over delay in Cabinet expansion




IndiaTimes - Published





Cabinet approves increasing strength of Supreme Court judges from 31 to 33

Gogoi had last month written to Prime Minister Modi seeking to increase the strength of judges and raise the retirement age of high court judges to 65 years.




DNA - Published





BS Yediyurappa wins trust vote in Karnataka

With focus shifting to Cabinet expansion, the CM may not find the exercise smooth as BJP enjoys only a slender margin




DNA - Published





Cabinet approves Rs 330 crore for unpaid employees of three pharma PSUs




IndiaTimes - Published





Goa CM Pramod Sawant meets Amit Shah

Goa Chief Minister Pramod Sawant met BJP president Amit Shah, and both leaders are believed to have held deliberations over a reshuffle in the state Cabinet after 10 Congress MLAs joined the saffron..




IndiaTimes - Published