Greece
Country in Southeast Europe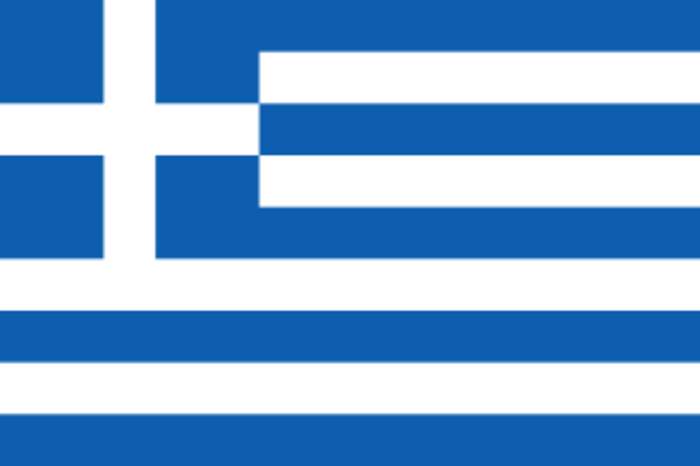 Greece, officially the Hellenic Republic, is a country in Southeast Europe. It is situated on the southern tip of the Balkans, and is located at the crossroads of Europe, Asia, and Africa. Greece shares land borders with Albania to the northwest, North Macedonia and Bulgaria to the north, and Turkey to the northeast. The Aegean Sea lies to the east of the mainland, the Ionian Sea to the west, and the Sea of Crete and the Mediterranean Sea to the south. Greece has the longest coastline on the Mediterranean Basin, featuring thousands of islands. The country consists of nine traditional geographic regions, and has a population of approximately 10.7 million. Athens is the nation's capital and largest city, followed by Thessaloniki.


Olympus race: 'Mountain of the Gods' marathon returns to Greek capital

Over 500 runners from across the globe came to Greece to take on the punishing marathon to the summits of the Olympus Mountain -- a race which emulates an ancient Greek pilgrimage.
Credit: euronews (in English) Duration: 01:21
Published
'My Big Fat Greek Wedding 3' Is in the Works

'My Big Fat Greek Wedding 3' , Is in the Works. 'Entertainment Tonight' reports Nia Vardalos shared the news on Instagram. . I have an announcement. We are in Greece, filming 'My Big Fat Greek..
Credit: Wibbitz Top Stories Duration: 01:31
Published
Queues return to Greek soup kitchens as inflation takes its toll

First, the financial crisis played havoc with Greece. Then the pandemic showed up. And now: inflation. will Greeks manage to weather the storm again?
Credit: euronews (in English) Duration: 09:52
Published
'Soul relief': On Greek island, bees help people with mental health issues

The Leros cooperative employs 13 salaried workers, supervised by specialist beekeepers, in addition to a team of nurses and occupational therapists from the island's psychiatric hospital.
Credit: euronews (in English) Duration: 02:01
Published
Fire in Greece burns humanitarian aid destined for Ukraine

Piles of charred clothing sit in a storage area after a fire destroyed 20 tonnes of clothes and blankets donated in Greece for war-hit Ukrainian refugees, an aid group said.
Credit: euronews (in English) Duration: 01:00
Published
Greek tourism industry bounces back despite Europe's cost of living crisis

The Greek tourism industry is getting ready for a busy summer season, but many small business owners are worried about the rising cost of living.
Credit: euronews (in English) Duration: 02:41
Published
Greeks worry about higher prices

Like many other EU nations, Greece is facing a steep rise in the cost of living and doing business. As summer approaches, restaurant owners and hotel managers worry that higher prices could scare away..
Credit: Oneindia Duration: 02:49
Published
You Might Like



Four British men arrested in Greece after more than £42.5m of cocaine found in banana shipment

Four British men have been arrested in Greece after cocaine worth more than £42.5m was found in a banana shipment.




Sky News - Published




Nations League: Northern Ireland lose scrappy opener to Greece as dismal run continues

Northern Ireland's search for a first-ever Nations League win stretches to 11 matches after a deflating 1-0 home defeat by Greece.




BBC Sport - Published





Missing passenger found alive after ferry blaze off Greek coast

A passenger thought to be missing after a fire swept through a ferry sailing from Greece to Italy has been found alive on the vessel's stern.




Sky News - Published




Passengers feared missing and two people trapped on burning vessel in Greece

Two truck drivers are stuck inside a burning ferry in Greece, as authorities scramble to save them.




Sky News - Published




Eco-terrorist jailed after planting homemade explosive device in Edinburgh

A former Greek serviceman has been jailed for planting a potentially explosive device in public gardens in the centre of Edinburgh.




Sky News - Published





Turkey says Greek guards 'pushed back' migrants found frozen to death near border

Twelve migrants have been found frozen to death near Turkey's border, prompting accusations that they had been pushed back over the frontier by Greek guards.




Sky News - Published




World Cup qualifier: All the goals as Wales trounce Greece 5-0

Watch all the goals as Wales hammer Greece at Parc y Scarlets to remain unbeaten in Women's World Cup qualifying.




BBC Sport - Published





Wales 5-0 Greece: Thumping win for Gemma Grainger's side in Llanelli

Wales cruise to a 5-0 win over Greece as they maintain their positive start to their 2023 World Cup qualifying campaign.




BBC Sport - Published





Fiba World Cup qualifiers: Great Britain fight back to shock Greece

Watch Great Britain fight back from 14 points down in the second half to pull off a 78-69 win in their Fiba World Cup qualifier against Greece, who are ranked more than 30 places higher.




BBC Sport - Published





GB shock Greece 78-69 in first World Cup qualifier .

Great Britain beat world No 10 Greece78-69 in Newcastle as they start their World Cup 2023 qualifying campaign.




BBC Sport - Published





Boris Johnson tells Greek PM that dispute over Elgin marbles is 'matter for British Museum'

Boris Johnson has told the Greek prime minister that the issue of the Parthenon sculptures was "one for the trustees of the British Museum" during talks in Downing Street.




Sky News - Published





Great Britain women lose to Greece in opening qualifier

Great Britain's women start their EuroBasket 2023 qualifying campaign with a defeat to Greece in Manchester.




BBC Sport - Published




Wales' 2022 World Cup play-off confirmed as Spain beat Greece 1-0

Wales are officially guaranteed at least a place in the World Cup play-offs after Spain beat Greece 1-0.




BBC Sport - Published





Australia recognises Covaxin, to allow visitors jabbed with it; Modi thanks Oz counterpart

Australia will recognise Covaxin, apart from Covishield, allowing those fully jabbed with the Bharat Biotech vaccine entry into the country. While WHO's emergency use listing for Covaxin is awaited,..




IndiaTimes - Published





Teresa Giudice Engaged to Luis Ruelas, Popped Question on Vacation

Teresa Giudice went to Greece with a boyfriend, but she's coming back with a fiancé. The "Real Housewives of New Jersey" star just got engaged to her man, Luis Ruelas, on their European getaway. Luis..




TMZ.com - Published





Crete hit by large 6.4 earthquake sparking tsunami warning

A large 6.4 magnitude earthquake has hit the Greek holiday island of Crete and a tsunami warning has been issued.




Sky News - Published




EU countries should stop being 'so naive' on defence, says Macron, as French sell warships to Greece

France's president has said Europeans must stop being "so naive" about the need to defend themselves as he celebrated the signing of a deal to sell frigates to Greece.




Sky News - Published




One dead and nine injured after earthquake hits Greek island

One person has died and several others have been injured after a 5.8 magnitude earthquake struck the Greek island of Crete.




Sky News - Published




Greece investigates plane crash that killed witness in Netanyahu corruption trial

Greek authorities are investigating a private plane crash that killed a witness in the corruption trial of former Israeli prime minister Benjamin Netanyahu. 




Sky News - Published




Emma Raducanu: Watch the moment British teenager reaches US Open final

British teenager Emma Raducanu reaches the US Open final with a stunning straight-set win over Greek 17th seed Maria Sakkari in New York.




BBC Sport - Published





Emma Raducanu reaches US Open final in New York

British teenager Emma Raducanu reaches the US Open final after her meteoric rise continues with a stunning straight-set win over Greece's Maria Sakkari.




BBC Sport - Published





Emma Raducanu through to the US Open final in straight sets

Emma Raducanu is through to the final of the US Open after defeating Maria Sakkari of Greece in straight sets.




Sky News - Published





'Our borders will remain safe': Greece erects 40km fence to stop Afghan asylum seekers entering Europe

Greece has completed work on a 40km fence with surveillance system to stop asylum seekers crossing into Europe following the Taliban's takeover of Afghanistan.




Sky News - Published




Christos Tzolis: Norwich City sign Greece international in five-year deal

Greece international Christos Tzolis joins Norwich City from PAOK on a five-year deal for an undisclosed fee.




BBC Sport - Published





British-flagged vessel sinks in Greece, coast guard says

A British-flagged vessel has sunk of the coast of Milos and a rescue operation is under way for 17 passengers at sea, the Greek coast guard says.




Sky News - Published




A recurring nightmare: Man left to watch his village burn on TV as Greek wildfires rage

When I met Panagiotis Kratimenos, he was watching his village burn on the news.




Sky News - Published




UK firefighters help 'exhausted' Greece colleagues battle wildfires

Even before their day begins battling Greek wildfires, British firefighters make an hour-long drive up a steep hillside.




Sky News - Published




'People are fighting the fires alone': Eyewitnesses recount devastating scenes of Greece blazes as homes destroyed

It is sad to think that just a few days ago a family lived happily in the burned shell of the house we are now looking around in the village of Limni on Evia Island.




Sky News - Published




Thousands flee hellish scenes in Greece amid desperate fight to save homes

It is hard to know what time of day it is on Evia.




Sky News - Published




Kerri Walsh -- Good Genes or Good Docs?!

Kerri Walsh is serving up major good looks! Here is a 25-year-old version of the professional beach volleyball player showing off her winning looks while receiving a gold medal at the Summer Olympic..




TMZ.com - Published





'Disaster movie' in Greece: Death and devastation as wildfires rage across the world

From Greece to California, the summer has seen wildfires rage in several places around the world, with lives lost and thousands evacuated.




Sky News - Published




British firefighters deployed to battle Greece wildfires - as footage shows boat escape while blazes rage

British firefighters are being deployed to tackle the raging wildfires in Greece - as new footage shows people escaping by boat as flames fill the sky.




Sky News - Published




Firefighter killed and thousands evacuated as wildfires rage in Greece

A volunteer firefighter has died in and thousands of people have been evacuated from an island near Athens as wildfires rage in Greece.




Sky News - Published




Priti Patel visits Greece for discussions on tackling illegal migration

Priti Patel has met with Greek ministers to discuss the challenges posed by illegal migration.




Sky News - Published





'If my mother saw this she would cry': Anger and devastation as wildfires scorch Greece

I spot George Kyriakopolous sitting in his car, the door open to blackened surroundings and smouldering earth.




Sky News - Published




How heat dome has sparked worst wildfires in a decade across Europe

Unprecedented wildfires have broken out across Italy, Turkey and Greece due to rising temperatures caused by climate change.




Sky News - Published