Angelina Jolie
American actress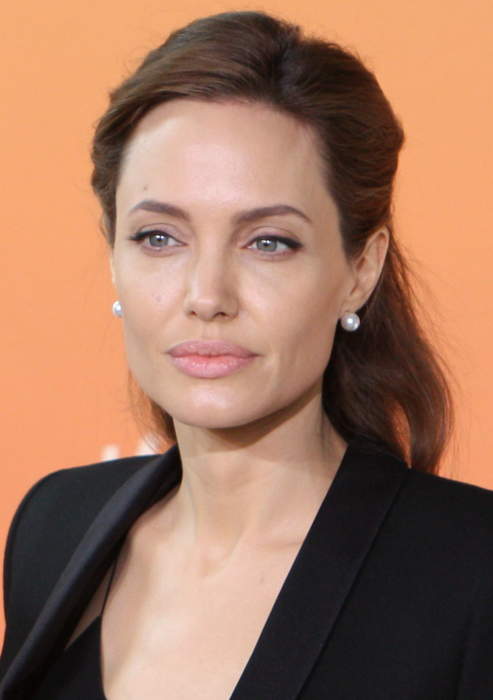 Angelina Jolie is an American actress, filmmaker, and humanitarian. The recipient of numerous accolades, including an Academy Award and three Golden Globe Awards, she has been named Hollywood's highest-paid actress multiple times.


Marvel's 'Eternals' adds new heroes to the MCU

Salma Hayek, Angelina Jolie, and Kumail Nanjiani are among the stars of director Chloé Zhao's film about longtime super-powered guardians of humanity. David Daniel has a look.
Credit: Bleacher Report AOL Duration: 02:09
Published
You Might Like
Angelina Jolie Cleared to Sell Her Stake in Wine Biz with Brad Pitt
Angelina Jolie got what she wanted -- a judge just signed off on an agreement with her ex, Brad Pitt, to sell her stake in their rosé business. We broke the story ... Jolie filed docs in July asking..
TMZ.com - Published
Afghanistan crisis 'stands for decades of neglect of human rights', Jolie says
Angelina Jolie has said the crisis in Afghanistan is "not a slip-up" and that her thoughts are with women and girls across the country.
Sky News - Published
Angelina Jolie Says Brad Pitt Continuing to Work with Weinstein 'Hurt'
Angelina Jolie says Brad Pitt's continuing to associate himself with Harvey Weinstein during their marriage led to some bad blood between the couple ... adding it was painful. The actress spilled the..
TMZ.com - Published
'I will not turn away': Angelina Jolie makes Instagram debut with letter from Afghan teen
Angelina Jolie has made her Instagram debut using her first post to highlight the plight of young women in Afghanistan since the Taliban takeover.
Sky News - Published
Angelina Jolie Wants Out of Wine Biz with Brad Pitt, Asks Judge to Approve Sale
Angelina Jolie is running to court so she can shed one of the last remnants of her marriage to Brad Pitt -- including the wine business they owned together, which she wants out of ASAP. The actress..
TMZ.com - Published
Brad Pitt Scores Victory Winning 50/50 Joint Custody, Loss for Angelina Jolie
Brad Pitt just won a huge victory in his child custody war with Angelina Jolie, and she lost in a very big way ... TMZ has confirmed. A judge just made a tentative ruling in the case, awarding Brad and..
TMZ.com - Published
Angeline Jolie says judge in custody battle will not allow children to testify
Angelina Jolie has hit out at the judge overseeing her custody battle with Brad Pitt, claiming in a court filing that they had refused to allow their children to testify.
Sky News - Published
'Incredibly poignant moment': Painting by Churchill and owned by Angelina Jolie is sold at auction
A painting by Sir Winston Churchill and owned by Angelina Jolie has been sold for £8.285m.
Sky News - Published
Angelina Jolie's Painting by Winston Churchill Sold for $11.5M
Angelina Jolie has parted ways with a very unique painting by one Sir Winston Churchill ... fetching her a whopping $11.5 million at auction. Christie's in London sold the Moroccan landscape painting..
TMZ.com - Published
Fleabag star Waller-Bridge to play assassin in series based on Brad Pitt film
Phoebe Waller-Bridge has revealed her next project - a series based on the Brad Pitt and Angelina Jolie film Mr and Mrs Smith.
Sky News - Published
Angelina Jolie Takes All 6 Kids Out to Dinner in Malibu
Angelina Jolie faced one of her toughest challenges ever -- getting all 6 of her kids organized and loaded into one vehicle for a family dinner, but she pulled it off. The actress and her squad of..
TMZ.com - Published
Outpouring of support in Russia for sisters who killed abusive father
One summer night last year, sisters Krestina, Angelina and Maria Khachaturyan went into the room where their 57-year-old father Mikhail was sleeping and attacked him with pepper spray, a knife and a..
Reuters - Published
Angelina Jolie urges international support for Venezuelan children
Hollywood star Angelina Jolie on Saturday urged the international community to provide more support to three South American countries with the most migrants from crisis-hit Venezuela, saying 20,000..
Reuters - Published