MOVIE REVIEW: Fast & Furious Presents: Hobbs & Shaw

Monday, 5 August 2019
by 👨‍💻 Graham Pierrepoint


FAST & FURIOUS PRESENTS: HOBBS & SHAW

Dir: David Leitch

Starring Dwayne Johnson, Jason Statham, Idris Elba, Vanessa Kirby, Helen Mirren, Roman Reigns, Eddie Marsan, Eiza Gonzalez





4.5 STARS (out of 5)
Am I really giving a Fast & Furious movie a 4.5 star rating? Perhaps I've had a change of heart over these sorts of movies over the years, because I can quite safely say that I had an absolutely fantastic time watching Hobbs and Shaw, and I think plenty more people will, too.
Fast & Furious is an odd franchise which has evolved massively if you look back at the earlier instalments. Street racing and petty crime have slowly evolved into big, brash fights back against international terrorism over what now amounts to nine different movies. Yes, the series post FF4 is markedly different from the original trilogy, however, this is a freight train of a franchise that shows no sign of slowing down. Does Hobbs & Shaw bring anything new to the table? In some ways yes, in a lot of ways, no – but does it have a good time while doing any of it? 100% affirmative.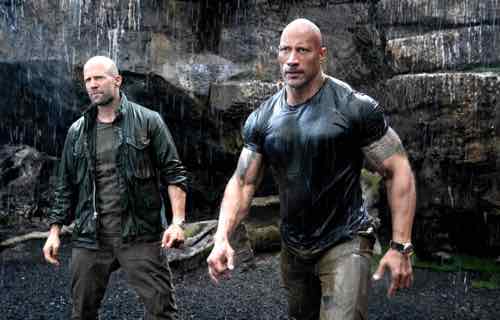 Fast & Furious Presents: Hobbs & Shaw (Universal)
This spin-off from the main series sees MI6 agent Hattie Shaw (Kirby) make off with a deadly virus that Brixton Lore (Elba) wants to use to help push the profile of Eteon, an organisation hell-bent on 'upgrading' humanity. Luke Hobbs (Johnson) and Deckard Shaw (Statham) – Agent Shaw's brother – are brought in to work together to bring the virus into safe keeping, with Hattie assumed to have gone rogue. Hobbs and Shaw have worked together to save the world before. However, they really can't stand each other, and it shows. Ultimately, you have a big scale buddy comedy on your hands here, and it's an absolute riot.
The main standout of this movie is the cast. The main stars – Johnson, Statham, Kirby, Elba – are all amazingly charismatic. Yes, the script has touches and swerves which have been done to death elsewhere – but with this team at the helm, you're going to want to stick around. Yes, this is what's helped the FF movies massively, too – but with a focus on Hobbs and Shaw, there's more fun gleaned from their very specific chemistry. Both are hardmen with hearts of gold – but neither of them take any (insert expletive) from anybody.
There have been complaints made about the narrative being a little wayward, and while I have to agree, I feel the pacing is precise, and I feel that there's enough variety to fill the runtime. I do feel that it is maybe 30 minutes too long, however, there are action movies out there which are shorter, and feel longer. This takes on a variety of locations, from London to Samoa, and the stuntwork is nothing short of incredible. The FF movies try to outdo themselves each and every time – and while some will feel that this spin-off may even dumb things down a little, there are moments you simply can't conceive of until you see them.
Yes, Hobbs & Shaw is the type of cinema you need to turn your brain off for before you sit down. Not all movies that do that are worth seeing. However, this is a movie which requires brain shutdown and which gives you everything on a plate. Big visuals, a fantastic cast, a script which has a few genuinely funny zingers, and above all, genuine joy. This movie looked like an absolute blast to film, green screen or not, and it's worth sticking around to the credits to see just how many stuntpeople worked on it. It's nothing short of absolute mayhem, and it really isn't done by halves.
Fast & Furious Presents: Hobbs & Shaw - Official Trailer (Universal)
This is not a movie which is going to challenge any 'best of' lists. I dare say all FF fans will get into it, however, it's an excellent companion, and maybe even a nice route into the franchise for some people. You need no prior knowledge of what these characters have done prior to the movie. All you need to know is that they're big, they're bad, and they're here to kick butt.
Hobbs & Shaw is a really welcome diversion in a sea of movies which have muddled around or missed the mark recently. 2019 has been a fantastic year for movies so far, but it has to be said that Disney isn't taking away all of the plaudits. This is a fast, furious, relentless joyride and it's one I feel merits watching if your interest is even slightly piqued. For the cast alone, it's worth the price of admission. There are some really surprising cameos in here, too – and I'm impressed the marketing team refrained from plastering them all over the trailers. No spoilers – but they're pretty unexpected, and pretty big – and if you like your movies to be big, daft and over-the-top, this one will more than do the business for you.
You Might Like
💡 newsR Knowledge: Other News Mentions
96-year-old Tipton Twins take a ride in helicopter

The saucy 96-year-old identical twins who famously told Good Morning Britainhost Piers Morgan their longevity was down to "plenty of sex and no Guinness"have hit even dizzier heights by flying in a helicopter. Lil Cox and DorisHobday had the nation in stitches after being invited on the TV show in May asBritain's oldest known identical twins, after Lil confessed to her crush onactor Jason Statham, saying: "If I had one night with him, I'd die happy."Dubbed the Tipton Twins after their home town in the West Midlands' BlackCountry, the pair have since marked October's Grandparents Day with a25-minute helicopter ride - securing their reputation as the country'sfunniest and most adventurous nonagenarians.
Credit: PA - Press Association STUDIO Duration: 01:26
Published
Sylvester Stallone joins 'The Suicide Squad'

The 74-year-old actor confirmed he'll star alongside Margot Robbie, Idris Elba, John Cena, Joel Kinnaman, Peter Capaldi, and Viola Davis in the film in a post on his Instagram account.
Credit: Cover Video STUDIO Duration: 00:47
Published
The Prince's Trust Ambassadors: Idris Elba and Naomie Harris among those celebrating Black History Month

Credit: Clarence House Idris Elba and fellow actors Naomie Harris and ColinSalmon are among a group of prominent black figures,supported by the Prince'sTrust in their early days or charity ambassadors, who have recorded videos inreply to questions from young people helped by the trust.
Credit: PA - Press Association STUDIO Duration: 01:28
Published
Matthew McConaughey recruits Idris Elba for virtual book tour

Matthew McConaughey is taking his virtual book tour overseas by recruiting Idris Elba to interview him for events targeted for the U.K. and Australia.
Credit: Cover Video STUDIO Duration: 00:56
Published
Idris Elba insists if he tackled all his critics, he'd have a miserable life

Idris Elba chooses to ignore most criticism because he doesn't want a "miserable life".
Credit: Cover Video STUDIO Duration: 00:42
Published
Dwayne Johnson and Xbox surprise children's hospitals with Series X consoles

According to a company blog post, Johnson and Xbox partnered with Gamers Outreach .
Credit: Cover Video STUDIO Duration: 01:03
Published
Man Carves Sculpture Of Dwayne Johnson From A Tree

The Rock has been crafted from an oak tree. Talented sculptor James O'Neal has painstakingly fashioned Dwayne Johnson from wood. The life-like sculpture was carved from a single piece of a red oak log. It stands 8' 3" tall, weights 428 pounds, and took just over 6 months to complete. James, from Bridgeton, New Jersey, has previously crafted homages including Sylvester Stallone's Rocky character, as well as the Austrian oak himself: Arnold Schwarzenegger. He tells Cover Images (COVER-IMAGES.COM): "I have not heard if Dwayne has seen it yet, but I did hear that he was told about it last week, so hopefully he will reach out. It is my ninth full size statue."
Credit: Cover Video STUDIO Duration: 01:15
Published
Dwayne Johnson becomes Instagram's most-followed man in America

On Thursday, Dwayne Johnson took to Instagram to celebrate surpassing 200 million followers on the platform.
Credit: Cover Video STUDIO Duration: 01:11
Published
Lady Gaga joins Brad Pitt for David Leitch movie 'Bullet Train'

Oscar winner Lady Gaga has signed on to star alongside Brad Pitt in the new movie Bullet Train.
Credit: Cover Video STUDIO Duration: 00:46
Published
Shard's Christmas lights salute NHS and key workers

London's The Shard was lit up in honour of the NHS and key workers who havebeen on the front line during the pandemic – with the annual Christmas switch-on done by three healthcare staff. Medical workers from Guy's and St Thomas'NHS Foundation Trust were invited to switch on the display, which saw all 20storeys of the building lit up with more than 575 LED lights and fixtures.
Credit: PA - Press Association STUDIO Duration: 00:40
Published
Beans and Eggs by chef Atul Kochhar

This is a dish anyone can cook for under Rs 100. Chef Atul Kochhar has been cooking it for his family during the pandemic. Simply called Beans and Eggs, it can be garnished with whatever veggies you have in the fridge. The dish needs no accompaniments. Here, the London-based chef goes through the process step-by-step.
Credit: HT Digital Content Duration: 04:40
Published
Mads Mikkelsen Officially Replaces Johnny Depp In 'Fantastic Beasts' Franchise

Warner Brothers has announced that Mads Mikkelsen will replace Johnny Depp in the 'Fantastic Beasts' franchise. Mikkelsen will take over the role of villainous dark wizard Gellert Grindelwald. The movie, due for release on July 15, 2022, is currently in production at Warner Bros. Studios Leavesden, near London. Depp was fired from the franchise after losing a libel case where a news outlet labeled him a wife beater.
Credit: Wochit News Duration: 00:26
Published
'Right and sensible' to put London into Tier 2, says Mayor

Sadiq Khan has said the government's decision to place London into Tier 2 restrictions is "the right and sensible one". The Mayor of London did admit that there is concern over some boroughs in the capital and urged Londoners not to be complacent once the restrictions are lowered. He said he was pleased shops, hospitality and entertainment in the city will be open for the "golden month of December". Report by Thomasl. Like us on Facebook at http://www.facebook.com/itn and follow us on Twitter at http://twitter.com/itn
Credit: ODN Duration: 01:30
Published
Related news from verified sources
•More original news reports from newsR