MOVIE REVIEW: Beauty and the Beast

Monday, 20 March 2017
by 👨‍💻 Graham Pierrepoint


BEAUTY AND THE BEAST

Dir: Bill Condon

Starring Emma Watson, Dan Stevens, Luke Evans, Ewan McGregor, Josh Gad, Emma Thompson, Ian McKellen, Gugu Mbatha-Raw, Stanley Tucci, Kevin Kline, Audra McDonald





3.5 STARS (out of 5)
Disney really is atop the crest of a very big wave – they had an absolutely enormous 2016, and while 2017 looks to be relatively quieter for the firm – after all, they released not one but two films in their animated canon last year – they are still expected to fire on all cylinders throughout the year. While we may be a few months away from Thor : Ragnarok, and while Cars 3 isn't set to screech into theaters until the summer, fans of the House of Mouse can at least take solace in their latest attempt to re-ignite one of their beloved animated classics as a live-action spectacle. It worked for The Jungle Book, it worked for Cinderella – perhaps not for Maleficent nor Alice in Wonderland (at least critically) – so why can't it work for Beauty and the Beast? Rest easy, as for the most part – it does, if only living in the very big shadow of its animated predecessor.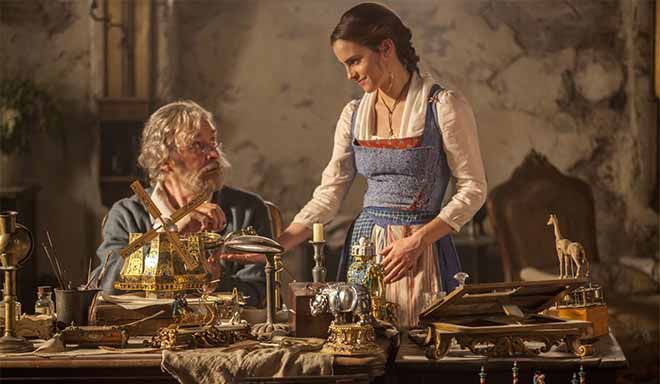 It's a story many will be familiar with, but it bears repeating – book-loving, humble Belle finds herself taken captive in the castle of a malevolent, self-loathing beast – one who resides far from the safety of her home town and one who, on the surface, appears to be a selfish and fearsome creature. Yet, with the help of the castle's staff – cursed to appear as animated housewares – she starts to see the humanity in him. All the while, the boastful and repugnant Gaston aims to win her charms despite her growing ever closer to a man cursed to be a towering, furry monster.
Let's make this very clear early on – the original Beauty and the Beast is an absolute goliath not only in animation, but in cinema, full stop. It was the first-ever animated movie to be nominated for Best Picture at the Oscars, and is still named by many as possibly the finest animated film that Disney has ever produced (with Pinocchio, The Lion King, The Little Mermaid and Snow White usually following close behind). This was the movie that raised Disney out of the doldrums it was wallowing in throughout the 80s, a time period where The Black Cauldron, The Great Mouse Detective and Oliver and Company failed to reignite the company's box office monopoly. It remains to be said, therefore, that Beauty and The Beast absolutely helped to change the fortunes of a company who still is, and always will be, associated with so many of our childhoods.
That's why this adaptation was always going to be climbing a rather big hill – possibly a mountain. How do you lovingly recreate Beauty and The Beast well enough 25-or-so-years on for audiences to breathe in the magic all over again? That's just it – it's made lovingly enough, perhaps flawlessly so in awe of its predecessor – but it's unfair to review the movie by constantly comparing it to the earlier masterpiece, even if it's easy to do and even though that was possibly an intention on the part of Disney.
The casting choices raised a few eyebrows, yet, thankfully, they mostly work. Emma Watson does very well to embody Belle here, and I think many will be surprised by how effective Dan Stevens is as The Beast. While he mainly acts through CG here, he's a far cry from Downton Abbey's Matthew Crawley. Luke Evans is a great villain, the ever-reliable Kevin Kline offers a few new twists to Maurice, Belle's father, and despite my initial reservations about Ewan McGregor and Emma Thompson and Lumiere and Mrs Potts respectively, they do well to inject more than a little charm into proceedings. Whatever has already been said about Ian McKellen as being one of our best living actors bears repeating – he is a marvellous Cogsworth. Josh Gad, for all his character Le Fou has faced controversy in recent weeks, shines and steals almost as many scenes as he did as Olaf in 2013's Frozen.
Beauty and the Beast - Official Full Trailer Compilation (Disney)
The movie aims to retell the story in a more grandiose fashion, and this for the most part is rather nice – there's new flourishes, embellishments and even slight changes to characters to help make it stand out as its own creation. This is welcome, of course, and it also gives fans a little more to enjoy – but unfortunately, there will always be a feeling that the movie is constantly chasing its tail, trying to be the original animated classic. There are many elements that are translated wholesale here – perhaps in fear of hardcore Disney fans getting angry at the lack of Lumiere's big number being cut from proceedings – and, of course, we've seen the story before. As such, it seems more of a tribute to the source material rather than its own standalone celebration of the characters at stake – and coming back to my previous thought about it being unfair to make comparisons, it seems that the movie very much wants you to do that – to see what Disney can do with their existing material. This is all very nice, yet – for all its grandiosity and all its effort, it still struggles to escape the shadow of the 1991 edition.
2017's Beauty and The Beast has plenty of heart and tons of character – it's very affable, funny and full of thrills – and while there are a few clunky visual moments here and there, it's all rather big and grand enough to offer widespread appeal. If you're going into this one expecting an abject failure or a perfect retelling of the animated classic, you'll get neither – you'll get a movie that is perfectly entertaining in its own right, even if we really have seen much of it before.