Rajghat
Latest news and video coverage curated from trusted media outlets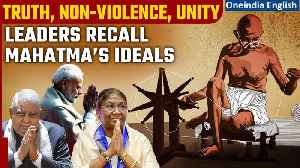 Gandhi Jayanti: PM Modi says Gandhi's impact is global| Political leaders pay tribute| Oneindia News

On the occasion of Gandhi Jayanti, leaders across party lines paid tributes to Mahatma Gandhi at the Rajghat in Delhi, emphasising his teachings and ideals of truth and non-violence. #MahatmaGandhi..
Credit: Oneindia Duration: 04:14
Published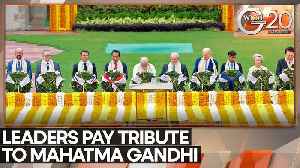 G20 Summit 2023: World leaders at Rajghat to pay tribute to Mahatma Gandhi | Latest News | WION

At the iconic Rajghat, the G20 family paid homage to Mahatma Gandhi – the beacon of peace, service, compassion and non-violence. As diverse nations converge, Gandhi Ji's timeless ideals..
Credit: Rumble Duration: 07:31
Published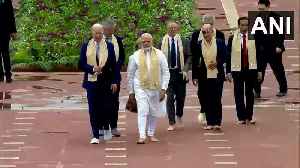 G 20 SUMMIT in India: US President Joe Biden

#WATCH | G 20 in India: Prime Minister Narendra Modi, US President Joe Biden, UK PM Rishi Sunak, Australian PM Anthony Albanese, Canadian PM Justin Trudeau, Premier of the People's Republic of..
Credit: Rumble Duration: 01:11
Published
You Might Like



Delhi: Traffic near India Gate restricted today for 'Run For Unity'; check details

Early morning commuters travelling to and from south-north have been asked to take Ring Road - Sarai Kale Khan - IP Flyover - Rajghat,and Lala Lajpat Rai Marg - Mathura Road - W-Point - A-Point.




DNA - Published




They pray at Rajghat for 'liberation' from Arvind Kejriwal

BJP leaders, including MPs and MLAs, conducted a prayer meeting at Rajghat to seek the "liberation" of Delhi from the "corrupt AAP government." They claimed that the foundation of AAP is corruption and..




IndiaTimes - Published





Abhishek Banerjee Leads TMC Protest At Rajghat; BJP Rakes-Up Bengal Scams

Union Minister Anurag Thakur alleged that West Bengal Chief Minister Mamata Banerjee has sent her party leaders under a "corrupt and tainted" MP to stage the protest to divert the public attention from..




Zee News - Published





TMC leader Abhishek Banerjee leads protest at Rajghat, BJP calls it 'drama'

Trinamool Congress general secretary Abhishek Banerjee along with party leaders and workers sat on a dharna at the Rajghat.




DNA - Published




Prez Murmu, PM Modi Pay Tribute To Mahatma Gandhi At Rajghat

Prime Minister Narendra Modi also paid tribute to Mahatma Gandhi at Delhi's Rajghat on his birth anniversary. Mahatma Gandhi's impact is global, said PM Modi in a post on X, today while also urging to..




Zee News - Published

Also reported by •newKerala.com •IndiaTimes


PM Modi, LS Speaker OM Birla, Congress President Kharge pay tribute to Mahatma Gandhi at Rajghat

Mahatma Gandhi's impact is global, said PM Modi in a post on X, today while also urging to work towards fulfilling Gandhi's dreams.




DNA - Published




TMC MGNREGA protest at Rajghat, Delhi today; sit-in to be live-streamed: Check latest developments

The TMC has organized a two-day protest in the nation's capital named "Dilli Cholo: A fight for our rights!" to demand the payment of alleged arrears for 100 days of work performed under the MGNREGA..




DNA - Published





PM Narendra Modi To Meet `Team G20`, Host Gala Dinner At Bharat Mandapam

The attendees will include a diverse group of individuals - around 700 staff from MEA, 300 from Delhi Police, SPG, Rajghat, CISF, IAF and other departments. The event will also be attended by ministers..




Zee News - Published





PM Modi along with G20 leaders pay homage to Mahatma Gandhi at Rajghat




newKerala.com - Published




G20 Summit Day 2 Begins With Wreath Laying Function At Rajghat; Check Full Schedule Here

The leaders will head for the Bharat Mandapam where a Tree planting ceremony will take place at the South Plaza. This will be followed by the the third session of the G20 summit 'One Future' which will..




Zee News - Published





G20 leaders arrive at Rajghat to pay homage to Mahatma Gandhi

Prime Minister Narendra Modi on Sunday received G20 leaders at the rain-drenched Rajghat where they will pay tributes to Mahatma Gandhi. United Nations Secretary General António Guterres, IMF head..




IndiaTimes - Published





PM Modi welcomes Sunak, Trudeau, other G20 leaders at Rajghat




IndiaTimes - Published





G20 leaders will visit Rajghat to pay respects to Mahatma Gandhi, says senior official

Leaders attending the G20 Summit in New Delhi next month will visit Rajghat and pay respect to Mahatma Gandhi. The summit will have three sessions, including a symbolic tree plantation event at Bharat..




IndiaTimes - Published





Independence Day 2023: Security beefed up at Red Fort with anti-drone systems, facial recognition cameras

Police had on Thursday imposed prohibitory orders under CrPC Section 144 in areas such as Rajghat, ITO and Red Fort ahead of Independence Day 2023.




DNA - Published




Delhi Police impose Section 144 around Red Fort, Rajghat ahead of Independence Day




newKerala.com - Published





Venezuelan Executive Vice-President pays tribute to Mahatma Gandhi at Rajghat




newKerala.com - Published





Iconic Rajghat Samadhi of Bapu restored after Yamuna floods, says LG Saxena




newKerala.com - Published





Delhi floods: Noida, Greater Noida, Ghaziabad commuters must avoid these roads; full traffic advisory

Delhi-Noida traffic news: Traffic movement has been restricted from Geeta Colony Flyover towards Rajghat, ISBT and Kashmere Gate




DNA - Published




Yamuna Water Flows To ITO, Rajghat As Irrigation Department Regulator Suffers Damage

The flooding in ITO and Rajghat areas has led the authorities to impose curbs on the movement of traffic.




Zee News - Published





Madhya Pradesh: Narmada River crosses danger mark at Rajghat in Barwani




newKerala.com - Published





`My Father Was Insulted In Parliament, Brother Was Given Names But...`: Priyanka Gandhi Fumes At BJP After Rahul`s Disqualification

Addressing the gathering at Rajghat during the protest against Rahul Gandhi's conviction in a 2019 defamation case, Priyanka said her brother, mother and father were insulted in the Parliament but no..




Zee News - Published





Rahul Graduated From Harvard, Cambridge But They Call Him `Pappu`: Priyanka Slams BJP

Priyanka Gandhi Vadra was taking a part in Congress's "Sankalp Satyagraha" outside Rajghat -- the memorial of Mahatma Gandhi -- to protest against Rahul Gandhi's disqualification from the Lok Sabha.




Zee News - Published





Congress begins day-long 'Sankalp Satyagraha' at Delhi's Rajghat in support of Rahul Gandhi

Congress chief Mallikarjun Kharge, general secretary Priyanka Gandhi Vadra, senior leaders KC Venugopal, P Chidambaram and Salman Khurshid were among the party's top brass taking part in the satyagraha..




IndiaTimes - Published





Japanese PM Fumio Kishida lays wreath at Mahatma Gandhi's memorial in Rajghat




IndiaTimes - Published

Also reported by •newKerala.com


Delhi to have 80 percent electric bus fleet by 2025, says CM Arvind Kejriwal

Delhi Chief Minister Arvind Kejriwal flagged off 50 electric buses from Rajghat Bus Depot in the city on Monday. On the occasion, the Delhi CM said that the city's will have a total of 10,480 buses..




BGR India - Published





Rahul Gandhi visits memorials of former PMs, Mahatma Gandhi

Former Congress president Rahul Gandhi visited Veer Bhumi, Shakti Sthal and Shanti Van, the memorials of former prime ministers Rajiv Gandhi, Indira Gandhi and Jawaharlal Nehru. Rahul Gandhi also..




IndiaTimes - Published





Alert commuters! Bharat Jodo Yatra to enter Delhi via Faridabad on December 24, Avoid THESE routes

The first phase of Bharat Jodo Yatra will reach Faridabad on December 23 and will enter Delhi through NH19 on December 24 before concluding at Rajghat on Saturday.




Zee News - Published





Cong chief Mallikarjun Kharge pays homage at Ambedkar`s memorial, Azad`s mazaar

Mallikarjun Kharge paid homage to Mahatma Gandhi at Rajghat on Wednesday, before taking over as Congress chief.  




Zee News - Published





Congress President-elect Mallikarjun Kharge pays homage to Mahatma Gandhi at Rajghat




newKerala.com - Published




Mallikarjun Kharge visits Rajghat ahead of taking charge as Congress president

Veteran Congress leader Mallikarjun Kharge on Wednesday visited Rajghat and paid homage to Mahatma Gandhi, ahead of formally taking over as the party president. Kharge, accompanied by Congress leaders..




IndiaTimes - Published





Gandhi Jayanti 2022: Congress leaders Sonia Gandhi, Kharge pay tribute at Rajghat

Sonia Gandhi and Mallikarjun Kharge paid tribute to Mahatma Gandhi on his birth anniversary on Sunday morning.




Zee News - Published




Gandhi Jayanti: PM Narendra Modi pays tribute to Mahatma Gandhi on his 153rd birth anniversary

 Prime Minister Narendra Modi pays a heartful tribute to Mahatma Gandhi at Rajghat to mark his 153rd birth anniversary on Saturday




Zee News - Published





Tharoor visits Rajghat ahead of filing nomination papers for Congress presidential poll




IndiaTimes - Published





1961, 1983 and 1997: When Queen Elizabeth II visited India and why 'Her Majesty' took off her sandals at Rajghat

The Queen visited India thrice in 1961, 1983 and 1997, but the first visit that came 15 years after India's Independence was the most talked-about.




DNA - Published




Sheikh Hasina meets Indian counterpart Narendra Modi at Hyderabad House

Bangladesh Prime Minister Sheikh Hasina met her Indian counterpart PM Narendra Modi at Hyderabad House on Tuesday. PM Hasina began her four-day visit to India on Monday. While PM Hasina laid a wreath..




IndiaTimes - Published





BJP vs AAP: Arvind Kejriwal's show of strength at Rajghat, claims 'Operation Lotus has failed' in Delhi

BJP's "Operation Lotus" has failed in Delhi, the AAP leader said today, asserting that it will stay in touch with its MLAs to ensure they do not get influenced by the saffron party.




Zee News - Published




BJP has set aside Rs 800 crore to buy 40 AAP MLAs, claims Arvind Kejriwal; questions source of money

After a meeting of AAP legislators at his residence, Kejriwal, along with his MLAs, went to Rajghat to pray for the failure of BJP's Operation Lotus.




DNA - Published




Jagdeep Dhankhar to take oath as 14th Vice President of India, pays tribute to Mahatma Gandhi at Rajghat




newKerala.com - Published





PM Modi pays floral tribute to Mahatma Gandhi at Rajghat on his death anniversary




newKerala.com - Published

Also reported by •IndiaTimes


At Rajghat, several countries find representation with trees planted by leaders




Indian Express - Published