Gam-COVID-Vac
Viral vector vaccine based on human adenovirus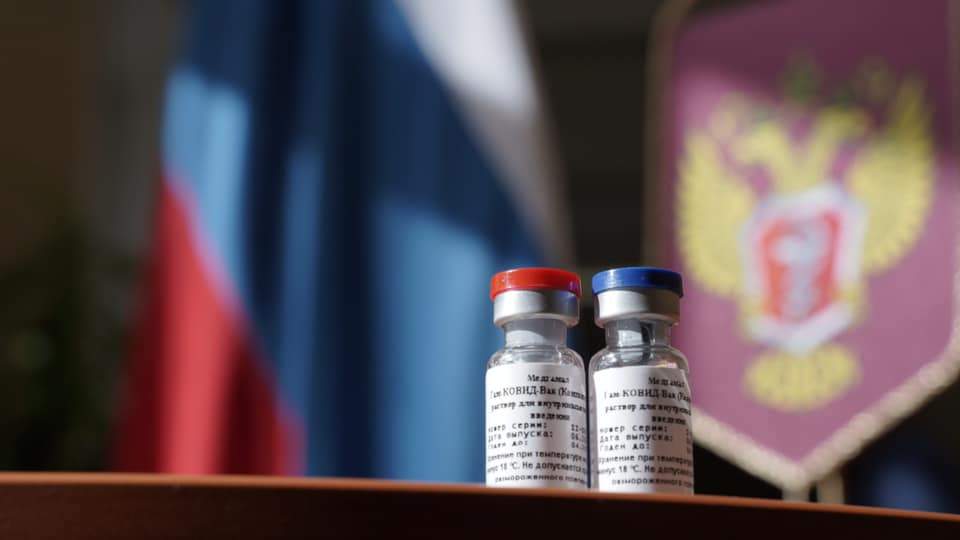 Gam-COVID-Vac, trade-named Sputnik V, is a COVID-19 vaccine developed by the Gamaleya Research Institute of Epidemiology and Microbiology, and registered on 11 August 2020 by the Russian Ministry of Health.


Palestinians set to receive first batch of Russian vaccines

Israel health ministry approved import of 5,000 units of Sputnik V vaccine for Palestinian Authority, Israeli media says.
Credit: Al Jazeera STUDIO Duration: 02:26
Published
COVID-19 Vaccines Are Making Their Way Around The World

Mass vaccination campaigns are being rolled out around the globe. Governments around the world are looking for ways to contain the spread of COVID-19. Pfizer-BioNTech, Oxford-AstraZeneca, Sputnik V,..
Credit: Wochit News Duration: 00:39
Published
Argentina receives 300,000 doses of Sputnik V COVID-19 vaccine

A shot in the arm for Argentina's coronavirus defences - 300,000 doses of Russia's Sputnik V vaccine arrive in the country.
Credit: Al Jazeera STUDIO Duration: 02:22
Published
'Doctors, nurses are real Superman & Wonder Woman': Rajnath Singh

Defence Minister Rajnath Singh lauded the medical fraternity for their service during the Covid-19 pandemic. While speaking at the convocation of Lucknow's King George Medical University via video..
Credit: HT Digital Content Duration: 02:25
Published
Real 'Superman' and 'Wonder Woman' are doctors, nurses: Rajnath Singh

Union Defence Minister Rajnath Singh attended King George Medical University's Foundation Day event on December 22 via video-conferencing. At the event, he said, "The fight is not over yet. You must..
Credit: ANI Duration: 02:26
Published
Coronavirus pandemic: Russia's Sputnik V vaccine rollout draws wary, mixed response


Credit: FRANCE 24 English Duration: 01:45
Published
Oliver Stone receives Russian Covid-19 vaccination and asks why is it ignored in he West

Film director Oliver Stone has received the Russian Covid-19 vaccination, Sputnik V.
Credit: Cover Video STUDIO Duration: 00:33
Published
Sputnik V: Russia rolls out its COVID-19 vaccination programme

Russia has started its COVID-19 vaccination programme, with the first jabs going to workers at high risk of becoming infected with coronavirus.
Credit: Euronews English Duration: 01:30
Published
Russia begins distributing Sputnik V vaccine

Russian President Vladimir Putin has ordered the government to start "large-scale" vaccination against coronavirus
Credit: euronews (in English) Duration: 00:40
Published
Russia set to launch first doses of its Sputnik V coronavirus vaccine

With trials still underway, the vaccine is currently only being offered to those under 60 and without any chronic diseases.
Credit: euronews (in English) Duration: 14:51
Published
Moscow to open vaccine centres on Saturday as mass vaccination programme begins

The centres will open just days after President Vladimir Putin announced a programme to get as many Russians vaccinated as possible. Doctors, teachers and social workers will be first to receive the..
Credit: euronews (in English) Duration: 02:14
Published
Covid update: Virus on banknotes; 4th vaccine claims 90% efficacy; PM on cost

From a study on whether currency notes can be potent carriers of the virus, to Prime Minister Narendra Modi's meeting with chief ministers to discuss a vaccine distribution plan - here are the top news..
Credit: HT Digital Content Duration: 03:05
Published
Have our coronavirus vaccine, if you can produce it, says Russia's EU ambassador

Hungary is the only country in the EU to trial Russia's Sputnik V coronavirus vaccine.
Credit: Euronews English Duration: 02:50
Published
You Might Like



Dr Reddy's receives approval for Phase 3 clinical trial of Sputnik vaccine

The Phase 3 study of Sputnik V will be conducted on 1500 subjects as part of the randomised, double-blind, parallel-group, placebo-controlled study.




DNA - Published





Russia will jointly produce Sputnik V vaccine with India: Envoy

Russian envoy in New Delhi Nikolay Kudashev on Monday said Moscow will jointly produce the Sputnik V vaccine for Covid-19 along with India and it will be manufactured by Indian pharma major Dr Reddy's..




IndiaTimes - Published




Russia signs more deals with India to make 300 million Sputnik V vaccines

India will produce about 300 million doses of Russia's Sputnik V coronavirus vaccines next year, a Russian official was quoted as saying, nearly three times the previously known number as deals have..




IndiaTimes - Published





Russians Getting COVID-19 Vaccine Instructed Not to Drink Alcohol

Russia's vodka industry is taking a major hit -- leaders over there are telling citizens to lay off the sauce when they get the coronavirus vaccine. Deputy Prime Minister Tatyana Golikova says Russians..




TMZ.com - Published





Dr Reddy's, RDIF begin clinical trials for Russia's Sputnik V vaccine in India

Dr Reddy's and RDIF had entered into a partnership to conduct clinical trials and rights for distribution of the first 100 million doses in India.




DNA - Published





Phase 2/3 trials of Covid-19 vaccine Sputnik V commence in India

The clinical trials, which are being conducted by JSS Medical Research as the clinical research partner, will be a multicenter and randomized controlled study that will include safety and..




IndiaTimes - Published





Russia agrees to produce coronavirus vaccine Sputnik V in India

Russia's sovereign wealth fund and Indian pharmaceutical company Hetero have agreed to produce over 100 million doses per year in India of the Sputnik V vaccine against Covid-19, according to a..




IndiaTimes - Published





Russia's Sputnik V coronavirus vaccine to be manufactured in India

According to the company, the Sputnik V vaccine is 95% effective and will cost less than USD 10 or Rs 740 internationally.




DNA - Published





Sputnik's 'efficacy at 95%', to be cheaper than US vaccines

Russia's Sputnik V Covid-19 vaccine, that reported an efficacy of over 95%, will be twice as cheap as those by Pfizer and Moderna with similar positive results. Sputnik V, developed by Gamaleya..




IndiaTimes - Published





Putin says Sputnik V vaccine could be produced in India and China




IndiaTimes - Published





First batch of Sputnik V vaccine to arrive in Kanpur medical college for Phase 2, 3 trials




IndiaTimes - Published





Dr Reddy's joins hands with BIRAC for Sputnik V clinical trials




IndiaTimes - Published





India trials of Russian Sputnik-V vaccine may end as early as March: Dr Reddy's

The company expects to enrol 100 participants for the mid-stage trial and 1,500 people for the late-stage.




DNA - Published

Also reported by •IndiaTimes


Russian Sputnik V Covid-19 vaccine to be tested on 100 Indian volunteers

The Russian Sputnik V vaccine against Covid-19 will be tested in India on 100 volunteers, the Indian Central Drugs Standard Control Organisation's Drug Controller General (DCGI) told Sputnik on..




IndiaTimes - Published





Dr Reddy's gets DCGI go-ahead to conduct Phase 2/3 human trials of Sputnik V in India

After the Indian drug regulator turned down Dr. Reddy's Laboratories Ltd's proposal earlier this month to conduct direct Phase-3 human trials for the Russian Covid-19 vaccine Sputnik V, the company..




IndiaTimes - Published





India declines proposal to test Sputnik-V Covid-19 vaccine in large study

India's drug regulator has knocked back a proposal from Dr Reddy's Laboratories Ltd to conduct a large study in the country to evaluate Russia's Sputnik-V Covid-19 vaccine and has asked it to first..




IndiaTimes - Published





India trials for Russia's 'Sputnik-V' vaccine could start in next few weeks

Indian trials of the Sputnik-V vaccine candidate, being developed by Russia`s sovereign wealth fund, will enroll 1,000-2,000 participants and be conducted at multiple government and private hospitals..




DNA - Published

Also reported by •IndiaTimes


COVID-19 vaccine to be available in India by early 2021: Union Health Minister Harsh Vardhan

Meanwhile, Russia's sovereign wealth fund on Wednesday agreed to supply 100 million doses of the world's first COVID-19 vaccine Sputnik-V to Indian drug company Dr Reddy's Laboratories as Moscow speeds..




DNA - Published





Russia, Dr Reddy's tie up for Sputnik V trial

Russia's sovereign wealth fund – Russian Direct Investment Fund (RDIF) — has partnered Hyderabad-based drug maker Dr Reddy's Laboratories to cooperate on clinical trials and distribution of..




IndiaTimes - Published





Russia confirms deal with Dr. Reddy's for COVID-19 vaccine 'Sputnik V' trials in India, to supply 100 million doses

Russia's sovereign wealth fund on Wednesday agreed to supply 100 million doses of world's first COVID-19 vaccine Sputnik-V to Indian drug company Dr Reddy's Laboratories as Moscow speeds up plans to..




DNA - Published





Russia to sell 100 million doses of Covid-19 vaccine to India

Russia's sovereign wealth fund said on Wednesday it will supply India's Dr Reddy's Laboratories with 100 million doses of the Sputnik-V vaccine against Covid-19 once it receives regulatory approval...




IndiaTimes - Published





Covid: Govt reaches out to firms to make Sputnik V vaccine




IndiaTimes - Published





'Significant movement' on Russia's request for phase-3 trial, manufacture of Sputnik V in India




IndiaTimes - Published





Clinical trials of Sputnik V coronavirus vaccine to begin this month in countries including India: RDIF

The clinical trials of Sputnik V vaccine for coronavirus will be held this month in several countries including India, confirmed Kirill Dmitriev, CEO of the Russian Direct Investment Fund (RDIF) on..




IndiaTimes - Published





As cases mount, India studying Russian proposal for Covid-19 vaccine

As Covid-19 cases continue to mount in India, Russian ambassador Nikolay Kudashev has said Moscow is talking to the Indian government "on different levels" about cooperation that could include..




IndiaTimes - Published





Russia in talks with India, drug manufactures for production of Sputnik-V coronavirus vaccine: RDIF

Russia is in close dialogue with the Indian government and the leading drug manufactures of India regarding the localization of production of Sputnik V vaccine in India, said Kirill Dmitriev, CEO of..




IndiaTimes - Published





Russia in touch with India for collaboration to manufacture Covid-19 vaccine Sputnik V: Health Ministry

In a significant development related to the Covid-19 vaccine, Russia has expressed its willingness to the Indian government for collaboration in the manufacturing of Sputnik V vaccine (Covid-19..




IndiaTimes - Published





Russia seeks collaboration with India for manufacturing Covid-19 vaccine Sputnik V: Sources

Sputnik V has been developed by the Gamaleya Research Institute of Epidemiology and Microbiology along with Russian Direct Investment Fund (RDIF). The vaccine has not been tested in phase 3 or larger..




IndiaTimes - Published




Russia likely to partner up with India for mass production of COVID-19 vaccine Sputnik V

It is to be noted that Russia announced world's first COVID-19 vaccine




DNA - Published

Also reported by •IndiaTimes