SARS-CoV-2 Delta variant
Variant of SARS-CoV-2 detected late 2020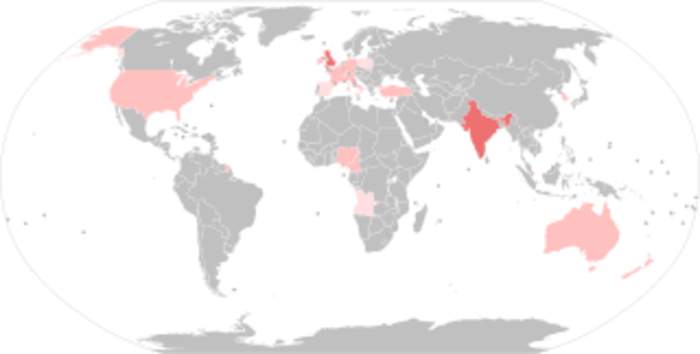 The Delta variant (B.1.617.2) is a variant of SARS-CoV-2, the virus that causes COVID-19. It was first detected in India in late 2020. The Delta variant was named on 31 May 2021 and had spread to over 179 countries by 22 November 2021. The World Health Organization (WHO) indicated in June 2021 that the Delta variant was becoming the dominant strain globally.


Increased Number of COVID-19 Deaths Among Vaccinated Americans

Increased Number of COVID-19 Deaths , Among Vaccinated Americans. CNN reports as COVID-19 vaccines became available, there has been a stark divide in deaths between those who received a vaccine and..
Credit: Wibbitz Top Stories Duration: 01:30
Published
You Might Like



Risk of long COVID lower from Omicron compared to Delta variant, study suggests

The Omicron variant of coronavirus is less likely to cause long COVID than the Delta strain, new research suggests.




Sky News - Published





Covaxin booster beats back Delta, Omicron variants: NIV

The researchers compared the efficacy of Covaxin after the second and third doses against the Delta variant, and also studied its efficacy against the Omicron variants in a Syrian hamster model.




IndiaTimes - Published





Covaxin booster dose enhances vaccine effectiveness against Delta, Omicron variants: ICMR study

The findings of the study by ICMR have been published on Tuesday on bioRxiv, a pre-print server and have not been peer-reviewed.




DNA - Published

Also reported by •IndiaTimes


Omicron variant multiplies 70 times faster than Delta in human airways, study finds

The Omicron COVID variant multiplies 70 times faster than Delta in human airways, according to researchers.




Sky News - Published




Omicron overtakes Delta as dominant COVID variant in London as hotpots of new strain in UK revealed

Omicron has now overtaken Delta as the dominant variant in London - and other regions are just a few days behind on the growth curve, new data suggests.




Sky News - Published





Early indications Omicron is more transmissible than Delta variant, PM says

The early indications are that the Omicron variant of coronavirus is more transmissible than Delta, the prime minister has said.




Sky News - Published





Karnataka says sample of South Africa returnee 'different from Delta', no Omicron in India yet

Karnataka Health Minister Dr K Sudhakar has said the sample of one of the two recent South Africa returnees appears different from the Delta variant.




DNA - Published





'Omicron 6 times more transmissible than Delta, could infect even vaccinated'

The newly emerged variant of concern B.1.1.529 (Omicron) may not respond to monoclonal antibody therapy or cocktail treatment, experts fear. Based on preliminary analysis of Omicron infections in South..




IndiaTimes - Published





More infectious variant of Delta virus accounts for 1 in 10 COVID cases in England

A variant of the Delta virus that is more infectious, but is less likely to cause symptoms, now accounts for more than one in 10 COVID cases in England, new research shows.




Sky News - Published





COVID-19 third wave: INSACOG makes BIG statement about Delta variant

The INSACOG bulletin further affirmed that in India, Delta (B.1.617.2 and AY.x) is still the main variant of concern (VOC).




DNA - Published





Delta remains main Covid variant of concern, others now negligible in sequencing data: INSACOG

Delta variant of Covid-19 continues to be the main variant of concern and other variants of interest or concern are now negligible in sequencing data from India, the Indian Sars-CoV-2 Genomics..




IndiaTimes - Published





COVID-19 third wave in India? Uttar Pradesh takes BIG decision as cases of Delta Variant AY.4.2 rise

CM Yogi Adityanath asked the surveillance committees to switch on to 'alert mode' to contain the spread of the COVID-19 infection in the state.




DNA - Published





Maharashtra, Madhya Pradesh on alert after cases of new Delta variant AY.4.2 found - Here's what you need to know

As per scientists, the AY.4.2 variant is 15% more transmissible than the original Delta variant and could be more infectious and cause major symptoms




DNA - Published





Government keeping 'very close eye' on new mutation of Delta variant

The government is keeping a "close eye" on a mutation of the Delta coronavirus variant thought to be up to 10% more transmissible amid a rise in UK cases.




Sky News - Published





'Delta is making other COVID variants extinct' - but what does it mean for the UK?

One of the government's top coronavirus experts claims the Delta variant has become so dominant it is causing others to become extinct.




Sky News - Published





Delta surge puts US economic recovery on ice as jobs growth slows

The US added far fewer new jobs this past month than anticipated, as a resurgent COVID-19 fuelled by the more transmissible Delta variant strikes hard across less vaccinated states.




Sky News - Published





Coronavirus: Amid reports of new mutants, curbs put on foreign arrivals

In India, while Delta continues to be the dominant variant, cases infected with Delta plus variant have increased to 300, officials said. However, the vaccines have been found to be effective against..




IndiaTimes - Published





Hospitalisation risk doubles with COVID-19 Delta variant when compared to Alpha variant, study finds

People who become infected with the Delta variant of COVID-19 are twice as likely to be admitted to hospital as those who have the Alpha variant, a new study suggests.




Sky News - Published





COVID-19: First two cases of Delta plus variant reported in MP's Indore, both were vaccinated

Both the Delta plus patients had tested positive for the infection on July 3 and contact tracing of these patients have been done.




DNA - Published





Covid-19: Breakthrough infection common due to Delta, report says

Breakthrough infections of SARS-CoV2 after vaccination against Covid-19 are common across the globe during Delta outbreaks and genome sequencing of such cases in India currently also shows high..




IndiaTimes - Published





Delta variant can still be transmitted by people who are double jabbed, study finds

People who become infected with the Delta variant even after being fully vaccinated may still pass the virus on, undermining hopes of herd immunity, new research suggests.




Sky News - Published





COVID-19: 10 new cases of Delta Plus variant found in THIS state, know details

The total number of cases in the state is 76 and 5 patients have died.




DNA - Published





Herd immunity 'not a possibility' with Delta variant, says vaccines expert

Herd immunity is "not a possibility" because the Delta variant is still spreading fast and infecting fully vaccinated people, the head of the Oxford Vaccine Group has said.




Sky News - Published





Maharashtra's Nashik district records 30 new cases of Delta variant

Recently, Maharashtra's Nira village in Purandar tehsil of Pune city also recorded two new cases of Delta plus variant




DNA - Published





Early signs Covid-19 vaccines may not stop Delta transmission, England says

There are early signs that people who have been vaccinated against Covid-19 may be able to transmit the Delta variant of the virus as easily as those who have not, scientists at Public Health England..




IndiaTimes - Published





Delta infections produce similar levels of virus regardless of vaccination status, early study suggests

Coronavirus levels in people with the Delta variant are similar regardless of whether or not they've been vaccinated and it "may have implications for people's infectiousness", early analysis suggests.




Sky News - Published





Wuhan's entire 12 million population to be tested as more Delta cases identified in China

China is conducting mass testing in Wuhan after it identified its first domestic cases of the Delta variant in the city where coronavirus was first detected in late 2019.




Sky News - Published




Delta variant found among four infected in UP's Prayagraj, BHU lab confirms

BHU lab has confirmed that the viral load is high in the four patients infected with the Delta variant. Similar symptoms were found in all patients.




DNA - Published





'Can't play around with lives': Pushkar Dhami calls off kanwar yatra

"At a time when the threat of Covid-19 is still looming and a case of the Delta-plus variant has also been reported from Uttarakhand, we cannot allow Haridwar to become a hotbed of the pandemic,"..




IndiaTimes - Published





Phase 3 trial: Covaxin 77.8% effective against symptomatic COVID-19, 65.2% against Delta Variant

The vaccine demonstrated 93.4% efficacy against severe symptomatic cases company said. The results are based on the evaluation of 130 confirmed cases.




DNA - Published





No scientific data so far to show Delta plus variant adversely impacts vaccine efficacy: V K Paul

Amid rising concerns over the Delta plus variant of the virus, Covid Task Force chief V K Paul, who is also a Niti Aayog Member, asserted that there is no scientific data so far to establish that the..




IndiaTimes - Published





Covishield, Covaxin work against SARS-CoV-2's Alpha, Beta, Gamma, Delta variants: Government

Vaccines Covishield and Covaxin work against SARS-CoV-2 variants Alpha, Beta, Gamma and Delta, while effectiveness tests against the Delta Plus variant is ongoing, the government said on Friday.




IndiaTimes - Published





Covid-19 roundup: Third wave likely to hit India by October; Delta variant becoming globally dominant




IndiaTimes - Published




US CDC classifies Delta variant as 'variant of concern'

The US Centers for Disease Control and Prevention has classified the Delta, a highly transmissible Covid-19 variant first identified in India, as a "variant of concern." "The B.1.1.7 (Alpha), B.1.351..




IndiaTimes - Published





More infectious Delta variant behind 2nd wave, says study

The Delta variant or B.1.617.2 strain, which was first detected in India, is more infectious than the Alpha variant or B.1.1.7, first detected in the United Kingdom. "Our data indicates B.1.617.2..




IndiaTimes - Published





Delta variant primary cause behind India's second Covid wave: Expert panel

A study by ​​The Indian SARS-CoV-2 Consortium on Genomics (INSACOG) said the Delta variant, first found in India, is the "primary cause" behind the second Covid-19 wave. "​B.1.617 variant & its..




IndiaTimes - Published





Explained: Why WHO named Covid-19 variants first found in India as 'Kappa' and 'Delta'

The variant B.1.617, first found in India, is split into sub-lineages, of which the B.1.617.1 variant of concern becomes 'Kappa'. The B.1.617.2 variant of interest is called 'Delta'.




IndiaTimes - Published





B.1.617 variant dominant Covid mutant strain in India, accounts for 55% of total 'variants of concern' detected

Of the total 25,739 Covid-19 positive samples sequenced by INSACOG till Monday morning, 9,508 samples have been found to have VoC. The B.1.617 variant - which was first detected in Maharashtra and..




IndiaTimes - Published





B.1.617 variant of SARS-CoV2 has sub-lineages; B.1.617.2 more infectious: Expert




IndiaTimes - Published





Now, 600 cases of B.1.617 in US; India, others trace mutation




IndiaTimes - Published





Covaxin effectively neutralises all key emerging variants, says study published in Oxford journal

Indigenous Covid-19 vaccine Covaxin has been able to neutralise all key emerging variants, including the double mutant B.1.617 and B.1.1.7, which was first identified in India and the UK, its developer..




IndiaTimes - Published





WHO has not associated 'Indian Variant' with B.1.617 strain of COVID-19: Centre

Several media reports have covered the news of WHO classifying the B.1.617 as a variant of global concern.




DNA - Published





Covid: Using term 'Indian variant' for B.1.617 strain has no basis, says health ministry

The Centre on Wednesday clarified that the World Health Organisation (WHO) has not associated the term "Indian Variant" with the B.1.617 variant of the coronavirus. The ministry of health and..




IndiaTimes - Published





Indian Covid-19 variant found in 44 countries: WHO

The World Health Organization said Wednesday that a variant of Covid-19 behind the acceleration of India's explosive outbreak has been found in dozens of countries all over the world. The UN health..




IndiaTimes - Published





WHO designates India variant as being of global concern

The World Health Organziation said on Monday that the B.1.617 variant first identified in India was being classified as a variant of global concern.




IndiaTimes - Published





India, UK variants equally transmissible, finds study

Public Health England, the executive agency of the UK department of health, has equated the novel coronavirus sub-lineage, B.1.617.2 of Indian variant or double mutant B.1.617, with the UK strain..




IndiaTimes - Published





Double mutant infecting more than UK variant now

The government on Wednesday said the UK variant - known to have higher transmissibility and potential to cause severe Covid disease - is declining in proportion across the country. But the double..




IndiaTimes - Published