Virgil Abloh
American fashion designer and entrepreneur (1980–2021)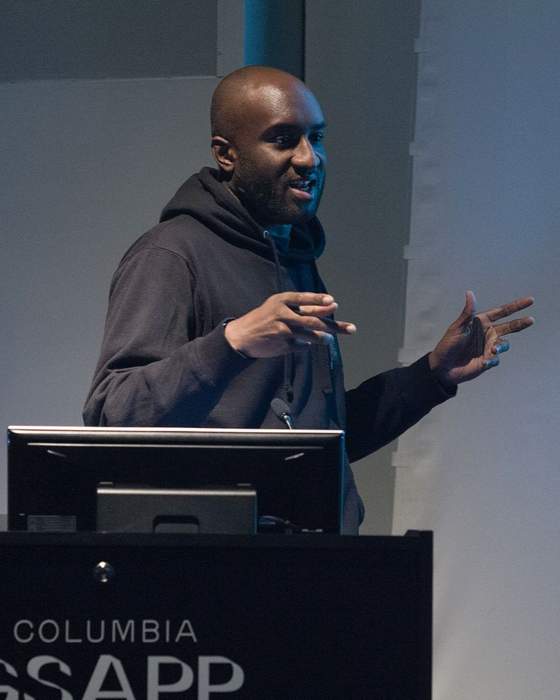 Virgil Abloh was an American fashion designer and entrepreneur. He was the artistic director of Louis Vuitton's menswear collection beginning in 2018, and was given increased creative responsibilities across the LVMH brand in early 2021. Abloh was also the chief executive officer of the Milan-based label Off-White, a fashion house he founded in 2013.


You Might Like
Trainers designed by Virgil Abloh raise record-breaking £18.7m at charity auction
Two hundred pairs of trainers created by the late fashion designer Virgil Abloh have sold for a record-breaking $25m (£18.7m) at a charity auction.
Sky News - Published
Celebrity Deaths in 2021 Included DMX, Tawny Kitaen, Virgil Abloh
There were a lot of shocking and sad celebrity deaths in 2021 ... including tragic shootings, a drug overdose, stunning cancer revelations and, of course, COVID. The rap world lost DMX, who died of an..
TMZ.com - Published
Dapper Dan Says Kanye is Good Fit to Replace Virgil Abloh at Louis Vuitton
There's a social media push to get Kanye West to step in and fill the role of Louis Vuitton creative director after the death of Virgil Abloh ... and Dapper Dan believes Ye would be the perfect fit. We..
TMZ.com - Published
Billy Porter Says Virgil Abloh Did a Lot for Diversity in Fashion
Virgil Abloh was a game-changer in the fashion world, but not only for his designs -- he was also committed to bringing diversity to the industry ... according to Billy Porter. BP was at Dulles Int'l..
TMZ.com - Published
Kanye West, Kim Kardashian, Kid Cudi & More Attend Virgil Abloh Final LV Show
Virgil Abloh was honored by some of his closest friends -- including Kim Kardashian, Kanye West and Kid Cudi -- along with fashion industry titans during a beautiful show in Miami. The Louis Vuitton..
TMZ.com - Published
Virgil Abloh Honored By Hometown, Will Receive His Own Day
Virgil Abloh is getting a nod from his hometown, with nothing less than his own day to be recognized going forward ... TMZ has learned. A rep for the City of Rockford, IL tells TMZ ... city officials..
TMZ.com - Published
NBA's PJ Tucker Honors Virgil Abloh With Shoe Tribute
NBA forward and sneakerhead P.J. Tucker is honoring fashion icon Virgil Abloh with his shoe choice for Monday night's game ... rocking a pair of Off-White Jordan 5s with a special tribute. The Heat..
TMZ.com - Published
Kanye West Deletes All Instagram Posts Following Death of Virgil Abloh
Kanye West is grieving the loss of his close friend, Virgil Abloh, and it seems he's deleted every post on his Instagram page in response the Abloh's death. Ye's Instagram page went blank Monday, about..
TMZ.com - Published
Kanye West, Pharrell and Drake lead tributes after 'genius' designer Virgil Abloh dies aged 41
Kanye West, Rihanna and Drake are among many celebrities paying tribute to US fashion designer Virgil Abloh, who has died at the age of 41 after a private battle with cancer.
Sky News - Published
Virgil Abloh: Louis Vuitton designer who founded fashion label Off-White dies aged 41
US fashion designer Virgil Abloh has died at the age of 41 after a private battle with cancer.
Sky News - Published
Louis Vuitton Veteran Designer, Off-White Founder Virgil Abloh Dead at 41
Virgil Abloh -- the artistic director for Louis Vuitton and the founder of Off-White -- has died ... this according to his respective fashion houses. Louis' parent company, LVMH, made the stunning..
TMZ.com - Published