SARS-CoV-2 Omicron variant
Type of the virus first detected in November 2021
Omicron (B.1.1.529) is a variant of SARS-CoV-2 first reported to the World Health Organization (WHO) by the Network for Genomics Surveillance in South Africa on 24 November 2021. It was first detected in Botswana and has spread to become the predominant variant in circulation around the world. Following the original B.1.1.529 variant, several subvariants of Omicron have emerged including: BA.1, BA.2, BA.3, BA.4, and BA.5. Since October 2022, two subvariants of BA.5 called BQ.1 and BQ.1.1 have emerged.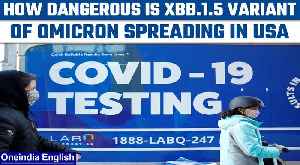 Know all about Omicron XBB.1.5 variant spreading in the US | Oneindia News *News

A new subvariant of Omicron, XBB.1.5 is rapidly spreading across the US and is responsible for more than 40.5 percent of the cases in the country said CDC. #Omicron #XBB.1.5 #CovidinUSA
Credit: Oneindia Duration: 02:15
Published
The Top 10 News Stories of 2022

The Top 10 , News Stories , of 2022. The World Economic Forum recently reported on the top 10 biggest news stories of 2022. . 1. Global Inflation, In June, price increases in the United..
Credit: Wibbitz Top Stories Duration: 01:31
Published
You Might Like



Covid-19 news: Cases of XBB.1.5 variant driving US surge rise to 26 in India, says INSACOG

Covid: The cases of XBB.1.5 variant have been found across 11 states and Union territories till now.




DNA - Published





All Omicron variants in air, but no rise in mortality: Govt survey

A community-based surveillance conducted by the government has found that all Omicron variants - from BA.2 and XBB to BQ.1 and their respective sub-lineages — are circulating in the country. However,..




IndiaTimes - Published





'India detected 300 Omicron sub-lineages, none settled'

Between December 24 and January 3, the health ministry sources said, 124 people arriving to India from abroad were found positive for Covid-19. The sources said 11 variants of SARS-CoV-2 were..




IndiaTimes - Published





11 Omicron sub-variants traced to international flyers in 11 days: Govt

India started random screening of 2% of international passengers arriving in the country from December 24 onwards. in view of a surge in Covid-19 cases in several countries, especially China, Japan and..




IndiaTimes - Published





WHO 'really concerned' about COVID picture with 'intense transmission in several parts of the world'

The World Health Organisation says it is concerned about "risk to life" in China amid a surge in COVID-19 cases, while in Europe and the US the Omicron subvariant XBB.1.5 is spreading rapidly. 




Sky News - Published




WHO 'really concerned' about COVID situation

The World Health Organisation says it is concerned about "risk to life" in China amid a surge in COVID-19 cases, while in Europe and the US the Omicron subvariant XBB.1.5 is spreading rapidly.




Sky News - Published




Omicron's XBB most prevalent sub-lineage circulating all over India: INSACOG bulletin

Covid-19 variant Omicron and its sub-lineages continue to be the dominant variant in India with 'XBB' being the most prevalent sub-lineage circulating all over the country, the INSACOG said in its..




IndiaTimes - Published





India's 1st case of Omicron's XBB.1.5 variant in Gujarat: Insacog




IndiaTimes - Published





Amid China Covid spike, BF.7 variant may not have drastic impact on India: Expert reveals why

China's explosive Covid wave is being led by the BF.7 strain of Omicron, while the strain might not have similar impacts on the residents of India.




DNA - Published





Amid China Covid surge, is BF.7 variant of Omicron a threat to India? Experts say 'no need to panic'

The explosive Covid surge in China has triggered a wave of panic amid the spread of the deadly BF.7 strain of the Omicron variant.




DNA - Published





Covid 4th wave to arrive in India like China? Is Omicron sub-variant BF7 dangerous? What we know so far

The BF.7 sub-variant is more transmissible than the Delta variant of the virus that wreaked havoc in India in mid-2021.




DNA - Published





Fact check: Viral WhatsApp message claims Covid XBB variant is deadlier than Delta, here's the truth

The message claims newly discovered XBB subvariant of Omicron is five times more virulent and has a higher mortality rate than the Delta variant.




DNA - Published





Omicron's XBB strains not causing severe illness, says INSACOG




IndiaTimes - Published





Karnataka issues advisory after detection of newer Covid sub-variants in Maharashtra

The warning is being released to the general public in light of more recent sub-variants of Omicron that have been detected in Maharashtra.




DNA - Published





​XBB cases double in 1 week, set to be dominant Covid strain

Covid infections caused by Omicron's newly identified XBB strain have nearly doubled in the past week in India, experts said on Sunday




IndiaTimes - Published





New Omicron subvariant may lead to another Covid wave: WHO chief scientist

The threat of Covid pandemic may be waning every day but the WHO on Thursday said that another wave may be on the horizon.Dr Soumya Swaminathan, chief scientist at the World Health Organization (WHO),..




IndiaTimes - Published





COVID-19: WHO chief, ex-AIIMS director warn older people of "high" Omicron risk

According to the health expert, elderly people should practice caution owing to the possibility of the infection spreading.




DNA - Published





Lung infection back among Covid positive elderly

A cursory analysis of nearly 200 Covid-19 patients hospitalised across the state's medical colleges underlines this observation among physicians. Doctors have primarily seen Omicron cause upper..




IndiaTimes - Published





COVID jab targeting both original strain and Omicron to be rolled out from 5 September

A COVID jab which targets both the original strain and Omicron will be rolled out across England from 5 September as part of the autumn booster programme.




Sky News - Published





Vaccine for Omicron likely in 6 months: SII's Poonawala

The vaccine will be specific to the BA5 sub-variant of the Omicron strain, SII CEO Adar Poonawalla told a TV channel, adding that he thought "this vaccine is important as a booster".




IndiaTimes - Published





Serum Institute working on Omicron-specific vaccine, can be expected in next six months: Adar Poonawalla

MHRA authorised the vaccine in the UK for adult booster doses "after it met safety, quality, and efficacy requirements," the agency stated.




DNA - Published





Centaurus: Omicron's BA.2.75 subvariant detected in Delhi, know how dangerous it is from the previous variants

As cases saw a sharp rise, the Delhi government on Thursday enforced a face mask mandate again.




DNA - Published





After 6 months, city Covid cases cross 2k mark; 5 die in a day

The number of new Covid-19 cases in the city crossed the 2,000-mark on Wednesday, with five patients succumbing to the deadly virus. The last time the city recorded over 2,000 cases was on February 4..




IndiaTimes - Published





COVID-19: New wave of Omicron mutations spreading across Europe

A new wave of Covid-19 is sweeping across Europe driven by Omicron mutations, an EU Medicines Agency official has warned.




Sky News - Published





Omicron's BA.2.75 sub-variant has limited circulation in India

BA.2.75 has so far not been recorded to have enhanced severity or the spread of COVID-19.




DNA - Published





Covid-19: Samples collected from central, south, southeast Delhi show presence of BA.5 sub-variant of Omicron




IndiaTimes - Published





Covid-19 update: 23 new cases of Omicron sub-variants BA.4, BA.5 in Maharashtra, total at 49

Among the 49 samples, 28 are located in Mumbai, 15 in Pune, 4 in Nagpur, and two in Thane.




DNA - Published





Risk of long COVID lower from Omicron compared to Delta variant, study suggests

The Omicron variant of coronavirus is less likely to cause long COVID than the Delta strain, new research suggests.




Sky News - Published





Covaxin booster beats back Delta, Omicron variants: NIV

The researchers compared the efficacy of Covaxin after the second and third doses against the Delta variant, and also studied its efficacy against the Omicron variants in a Syrian hamster model.




IndiaTimes - Published





Covaxin booster dose enhances vaccine effectiveness against Delta, Omicron variants, says ICMR study

The protective efficacy of Bharat Biotech's Covaxin following two and three-dose immuniszations against the Delta variant and the efficacy of the Covaxin against Omicron variants were studied in a..




IndiaTimes - Published





Catching Omicron 'does little to protect against reinfection from variant'

Infection with the Omicron variant of COVID does little to boost our immunity against subsequent infection, even among people who have been triple jabbed, according to new analysis.




Sky News - Published





Parts of Beijing in lockdown as city struggles to contain Omicron outbreak

Beijing has locked down parts of the city as it once again struggles to contain the Omicron COVID variant, with 74 new cases registered in the last 24-hour period.




Sky News - Published




Covid: Mumbai detects three cases of BA.4 and 1 of BA.5 Omicron sub-variants

BA.4 and BA.5 are sub-variants of the highly transmissible Omicron strain of the coronavirus which had triggered the 3rd wave of Covid in India.




DNA - Published





New variants of Omicron seen in 7 Maharashtra patients

Amidst rising Covid-19 cases in the state, health officials on Saturday said seven patients were found infected with newer Omicron sublineages of BA.4 (four patients) and BA.5 (three patients). These..




IndiaTimes - Published





Maharashtra reports first cases of BA.4 and BA.5 subvariants of Omicron

Maharashtra reported four patients of B.A. 4 variant and three cases of B.A. 5 variant of Omicron in Pune.




DNA - Published





Centre confirms BA.4 & BA.5 subvariants of Omicron in India




IndiaTimes - Published





Two rare Omicron types reclassified as COVID variants of concern in UK

Two rare types of Omicron have been reclassified as COVID variants of concern in the UK.




Sky News - Published





Double-jabbed less likely to get long COVID from Omicron than Delta, data suggests

The Omicron variant of COVID-19 is less likely than Delta to result in long COVID in people who have had two doses of vaccine, new figures have suggested.




Sky News - Published





Two Omicron sub-variants can trigger fresh Covid wave, says study; ICMR clears doubt on 4th coronavirus wave

Fourth wave: In a study, the scientists from several institutions found those vaccinated with Pfizer's shot were found to be better protected.




DNA - Published





Covid 4th wave: Genome sequencing confirms first case of new variant BA12 in Bihar

13 samples went for genome sequencing of which Omicron sub-variant BA 2 was found in 12 samples, while BA 12 has been confirmed in one sample report.




DNA - Published





Covid 4th wave in Delhi: High time to be on your guard

The genome sequencing laboratory in Delhi-based Institute of Liver and Biliary Sciences has detected Omicron's sub variant in some samples.




DNA - Published





Breakthrough Delta infection, reinfection with Omicron in person vaccinated with Covishield

The patient received the first dose of Covishield vaccine on January 31, 2021, and the second dose on March 3, 2021.




DNA - Published





Covid 4th wave: New Omicron sub-variant may be behind Delhi's case surge

According to a source from INSACOG, Omicron sub-lineage BA.2.12 was detected in several samples sequenced from the national capital.




DNA - Published





Omicron's BA.2.12.1 mutant found in a Delhi patient, all you need to know about the sub-variant

Scientists associated with INSACOG said that this new sub-variant appears to be more infectious than BA.2 which was very active in India in January.




DNA - Published





India's 'warm' vaccine candidate effective against Delta, Omicron variants in mice: Study




IndiaTimes - Published





Voluntary use of masks must be promoted in view of new XE variant: Experts

Voluntary use of masks must be promoted in the country in view of Covid-19's new XE variant, healthcare experts said, calling it the single-most effective intervention against all variants of the..




IndiaTimes - Published





Omicron COVID symptoms less severe than Delta variant, study concludes

People who contract the Omicron variant of COVID-19 are likely to experience less severe symptoms than those with Delta, a new study has found.




Sky News - Published





XE a slightly tuned-up version of Omicron, says Covid task force co-chief

Jayadevan said the XE variant is the combination of BA.1 and BA.2 where X stands for Recombinant Type and E is the sequence of its discovery.




DNA - Published





High immune response to Covid variants in breakthrough cases after 2 Covaxin jabs: ICMR study

In a recent ICMR study, breakthrough cases after full vaccination with Covaxin have shown a significant increase in the immune response against coronavirus' variants of concern -- Beta, Delta and..




IndiaTimes - Published





Covid: India's first case of Omicron's new variant 'XE' detected in Mumbai

A 50-year-old South African costume designer, who arrived in Mumbai, in February has become the first known case of the Omicron-XE variant of Covid-19 in the country. The XE variant has raised concerns..




IndiaTimes - Published