Mukesh Shah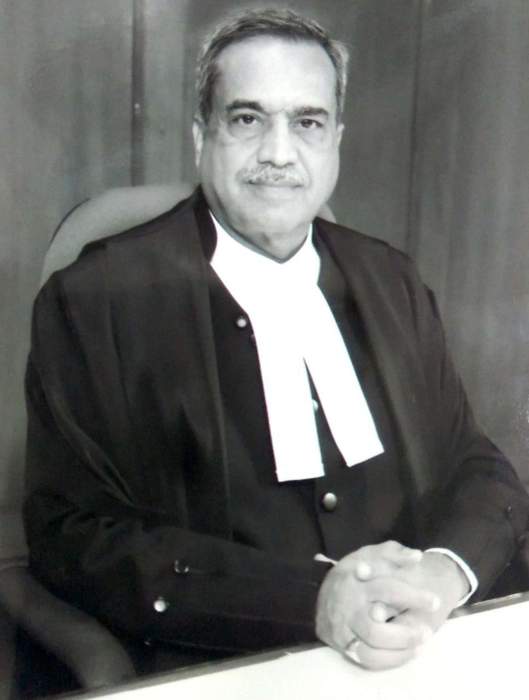 Mukeshkumar Rasikbhai Shah is a Judge of Supreme Court of India. He is former Chief Justice of Patna High Court. He is also former Judge of Gujarat High Court. He is going to retire on 15 May 2023.


You Might Like
Supplied 730 MT oxygen to Delhi on May 5, Centre tells Supreme Court
The Centre Thursday told the Supreme Court that it has complied with its order and instead of 700 MT oxygen, it ensured a supply of 730 MT to Delhi for treating Covid patients. A bench of Justices D Y..
IndiaTimes - Published
Staff members of Supreme Court judge Justice MR Shah test positive for Covid-19
Supreme Court judge Justice MR Shah on Thursday said that his staff members have tested positive for Covid-19. He made this statement while hearing cases online.
IndiaTimes - Published
All staffers at residence of SC judge Justice M R Shah test Covid-19 positive
IndiaTimes - Published
SC slams Himachal HC for its 'incomprehensible' judgment
A Supreme Court bench comprising Justices D Y Chandrachud and M R Shah expressed displeasure on Friday at the incomprehensible manner of writing of a Himachal Pradesh high court judgment. It was..
IndiaTimes - Published
Justice MR Shah to govt: Avoid filing unwanted appeals in courts
Shah was in city along with another Supreme Court judge Justice R Subhash Reddy for the inauguration of the new building for government law officers on the Gujarat High Court campus.
DNA - Published
Nine states have not followed procedure in rejecting claims of tribals: SC
A bench comprising Justices Arun Mishra, M R Shah and B R Gavai asked several states, which have not filed affidavits giving details including on the procedure adopted in rejecting the claims, to file..
IndiaTimes - Published
SC reserves order on Tarun Tejpal's plea seeking quashing of charges
A three-judge bench headed by Justice Arun Mishra and comprising Justices M R Shah and B R Gavai reserved its order on framing of charges against the veteran journalist.
DNA - Published
Supreme Court seeks govt's response on protection of indigenous cows
The order by a bench of Justices Arun Mishra and MR Shah has come at a time when the Centre is trying its best to protect the desi cow under the National Gokul Mission 2014 and National Dairy Plan
DNA - Published
Is Kerala above rule of law, asks SC while hearing Jacobite-Orthodox church feud case
A bench comprising justices Arun Mishra and M R Shah, which was hearing a matter related to implementation of apex court order on giving control of 1,100 parishes and their churches under the Malankara..
DNA - Published
Supreme Court issues notice to Puducherry CM in power tussle matter
A vacation bench comprising Justices Indu Malhotra and M R Shah also directed that any decision having financial implication, which could be taken in the cabinet meeting of June 7 in Puducherry, shall..
IndiaTimes - Published