BioNTech
German biotechnology company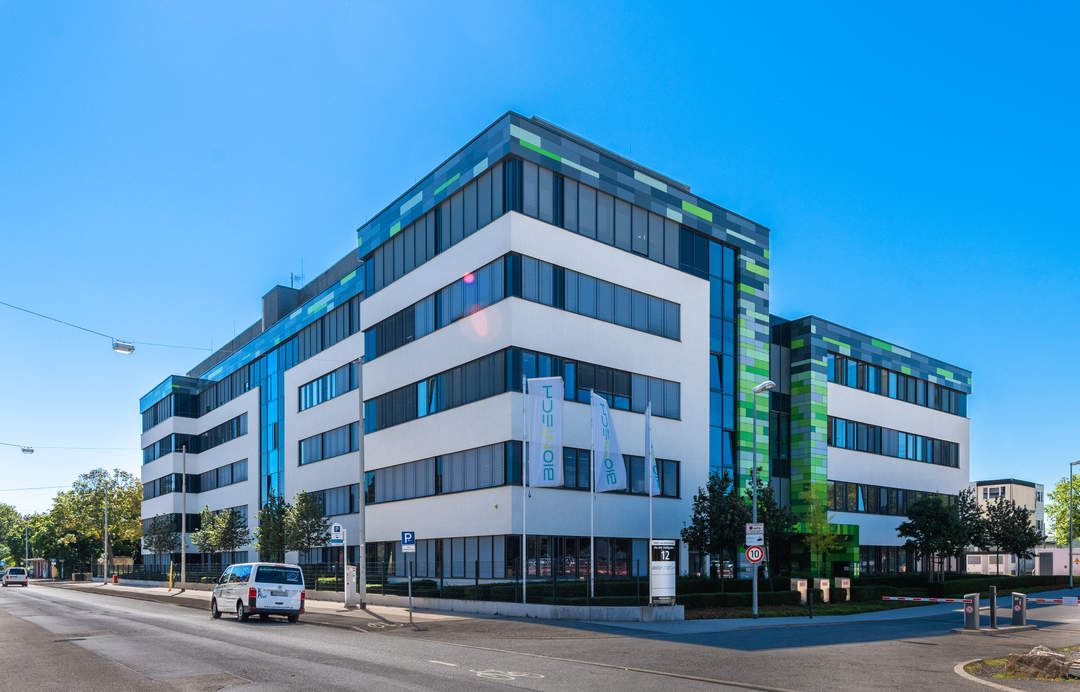 BioNTech SE is a German biotechnology company based in Mainz that develops and manufactures active immunotherapies for patient-specific approaches to the treatment of diseases. It develops pharmaceutical candidates based on messenger ribonucleic acid (mRNA) for use as individualized cancer immunotherapies, as vaccines against infectious diseases and as protein replacement therapies for rare diseases, and also engineered cell therapy, novel antibodies and small molecule immunomodulators as treatment options for cancer.


Elmo Gets Vaccinated Against COVID

Elmo Gets Vaccinated , Against COVID. Earlier this month, Moderna and Pfizer/BioNTech vaccines were given emergency use authorization for children as young as six months old. The CDC also signed off..
Credit: Wibbitz Top Stories Duration: 01:31
Published
FDA Panel Endorses COVID Vaccines for Children Under 5

FDA Panel , Endorses COVID Vaccines, for Children Under 5. On June 15, an advisory panel to the United States Food and Drug Administration voted to recommend two COVID-19 vaccines for kids ages 5..
Credit: Wibbitz Top Stories Duration: 01:30
Published
You Might Like



US-returned Mumbai man tests Omicron positive despite taking 3 doses of Pfizer vaccine

The 29-year-old man who tested Omicron positive took three doses of the Pfizer and Germany's BioNTech SE manufactured Comirnaty COVID vaccine in US.




DNA - Published





Three doses of Pfizer vaccine can 'neutralise' Omicron variant, lab test shows

Three shots of the Pfizer/BioNTech COVID-19 vaccine has been shown to generate a neutralising effect against the new Omicron variant in a laboratory test.




Sky News - Published





BioNTech boss says 'don't freak out' about Omicron as Pfizer jab likely to protect against severe COVID

The Pfizer vaccine is likely to offer strong protection against any severe disease from the new Omicron COVID variant, according to the head of BioNTech who urged people not to 'freak out'.




Sky News - Published




Pfizer-BioNTech vaccine effectiveness wanes to 47% against COVID-19 infection after six months

Two doses of the Pfizer-BioNTech vaccine are 90% effective against COVID-19 hospitalisation for at least six months but only 47% effective against infection after that period, according to a new study.




Sky News - Published





Pfizer COVID vaccine trial for children aged under 12 shows 'robust immune response'

A Pfizer-BioNTech COVID-19 vaccine trial for children aged between five and 11 has produced "positive results" and has shown a "robust immune response", the two firms have said.




Sky News - Published




COVID-19 vaccine invites for 12 to 15-year-olds will start being sent out next week

The government has accepted the recommendation from the UK's chief medical officers that children aged 12 to 15 should be offered a first dose of the Pfizer/BioNTech coronavirus vaccine and invitations..




Sky News - Published





UK orders 35 million more doses of Pfizer vaccine as it prepares for COVID booster shots

The UK has agreed to buy 35 million more doses of the Pfizer-BioNTech vaccine as it prepares to administer booster shots - while the head of the World Health Organisation (WHO) has said booster shots..




Sky News - Published





A billion doses and counting: COVID vaccine helps BioNTech reverse its financial fortunes

BioNTech has reported a reversal in its financial fortunes after it developed one of the most widely-used coronavirus vaccines.




Sky News - Published




BioNTech using COVID jab technology to develop effective malaria vaccine

The German pharmaceutical group behind one of the most successful COVID-19 vaccines wants to use the same technology to develop a malaria vaccine. 




Sky News - Published




COVID-19: EU approves Moderna's vaccine for kids aged 12-17 years

This is the second vaccine approved for use on children in Europe. The first vaccine by Pfizer/BioNTech was approved in May.




DNA - Published





UK medicines regulator approves Pfizer jab for 12 to 15-year-olds

The UK's medicines regulator has approved the Pfizer/BioNTech coronavirus vaccine for 12 to 15-year-olds.




Sky News - Published




Is it worth giving COVID jabs to 12-year-olds? Vaccine experts now face an ethical dilemma

The clinical trial results released on Friday by the Medicines and Healthcare products Regulatory Agency (MHRA) show once again just how good the Pfizer-BioNTech vaccine is.




Sky News - Published




Pfizer jab recipients have lower antibodies targeting Indian variant, study suggests

People who have received the Pfizer/BioNTech vaccine have fewer antibodies targeting the Indian COVID-19 variant compared to other strains, new data suggests.




Sky News - Published





Pfizer vaccine likely to be effective against Indian variant of coronavirus, BioNTech boss says

BioNTech says the COVID vaccine it has developed with Pfizer is likely to be as effective against the Indian variant of coronavirus as it is against the South African strain.




Sky News - Published





Pfizer jab can now be stored in a fridge for one month, regulator says

The length of time the Pfizer/BioNTech vaccine can be kept unopened in a fridge has been increased from five days to one month.




Sky News - Published





Covid-19: Pfizer vaccine partially effective against Indian variant

Israel has registered eight cases of a coronavirus variant first identified in India and believes that the Pfizer/BioNTech vaccine is at least partially effective against it, an Israeli health official..




IndiaTimes - Published





Everything you need to know about the Moderna vaccine

The Moderna coronavirus vaccine is the third jab to be rolled out in the UK, alongside the Pfizer/BioNTech and Oxford University-AstraZeneca jabs.




Sky News - Published





Pfizer vaccine 'safe and 100% effective' in children as young as 12

The Pfizer-BioNTech COVID-19 vaccine is safe and 100% effective in children as young as 12, its manufacturers have said.




Sky News - Published





Pfizer/BioNTech vaccine shows promise against Brazil coronavirus variant in laboratory testing

The Pfizer/BioNTech coronavirus vaccine was able to combat the Brazil variant of COVID-19, it has been revealed.




Sky News - Published




Studies under way into whether third dose of coronavirus vaccine would help immunity

Studies are under way into how effective a third shot of the Pfizer/BioNTech vaccine could be in boosting immunity against coronavirus.




Sky News - Published





Risk of coronavirus illness drops 95.8% after second Pfizer vaccine dose, Israel says

The risk of becoming ill with coronavirus falls by 95.8% after the second dose of the Pfizer/BioNTech vaccine, Israel's health ministry has said.




Sky News - Published




Pfizer vaccine is up to 85% effective after first dose, new Israeli study finds

A new COVID vaccine efficacy study from Israel has concluded Pfizer/BioNTech's jab is up to 85% effective after the first dose.




Sky News - Published




Vaccine doses shouldn't be more than six weeks apart, scientist behind Pfizer-BioNTech jab says

The scientist behind the Pfizer/BioNTech COVID-19 vaccine says that the time between the first and second dose should not be longer than six weeks.




Sky News - Published





UK to look 'very carefully' at vaccine dosing after concerns over level of protection

The UK will need to look "very carefully" at the protection provided by the Pfizer/BioNTech vaccine, the government's chief scientific adviser has told Sky News, amid concerns its effectiveness is..




Sky News - Published





Vaccine boost for EU with medics now allowed to draw six doses from single Pfizer vial

The European Union's drug agency is now allowing doctors to draw up to six doses from each vial of the Pfizer/BioNTech vaccine.




Sky News - Published




5 charts that explain Covid vaccine procurement status and effectiveness

The UK has become the first country to grant emergency approval to Pfizer-BioNtech's Covid-19 vaccine. The rollout will begin as early as next week, and a whopping 8 lakh doses will be made available..




IndiaTimes - Published





Coronavirus vaccine: Centre in talks with Pfizer to make vaccine available for use in India

On Monday, Pfizer Inc and BioNTech SE announced more than 90% efficacy of their potential vaccine for the coronavirus infection.




DNA - Published





India in talks with all Covid vaccine manufacturers, domestic and foreign: Health ministry

A day after Pfizer Inc and BioNTech SE announced more than 90 per cent efficacy of their potential vaccine for the coronavirus, the health ministry on Tuesday said the National Expert Group on Vaccine..




IndiaTimes - Published