Sergey Lavrov
Russian diplomat and politician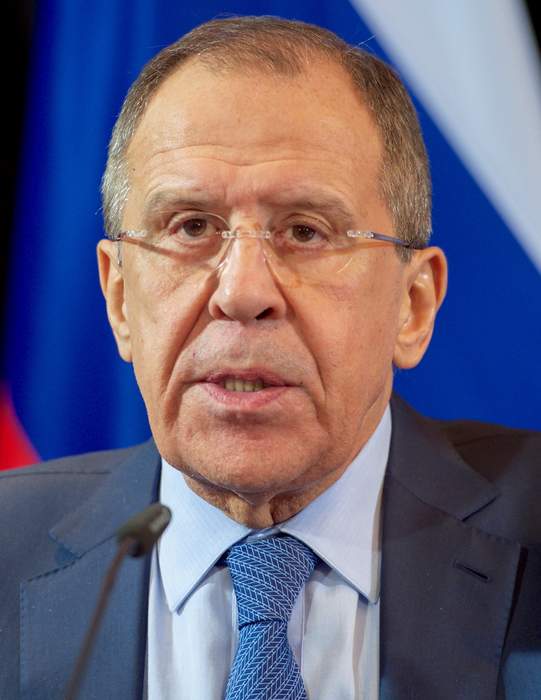 Sergey Viktorovich Lavrov is a Russian diplomat and politician. In office since 2004, he is the Foreign Minister of Russia. Previously, he was the Russian Representative to the UN, serving in the role from 1994 to 2004.


'President Putin will be visiting India..': Foreign Secretary Shringla

Foreign Secretary Harsh Vardhan Shringla, who is on a 2-day visit to Russia, said that President Putin has accepted Indian Prime Minister Narendra Modi's invitation to visit India. He also added that..
Credit: HT Digital Content Duration: 04:07
Published
Large number of exchanges on cards for India-Russia relationship: Foreign Secy

On his visit to Russia, Foreign Secretary of India, Harsh V Shringla said, "I just had a very good meeting with Foreign Minister Mr Lavrov. The Foreign Minister emphasized the importance attaches to..
Credit: ANI Duration: 02:18
Published
Russia 'ready' for a break in relations with the EU, says Foreign Minister Sergey Lavrov

'If you want peace, prepare for war', says Lavrov as the EU considers sanctions over conflicts in Eastern Europe and opposition leader Alexei Navalny's detention
Credit: Euronews English Duration: 02:07
Published
Kremlin warns of EU split if hit with sanctions

Russia's Foreign Minister has threatened a split with the European Union, if the country is hit with economic sanctions following the jailing of Kremlin critic Alexei Navalny. Adam Reed reports.
Credit: Reuters - Politics Duration: 01:54
Published
'Burn in hell' Navalny tells Russian court

Jailed Kremlin critic Alexei Navalny told a Russian court to "burn in hell" on Friday, and accused the prosecution and relatives of a veteran in using 95-years-old "as a puppet." Francis Maguire..
Credit: Reuters - Politics Duration: 02:11
Published
Russia's Lavrov, EU's Borrell recognize ties at 'low point' during visit, amid Navalny case


Credit: FRANCE 24 English Duration: 01:57
Published
Kremlin critic Navalny in court for slander

Jailed Kremlin critic Alexei Navalny returned in court on Friday for a slander trial despite Western calls for his release. It came the same day as the European Union's top diplomat is in Moscow for..
Credit: Reuters - Politics Duration: 01:53
Published
Russia's Lavrov, EU's Borrell recognize ties at 'low point', amid Navalny case


Credit: FRANCE 24 English Duration: 00:47
Published
Russia's Lavrov, EU's Borrell recognize ties at 'low point' in 'surprising conciliatory meeting'


Credit: FRANCE 24 English Duration: 02:06
Published
You Might Like



Russia accuses US-led West of attempting to 'undermine' its close relations with India

Russian foreign minister Sergey Lavrov has accused the US-led West of attempting to "undermine" Russia's close partnership and privileged relations with India.Speaking at a meeting of the state-run..




IndiaTimes - Published





Russia rules out mediating between India and China

Russia on Tuesday ruled out mediating between India and China following the violent clashes in the Galwan Valley, saying the two nations do not need any kind of assistance to resolve their..




IndiaTimes - Published





Moscow urges U.S. to help reach Libya ceasefire: RIA

Russian Foreign Minister Sergei Lavrov said on Wednesday that Moscow would welcome efforts by Washington to use its influence to help reach a ceasefire in Libya, the RIA news agency reported.




Reuters - Published





Russian ministers to visit Turkey for talks on Sunday

Russian Foreign Minister Sergei Lavrov and Defence Minister Sergei Shoigu will visit Turkey on Sunday for talks, the two countries' foreign ministries said on Saturday, with media reports saying..




Reuters - Published





Rivals Russia and Turkey both support a Libya peace process, Moscow says

Russian Foreign Minister Sergei Lavrov and his Turkish counterpart Mevlut Cavusoglu on Monday agreed on the need to collaborate to create the conditions for a peace process in Libya, Russia's foreign..




Reuters - Published





Russia says its prisoners in Libya main obstacle to bilateral cooperation: minister

Russian Foreign Minister Sergei Lavrov said on Wednesday that the presence of Russian prisoners in the Libyan capital of Tripoli was the main obstacle to cooperation between the countries.




Reuters - Published





Russia tells Haftar ally it backs immediate Libyan ceasefire and talks

Russian Foreign Minister Sergei Lavrov on Tuesday told an ally of Libya's eastern commander Khalifa Haftar that Moscow backed an immediate ceasefire and political talks that would culminate in united..




Reuters - Published





Russian, Turkish foreign ministers back Libya ceasefire in call: Moscow

Russian Foreign Minister Sergei Lavrov and Turkish Foreign Minister Mevlut Cavusoglu backed an immediate ceasefire in Libya during a phone call on Thursday, Russia's Foreign Ministry said in a..




Reuters - Published





Russia's Lavrov, UK's Raab agree on need to improve cooperation

Russian Foreign Minister Sergei Lavrov and his British counterpart Dominic Raab discussed relations between Moscow and London and voiced intention to improve cooperations, the Russian foreign ministry..




Reuters - Published





U.S.'s Pompeo, Russia's Lavrov discussed arms control issues: U.S. State Department

U.S. Secretary of State Mike Pompeo discussed the next steps on arms control issues in a call with his Russian counterpart on Wednesday, the U.S. State Department said in a statement but gave no other..




Reuters - Published





Russia disapproves of Haftar's power grab in Libya: Ifax cites foreign minister

Russian Foreign Minister Sergei Lavrov said on Tuesday that Moscow did not approve of Libya's eastern-based military leader Khalifa Haftar's move to seize control of the country, the Interfax news..




Reuters - Published





Russia says U.N. security council members agreed to hold online summit

Russia's foreign minister Sergei Lavrov said on Monday that other permanent members of the United Nations Security Council have agreed to hold an online five-way summit, proposed by Russian President..




Reuters - Published





Russia's Lavrov, U.S. Pompeo discuss oil markets, coronavirus: statement

Russian foreign minister Sergei Lavrov and U.S. Secretary of State Mike Pompeo agreed on a call on Friday to continue coordinating efforts to overcome the crisis in oil markets and the challenges posed..




Reuters - Published





Russia says world powers have agreed to hold five-way summit, date to be agreed: RIA

The five permanent members of the United Nations Security Council have agreed to hold a summit, but the date and agenda are still under discussion, the RIA news agency cited Russian Foreign Minister..




Reuters - Published





Russia says it's ready for hypersonic missile talks with U.S.

Russia is ready to discuss hypersonic missiles and other arms control issues with the United States as part of wider discussions about strategic stability, Foreign Minister Sergei Lavrov said on..




Reuters - Published





Russia ready to discuss hypersonic missiles with U.S.: RIA cites foreign minister

Russia is ready to discuss hypersonic missiles with the United States in the context of strategic stability, the RIA news agency cited Foreign Minister Sergei Lavrov as saying on Tuesday.




Reuters - Published





Putin, Erdogan agree on security corridor for Syria's Idlib: Lavrov

Russian President Vladimir Putin and Turkish President Tayyip Erdogan agreed on Thursday to set up a security corridor for Syria's Idlib province, Foreign Minister Sergei Lavrov told reporters in..




Reuters - Published





Trump accepted Putin's proposal to hold U.N. Security Council summit: Interfax cites Russia's Lavrov

U.S. President Donald Trump accepted Russian President Vladimir Putin's proposal to hold a meeting of the U.N Security Council's five permanent members, the Interfax news agency cited Russian Foreign..




Reuters - Published





Russia will not stop fighting terrorism to solve Europe's migration crisis: Lavrov

Russia will not stop fighting terrorism in Syria's Idlib region in order to solve Europe's migration crisis, Foreign Minister Sergei Lavrov said on Tuesday at a news conference alongside his Finnish..




Reuters - Published





Russia's Putin, Turkey's Erdogan discuss Syria by phone amid tensions

Russian President Vladimir Putin and Turkish President Tayyip Erdogan spoke by phone on Friday to discuss the implementation of agreements on Syria's Idlib province amid mounting tension, Foreign..




Reuters - Published





Russia, Turkey preparing talks on fighting in Syria's Idlib province: TASS

Russia and Turkey are preparing talks on how to de-escalate fighting in Syria's Idlib province, TASS news agency reported on Monday, citing Russian Foreign Minister Sergei Lavrov.




Reuters - Published





Russia's Lavrov, after Pompeo meeting, says felt more constructive U.S. approach

Russian Foreign Minister Sergei Lavrov said on Monday after meeting U.S. Secretary of State Mike Pompeo last week that he had felt a more constructive approach from Washington when it came to the..




Reuters - Published





Russia and Turkey are close but will disagree, Lavrov says

Russia has good ties with Turkey but will sometimes disagree, Russia's Foreign Minister Sergei Lavrov said on Saturday.




Reuters - Published





Russian, Turkish foreign ministers to meet on Sunday amid Syria tensions: Ifax

Russian Foreign Minister Sergei Lavrov will meet his Turkish counterpart Mevlut Cavusoglu in Munich on Sunday on the sidelines of the Munich Security Conference, the Interfax news agency reported on..




Reuters - Published





Russian Foreign Minister Lavrov hits out at U.S. 'provocations' in Venezuela

Russian Foreign Minister Sergei Lavrov on Thursday denounced U.S. foreign policy in Venezuela, criticizing U.S. "provocations" and attempts to create what he called a pretext for military intervention.




Reuters - Published




Mexico in talks with Russia to buy new batch of military helicopters: foreign minister

Russian Foreign Minister Sergei Lavrov on Thursday said Mexico was in talks to buy a batch of Russian-made military helicopters.




Reuters - Published





Russian foreign minister says efforts to remove Venezuela's Maduro not 'useful'

Russian Foreign Minister Sergei Lavrov during a visit to Mexico City on Thursday criticized attempts to remove Venezuelan President Nicolas Maduro as not "useful" and denounced U.S. foreign policy in..




Reuters - Published





Russia sends Lavrov to Venezuela to 'counteract' U.S. sanctions

Russian Foreign Minister Sergei Lavrov will visit Venezuela on Friday in a show of support for President Nicolas Maduro, a socialist who Washington wants out of power.




Reuters - Published





Russian defense and foreign ministers keep posts in Putin shake-up: Kremlin

Russian Defence Minister Sergei Shoigu and Foreign Minister Sergei Lavrov kept their posts in a government shake-up unveiled on Tuesday, the Kremlin said.




Reuters - Published





Russia: Iran was spooked by reports of U.S. F-35s when it downed airliner

Russian Foreign Minister Sergei Lavrov said on Friday that Iran's accidental shooting down of a Ukrainian airliner last week occurred at a time when Tehran was spooked by reports of advanced U.S...




Reuters - Published





Russia says urging Gulf nations to consider a joint security mechanism

Russia's Foreign Minister Sergey Lavrov said on Wednesday that Moscow has been urging Gulf countries to consider a common security mechanism for the region.




Reuters - Published





Libya talks in Moscow progress but fail to get ceasefire deal: Russian foreign minister

Talks aimed at agreeing an unconditional and open-ended ceasefire in Libya failed to achieve a breakthrough on Monday despite making good progress, Russian Foreign Minister Sergei Lavrov told..




Reuters - Published





17 countries to attend Raisina Dialogue this week

External affairs minister S Jaishankar will play host to 17 ministers from across the world-from Russia and Iran to Latvia- here at the Raisina Dialogue. He is expected to hold bilateral meetings with..




IndiaTimes - Published





Russia's Lavrov, Iran's Zarif discuss Soleimani killing: statement

Russia's Foreign Minister Sergei Lavrov spoke with his Iranian counterpart Mohammad Javad Zarif over the phone on Friday to discuss the killing of Iran's military chief Qassem Soleimani, the Russian..




Reuters - Published





Russia's Lavrov says Trump told Putin U.S. will continue looking for arms treaty solutions: Ifax

Russia's Foreign Minister Sergei Lavrov said on Sunday that U.S. President Donald Trump had sent a short letter about the Intermediate Nuclear Forces (INF) treaty to Russian President Vladimir Putin,..




Reuters - Published





Russia's Lavrov says Nord Stream 2 will be launched despite sanctions: Ifax

Russian Foreign Minister Sergei Lavrov said on Sunday that the Nord Stream 2 and Turk Stream gas pipeline projects would be launched despite U.S. sanctions, adding that Russia planned to respond to the..




Reuters - Published





Russia ready to include 'super weapons' in arms control treaty: Ifax cites Lavrov

Russia's Foreign Minister Sergei Lavrov said on Sunday that Russia was prepared to include the heavy Sarmat missile and the Avangard hypersonic missile in a new START strategic arms reduction treaty,..




Reuters - Published





Pompeo says U.S. wants to work with Russia on Libya, reminded Lavrov of arms embargo

The United States wants to work with Russia to end the conflict in Libya, U.S. Secretary of State Mike Pompeo said on Wednesday, but he added that he reminded Russian counterpart Sergei Lavrov a day..




Reuters - Published




Pompeo says Trump warned Russia on election meddling, disputes Lavrov's account

President Donald Trump told Russian Foreign Minister Sergei Lavrov during their meeting that Moscow's meddling in America's elections is unacceptable, U.S. Secretary of State Mike Pompeo said on..




Reuters - Published





Trump warned Russia not to interfere in U.S. elections: White House

U.S. President Donald Trump, in a meeting with Russian Foreign Minister Sergei Lavrov on Tuesday, warned Russia not to interfere in U.S. elections, the White House said.




Reuters - Published





Russia's Lavrov calls on U.S. to publish bilateral communications over 2016 election

Russian Foreign Minister Foreign Minister Sergei Lavrov on Tuesday said Moscow wanted to publish a cache of communications with Washington that he said cleared Russia of allegations it interfered in..




Reuters - Published





Russia seeks to publish U.S. communications from 2016-2017: Lavrov

Russian Foreign Minister Foreign Minister Sergei Lavrov said Moscow wanted to publish a cache of communications with Washington that he said cleared Russia of allegations it interfered in the 2016 U.S...




Reuters - Published





Russia's Lavrov: Moscow seeks to publish cache of 2016-2017 communications with U.S

Russian Foreign Minister Foreign Minister Sergei Lavrov said Russia is willing to publish a cache of communications between 2016 and 2017 that he said would clear Moscow of allegations it interfered in..




Reuters - Published





Trump to meet with Russian Foreign Minister Lavrov at White House

U.S. President Donald Trump will meet with Russian Foreign Minister Sergei Lavrov on Tuesday at the White House, a senior administration official said on Monday.




Reuters - Published




Trump to meet Russia's foreign minister on Tuesday: Ifax

Russian Foreign Minister Sergei Lavrov will meet U.S. President Donald Trump during talks with his U.S. counterpart in Washington on Tuesday, the Interfax news agency cited a Russian foreign ministry..




Reuters - Published




Russia says will respond to U.S. on missile deployment

Foreign Minister Sergey Lavrov said on Friday that Russia will not hesitate to respond to any new deployment of missiles by the United States.




Reuters - Published





Russia says Turkey told Moscow no new Syria operation planned: TASS

Russian Foreign Minister Sergei Lavrov said on Wednesday that Ankara had assured Moscow that it did not plan to launch a new military operation in Syria despite earlier comments, the TASS news agency..




Reuters - Published





Russia urges Iran to fulfill commitments under nuclear deal

Russian Foreign Minister Sergei Lavrov on Wednesday called on Iran to fulfill the terms of its 2015 nuclear deal with world powers, but said Moscow understood why Tehran was cutting back on its..




Reuters - Published





Russia's foreign ministry opposes call to ban Deutsche Welle: Ifax

Russian Foreign Minister Sergei Lavrov said on Wednesday he did not support banning foreign media outlets including Germany's Deutsche Welle from working in Russia, something that had been proposed by..




Reuters - Published





Iran, Russia take aim at U.S. military presence near Syrian oilfields

Iran and Russia on Tuesday condemned U.S. President Donald Trump's decision to maintain a military presence near oil fields in northeastern Syria, with Russian Foreign Minister Sergei Lavrov saying any..




Reuters - Published