Jerry Nadler
U.S. Representative from New York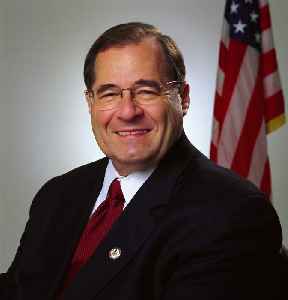 Jerrold Lewis Nadler is an American politician serving as the U.S. Representative for New York's 10th congressional district since 2013. A member of the Democratic Party, he is in his 15th term in Congress, having served since 1992. He was originally elected to represent the state's 17th congressional district (1992–1993) which was renumbered the 8th congressional district (1993–2013) and now is the 10th congressional district. Nadler has been Chairman of the House Judiciary Committee since 2019.


Barr 'abetted' Trump's 'worst failings': Nadler

House Judiciary Committee Chairman Jerrold Nadler chastised U.S. Attorney General William Barr at a congressional hearing on Tuesday saying Barr "aided and abetted the worst failings of the president."
Credit: Reuters Studio Duration: 01:25
Published
Nadler to Barr: 'Shame on you'

During U.S. Attorney General Barr's testimony to the House Judiciary, U.S. Representative Jerrold Nadler says "shame on you" for the use of force on protesters in Lafayette Square in Washington D.C...
Credit: Reuters Studio Duration: 00:59
Published
You Might Like
Search this site and the web: