Jerry Nadler
U.S. Representative from New York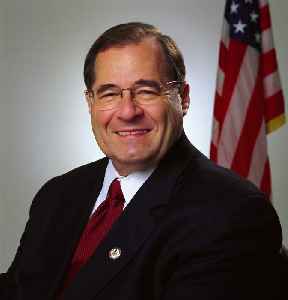 Jerrold Lewis Nadler is an American politician serving as the U.S. Representative for New York's 10th congressional district since 2013. He is a member of the Democratic Party and is in his 15th term in Congress, having served since 1992. He was originally elected to represent the state's 17th congressional district (1992–1993) which was renumbered the 8th congressional district (1993–2013) and is now the 10th congressional district. Nadler has been Chairman of the House Judiciary Committee since 2019.


Trump thanks Justice Dept. for intervening in his friend Stone's case

U.S. President Donald Trump on Wednesday declined to say whether he is considering pardoning longtime adviser Roger Stone, who was found guilty last year of lying to Congress, obstruction and witness..
Credit: Reuters - Politics Duration: 02:00
Published
Trump hails Barr for 'taking charge' of Stone case

Donald Trump on Wednesday praised the head of the Justice Department for intervening on behalf of one of the president's friends and advisers who is facing sentencing after he was found guilty of seven..
Credit: Reuters Studio Duration: 02:12
Published
Nadler, Trump counsel debate bribery as offense

On Wednesday (January 29) Senators began the first of two days of questioning to both Trump's legal team and the Democratic lawmakers who serve as prosecutors in the Trump impeachment trial on charges..
Credit: Reuters Studio Duration: 00:56
Published
You Might Like
Search this site and the web: