Bhopal
Metropolis and state capital in Madhya Pradesh, India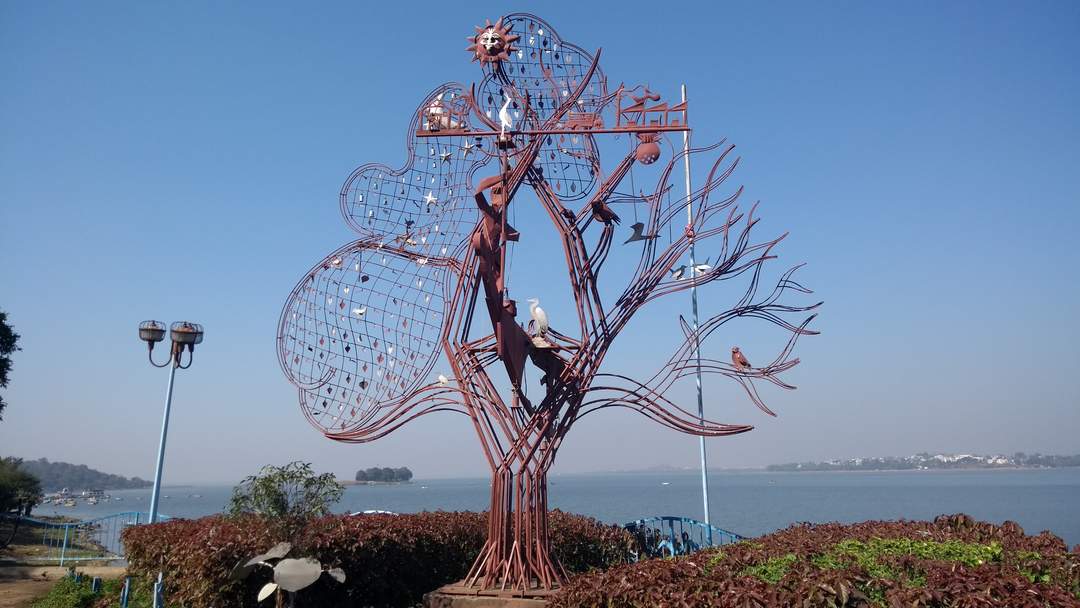 Bhopal is the capital city of the Indian state of Madhya Pradesh and the administrative headquarters of both Bhopal district and Bhopal division. It is known as the City of Lakes for its various natural and artificial lakes and for being one of the greenest cities in India. It is the 16th largest city in India and 131st in the world. After formation of Madhya Pradesh, the state capital Bhopal was a part of the Sehore district. It was bifurcated in 1972 and a new district Bhopal was formed.


BJP MP Sadhvi Pragya says, 'cow urine cures lung infection, can stop Corona' | Watch | Oneindia News

Sadhvi Pragya is a saffron-draped BJP MP from Bhopal in Madhya Pradesh. While addressing a gathering, she claimed that cow has protected her from contracting the Coronavirus. #SadhviPragya..
Credit: Oneindia Duration: 01:01
Published
COVID-19 curfew extended till May 17 in Bhopal

Bhopal district administration on May 09 announced that COVID-19 induced curfew in the state capital will be extended till May 17. In wake of COVID-19 infection surge, curfew was imposed on April 12..
Credit: ANI Duration: 01:26
Published
Petrol price at Rs 90.74, diesel at Rs 81.12 per litre in Delhi

Petrol and diesel prices witnessed a minor surge in the national capital and stood at Rs 90.74 and Rs 81.12 per litre, respectively on Wednesday. The petrol prices were increased by 19 paise per litre..
Credit: ANI Duration: 01:37
Published
Police on strict vigil to ensure 'Janta curfew' in Bhopal

As the country is reeling under the devastating second wave of COVID-19 pandemic, several cities of Madhya Pradesh have been adversely affected by the virus too. Due to surplus in COVID infections,..
Credit: ANI Duration: 01:03
Published
Watch: Bhopal auto-driver turns his 3-wheeler into free ambulance for Covid patients

A man in MP's Bhopal has turned his three-wheeler into an ambulance-like vehicle. Javed Khan, an auto driver, is providing ambulance service to Covid patients free of cost. Khan's auto is equipped with..
Credit: HT Digital Content Duration: 02:04
Published
Bhopal man's 3-wheeler ambulance at rescue for COVID patients

In this bleak time of COVID-19, several people turned into saviours in order to contribute their bit in fight against the pandemic. In a unique initiative, a man in Bhopal turned his auto rickshaw into..
Credit: ANI Duration: 02:09
Published
CM Shivraj Chouhan holds COVID-19 review meeting via video conferencing

Madhya Pradesh CM Shivraj Singh Chouhan held COVID-19 review meeting via video conferencing in Bhopal on April 29. The officials of Hoshangabad, Ashoknagar, Raisen, Rajgarh, Guna, Harda, Sheopur and..
Credit: ANI Duration: 01:10
Published
Watch: 'Oxygen Express' with 64 MT medical oxygen arrives in Madhya Pradesh

Indian Railways' 'Oxygen Express' reached MP's Bhopal from Bokaro in Jharkhand. The train carried six tankers with approximately 64 tonnes of Liquid Medical Oxygen. As per Railways, three tankers to be..
Credit: HT Digital Content Duration: 02:20
Published
'Oxygen special train' reaches Bhopal

The 'Oxygen Express', carrying 6 Oxygen tankers, from Jharkhand's Bokaro arrived at Mandideep railway station in Bhopal on Apr 28. Two tankers unloaded at Mandideep and rest of them were sent to Sagar..
Credit: ANI Duration: 01:15
Published
Watch: Isolation train coaches for Covid patients become operational in Bhopal

As many as 20 isolation coaches for Covid-19 patients became operational at Bhopal railway station. Isolation coaches with over 300 beds have been set up to reduce burden on hospitals. These coaches..
Credit: HT Digital Content Duration: 01:15
Published
NSA invoked over black marketing of Remdesivir: MP Home Minister

Madhya Pradesh administration has registered a total of 11 cases over black marketing of anti-viral drug Remdesivir, informed state Home Minister Narottam Mishra who also said that National Security..
Credit: ANI Duration: 01:33
Published
20 isolation railway coaches set up for COVID patients in Bhopal

As many as twenty isolation railway coaches have been set up for COVID-19 patients in Madhya Pradesh's Bhopal. Equipped with coolers, railway coaches are all set for the patients, amid increase number..
Credit: ANI Duration: 01:19
Published
COVID: Patients helpless as Bhopal hospital faces oxygen crisis

While COVID has spread at an unprecedented rate, Bhopal's Nirvana Multi-speciality Hospital is facing oxygen crisis. All efforts to secure oxygen have gone in vain, according to hospital staff. A COVID..
Credit: ANI Duration: 02:33
Published
Bhopal welcomes its 1st oxygen bank

Bhopal's first Oxygen bank was set up on April 21, wherein BJP leader Rahul Kothari donated 40 oxygen generators through Sarokar organization. These oxygen concentrators are valuable for mildly..
Credit: ANI Duration: 01:40
Published
Remdesivir injections reaches Indore from Bengaluru

A consignment of 15,000 Remdesivir injections reached Indore from Karnataka's Bengaluru on April 20. The vaccines will be further distributed across cities in Madhya Pradesh. According to Additional..
Credit: ANI Duration: 01:25
Published
You Might Like



COVID-19 update: Curfew imposed in Bhopal from today, check what's allowed, what's not

A lockdown has already been imposed in various cities of MP including Indore City, Rau, Mhow, Shajapur city, Ujjain, Barwani, Rajgarh and Vidisha.




DNA - Published





Trainer aircraft crashes near Bhopal; three hurt




IndiaTimes - Published





Lockdown in Madhya Pradesh? Home Minister Narottam Mishra makes this BIG announcement as COVID-19 cases surge

Madhya Pradesh Home Minister Narottam Mishra said that around 300-400 coronavirus cases are being reported in Indore and Bhopal daily.




DNA - Published





COVID-19: Lockdown in Madhya Pradesh's Bhopal, Indore, Jabalpur - What's open, what's not

Madhya Pradesh government has said that the lockdown has been imposed in Bhopal, Indore and Jabalpur to curb the spread of coronavirus.




DNA - Published





Lockdowns on Sundays in 3 cities of Madhya Pradesh

Slammed by a Covid surge, the Madhya Pradesh gover nment on Friday announced a Sunday lockdown in Bhopal, Indore and Jabalpur and ordered all schools and colleges to be shut till March 31. In fact,..




IndiaTimes - Published





COVID-19: Night curfew in Bhopal, Indore from Wednesday - Check timings, other details

CM Shivraj Singh Chouhan said that even as he doesn't want to go for a lockdown, imposing night curfew in some places seems unavoidable.




DNA - Published





COVID-19: Madhya Pradesh likely to impose night curfew in THESE cities

Both, Indore and Bhopal have been reporting a rise in coronavirus cases which has become a matter of concern for the state administration.




DNA - Published





BJP MP Pragya Thakur flown down to Mumbai from Bhopal, admitted to hospital




IndiaTimes - Published





This city is cleanest in India, check others on the list

In this category, Surat came second, followed by Bhopal, Pimpri Chinchawad, Pune, Ahmedabad, Raipur, Greater Mumbai, Visakhapatnam and Vadodara.




DNA - Published





MP and BJP leader Nandkumar Singh Chauhan passes away, PM condoles

He had tested positive for coronavirus and was undergoing treatment in Bhopal. However, his condition deteriorated after which he was airlifted.




DNA - Published





Discovered in Bhimbetka, India's lone fossil of world's oldest animal

Hidden in plain sight, one of the rarest fossils in the world may have been discovered in the fascinating Bhimbetka rock shelters, a Unesco site about 40km from Bhopal. ​​​Researchers believe..




IndiaTimes - Published





Parts of Bhopal under curfew after order in favour of RSS-linked trust




IndiaTimes - Published





Woman raped 500m from police HQ in Bhopal




IndiaTimes - Published





In Bhopal, Covid vaccine arrives to celeb's welcome

The first batch of Covid vaccine arrived to a celeb's welcome in Madhya Pradesh on Wednesday, three days ahead of the nationwide rollout. Over 2.7 lakh vaccine doses arrived in Bhopal, Indore and..




IndiaTimes - Published





Gas activists request PM to stop vaccine trials in Bhopal

Organisations working with Bhopal gas disaster victims on Sunday urged PM Modi to stop the clinical trial of Covaxin in Bhopal, alleging irregularities in process and protocol. The activists have..




IndiaTimes - Published





Ex-PM Atal Bihari Vajpayee's statue to be installed in Bhopal

A statue of former Prime Minister Atal Bihari Vajpayee will be installed here on the occasion of his birth anniversary on December 25, a Madhya Pradesh government official said on Wednesday. BHOPAL: A..




IndiaTimes - Published





Mumbai offers highest quality of life, Chennai treats its women best: Study

Overall, Mumbai tops the list of 14, followed closely by Delhi, Kolkata and Chennai. But so important is the gender role index that quality of life rankings of six cities would have changed had it not..




IndiaTimes - Published





Bhopal Gas Tragedy: Govt claims 102 gas leak survivors died of Covid-19, NGOs quote bigger number

Over 15,000 people were killed and 5 lakh affected after methyl isocyanate leaked from the pesticide plant of Union Carbide India Limited in Bhopal.




DNA - Published





Covid-19 vaccine: Bharat Biotech starts phase III trials of Covaxin in Madhya Pradesh's Bhopal

The volunteers will be counselled first followed by medical tests. If the reports of the volunteers are normal then they will be given the first dose.




DNA - Published





Four kids killed while mining sand in Bhopal




IndiaTimes - Published





Missing journo found dead in Bhopal jungle




IndiaTimes - Published





Religious protest against French President Emmanuel Macron in Bhopal, CM Shivraj calls for action

Madhya Pradesh Chief Minister Shivraj Singh Chauhan has said that those who disturb peace will not be spared. The protest against French President Emmanuel Macron was organized under the leadership of..




DNA - Published





Bhopal horror: 2-day-old girl stabbed 100 times




IndiaTimes - Published





Bhopal: Woman moves court after father 'cheats' in Ludo game

In a serious yet hilarious development from Bhopal, a 24-year-old woman approached a family court against her father over cheating in a game of Ludo.




DNA - Published





Parliament passes bill giving national importance tag to five new IIITs

Parliament on Tuesday passed a legislation to declare the five new IIITs in Surat, Bhopal, Bhagalpur, Agartala and Raichur as institutes of national importance, enabling them to award degrees. The..




IndiaTimes - Published





Carelessness leading to rise in Covid-19 cases: Experts

Careless behaviour of people and complacency are leading to a spike in Covid-19 cases in Madhya Pradesh, which saw a 78 per cent rise in cases in the past two months, according to medical experts and..




IndiaTimes - Published





Madhya Pradesh Metro: Chief Minister Shivraj Singh Chouhan reviews progress

The total cost of the Bhopal and Indore Metro Rail Project is Rs 14,442 crore 20 lakh.




DNA - Published





Will go for Ramlala's darshan after PM, others leave: Uma Bharti

"I will leave Bhopal today and on the way I might come in contact with a coronavirus infected person. Taking this into account, I will keep a distance from the place where @narendramodi and hundreds of..




IndiaTimes - Published





'I'm completely healthy', says Shivraj Singh Chouhan after getting admitted at Covid hospital in Bhopal

After testing positive for coronavirus, Chief Minister Shivraj Singh Chouhan said he was completely healthy after tests were conducted at a dedicated Covid facility, where he got admitted in Bhopal on..




IndiaTimes - Published





Madhya Pradesh minister tests positive for COVID-19, lockdown in Bhopal from tomorrow

Arvind Singh Bhadoria was admitted to the Chirayu Medical College and Hospital in Bhopal on Wednesday night after he tested positive for COVID-19. Bhadoria released a video from the hospital where he..




DNA - Published





Madhya Pradesh: 10-day complete lockdown in Bhopal from 8 pm on July 24

Madhya Pradesh Chief Minister Shivraj Singh Chouhan announced a 10-day complete lockdown in Bhopal to check the spread of COVID-19 infection. The state capital has recorded 4,669 COVID-19 cases so far,..




DNA - Published





BJP MLA Rameshwar Sharma appointed as protem speaker of Madhya Pradesh

Earlier on Thursday, twenty-eight Ministers, who joined the Chouhan government in Madhya Pradesh, were administered the oath of office and secrecy by Governor at Raj Bhawan in Bhopal.




DNA - Published





'75% of Covid dead in Bhopal are gas victims'

A group of four NGOs working among survivors of the Bhopal gas disaster claimed on Monday that 45 of the 60 Covid-19 deaths in the city they studied are gas victims. Bhopal's Covid toll stood at 85..




IndiaTimes - Published




Tiger gets life behind bars for killing 3 human beings

It's wandering days are over. The nomad tiger from Maharashtra, which made headlines in 2018 for the longest dispersal in the quickest time in the country, may have to spend the rest of its life..




IndiaTimes - Published





Family of 4 charters Airbus A320 from Bhopal to Delhi




IndiaTimes - Published





Pragya hits out at Cong for declaring her missing, says she is unwell

BJP Lok Sabha member from Bhopal, Pragya Singh Thakur on Friday hit out at the Congress for declaring her 'missing' and raising questions on her presence amid Covid-19 crisis in the state. Pragya said..




IndiaTimes - Published





Endless caravan of misery as migrants trudge home

All along the 800km, Pune-to-Bhopal stretch of the Mumbai-Agra NH, thousands upon thousands of migrant workers, children in arms, stumbling along, are stretched out in unending lines. Almost every..




IndiaTimes - Published





IAF conducts fly-past over Delhi saluting 'corona warriors'

The military jets, including Sukhoi-30 MKI, MiG-29 and Jaguar, flew over Rajpath, Delhi's centrepiece boulevard, and then orbited over the city for around 30 minutes from 11 am. IAF is carrying out..




IndiaTimes - Published





Bhopal gas tragedy victims' Covid toll rises to 12




IndiaTimes - Published





Private sector drafted but Covid-19 battle rests heavily on govt hospitals

It is clearly the public health system that is primarily tackling the Covid-19 epidemic, from identifying and tracking suspected cases to testing and treatment. What's more, these services have been..




IndiaTimes - Published





Lockdown delayed to oust Cong govt in MP: Kamal Nath

Former Madhya Pradesh chief minister Kamal Nath has alleged that the Modi govt delayed preventive measures against coronavirus only to ensure that his govt was toppled in Bhopal, underlining that the..




IndiaTimes - Published





#CovidWarriors: Bhopal doctor lives in 'car quarantine' to keep his family safe, wins the internet

In the picture, you can see Dr Nayak reading a book in his car with a few basic necessities like a mattress. Madhya Pradesh CM Shivraj Singh Chouhan also heaped praises for Dr Nayak.




DNA - Published





MP political crisis: Kamal Nath announces resignation ahead of floor test

Madhya Pradesh CM Kamal Nath on Friday announced that he is tendering his resignation, hours ahead of the scheduled floor test. "I have decided to tender my resignation to the Governor today," he said..




IndiaTimes - Published





Ahead of trust vote, Madhya Pradesh Congress MLAs return to Bhopal from Jaipur

Madhya Pradesh governor Lalji Tandon on Saturday informed that the floor test in the Assembly will be conducted on Monday (March 16) which is the first day of the budget session.




DNA - Published





In wait for MP rebel MLAs, Cong & BJP clash outside Bhopal airport




IndiaTimes - Published





Most of 19 MP Congress MLAs to reach Bhopal from Bengaluru

Most of the 19 rebel Congress MLAs from Madhya Pradesh, including six ministers, who have been camping in Bengaluru, are expected to reach Bhopal on Friday evening, party sources said. After former..




IndiaTimes - Published





Digvijaya Singh takes pot shot at Scindia, prays for his safety in BJP

Meanwhile, preparations are underway at BJP's Bhopal office to welcome Scindia. Posters, banners and a red carpet have been arranged to welcome Scindia to the party.




IndiaTimes - Published





BJP MLAs to fly out of Bhopal to unknown destination




IndiaTimes - Published





Keeping tabs on MP developments, will take decision after reaching Raj Bhavan: Governor Lalji Tandon

Governor Lalji Tandon said he is keeping tabs on political developments and will take a decision only after reaching the Raj Bhavan in Bhopal. "Whatever decision I have to take, I will do so once I..




IndiaTimes - Published





MP BJP leaders to meet Speaker, hand over resignations of MLAs

Senior BJP leader Bhupendra Singh reached Bhopal on Tuesday afternoon, carrying with him resignation letters of 19 Congress MLAs who are lodged at a resort in Bengaluru. These resignations would be..




IndiaTimes - Published