Lakshman Jhula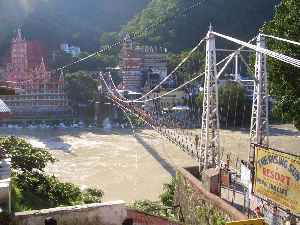 Lakshman Jhula is a suspension bridge across the river Ganges, located 5 kilometres (3 mi) north-east of the city of Rishikesh in the Indian state of Uttarakhand. The bridge connects the two villages of Tapovan in Tehri Garhwal district, on the west bank of the river, to Jonk in Pauri Garhwal district, on the east bank. Lakshman Jhula is a pedestrian bridge that is also used by motorbikes. The bridge is currently closed. Despite its location on the outskirts of the city, it is one of the iconic landmarks of Rishikesh. A larger bridge 2 kilometres (1.2 mi) downstream from Lakshman Jhula is Ram Jhula.


You Might Like
Rishikesh's Lakshman Jhula shut for public
After a meeting of police, local administration and Public Works Department (PWD) on Sunday, the PWD executive engineer announced that the decision to close the bridge was taken after an Indian..
DNA - Published
Too old for traffic, Laxman Jhula shut down for good
A landmark, Laxman Jhula is a 450-foot-long iron suspension bridge constructed over the Ganga. The PWD is tasked with maintenance of the British-era bridge that was built in 1923. Local folklore has it..
IndiaTimes - Published
Laxman Jhula closed for public
Laxman Jhula, the nearly century-old suspension bridge across the Ganges in Rishikesh, was closed on Friday by the local administration citing weak structure due to old age and high tourist footfall.
DNA - Published
Lakshman Jhula bridge in Rishikesh closed down
Lakshman Jhula, the iconic suspension bridge across the Ganga in Rishikesh, was closed to traffic. The iconic bridge was closed on the recommendation of a team of experts who found most of its parts in..
IndiaTimes - Published
Search this site and the web: