Srinagar
A city in Indian-administered Jammu and Kashmir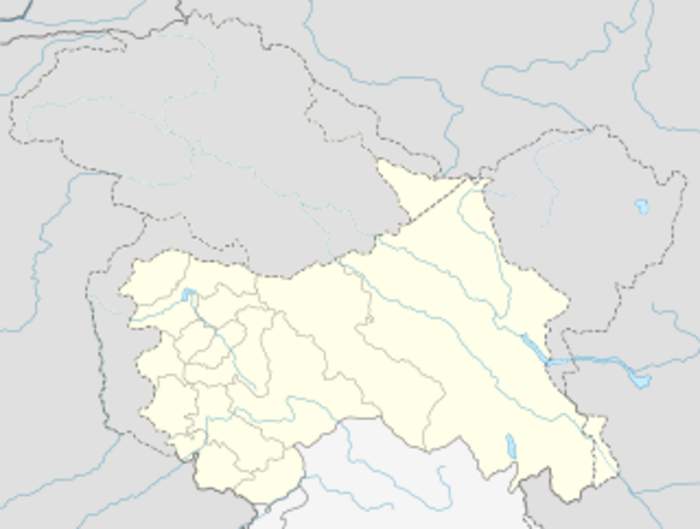 Srinagar, is the largest city and the summer capital of the Indian-administered union territory of Jammu and Kashmir. It lies in the Kashmir Valley on the banks of the Jhelum River, a tributary of the Indus, and Dal and Anchar lakes. The city is known for its natural environment, gardens, waterfronts and houseboats. It is also known for traditional Kashmiri handicrafts like Kashmir shawls and also dried fruits. It is the northernmost city of India with over one million people.


Rakesh Pandit death: BJP pays tribute, says he was killed because...| Oneindia News

BJP's Kashmir unit came together to pay tribute to chairman Municipal committee Tral and BJP leader Rakesh Pandita who was killed yesterday in an attack by unidentified gunmen. All senior leaders and..
Credit: Oneindia Duration: 03:35
Published
Kashmir doctors conduct door-to-door Covid tests in remote areas | Watch | Oneindia News

According to official data, the number of daily cases in Kashmir has remained consistently under the 4000 mark for the past week. The corona curfew in Kashmir has been extended till May 31. 60km away..
Credit: Oneindia Duration: 03:02
Published
Kashmir strawberries ready for harvest, farmers fear loss due to lockdown | Watch | Oneindia News

Farmers in Srinagar are reaping strawberry crops. As the market and transportation are shut, growers are eyeing major losses this year as well. #Kashmir #KashmirStrawberries #KashmirLockdown
Credit: Oneindia Duration: 02:26
Published
Kashmir's first floating ambulance operates on Dal Lake | Oneindia News

Tariq Ahmed Patloo operates Srinagar's first floating ambulance service. Tariq's boat has been built into an ambulance. It floats on the Dal Lake of Jammu and Kashmir. #FloatingAmbulance..
Credit: Oneindia Duration: 02:49
Published
Traditional drum beaters continue waking up people during Ramadan

Amid the ongoing holy month of Ramadan, traditional drummers, known as 'Sehar Khans' in Srinagar, have been carrying on with the ritual of waking up people by beating drums for Sehri, the pre-dawn meal..
Credit: ANI Duration: 03:32
Published
'Food for Kashmir' campaign by Tiffin Aaw: Free food delivery to Covid patients | Oneindia News

A food delivery startup called Tiffin Aaw in Srinagar has started the campaign 'Food for Kashmir' on social media. They have taken it upon themselves to deliver free meals for Covid positive families,..
Credit: Oneindia Duration: 02:55
Published
Terrorists hurl grenade at security forces in Srinagar

Terrorists on May 07 hurled a grenade at security forces in Nawa Bazaar area of Old Srinagar city. The grenade missed the intended target and exploded in the market. However, no injuries have been..
Credit: ANI Duration: 01:01
Published
Kashmir corona lockdown extended | 37 deaths in J&K | Oneindia News

After 37 deaths in the union territory of Jammu and Kashmir, the administration has decided to extend the lockdown in 5 districts. At Srinagar hospitals, 95% Covid-19 beds and ventilators are already..
Credit: Oneindia Duration: 03:14
Published
Watch: Lockdown sees shut shops, deserted streets in Srinagar | Covid

With Jammu and Kashmir in a lockdown till 7 am on May 3, Srinagar wore a deserted look. The streets were empty, and shops shuttered, as the Union Territory tries to curb the ongoing Covid wave. J&K..
Credit: HT Digital Content Duration: 01:50
Published
Amid lockdown restrictions, shops remain shut, streets deserted in Srinagar

Amid exponential surge in COVID-19 cases and deaths, Jammu and Kashmir government had announced lockdown in several districts of the Union territory. Streets in Srinagar remained deserted as lockdown..
Credit: ANI Duration: 01:58
Published
Kashmir goes under lockdown for 84 hours | Ground report | Oneindia News

J&K imposed an 84-hour lockdown to control the spread of the coronavirus. Streets in Srinagar were deseretd save for authorities on rounds to enforce the lockdown. Watch this ground report. #Kashmir..
Credit: Oneindia Duration: 03:06
Published
'Attar' sales boost up in Srinagar during 'Ramadan'

The holy month of 'Ramadan' is going on in the country and during this month, people prefer non-alcoholic traditional perfumes, 'attar'. Hence, demand of these perfumes has increased in Srinagar...
Credit: ANI Duration: 02:03
Published
110-bed COVID facility being set up at indoor stadium in Srinagar

Amid second wave of COVID-19, a 110-bed COVID facility is being set up at indoor stadium in Srinagar. So far, 66 beds has been set up inside the stadium. Administration is putting all facilities into..
Credit: ANI Duration: 02:02
Published
To use lockdown time, Srinagar youth writes entire Quran in 58 days

Like many youngsters in Jammu and Kashmir, Adil Nabi Mir had lot of free time on his hands after imposition of successive lockdowns in 2019 and the year following abrogation of Article 370 and COVID-19..
Credit: ANI Duration: 03:22
Published
Government organises bird flu awareness campaign in JandK

With several parts of Jammu and Kashmir reporting bird flu cases an awareness campaign was organised by the Department of Animal Husbandry in the Union Territory. On Friday, Chief Animal Husbandry..
Credit: ANI Duration: 03:12
Published
Ramzan 2021: Dates in high demand in Kashmir

People in Kashmir valley are purchasing dates in large quantities as the holy month of Ramzan began last week. Dates are mostly consumed during Iftar (breaking time of fast). Rich in protein, dates..
Credit: ANI Duration: 01:45
Published
Cutting across religious lines, people attend the Urs of Batmol Sahib in Srinagar

Wrapped up among the busy lanes of Srinagar city lies the Dargah of Sheikh Dawood Sahib. Hundreds of thousands of pilgrims throng this Dargah every day to bring forth the spirit of humanity and..
Credit: ANI Duration: 02:28
Published
You Might Like



All-weather Jammu-Srinagar link ready




IndiaTimes - Published





Amid fresh J&K bifurcation rumour, Gupkar alliance meets after 6 months

The National Conference-led five-party People's Alliance for Gupkar Declaration on Wednesday assembled at PDP chief Mehbooba Mufti's Srinagar residence for the first time in six months to discuss the..




IndiaTimes - Published





DRDO's 500-bed Covid hospital inaugurated in Srinagar




IndiaTimes - Published





Srinagar passport officer denies ACB raid at office, says officials sought details of passports




IndiaTimes - Published





IED detected, defused in Srinagar




IndiaTimes - Published




NGO/ social workers contest DC's order regarding oxygen supply in Srinagar without his nod




IndiaTimes - Published





Attendants of Covid patients fight over oxygen cylinders at Srinagar's main hospital




IndiaTimes - Published





Cyclone Tauktae: Delhi records coldest May day in 70 years, air quality 'satisfactory'

Delhi's maximum temperature during the day was less than Srinagar (25.8 degrees Celsius) and Dharamshala (27.2 degrees Celsius) up in the north.




DNA - Published





2 Al-Badr terrorists killed in J&K encounter

Security forces in Kashmir on Monday shot dead two Al-Badr terrorists who had refused to surrender after being cornered during a cordon-and-search operation in Srinagar's Khonmoh neighbourhood, IGP..




IndiaTimes - Published





2 terrorists killed in encounter with security forces in Srinagar

Two unidentified terrorists were killed in an encounter with security forces in Srinagar district in Jammu and Kashmir on Monday, police said.




IndiaTimes - Published





Oxgenated 100-bed Covid facility opens at Hajj House, Srinagar




IndiaTimes - Published





Three security personnel, 1 civilian injured in grenade attack by terrorists in Srinagar




IndiaTimes - Published





Jammu-Kashmir couple provide free tiffin service for COVID positive patients, frontline workers

A young couple in Srinagar started this free tiffin food service for COVID-19 positive patients and medical staff.




DNA - Published





J&K commences with vaccination for Covid-19 at Srinagar, Jammu




IndiaTimes - Published





DRDO to build two Covid hospitals in Jammu, Srinagar




IndiaTimes - Published





Srinagar hosts 2nd fashion show inside a fortnight




IndiaTimes - Published





Srinagar hoteliers told to identify 2 rooms as quarantine centres for Covid +ve tourists




IndiaTimes - Published





After service of 132 years, Indian Army closes military farms

The military farms in India are spread over more than 20,000 acres of prime defence land across the country in cities such as Ambala, Kolkata, Srinagar, Agra, Pathankot, Lucknow, Meerut, Allahabad and..




IndiaTimes - Published





Two CRPF jawans martyred, 2 injured in terror attack in Jammu and Kashmir

At least two CRPF jawans were martyred and two more injured after terrorists attacked a CRPF convoy in Srinagar's Awantipora, Jammu and Kashmir.




DNA - Published





Mehbooba Mufti appears before ED in Srinagar

The 61-year-old leader, who was released last year after more than a year in detention following the scrapping of Jammu and Kashmir's special status, appeared before the ED in connection with a money..




IndiaTimes - Published





IAF ferries 381 stranded passengers from J&K to Ladakh

The Indian Air Force (IAF) on Saturday airlifted 381 stranded people from Jammu and Kashmir to Ladakh, an official said. While 197 passengers were airlifted from Srinagar to Leh in C-17 aircraft,..




IndiaTimes - Published





Jammu and Kashmir: Army soldier kills himself in Kupwara camp, third such incident in two weeks

This is third incident in last two weeks when an army personal killed himself. Earlier two incidents happened in Srinagar.




DNA - Published





Army man commits suicide at Srinagar military HQ




IndiaTimes - Published





Srinagar to have Metro rly soon: LG Sinha




IndiaTimes - Published





Srinagar eatery owner's son succumbs to injuries 11 days after being shot




IndiaTimes - Published





J&K LG Manoj Sinha stops salary of social welfare dept dir

Jammu & Kashmir Lt Governor Manoj Sinha, during the fifth round of his 'Mulaqaat-Live Public Grievance Hearing' on Thursday, ordered stoppage of salary of the director of Kashmir division social..




IndiaTimes - Published





Two cops gunned down in Srinagar, Al-Badr trio slain in Shopian




IndiaTimes - Published





Terrorists open fire at police in Srinagar, one constable dead

A policeman died and another was injured in an attack by terrorists in the Baghat area on high security airport road in Srinagar on Friday, police said. The terrorists shot the two policemen from close..




IndiaTimes - Published





Srinagar veg dhaba scion hurt in terror attack




IndiaTimes - Published





Jammu and Kashmir: Terrorists fire upon dhaba worker in Srinagar

Terror group Muslim Janbaaz Force Jammu and Kashmir has claimed responsibility for the attack on Krishna Dhaba worker in Srinagar.




DNA - Published





Security pickets removed from 5 spots in Srinagar




IndiaTimes - Published





PM Modi pays tribute to Pulwama martyrs, says their bravery will 'inspire generations'

On February 14, 2019, a car had exploded near a Central Reserve Police Forces convoy while on its way to Srinagar from Jammu, killing 40 men.




DNA - Published





Apni Party bags Srinagar & Shopian, eyes 10 more DDCs

Altaf Bukhari's Jammu and Kashmir Apni Party (JKAP) has bagged Srinagar and Shopian district development councils and is leaving no stones unturned to secure majority of the 10 DDCs in Kashmir. Its..




IndiaTimes - Published





50-100 people working at power project missing; 2 bodies recovered: Uttarakhand DGP

"The situation is under control now. There is a dam at Srinagar and it has contained the flow. The power project has taken the damage." "Our preliminary estimate is that 50-100 people who were working..




IndiaTimes - Published





Srinagar shivers at -8.8°C, coldest in 30 years

Kashmir shivered at -8.8°C after the mercury dipped to such a low in three decades on Saturday night when the minimum temperature had plunged to -11°C in 1991, according to the meteorological..




IndiaTimes - Published





Srinagar records minimum temperature of minus 8.8 deg C, lowest in 30 years

Chillai-kalan, the harshest 40-day winter period in Kashmir, ended on Sunday breaking a decades-old record as Srinagar registered its lowest minimum temperature in 30 years, while the maximum..




IndiaTimes - Published





Temperatures fall across Kashmir, Srinagar records minus 5.6° celsius

MET recorded a temperature of minus 5.6 degrees Celsius, freezing all water taps and water bodies in Kashmir.




DNA - Published





J&K: One jawan martyred, four injured after terrorists attack army ROP in Kulgam

The three injured soldiers are undergoing treatment at 92 base army's hospital in Srinagar where one soldier is said to be in critical condition.




DNA - Published





Security tightened in Kashmir Valley ahead of R-Day

Security has been beefed up in Srinagar and other places in Kashmir ahead of the Republic Day on Tuesday as forces have been deployed in massive numbers around the venues of the January 26 functions..




IndiaTimes - Published





Mercury falls below freezing point across Kashmir Valley

Srinagar city - the summer capital of Jammu and Kashmir - recorded a low of minus 7 degrees, up from minus 6 degrees Celsius the previous night, a MeT official said.




IndiaTimes - Published





Cold wave sweeps Kashmir; several places record sub-zero temps

Several water bodies, including the surface of the famous Dal Lake here, have frozen, while a thick layer of ice has formed on several roads in Srinagar and other parts of the Kashmir Valley, affecting..




IndiaTimes - Published





Dal Lake partially freezes, Srinagar records coldest night in 30 years

Srinagar recorded a low of minus 8.4 degrees Celsius, which was the coldest temperature recorded in the city in 30 years, an official of the MET department said. The official said while Srinagar had..




IndiaTimes - Published





Viral video: Amazon delivery man rides horse to drop off orders amid snowfall in Srinagar

The video shows the delivery executive riding a horse on the snow-covered roads in Srinagar and delivering a parcel to the customer.




DNA - Published





North shivers as Srinagar records lowest temp in 8 years; no relief for few more days

There was no let-up in the intense cold conditions in the north and northwestern parts of the country on Wednesday as Srinagar recorded its lowest temperature in eight years, while some places reported..




IndiaTimes - Published





'Chillai-Kalan': Srinagar records minus 7.8 degrees Celsius, lowest in 8 years

Kashmir is currently under the grip of 'Chillai-Kalan' -- the 40-day harshest winter period when a cold wave grips the region and the temperature drops considerably. The sudden plunge in the minimum..




IndiaTimes - Published





PDP youth wing president Waheed Para arrested again

PDP youth wing president Waheed Para, who was granted bail by an NIA court on Saturday, was arrested again on Monday by the Jammu and Kashmir Police over a case related to an alleged nexus involving..




IndiaTimes - Published





Air, road links with Kashmir Valley cut off for second day

Kashmir was cut off from rest of the country for the second consecutive day on Tuesday as the arterial Jammu-Srinagar national highway and Mughal road remained closed, while air traffic was suspended..




IndiaTimes - Published





Heavy snowfall in Kashmir disrupts traffic, leads to closure of Jammu-Srinagar national highway

All district inter-district roads are still disconnected, electricity is suspended since last evening and water supply is also disrupted.




DNA - Published





Kashmir weather update: Valley receives new year's first snowfall, traffic on Srinagar-Jammu highway halted

The 40-day long period of harsh winter cold, locally known as the 'Chillai Kalan', will end on January 31.




DNA - Published





Three terrorists killed in Srinagar, kin of one cries fake encounter




IndiaTimes - Published