Pittsburgh
Second-most populous city in Pennsylvania, United States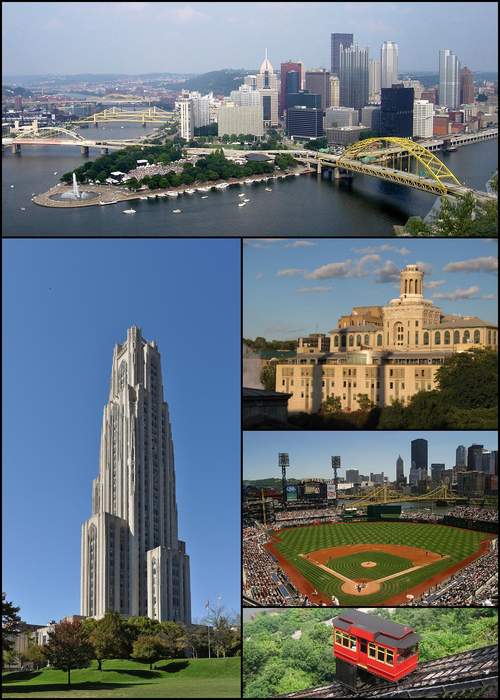 Pittsburgh is a city in the state of Pennsylvania in the United States and the county seat of Allegheny County. A population of 302,971 residents live within the city limits as of the 2020 US Census, making it the 68th-largest city in the U.S. and the second-most populous city in Pennsylvania, behind Philadelphia. The Pittsburgh metropolitan area is the anchor of Western Pennsylvania; its population of 2.37 million is the largest in both the Ohio Valley and Appalachia, the second-largest in Pennsylvania, and the 27th-largest in the U.S.


You Might Like
MLB: 'Superhuman stuff!' - White Sox's Robert makes impressive diving catch
Chicago White Sox's outfielder Luis Robert makes impressive diving catch against the Pittsburgh pirates.
BBC Sport - Published
Guess Who This Smiling Sweetie Turned Into!
Before this smiling sweetheart was lighting up audiences' television screens with his bright personality, he was just another cute kid cheesin' for the camera in Pittsburgh, Pennsylvania. This grinning..
TMZ.com - Published
Mister Rogers' Pittsburgh House Hits the Market for $855,000
It's a beautiful day to move into the neighborhood Mr. Rogers called home ... or at least that should be the pitch to sell Fred Rogers' old crib in Pittsburgh. The home where the late TV host once..
TMZ.com - Published
Hawkins in 'Predator' 'Memba Him?!
Pittsburgh born producer Shane Black is a big name in the movie industry as a writer and director with a long list of action movie credits ... but Black's on-screen role that he's best known for as the..
TMZ.com - Published
Sandra Oh Gives Impassioned Speech At Stop Asian Hate Rally in Pittsburgh
Sandra Oh spoke about fear in the Asian community for only about a minute-and-a-half, but it was emotional and downright stirring. Sandra grabbed a bullhorn and addressed a crowd in Pittsburgh Saturday..
TMZ.com - Published
JuJu Smith-Schuster Gunning To Be Steeler For Life, 'I Want My Legacy In Pittsburgh'
If JuJu Smith-Schuster had it his way, he would NOT leave Pittsburgh in free agency this offseason ... the star receiver tells TMZ Sports he wants to be a Steeler for life! "At the end of the day, I..
TMZ.com - Published
Steelers' Ike Taylor Piles On Browns After JuJu Shade, 'This Ain't No Damn Rivalry'
If JuJu Smith-Schuster's Browns shade wasn't enough to fire up Cleveland ... here's EVEN MORE bulletin board material for the Dawg Pound -- courtesy of ex-Steelers player Ike Taylor!! TMZ Sports spoke..
TMZ.com - Published
Cris Collinsworth Apologizes For On-Air Comment About Female NFL Fans, 'I'm Sick'
Cris Collinsworth says he's "sick" that a comment he made about female NFL fans on-air Wednesday offended so many ... and now, the long-time announcer is apologizing. During the Steelers vs. Ravens..
TMZ.com - Published
Titans Vs. Steelers Pushed Until After Week 4 After 2 More Positive COVID-19 Tests
Tennessee and Pittsburgh will NOT be playing in Week 4 ... after one additional player and team staffer in the Titans organization tested positive for COVID-19. The matchup -- originally scheduled to..
TMZ.com - Published
Black Lives Matter Protester Arrested By Armed, Plainclothes Cops in Unmarked Van
This is scary ... a Black Lives Matter protester in Pittsburgh was grabbed by armed men in civilian clothes and yanked into an unmarked van ... and turns out they were cops. Matthew Cartier was..
TMZ.com - Published
U.S. says G7 foreign ministers' meeting in Pittsburgh to be held by video conference
A meeting of G7 nations' foreign ministers, which was scheduled to take place in Pittsburgh later this month, will be held by video conference as a precaution, the U.S. State Department said on..
Reuters - Published