Camilla, Queen Consort
Queen consort of the United Kingdom since 2022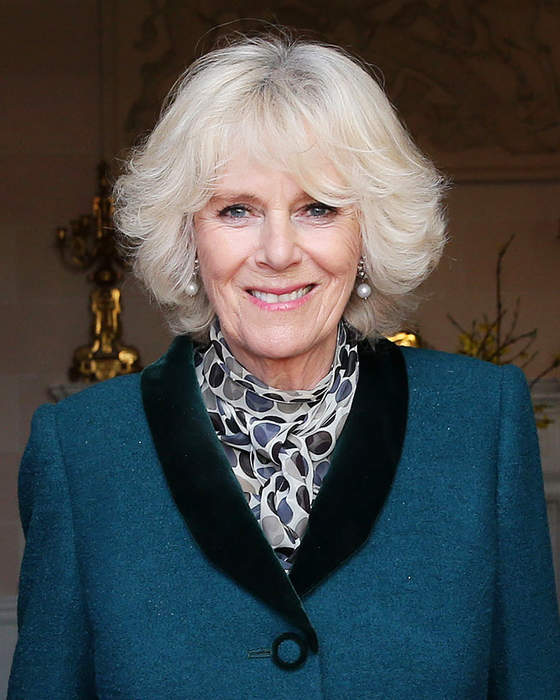 Camilla is Queen Consort of the United Kingdom and the 14 other Commonwealth realms as the wife of King Charles III. She became queen consort on 8 September 2022, upon the accession of her husband and the death of his mother, Elizabeth II.


Camilla meets people helped out of homelessness

The Queen Consort has met people who have been helped out of homelessness by the Emmaus Community on a visit to Bobby Vincent House in London. The charity, which Camilla has been a patron of for 16..
Credit: ODN Duration: 03:18
Published
You Might Like



Harry asked his father not to marry Camilla - as moment he was told about his mother's car accident revealed in book

Prince Harry has said in his new book that he asked his father not to marry Camilla.




Sky News - Published





Buckingham Palace announces Camilla's Queen's companions

The Queen Consort has appointed the women who will support her as she carries out her official and state duties.




Sky News - Published





Camilla donates Paddington bears left in tribute to the Queen to Barnardo's

The Queen Consort has personally donated a box of Paddington teddy bears left in honour of the Queen to a children's charity.




Sky News - Published





'My dear mother-in-law': Camilla's warm tribute in first speech as Queen Consort

The Queen Consort has used her first speech in her new role to warmly talk about how much her "dear mother-in-law" Queen Elizabeth II is "greatly missed".




Sky News - Published





King Charles Gets Eggs Thrown at Him by Protestor

King Charles loses his cool over bleeding pens, but keeps his head up when it comes to protestors ... armed with eggs! The King and Queen Consort Camilla were out Wednesday in the city of York (the old..




TMZ.com - Published





Queen Consort's new royal cypher unveiled

The royal cypher that will be used to identify Camilla as Queen Consort has been unveiled.




Sky News - Published





Camilla carries out her first audience as Queen Consort

Camilla has carried out her first audience in her role as Queen Consort.




Sky News - Published





UK Queen Consort Camilla slips into Bengaluru on wellness visit

The United Kingdom's Queen Consort Camilla landed in Bengaluru on a private visit for her first overseas tour. She came by a British Airways flight Thursday, travelled by road for nearly 40 km from..




IndiaTimes - Published





King 'filled with immense sadness' over Ireland petrol station deaths

The King has said he and Camilla were "filled with immense sadness" by the explosion at an Irish petrol station that killed 10 people.




Sky News - Published




King Charles offered free haircut during first public engagement since Queen's funeral

King Charles and the Queen Consort have carried out their first official engagement together since royal mourning ended.




Sky News - Published





King Charles Brings Own Pen to Signing After Leaking Ink Meltdown

King Charles isn't trying to get caught slipping again, after losing it over pen problems a couple times ... the monarch's practicing BYOP going forward, and looks damn proud of himself. Charles and..




TMZ.com - Published





Camilla gives one of her strongest speeches on domestic violence - as she calls Queen 'mother-in-law'

The Duchess of Cornwall has called for action and "solutions" from Commonwealth nations in one of her strongest speeches to date on sexual violence against women, telling member states they must..




Sky News - Published




Camilla Parker Bowles Gets Real About Charles in New Vogue Interview

Camilla Parker Bowles is on her way to becoming Queen Consort -- and now, a new milestone ... landing the cover of Vogue, where she's opening up about, well, everything. The Duchess of Cornwall sat..




TMZ.com - Published





The Queen seen with walking stick as she is pictured with Prince Charles and Camilla to mark Order of the Garter service

The Queen posed with her son Prince Charles and his wife Camilla, the Duchess of Cornwall, to mark the Order of the Garter service.




Sky News - Published





Charles and Camilla join Big Jubilee Lunch as millions across the UK party on final day of celebrations

Prince Charles and the Duchess of Cornwall have attended a Big Jubilee Lunch on the final day of celebrations marking the Queen's 70 years on the throne.




Sky News - Published




Charles and Camilla to make guest appearance in EastEnders for Queen's Platinum Jubilee

Regular viewers may have trouble believing their eyes when Prince Charles and the Duchess of Cornwall make a guest appearance in EastEnders early next month.




Sky News - Published





Charles and Camilla to recognise victims of schools scandal on Canada tour

The Prince of Wales and Duchess of Cornwall will reflect on the dark legacy of Canada's residential school scandal as they begin their tour of the country later.




Sky News - Published




Camilla replaces Meghan as royal patron of National Theatre

The Duchess of Cornwall has been made royal patron of the National Theatre by the Queen, taking over from Meghan who was withdrawn from the role when she and Prince Harry stepped down as senior royals.




Sky News - Published





'I was nervous I might be thrown in the tower': Camilla meets actress who plays her in The Crown

The Duchess of Cornwall came face to face with her screen self as she met actress Emerald Fennell, who plays her in The Crown.




Sky News - Published





Queen Consort role will be 'great honour', says Camilla, Duchess of Cornwall

The Duchess of Cornwall has said it will be a "great honour" to become Queen Consort and the role will help her advance the causes she campaigns for.




Sky News - Published





Camilla, Duchess of Cornwall, tests positive for COVID just days after Prince Charles

Camilla, the Duchess of Cornwall has tested positive for coronavirus, Clarence House has announced.




Sky News - Published





Camilla makes first public appearance since Queen Consort announcement

Camilla has made her first public appearance since the Queen announced she would be known as the Queen Consort.




Sky News - Published





'The NHS is there for you': Camilla and Theresa May urge abuse victims to seek help

The Duchess of Cornwall and former prime minister Theresa May have backed a campaign to encourage victims of sexual and domestic abuse to seek help through the NHS.




Sky News - Published





Camilla: From Mrs Parker Bowles to the next queen consort

Camilla was born on 17 July, 1947, in London, the daughter of Bruce and Rosalind Shand.




Sky News - Published





Queen reveals 'sincere wish' that Camilla becomes 'queen consort' when Charles is king

The Queen has used her Platinum Jubilee message to the nation to back the Duchess of Cornwall as Queen Camilla.




Sky News - Published





Queen to spend Christmas Day with Charles and Camilla

The Queen will spend Christmas Day with the Prince of Wales and the Duchess of Cornwall, a Clarence House spokesman has said.




Sky News - Published





Camilla says she and Charles 'still have a snap in our celery' despite being in 70s

The Duchess of Cornwall has said she and the Prince of Wales still have "a snap in our celery" despite being in their 70s.




Sky News - Published





Charles and Camilla 'swamped by crowds and cameras' on final day of Middle East tour

The final day of the Prince of Wales and Duchess of Cornwall's tour of the Middle East and after waiting for an hour for Prince Charles to turn up - the press pack always has to arrive early - the..




Sky News - Published




Prince Charles and Duchess of Cornwall pictured visiting the Great Sphinx during Egypt trip

Prince Charles and the Duchess of Cornwall have taken in the Great Sphinx while on a visit to Egypt.




Sky News - Published




Charles and Camilla to begin tour of Jordan and Egypt

The Prince of Wales and the Duchess of Cornwall will visit Jordan and Egypt this week, becoming the first members of the Royal Family to carry out a major overseas tour since the COVID-19 pandemic..




Sky News - Published





Camilla condemns how society has come to believe 'violence against women is normal'

The Duchess of Cornwall has condemned the way society has come to believe that "violence against women is normal", asking: "How many more women must be harassed, raped or murdered?"




Sky News - Published





Charles shows how to drink a pint with a mask on - at the Prince of Wales pub

Prince Charles has tried his hand at bar work as he and the Duchess of Cornwall visited one of the many UK pubs sharing his title.




Sky News - Published





Charles and Camilla visit tributes to Prince Philip in first joint appearance since duke's death

The Prince of Wales and Duchess of Cornwall have made their first joint public appearance since the death of Prince Philip, reading cards left on floral tributes for the duke at Buckingham Palace and..




Sky News - Published





Prince Philip is 'slightly improving', Camilla says

Prince Philip is "slightly improving" and the Royal Family are keeping their fingers crossed, the Duchess of Cornwall has said.




Sky News - Published





Charles and Camilla receive their first COVID vaccine doses

Prince Charles and his wife Camilla have been given their first doses of the COVID-19 vaccine, Clarence House has said.




Sky News - Published





Princess Diana Fans Shade Prince Charles, Camilla's Christmas Card

Princess Diana's fans still have her back -- in a big way -- and Prince Charles and Camilla Bowles are getting a harsh reminder of that with the release of their Christmas card. The Prince of Wales and..




TMZ.com - Published





Prince Charles, Camilla to mark De Gaulle wartime broadcast with France's Macron

Prince Charles and his wife Camilla will welcome French President Emmanuel Macron next Thursday to mark the 80th anniversary of Charles de Gaulle's radio appeal to his countrymen to resist Nazi..




Reuters - Published





Prince Charles thanks post workers for keeping Britain connected in crisis

Prince Charles and his wife Camilla have written to Britain's postal workers to thank them for their role in helping families and friends keep in touch during the coronavirus lockdown.




Reuters - Published

Also reported by •Reuters India


Prince Charles and his wife join UK round of applause for carers

Prince Charles and his wife Camilla joined Britain's "Clap for Carers" ritual on Thursday, their first appearance together since the heir to the throne recovered from the coronavirus.




Reuters - Published





UK's Prince Charles cancels tour of Bosnia, Cyprus and Jordan over coronavirus

Prince Charles and his wife Camilla have canceled their tour of Bosnia, Cyprus and Jordan after being advised to do so by the British government, a spokesman for the royal couple said on Friday.




Reuters - Published