Pope Francis
266th pope of the Catholic Church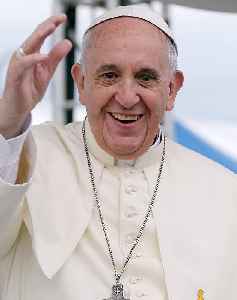 Pope Francis is the head of the Catholic Church and sovereign of the Vatican City State. Francis is the first Jesuit pope, the first from the Americas, the first from the Southern Hemisphere, and the first pope from outside Europe since the Syrian Gregory III, who reigned in the 8th century. He is also the first Pope since Gregory XVI (1831–1846) to have been a priest of a religious order.


Pope visibly happy to resume public audiences

Pope Francis held his first weekly general audience with a live crowd in six months on Wednesday as the Holy See slowly lift restrictions imposed due to the coronavirus pandemic.
Credit: Reuters Studio Duration: 01:01
Published
State-linked Chinese hackers 'infiltrated Vatican'

Hackers linked to the Chinese government have infiltrated Vatican computer networks, including the Roman Catholic Church's Hong Kong-based representative, a U.S. firm that tracks state-backed cyber..
Credit: Reuters - Politics Duration: 01:20
Published
You Might Like



Defend seafaring workers hit hard by pandemic, Pope says

Pope Francis paid tribute on Wednesday to hundreds of thousands of seafarers stuck on ships due to the coronavirus pandemic, a situation the United Nations has said poses a risk to the safe operation..




Reuters - Published





Pope appeals for end to Libyan civil war

Pope Francis appealed on Sunday for both sides in the Libyan civil war to seek peace, urging the international community to facilitate talks and protect refugees and migrants he said were victims of..




Reuters - Published





Don't celebrate victory over coronavirus too soon, Pope tells Italians

Pope Francis on Sunday warned Italians to not let their guard down against coronavirus now that infection rates have fallen and urged them to obey government rules on social distancing and wearing..




Reuters - Published





Pope urges U.S reconciliation, condemns racism and street violence

Pope Francis called for national reconciliation in the United States on Wednesday, saying that while racism is intolerable, the street violence that has broken out is "self-destructive and..




Reuters India - Published

Also reported by •Reuters


Pope condemns racism and violence in U.S., calls for national reconciliation

Pope Francis broke his silence on the unrest in the United States on Wednesday, saying no one can "turn a blind eye to racism and exclusion" but condemning violence as "self-destructive and..




Reuters - Published





Pope makes anti-corruption spending rules mandatory in Vatican

Pope Francis has approved sweeping new rules for procurement and spending in the Vatican meant to cut costs, ensure transparent competition and reduce the risk of corruption in awarding contracts.




Reuters - Published





People more important than the economy, pope says about Covid crisis

Pope Francis said on Sunday that people are more important than the economy, as countries decide how quickly to reopen their countries from coronavirus lockdowns.




Reuters - Published





Divert weapons funding to research to prevent next pandemic, pope says

Pope Francis on Saturday urged politicians to divert funds spent on weapons to research to prevent another pandemic, as he led the largest gathering in the Vatican in nearly three months.




Reuters - Published





Vatican, Italy resume public church services as lockdown eases

Pope Francis inaugurated the full reopening of St. Peter's Basilica in the Vatican on Monday and Catholic churches across Italy held public Masses for the first time in two months, in the latest easing..




Reuters - Published





Vatican, Italy start return to religious normal as public Masses resume

Pope Francis inaugurated the full reopening of St. Peter's Basilica on Monday and Catholic churches held public Masses for the first time in two months in the latest easing of Italy's coronavirus..




Reuters - Published





Pope joins inter-faith prayers against coronavirus, irks ultra-conservatives

Pope Francis joined an inter-faith day of prayer on Thursday to call on God to end the coronavirus pandemic, brushing aside criticism from ultra-conservative Catholic groups, with one accusing him of..




Reuters - Published





Coronavirus drains Vatican coffers as income falls, deficits loom

Late last month, the Vatican announced the coronavirus pandemic had forced Pope Francis to postpone an annual fund raising campaign among Catholics worldwide to help him carry out his ministry.




Reuters - Published





Pope praises nurses' role in fighting coronavirus

Pope Francis praised the work of nurses around the world on Tuesday, saying the coronavirus crisis had shown how vital their service is, as he appealed to governments to invest more in healthcare.




Reuters - Published





Merkel and Pope Francis want to help poor countries face pandemic

German Chancellor Angela Merkel and Pope Francis discussed the effects of the coronavirus pandemic on the world in a phone call on Thursday and agreed on the need to help poorer countries, her..




Reuters - Published





Coronavirus is no excuse to exploit workers, pope says

Pope Francis said on Wednesday employers must respect the dignity of workers, particularly migrants, despite economic difficulties brought on by the coronavirus crisis.




Reuters - Published





Pope says coronavirus vaccine must be shared worldwide

Pope Francis called on Sunday for international scientific cooperation to discover a vaccine for the coronavirus and said any successful vaccine should be made available around the world.




Reuters - Published





Pope says obey rules during exit from coronavirus lockdowns

Pope Francis on Tuesday urged people to obey rules aimed at preventing a devastating second wave of infections as their leaders begin to ease coronavirus lockdowns.




Reuters - Published





On Earth Day, pope says nature will not forgive our trespasses

Pope Francis made an impassioned plea for protection of the environment on Wednesday's 50th anniversary of the first Earth Day, saying the coronavirus pandemic had shown that some challenges had to be..




Reuters - Published





Pope, on eve of summit, urges fractured EU to find unity over coronavirus

Pope Francis on Wednesday urged Europe to remain united in overcoming the effects of the coronavirus pandemic, speaking on the eve of an EU summit to discuss a huge but divisive economic stimulus..




Reuters - Published





Pope postpones two mega-events by a year because of coronavirus

Pope Francis has postponed two major international Catholic Church events by a year because of the uncertainties caused by the coronavirus pandemic, the Vatican said on Monday.




Reuters - Published





Pope to politicians: To fight coronavirus, put country before party

Pope Francis urged politicians on Monday to put aside partisan differences in order to deal with the coronavirus crisis in a united way.




Reuters - Published





Recovery from coronavirus must be just and equitable, pope says

Pope Francis called on Sunday for an all-embracing vision of the world after the Covid-19 crisis, saying moving on without global solidarity or excluding sectors of society from the recovery would..




Reuters - Published





Protect women from domestic violence during coronavirus lockdowns: pope

Pope Francis said on Monday society had to stand behind women victims of domestic violence, as abuse increased around the world during coronavirus lockdowns.




Reuters - Published





Banish 'self-centredness', pope tells the world as it faces coronavirus

Pope Francis called on Sunday for global solidarity in fighting the coronavirus pandemic and its economic fallout, urging the relaxation of international sanctions, debt relief for poor nations and..




Reuters - Published





'Be messengers of life in a time of death,' pope says on Easter eve

Pope Francis urged people to "not yield to fear" and focused on a "message of hope" as he led an Easter eve Mass in an empty St. Peter's Basilica on Saturday amid the coronavirus pandemic and called..




Reuters - Published





On Good Friday, Pope hears sorrows of prisoners and victims

Pope Francis presided at a "Way of the Cross" service held in an empty St. Peter's Square on Friday because of the coronavirus outbreak and listened as both prisoners and their victims recounted their..




Reuters - Published





Pope prays for sick at Good Friday service scaled back by coronavirus

Pope Francis prostrated himself on the floor of an empty St. Peter's Basilica on Friday to pray at a "Passion of the Lord" service commemorating Jesus' last hours of life and his crucifixion, an event..




Reuters - Published





On Holy Thursday, pope hails front-line 'saints' helping virus victims

Pope Francis presided at a scaled-down Holy Thursday Mass in an empty St. Peter's Basilica, praising ordinary doctors, nurses and priests who risk their lives helping coronavirus victims as "the saints..




Reuters - Published





Pope condemns those trying to make quick buck off coronavirus

Pope Francis on Wednesday condemned people he said were exploiting the coronavirus pandemic to turn a quick profit and decried the "hypocrisy" of how some politicians are dealing with the crisis.




Reuters - Published





After Pell acquittal, pope compares 'unjust sentences' to persecution of Jesus

Just hours after Australia's highest court threw out the sex abuse conviction of the Vatican's former treasurer, Pope Francis offered his morning Mass for all those who suffer from unjust sentences,..




Reuters - Published





After Cardinal Pell acquitted, pope decries "unjust sentences"

Pope Francis, speaking just a few hours after Australia's highest court acquitted Cardinal George Pell of sexual abuse, on Tuesday offered his morning Mass for those who suffer today from unjust..




Reuters - Published





After Pell sentence, pope prays for those suffering 'unjust sentences'

Pope Francis, speaking just a few hours after Australia's highest court acquitted Cardinal George Pell of sexually assaulting two choirboys, on Tuesday offered his morning Mass for those who suffer..




Reuters - Published





Pope opens Holy Week amid pandemic; says now is the time to serve

Pope Francis marked a surreal Palm Sunday in an empty St. Peter's Basilica, urging people living through the coronavirus pandemic not to be so concerned with what they lack but how they can ease the..




Reuters - Published





Senior Italian cardinal, papal vicar for Rome, has coronavirus

Cardinal Angelo De Donatis, Pope Francis' vicar for the diocese of Rome, on Monday became the highest-ranking Catholic official known to test positive for coronavirus.




Reuters - Published





Pope backs UN chief's call for global ceasefire to focus on coronavirus

Pope Francis on Sunday backed a call by United Nations Secretary-General Antonio Guterres for a global ceasefire so the world can focus on fighting the coronavirus pandemic.




Reuters - Published




Pope and closest aides do not have coronavirus: Vatican

The Vatican said on Saturday that tests carried out in the residence where Pope Francis lives showed that the 83-year-old pontiff and his closest aides do not have coronavirus.




Reuters - Published





Pope holds dramatic solitary service for relief from coronavirus

Pope Francis said the coronavirus had put everyone "in the same boat" as he held a dramatic, solitary prayer service in St. Peter's Square on Friday, urging the world to see the crisis as a test of..




Reuters - Published





Vatican readies contingency plan against coronavirus in busy papal residence

The Vatican is conducting tests for coronavirus on the dozens of priests who live in the same residence as Pope Francis and making contingency plans to move those diagnosed with the disease elsewhere,..




Reuters - Published





Person who lives in papal residence tests positive for coronavirus: report

A person who lives in the same Vatican residence as Pope Francis has tested positive for coronavirus and is being treated in an Italian hospital, the Rome newspaper Il Messaggero reported on Wednesday.




Reuters - Published





Pope, world's Christians join in prayer to end coronavirus

Pope Francis and Christians worldwide recited "The Lord's Prayer" on Wednesday to ask God to stop the coronavirus pandemic which has infected nearly half a million people, disrupted countless lives and..




Reuters - Published





160-year-old Vatican newspaper succumbs to coronavirus

The Vatican daily L'Osservatore Romano, which Pope Francis has jokingly called "the party newspaper", suspended printing for only the third time in nearly 160 years on Wednesday due to the coronavirus.




Reuters - Published





Pope Francis' May 31 trip to Malta postponed due to coronavirus

Pope Francis's trip to Malta, which had been scheduled to take place on May 31, has been postponed indefinitely, the Vatican said on Monday.




Reuters - Published





Pope calls for world prayer to stop coronavirus, will deliver special blessing

Pope Francis said on Sunday he will this week deliver an extraordinary "Urbi et Orbi" (to the city and the world) blessing - normally given only at Christmas and Easter - and called for worldwide..




Reuters - Published





Catholics worldwide pray with pope for end to coronavirus pandemic

Catholics around the world joined Pope Francis in praying the rosary on Thursday night to ask God to end the coronavirus pandemic, which has killed more people in Italy than anywhere else.




Reuters - Published





Pope says Italy tax dodgers bear partial blame for virus health care crisis

Pope Francis has put a further spotlight on the Italian health services' struggle to cope with the coronavirus outbreak, by backing a prominent journalist's complaint that tax dodgers were partly to..




Reuters - Published





Pope in dramatic visit to empty Rome to pray for end of virus

Pope Francis ventured into a deserted Rome on Sunday to pray at two shrines for the end of the coronavirus pandemic, as the Vatican said his Easter services will be held without the public for the..




Reuters - Published





Papal Easter events to be held without faithful attending, Vatican says

All of Pope Francis' Easter services next month will be held without the faithful attending due to the coronavirus outbreak, Vatican said on Sunday, in a step believed to be unprecedented in modern..




Reuters - Published





Rome churches remain open after Catholics rail against 'Christ in quarantine'

A cardinal on Friday modified his order to close Rome's churches to help contain the spread of coronavirus after Pope Francis cautioned against "drastic measures" and Catholics took to social media to..




Reuters - Published





Rome cardinal rolls back on decree closing churches after papal rebuff

A Rome cardinal on Friday abruptly modified his decree closing churches in the Italian capital in order to contain coronavirus after Pope Francis criticized "drastic measures" by churchmen.




Reuters - Published





Catholics rail against 'Christ in quarantine' church closures in Rome

Catholics criticized a cardinal's order to close churches in Rome on Friday to help contain the spread of coronavirus and Pope Francis cautioned against "drastic measures".




Reuters - Published