Liberal Democrats (UK)
Liberal political party in the United Kingdom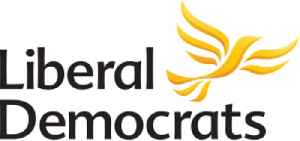 The Liberal Democrats are a liberal political party in the United Kingdom. The party has 11 Members of Parliament in the House of Commons, 89 members of the House of Lords, five Members of the Scottish Parliament and one member in both the Welsh Parliament and the London Assembly. It formed a coalition government of the United Kingdom with the Conservative Party from 2010–2015. It is also currently in coalition with the Labour Party in the devolved Welsh government, and has also formed coalitions with Labour in Scotland.


Who is in the race to be Liberal Democrat leader?

Sir Ed Davey and Layla Moran are on the ballot in the Liberal Democratleadership race. The ex-coalition Cabinet minister and Oxford West andAbingdon MP are going head-to-head to replace Jo Swinson, who..
Credit: PA - Press Association STUDIO Duration: 01:21
Published
The Liberal Democrats face a 'sink or swim' moment, Layla Moran warns

Layla Moran outlines where she stands on Brexit and alliances with Labour toform a joint campaigning force against the Conservatives. The Oxford West andAbingdon MP has thrown her hat into the..
Credit: PA - Press Association STUDIO Duration: 01:13
Published
Prime Minister's Questions: July 15 round-up

Prime Minister Boris Johnson clashes with Labour leader Sir Keir Starmer and Lib Dem acting co-leader Sir Ed Davey during Prime Minister's Questions.
Credit: PA - Press Association STUDIO Duration: 01:47
Published
PM defends stop and search

Boris Johnson has defended police stop and search powers saying they are a 'very important utensil' in fighting violent crime, particularity in London. Liberal Democrat leader Sir Ed Davey had called..
Credit: ODN Duration: 01:24
Published
You Might Like



UK should hold inquiry into COVID-19 response, Liberal Democrats say

The United Kingdom should hold an independent inquiry into Prime Minister Boris Johnson's handling of the novel coronavirus crisis, the opposition Liberal Democrat party said.




Reuters - Published





UK politician chides PM Johnson for spurning EU ventilator program

The leader of the opposition Liberal Democrats criticized Prime Minister Boris Johnson on Thursday for refusing to participate in a European Union ventilator procurement program.




Reuters - Published





Prosecutors search office of Japan MP in connection with bribery probe

Japanese prosecutors on Wednesday searched the office of ruling Liberal Democratic Party lawmaker Takaki Shirasuka as part of a bribery investigation that saw another politician arrested earlier in the..




Reuters - Published




Japan lawmaker arrested on suspicion of accepting bribes over casino: NHK

Tokyo prosecutors arrested ruling Liberal Democratic Party lawmaker Tsukasa Akimoto on Wednesday on suspicion of accepting bribes from a Chinese company interested in setting up a casino in Japan,..




Reuters - Published





Uzbek LibDems lead in vote criticized by Western observers

Uzbekistan's Liberal Democratic Party have retained the biggest number of seats in the Central Asian nation's legislature so far, winning 43 seats out of 128 in Sunday's vote which Western monitors..




Reuters - Published





Uzbekistan's LibDems retain lead in parliamentary election

Uzbekistan's Liberal Democratic Party has retained the biggest number of seats in the Central Asian nation's legislature so far, winning 43 seats out of 128 in Sunday's vote, the Central Election..




Reuters - Published





UK Liberal Democrats to elect new leader after Swinson loses seat

Britain's Liberal Democrats said they would elect a new leader next year after Jo Swinson lost her seat in parliament at Thursday's general election.




Reuters - Published





Factbox: How the mighty fell - biggest upsets in the UK election

The British election threw up some shock results on Friday, including the ousting of the pro-European Liberal Democrat leader and the fall of a veteran Labour lawmaker known as the "Beast of Bolsover".




Reuters - Published





With a roar, Scotland's Sturgeon cheers win against LibDem leader

With a roar and a double fist pump, Scottish leader Nicola Sturgeon cheered the defeat of Liberal Democrat leader Jo Swinson by the nationalists in a clip that went viral on social media early on..




Reuters - Published





UK Liberal Democrat leader Swinson loses seat to Scottish National Party

The leader of Britain's pro-European Union Liberal Democrats, Jo Swinson, lost her parliamentary seat to the Scottish National Party on Friday.




Reuters - Published





UK Liberal Democrats could back Labour to force second Brexit vote

The leader of Britain's pro-European Liberal Democrats has suggested she could work with the opposition Labour party to stop Brexit if it removed its leader in the event of a hung parliament after next..




Reuters - Published





What are Britain's pro-EU Liberal Democrats promising in election?

Britain's pro-European Union Liberal Democrats launched their manifesto on Wednesday, setting out the policies they would put into place if they are elected to government on Dec. 12.




Reuters - Published





Claiming to be UK's new 'party of business' UK Lib Dems enter election spending race

The anti-Brexit Liberal Democrats claimed the mantle of Britain's "party of business" on Friday, setting out their proposed fiscal rules while dismissing rivals' plans for the economy as unrealistic..




Reuters - Published





UK Liberal Democrats enter election spending race with big pledges on climate

Britain's anti-Brexit Liberal Democrats will promise on Friday to spend 100 billion pounds ($128 billion) on tackling climate change if they win a Dec. 12 election.




Reuters - Published





UK's Liberal Democrat leader sent suspicious package ahead of UK election: ITV

Britain's anti-Brexit Liberal Democrat party leader Jo Swinson was the recipient of suspicious package delivered to her office in parliament ahead of the upcoming general election, ITV reported on..




Reuters - Published





Former UK Tory MP Sandbach defects to Liberal Democrats

UK former Conservative party member Antoinette Sandbach has joined the Liberal Democrat party, the lawmaker said in a statement on Thursday.




Reuters - Published




UK Liberal Democrats rule out backing opposition Labour Party

Britain' Liberal Democrat party leader Jo Swinson said on Sunday she would not back a government led by Labour Party leader Jeremy Corbyn.




Reuters - Published





Former UK Conservative lawmaker joins pro-EU liberal democrats

Britain's pro-EU Liberal Democrats said on Monday that Heidi Allen, a former lawmaker for Prime Minister Boris Johnson's Conservatives, had joined their party.




Reuters - Published





UK Liberal Democrats to try to remove no-deal Brexit threat more quickly

Britain's opposition Liberal Democrats will seek to remove the threat of a no-deal Brexit before Oct. 19 because they do not trust Prime Minister Boris Johnson to obey a law that instructs him to ask..




Reuters - Published





UK Liberal Democrats face huge fight to stop Brexit: leader Swinson

Britain's Liberal Democrats face the fight of their lives to rescue the country from the negative effects of leaving the EU, party leader Jo Swinson said on Tuesday, outlining the battle for hearts and..




Reuters - Published




Britain's Liberal Democrats formally adopt 'Stop Brexit' policy

Britain's Liberal Democrats party on Sunday toughened its anti-Brexit stance, formally adopting a policy to cancel leaving the European Union if it wins power at a national election.




Reuters - Published





UK Liberal Democrat leader says her party will not support any Brexit deal

Britain's Liberal Democrats party leader Jo Swinson said on Sunday there was no Brexit deal that her party would vote for in parliament, saying her priority was to stop Britain leaving the European..




Reuters - Published





Former Conservative minister Gyimah joins Liberal Democrats over Brexit

Former Conservative minister Sam Gyimah has joined the pro-European Union Liberal Democrat party, barely a week after being expelled from the Conservative grouping in parliament over his opposition to..




Reuters - Published





Former UK Labour MP Angela Smith to join Liberal Democrats party: The Times

Angela Smith, the former UK Labour MP, will join the Liberal Democratic party, the Times newspaper reported in its Sunday edition.




Reuters - Published





UK PM Johnson loses majority in parliament after lawmaker defects to Liberal Democrats

British Prime Minister Boris Johnson lost his working majority in parliament on Tuesday when one of his Conservative lawmakers defected to the pro-European Union Liberal Democrats.




Reuters - Published





Veteran UK politicians asked to lead potential anti-Brexit government

Veteran British lawmakers from the ruling Conservative and opposition Labour parties have both said they would be willing to lead an emergency government to halt a no-deal Brexit, the leader of the..




Reuters - Published




Anti-Brexit party reveals candidates for emergency UK government

The leader of the anti-Brexit Liberal Democrats party said on Friday two senior lawmakers from the ruling party and opposition have indicated willingness to lead an emergency government to prevent a..




Reuters - Published





Labour's Corbyn cannot lead a caretaker UK government: Liberal Democrat leader

Jeremy Corbyn, the veteran socialist leader of Britain's opposition Labour Party, cannot run an emergency government to stop a no-deal Brexit, the head of the Liberal Democrat Party Jo Swinson said on..




Reuters - Published





British MP Sarah Wollaston joins Liberal Democrats

Britain's Liberal Democrats on Wednesday said Member of Parliament Sarah Wollaston of Totnes had become a member of the party, months after the lawmaker quit the ruling Conservatives in protest over..




Reuters - Published





UK PM Johnson's parliamentary majority almost gone as pro-EU party wins seat

Britain's pro-European Union Liberal Democrats won a parliamentary seat from the governing Conservative Party, taking new Prime Minister Boris Johnson's working majority to just one as he tries to..




Reuters - Published





UK's pro-EU Liberal Democrats win parliamentary seat in blow to PM Johnson

Britain's pro-European Union Liberal Democrats have won a parliamentary seat from the governing Conservatives, a blow to Prime Minister Boris Johnson in his first electoral test since taking office.




Reuters - Published




Britain's anti-Brexit Liberal Democrats name Jo Swinson as new leader

Britain's anti-Brexit Liberal Democrat party named lawmaker Jo Swinson as its new leader on Monday, as the party looks to translate a surge in voter support for its pro-European Union agenda into..




Reuters - Published