Meghalaya
State in north-eastern India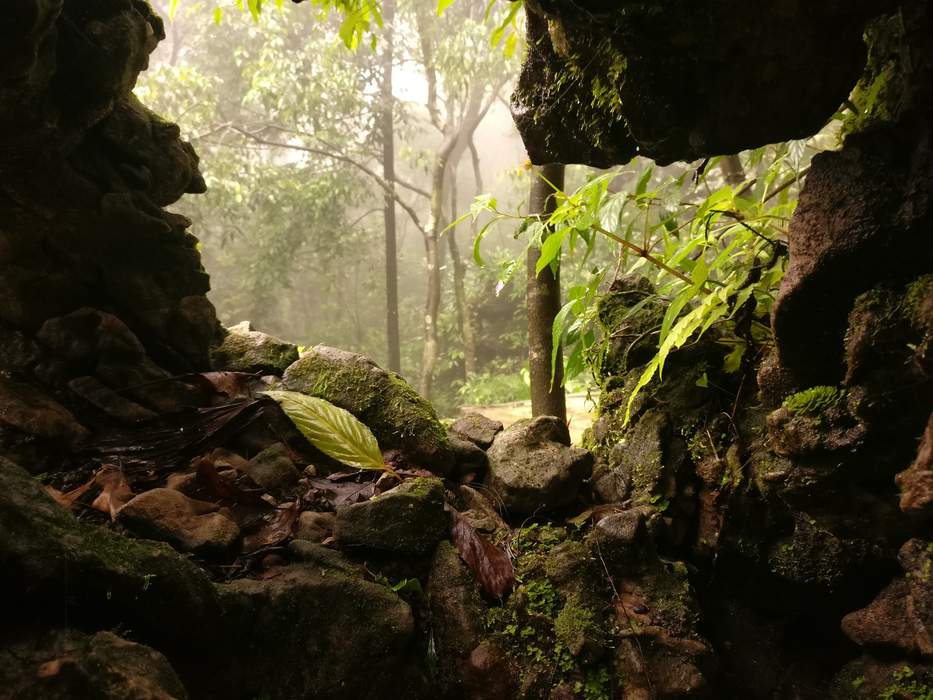 Meghalaya is a state in Northeast India. Meghalaya was formed by carving out two districts from the state of Assam: the United Khasi Hills and Jaintia Hills, and the Garo Hills on 21 January 1972. The population of Meghalaya as of 2016 is estimated to be 3,211,474. Meghalaya covers an area of approximately 22,430 square kilometres, with a length-to-breadth ratio of about 3:1.


Meghalaya Governor receives first dose of COVID-19 vaccine

Meghalaya Governor Satya Pal Malik took first jab of COVID-19 vaccine on March 03. The second phase of vaccination against coronavirus began on March 01, which covers people above the age of 60 years..
Credit: ANI Duration: 01:09
Published
Autonomous District Council should be empowered: LS Speaker in Meghalaya

Lok Sabha Speaker Om Birla on Thursday addressed the Members of the Meghalaya Legislative Assembly. In the context of demand for Inner Line Permit (ILP), Om Birla said, "We said that we should all work..
Credit: ANI Duration: 01:29
Published
Watch: Nagaland cuts petrol, diesel tax; becomes 5th state to give relief

Amid skyrocketing prices of petrol and diesel in the country, Nagaland became the fifth state to provide relief to consumers. The state government reduced petrol tax from 29.8% to 25%, or Rs 18.26 to..
Credit: HT Digital Content Duration: 01:56
Published
Nagaland Government reduces prices of petrol, diesel

Amid rising rates of fuel across the country, the Nagaland Government has cut down taxes on petrol and diesel. The finance department on Feb 22 stated that the rate of tax on petrol and diesel has been..
Credit: ANI Duration: 01:48
Published
Beating Retreat resumes at India-Bangladesh border after 10 months

After more than 10 months, the Border Security Force (BSF) resumed Beating Retreat or lowering of the flags ceremony at Agartala-Akhaura border on Febraury 18. It is a daily military practice in which..
Credit: ANI Duration: 02:15
Published
Bridge between Dhubri-Phulbari will cut distance from 250 to 19 km: PM Modi

The bridge between Dhubri in Assam and Phulbari in Meghalaya will cut the distance from 250 kms to 19 kms, said Prime Minister Narendra Modi on February 18 during the launch of multiple initiatives in..
Credit: ANI Duration: 01:19
Published
Meghalaya govt further reduces fuel prices

Meghalaya Chief Minister Conrad K Sangma informed that the prices of petrol and diesel in the state will be reduced by about Rs 7 per litre approximately across the state. "Both prices of petrol and..
Credit: ANI Duration: 01:30
Published
Meghalaya Guv urges govt, farmers to 'responsibly engage in talks'

Meghalaya Governor Satya Pal Malik urged both the government and farmers to resolve the issue and "responsibly engage in talks." Governor Satya Pal Malik said, "I have come from a farmers' movement, I..
Credit: ANI Duration: 01:19
Published
Amit Shah inaugurates 69th Plenary Meeting of NEC in Shillong

Union Home Minister Amit Shah inaugurated the 69th Plenary Meeting of the North Eastern Council (NEC) on January 23 in Shillong. The Union Home Minister was received by the Chief Minister of Meghalaya,..
Credit: ANI Duration: 01:24
Published
You Might Like



India's daily Covid-19 deaths below 150 for last 10 days

17 states and union territories have not reported any deaths in the last 24 hours. These states and UTs include Arunachal Pradesh, Tripura, Mizoram, Nagaland, Lakshadweep, Ladakh (UT), Sikkim,..




IndiaTimes - Published





PM Modi wishes people of Meghalaya, Manipur and Tripura on their Statehood Day

Prime Minister Narendra Modi extended his wishes to the people of Meghalaya, Manipur and Tripura on their Statehood Day. In a tweet, Prime Minister Narendra Modi expressed his wishes to people of..




IndiaTimes - Published




Veteran BJP leader Tathagata Roy files case against actress for 'hurting sentiments of Hindus'

Former Meghalaya Governor Tathagata Roy has filed a police complaint against Bengali actor Saayoni Ghosh for 'hurting sentiments' of Hindus.




DNA - Published





Meghalaya CM Conrad Sangma tests COVID-19 positive, under home isolation

Conrad K Sangma also asked people who came in touch with him recently to get themselves tested, if necessary.




DNA - Published





Top ULFA (I) leader Drishti Rajkhowa surrenders in Meghalaya

Drishti Rajkhowa is currently under the custody of the Army intelligence and is being brought to Assam. He is known to be a close confidant of Paresh Baruah, the so-called 'commander-in-chief' of..




IndiaTimes - Published





NGT widens ambit of firecracker pollution cases beyond NCR, notices to 18 states, UTs

The green panel sought response from Andhra Pradesh, Assam, Bihar, Chandigarh, Chhattisgarh, Gujarat, Himachal Pradesh, Jammu and Kashmir, Jharkhand, Karnataka, Madhya Pradesh, Maharashtra, Meghalaya,..




IndiaTimes - Published





BJP threatens to pull out of NPP-led govt in Meghalaya

The BJP on Wednesday threatened to pullout of the National People's Party-led government in Meghalaya over alleged corrupt practices in the implementation of the multi-crore special assistant grant to..




IndiaTimes - Published





Satya Pal Malik appointed Meghalaya governor

Governor of Maharashtra Bhagat Singh Koshyari has been asked to discharge the functions of Goa governor in addition to his own duties, the communique said. Malik takes over from Roy, who completed his..




IndiaTimes - Published





Meghalaya governor Tathagata Roy expresses desire to return to active politics in Bengal

With just a few months left for the West Bengal Assembly elections, Meghalaya Governor and former BJP leader Tathagata Roy has expressed desire to return to active politics in his home state once his..




IndiaTimes - Published





5 killed in Meghalaya flood, over 1.5 lakh people affected




IndiaTimes - Published





Meghalaya floods: Amit Shah assures all possible help to state govt




IndiaTimes - Published





Heavy rains over north, northeast India from July 19-21: IMD

The premier weather forecasting department issued a red warning for West Bengal, Assam, and Meghalaya from July 19-21.




DNA - Published





Karnataka, Arunachal, Meghalaya announce mini lockdowns to curb Covid-19 spread

A number of states on Saturday imposed lockdowns as part of cluster containment plans in the wake of alarming rise in coronavirus cases with the duration of one of these restrictions as brief as two..




IndiaTimes - Published





76 new Covid-19 cases reported in Meghalaya

A total of 76 new Covid-19 cases have been reported from Meghalaya in the last 24 hours, informed the state's Chief Minister Conrad Sangma.The state's coronavirus tally now stands at 262, including 215..




IndiaTimes - Published





Earthquake tremors felt near Kargil, Rohtak and Meghalaya's Tura




IndiaTimes - Published





Southeast Monsoon covers entire country nearly two weeks early: IMD

The Southwest Monsoon has covered the entire country nearly two weeks ahead of its schedule, the India Meteorological Department (IMD) said Friday. The IMD has predicted heavy rains in Bihar, West..




IndiaTimes - Published





BJP, NPP to work together for Manipur's development: Himanta

National People's Party president and Meghalaya chief minister Conrad Sangma met senior BJP leader and home minister Amit Shah on Wednesday as the saffron party worked to win back the regional party's..




IndiaTimes - Published





Voting for 19 Rajya Sabha seats across 7 states underway

States, where the elections are to be held, are Andhra Pradesh (4 seats), Gujarat (4 seats), Jharkhand (2 seats), Madhya Pradesh (3 seats), Manipur (1 seat), Meghalaya (1 seat) and Rajasthan (3 seats).




DNA - Published




IMD predicts heavy rain in Konkan, Goa, Telangana in next 24 hours

The India Meteorological Department (IMD) on Friday predicted heavy to very heavy rainfall in Konkan, Goa and Telangana in the next 24 hours. hya Maharashtra, Marathawada, coastal Andhra and Yanam,..




IndiaTimes - Published





Corona-related searches on Google drop in May as people go back to films, weather

'Coronavirus' dropped to 12th most searched topic overall during May, behind topics like Film, Meaning, News and Weather. All these terms are consistently highly searched topics in India. This probably..




IndiaTimes - Published





SC entertains PIL questioning CAA applicability to six Assam districts

The Supreme Court on Wednesday sought the Centre's response to PILs challenging validity of its decision to exclude six districts of Assam from interline permit system, applicable to tribal areas of..




IndiaTimes - Published





Deferred due to coronavirus, elections to 18 RS seats to be held on June 19: EC

Out of these 18 seats, four each are from Andhra Pradesh and Gujarat, three each from Madhya Pradesh and Rajasthan, two from Jharkhand, and one each from Manipur and Meghalaya. The counting of votes..




IndiaTimes - Published





Elections to 18 Rajya Sabha seats on June 19: Election Commission

Out of these 18 seats, four each are from Andhra Pradesh and Gujarat, two from Jharkhand, three each from Madhya Pradesh and Rajasthan and one each from Manipur and Meghalaya. The counting of votes..




IndiaTimes - Published





Heatwave in several parts of north, west India; very heavy rainfall forecast for Assam, Meghalaya

Several parts of north and west India reeled under scorching heatwave with the temperature touching 50 degrees Celsius in Rajasthan's Churu district on Tuesday, even as the meteorological department..




IndiaTimes - Published





'Very heavy' rainfall expected in Assam, Meghalaya from May 26-28, IMD issues red alert

A red-colour coded weather alert has been issued for Assam and Meghalaya from May 26-28, the India Meteorological Department (IMD) said on Tuesday, predicting very heavy rainfall in these two..




IndiaTimes - Published





Watch: Elephants get free pass on Indo-Bangladesh border in Meghalaya as BSF keeps strict vigil

Elephants in the forests of Garo Hill region do not understand the boundary between the two countries and often cross from one side to another.




DNA - Published





8 coronavirus patients cured of disease in Meghalaya: CM Conrad K Sangma

A total of 12 Covid-19 cases have been reported in Meghalaya of which one person, Dr Sailo, has died and eight of his family members have recovered, which means there are three active cases in the..




IndiaTimes - Published





Coronavirus: Odisha, Goa join Meghalaya in urging for lockdown extension

"I have demanded that lockdown should continue otherwise we can't face these things in Odisha. Let it be one month more, then, we will see what is going on," Odisha health minister Naba Das, who was..




IndiaTimes - Published





Meghalaya wants lockdown to continue beyond May 3: CM Conrad Sangma

The chief minister, however, said some relaxations will be introduced in green zones and non-Covid-19 affected districts after the nationwide shutdown has been lifted. Meghalaya has so far reported 12..




IndiaTimes - Published





Two judges driving down 4k km to take charge as chief justices

In the absence of any public transport in the locked-down country, two high court judges are driving down a total of around 4000 km to take charge of their new assignments as chief justices of Bombay..




IndiaTimes - Published





Covid-19: Meghalaya urges Centre to allow setting up of 2 more testing facilities in state

The Meghalaya government has urged the Centre to allow setting up of two more testing facilities in the state to tackle the novel coronavirus outbreak, health minister A L Hek said on Saturday.




IndiaTimes - Published





32 active cases in North East, 28 of them have Nizamuddin links, Meghalaya, Nagaland still nil




IndiaTimes - Published





Coronavirus impact: Govt may defer Census, NPR update

The government may explore the option of deferring or advising states to defer the April 1 launch of Census 2021 and National Population Register (NPR) update — scheduled to kick off in central..




IndiaTimes - Published





Meghalaya announces 24-hour shutdown on Saturday, CM says it's 'coronavirus awareness day'




IndiaTimes - Published





7 states saw drop in rainfall in last 30 years

Seven states — Uttar Pradesh, Bihar, West Bengal, Himachal Pradesh, Arunachal Pradesh, Meghalaya and Nagaland — have shown "significant decreasing trends" in annual rainfall in the last 30..




IndiaTimes - Published





Internet suspended, night curfew imposed in Meghalaya's Shillong following violent anti-CAA clashes; one dead

This apart SMS services have been restricted to only 5 SMS per day in Shillong for the next 48 hours.




DNA - Published





Lessons on handling mob should be learnt from Tiananmen Square: Meghalaya governor

No stranger to controversy, Meghalaya Governor Tathagata Roy has now suggested that lessons can be learnt on how to control the "engineered disturbances" of Delhi from the 1989 Tiananmen Square..




IndiaTimes - Published





PM, CMs greet KCR on 66th birthday

KCR, as Rao is popularly known, also received birthday greetings from his Andhra Pradesh counterpart Y.S. Jagan Mohan Reddy and Meghalaya Chief Minister Conrad Sangma.




IndiaTimes - Published





5.0 magnitude earthquake jolts Assam, Meghalaya; epicenter located 100 km northeast of Tura




IndiaTimes - Published





Aadhaar required to get benefits under scheme for civilian victims of terror, communal violence

Any eligible beneficiary desirous of receiving benefit under the scheme, who does not possess the Aadhaar number or, has not yet enrolled for Aadhaar, shall have to apply for Aadhaar enrolment. The..




IndiaTimes - Published





Bangladeshis attack Indian border outpost; 1 BSF jawan injured

Bangladeshi nationals attacked a border outpost in Meghalaya, assaulting two BSF jawans and snatching their weapons, resulting in injuries to one of them. The incident took place at around midnight on..




IndiaTimes - Published





Anti-CAA stir: Rail, road services affected in Bihar; Bengal, Assam, Meghalaya peaceful




IndiaTimes - Published





Controversial Meghalaya guv sent on leave




IndiaTimes - Published





'Parl panel on Home Affairs cancels visit to Assam, Meghalaya'




IndiaTimes - Published





Congress, allies stoking violence, says PM Modi

Speaking at a BJP rally in Dumka ahead of the last phase of elections in Jharkhand, Modi referred to vandalism and arson that began in Assam, Tripura and Meghalaya and later spread to Bengal and Delhi...




IndiaTimes - Published





Will talk about solution for Meghalaya: Amit Shah hints at changes in Citizenship Act in wake of Northeast protests

He assured that it was the responsibility of the government under the leadership of Prime Minister Narendra Modi to protect the people.




DNA - Published





NET postponed in Assam, Meghalaya




IndiaTimes - Published





Put Meghalaya under ILP, CM urges Amit Shah




IndiaTimes - Published





Uneasy calm in North East, but protests spread to a few cities elsewhere

Violence in Assam and Tripura over the new citizenship law ebbed on Friday after 72 hours of mayhem on the streets even as new pockets of unrest emerged in Bengal, Delhi, parts of western UP and..




IndiaTimes - Published





Amit Shah calls off visit to Meghalaya, Arunachal Pradesh




IndiaTimes - Published