Coimbatore
Metropolis in Tamil Nadu, India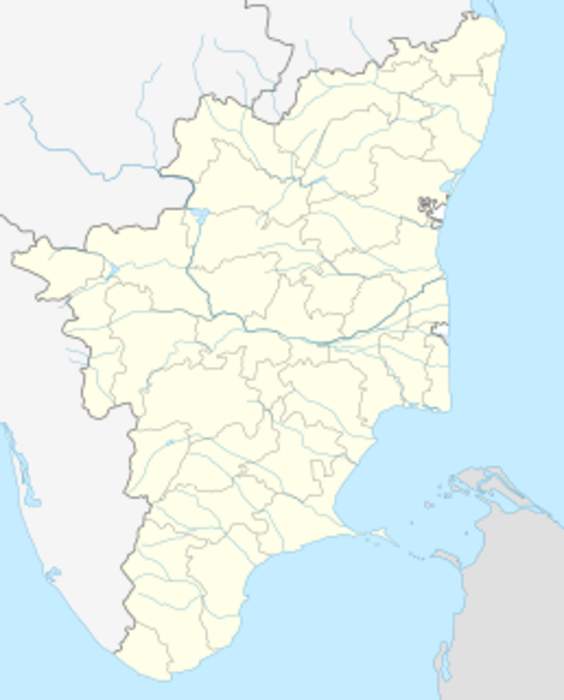 Coimbatore
, Tamil pronunciation: 
[koːjambat̪ːuːr]
, also known as
Kovai
or sometimes spelt as
Covai
, is one of a major metropolitan city in the Indian state of Tamil Nadu. It is located on the banks of the Noyyal River and surrounded by the Western Ghats. Coimbatore is the second largest city in Tamil Nadu after Chennai and the 16th largest urban agglomeration in India as per the census 2011. It is administered by the Coimbatore Municipal Corporation and is the administrative capital of Coimbatore District. Podanur Junction is the oldest Railway station in Coimbatore City . The city is one of the largest exporters of jewellery, wet grinders, poultry and auto components; the "Coimbatore Wet Grinder" and the "Kovai Cora Cotton" are recognised as Geographical Indications by the Government of India. It is known as the Manchester of South India as it is a hub of textile industry in South India. It was ranked the 7th best city in India in the Ease of Living index 2020.
You Might Like



Now, a temple for 'Corona Devi' near Coimbatore




IndiaTimes - Published





Union minister Smriti Irani takes out two-wheeler procession in support of BJP candidate in TN's Coimbatore




IndiaTimes - Published





PM Modi in Tamil Nadu: Oppn netas want to grab office to fill their pockets

Promising to give "governance with compassion", Prime Minister Narendra Modi kickstarted BJP's election campaign from Coimbatore in Tamil Nadu on Thursday with a strident attack on the..




IndiaTimes - Published





DMK-Congress leaders' meetings are like corruption hackathons: PM Modi

Addressing the party cadre at Codissia grounds in Coimbatore, Modi said the NDA sought to provide good governance while the opposition was known for mis - governance riddled with corruption.




IndiaTimes - Published





From Kisan Credit Cards to crop insurance scheme, govt wants to bring paradigm shift in agri sector: PM Modi

Addressing a public meeting in Coimbatore, the Prime Minister said his government has raised the minimum support price (MSP) which was long overdue.




DNA - Published





Modi in Coimbatore: PM dedicates Rs 8,000crore NLC thermal plants to nation, launches some projects




IndiaTimes - Published





Shocking! Two men thrash elephant with sticks in Coimbatore, video goes viral

Reports said that the animal was being punished because he was not listening to the mahout and his assistant.




DNA - Published





Chennai: Income tax department detects Rs 700 crore evasion, seizes Rs 23 crore unaccounted cash

Searches at 60 premises located across Chennai, Trichy, Coimbatore, various places in Andhra Pradesh, Karnataka and Mumbai were carried out on Dec 9.




DNA - Published





Kanpur to Coimbatore, how textiles ministry took up PPE challenge: Study




IndiaTimes - Published





Pet lover in Coimbatore designs wheelchair for disabled dog




IndiaTimes - Published





Tamil Nadu: I-T dept uncovers unaccounted investment of around Rs 150 crore, searches still underway

The searches on the Educational institution and their associates, including a civil contractor began on Wednesday and were carried out in Coimbatore, Erode, Chennai and Namakkal.




DNA - Published





Tamil Nadu: Ahead of PM Modi's 70th birthday, BJP workers in Coimbatore offer 70 kg laddu to Lord Shiva

Ahead of Prime Minister Narendra Modi`s 70th birthday on September 17, Bharatiya Janata Party (BJP) workers in Tamil Nadu`s Coimbatore have offered a 70-kilogram laddu to Lord Shiva at Sivan Kamatchi..




DNA - Published





19-year-old girl, preparing for NEET, commits suicide in Tamil Nadu's Coimbatore

NEET 2020 for admission to undergraduate medical courses is slated to be held on September 13 across 161 exam centres in India. The teenager was preparing for NEET for the past few months and was found..




DNA - Published





Coimbatore: Masks made of gold and silver on sale, shop sees high demand

Radhakrishnan, the owner of RK Jewel Works in Coimbatore, says he can make masks in 18K, 22K hallmark certified gold. He offers masks in 92.5 Sterling silver.




DNA - Published





Tamil Nadu: Periyar statue defaced in Coimbatore

A statue of social activist Periyar EV Ramasamy was defaced by unknown people who allegedly poured saffron colour on it.




DNA - Published

Also reported by •IndiaTimes


Covid-19: Coimbatore based textile company develops anti-viral fabric




IndiaTimes - Published





Asymptomatic passengers who travelled in different IndiGo flights test Covid-19 positive

"Few asymptomatic passengers who travelled on IndiGo flights were tested positive for COVID-19 on May 28. A total of 3 passengers onboard from Delhi to Jammu on May 26 tested positive for COVID-19, 6..




IndiaTimes - Published





IAF conducts fly-past over Delhi saluting 'corona warriors'

The military jets, including Sukhoi-30 MKI, MiG-29 and Jaguar, flew over Rajpath, Delhi's centrepiece boulevard, and then orbited over the city for around 30 minutes from 11 am. IAF is carrying out..




IndiaTimes - Published





Tamil Nadu: 19 killed as container truck collides with passenger bus near Coimbatore

Kerala State Road Transport Corporation bus was going to Kerala's Thiruvananthapuram from Bengaluru in Karnataka, while the truck was coming from the opposite direction on the Coimbatore-Salem Highway.




DNA - Published





Tamil Nadu rains live: At least 15 killed, several injured after compound wall collapses in Coimbatore

The MeT department has forecast widespread rains across Tamil Nadu in the coming days.




DNA - Published





Class 11 girl, returning home after celebrating birthday, sexually assaulted in Tamil Nadu's Coimbatore; four held

The incident took place on November 26 when she was returning home after celebrating her birthday at a park in Coimbatore.




DNA - Published





Tamil Nadu: NIA searches 6 locations across 5 districts for IS links

The early morning searches were carried out at two locations in Coimbatore City, besides one location each in Sivaganga, Tiruchirapalli, Nagapattinam, and Toothukudi districts.




DNA - Published





'Plogging' 50 Indian cities in 50 days; all for a cleaner India

CLEAN INDIA MISSION: He has so far covered Madurai, Salem, Coimbatore, Puducherry and Chennai




DNA - Published





ISIS case: NIA raids five places in Coimbatore

The agency had earlier conducted searches at the houses of six accused in this case on June 12, 2019, and two of them -- Mohammed Azarudheen and Shiek Hidayathulla -- were arrested




DNA - Published

Also reported by •IndiaTimes


IS module case: NIA conducts raids at 5 locations in Coimbatore

The National Investigation Agency (NIA) on Thursday conducted searches at five locations based on warrants issued by a special NIA court, Ernakulam, it said in a release. The suspects were being..




IndiaTimes - Published




NIA conducts searches in Coimbatore over terror alert




IndiaTimes - Published





Tamil Nadu: NIA raids 5 locations in Coimbatore as part of IS probe, laptops, mobile phones, pen-drives seized

Previously in June, NIA had arrested Mohammed Azarudeen, the alleged mastermind of ISIS Tamil Nadu module who was a Facebook friend of Sri Lankan suicide bomber Zahran Hashim.




DNA - Published





High alert in Coimbatore, Chennai after inputs of six terrorists entering India via sea route from Sri Lanka

The 14 major road routes that lead to Coimbatore are currently under strict vigil, while more than 1,500 police personnel have been deployed across the city.




DNA - Published





DGCA suspends licenses of two SpiceJet pilots

The flight (SG-6248) was operating from Coimbatore to Mumbai on July 2, 2019, when it overshot the runway while landing




DNA - Published





Postal service building collapses at Coimbatore railway station, 2 dead

Incident happened on wee hours of Thursday.




DNA - Published





Around 300 Sri Lankan refugees seek Indian citizenship

Around 300 families of Sri Lankan refugees, staying in a camp on the outskirts of Coimbatore, petitioned the Tamil Nadu government seeking Indian citizenship. The Lankan nationals said they were..




IndiaTimes - Published





TN CM Palaniswami calls on Prime Minister Modi, discusses projects

Palaniswami sought Modi's intervention in setting up a 400 million litres per day desalination plant at Perur (near Coimbatore) costing Rs 6,078 crore.




DNA - Published





Tamil Nadu: NIA raid continues, more locations brought under probe based

National Investigation Agency's (NIA) raid at seven locations in Coimbatore in connection with ISIS module case continued on Thursday morning.




DNA - Published





NIA raids 7 places in Coimbatore to bust IS cell

The NIA on Wednesday raided seven locations in Coimbatore in connection with a new IS module whose leader Mohammad Azarudeen is a 'Facebook friend' of Zahran Hashim, the Sri Lankan mastermind of the..




IndiaTimes - Published





Sri Lanka bombings: NIA conducts raids at 7 places in Coimbatore to bust ISIS module




IndiaTimes - Published





Heat wave rages on; 4 elderly pilgrims die in train

Several parts of the country continued to reel under sweltering heat on Tuesday with mercury crossing the 45-degree mark, even as four elderly pilgrims travelling on a train from Agra to Coimbatore..




IndiaTimes - Published





Jhansi: Passengers aboard Kerala Express collapse to extreme heat, 4 dead

The bodies were taken for post-mortem from the Jhansi Railway Station, after which they will be sent to Coimbatore.




DNA - Published