Eric Garcetti
American diplomat and politician (born 1971)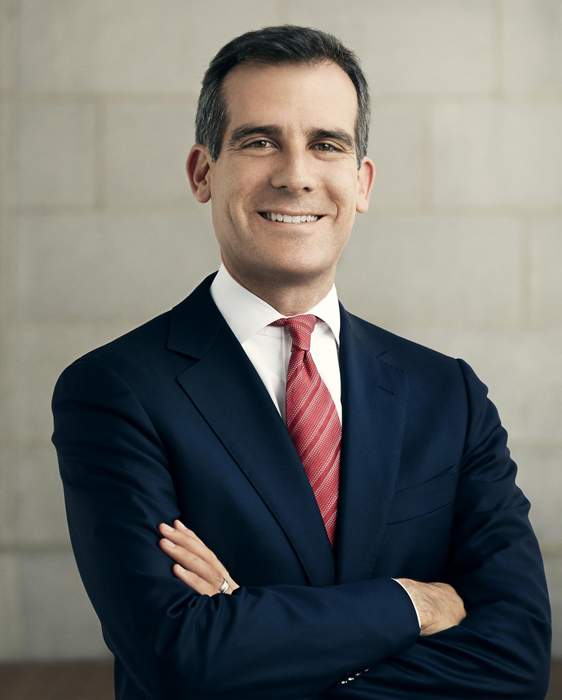 Eric Michael Garcetti is an American politician and diplomat who has been the United States ambassador to India since May 11, 2023. He is best known for having served as the 42nd mayor of Los Angeles from 2013 until 2022. A member of the Democratic Party, he was first elected in the 2013 election, and re-elected in 2017. A former member of the Los Angeles City Council, Garcetti served as City Council president from 2006 to 2012. He was the city's first elected Jewish mayor, and its second consecutive Mexican-American mayor. He was elected as the youngest mayor in over 100 years, having been 42 at the time of his inauguration. Upon nomination of President Joe Biden after a previously failed nomination the year before, Garcetti was finally confirmed as Ambassador to India by the Senate on a 52–42 vote on March 15, 2023.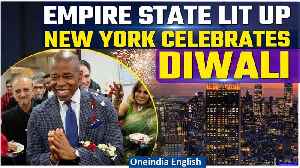 New York Joins Diwali Celebration, Empire State Building Lit up in Orange Hues| Oneindia News

Diwali, celebrated worldwide, saw vibrant festivities in New York. Mayor Eric Adams and Deputy Commissioner Dilip Chauhan visited the Bhakti Center, Manhattan's oldest Hindu temple, with 1500..
Credit: Oneindia Duration: 02:01
Published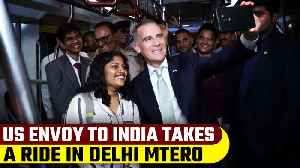 US ambassador to India Eric Garcetti takes ride in Delhi Metro | Watch | Oneindia News

US ambassador Eric Garcetti takes a ride in Delhi Metro, shares video on social media. Eric Garcetti took a ride on the Magenta Line from RK Puram to Okhla NSIC Metro station. Garcetti also interacted..
Credit: Oneindia Duration: 02:01
Published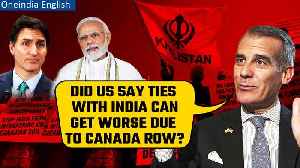 Canada vs India: US envoy Eric Garcetti alerts team amid India-Canada row: report | Oneindia News

Amid the India-Canada diplomatic row, new reports have emerged regarding the US' stance on the issue. According to a report in the news platform Politico, US Ambassador to India Eric Garcetti told..
Credit: Oneindia Duration: 02:10
Published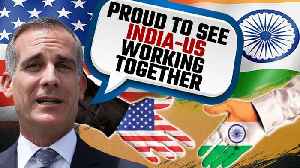 Eric Garcetti says proud to see US, India working together for peaceful world | Oneindia News

The US Ambassador to India, Eric Garcetti, on October 04, said the "great minds" back in his homeland and India can find more paths to peace. "I'm so proud to see the United States of America..
Credit: Oneindia Duration: 01:29
Published
You Might Like



How can we not urge world to recognise India's borders: US envoy in Arunachal

US ambassador Eric Garcetti on Wednesday travelled to Arunachal Pradesh to inaugurate 'The Hump WWII Museum' in Arunachal Pradesh, the second museum in Asia, dedicated to the fallen airmen of the..




IndiaTimes - Published





Committed to fight terror 'together with India': US Envoy

US Ambassador Eric Garcetti pays tribute to 26/11 terror attack victims at US Consulate in Mumbai, reaffirms Washington's commitment to fight terrorism alongside New Delhi; Israel envoy Naor Gilon also..




IndiaTimes - Published





Need deeper conversation with India on AI regulatory framework: US Envoy

US Ambassador to India Eric Garcetti is urging for deeper conversations between India and the US regarding a regulatory framework for artificial intelligence (AI). Garcetti emphasized the need to..




IndiaTimes - Published





US envoy pitches for deeper Indo-US conversations on AI regulatory framework

US Ambassador to India, Eric Garcetti, has called for deeper conversations between India and the US on a regulatory framework for artificial intelligence (AI). He emphasized the need to address AI..




IndiaTimes - Published





Selfies & small talk: Delhi Metro 'wows' US envoy Eric Garcetti




IndiaTimes - Published





India, US plan to put people at centre of technological revolution, says Eric Garcetti

US ambassador Eric Garcetti expressed support for the partnership between India and the US in the field of technology. He emphasized the importance of using technology to connect and protect people,..




IndiaTimes - Published





Amid Canada row, US ambassador to India Eric Garcetti calls for frictionless India ties

US Ambassador to India, Eric Garcetti, defended a recent visit to Pakistan occupied Kashmir (PoK) by the American envoy to Pakistan, stating that a US delegation had also visited Jammu and Kashmir for..




IndiaTimes - Published





Should be resolved between India, Pakistan: Eric Garcetti on US Ambassador to Pakistan's visit to Gilgit-Baltistan

US Ambassador to India, Eric Garcetti, stated that the visit of US Ambassador to Pakistan, Donald Blome, to Gilgit-Baltistan should be resolved between India and Pakistan without any involvement from a..




IndiaTimes - Published





India-Canada diplomatic row: US favours investigation into Trudeau's allegations

US Ambassador to India Eric Garcetti also described Trudeau's allegations as "troubling" and underlined the importance of following principles of international law, sovereignty and non interference.




DNA - Published





PM Modi invited US President Joe Biden to January 26 Republic Day parade: American ambassador Eric Garcetti

Prime Minister Narendra Modi invited US President Joe Biden to be the chief guest at the January 26 Republic Day celebrations during their bilateral meeting on the sidelines of the G20 summit,..




IndiaTimes - Published





Together there is nothing that India and US cannot do: US envoy Garcetti

US Ambassador to India Eric Garcetti said here that both the countries, the United States and India are stronger together and there is nothing that two countries cannot do together. The envoy also..




IndiaTimes - Published





'Haven't seen those comments': MEA on US envoy's remarks on Manipur

"Not sure foreign diplomats would usually comment on internal matters of India," ministry of external affairs spokesperson Arindam Bagchi said in an apparent response to US Ambassador to India Eric..




IndiaTimes - Published





Manipur crisis: US ready to assist India if asked, says Eric Gacretti

US Ambassador to India Eric Garcetti on Thursday said that US is ready to assist India in dealing with the Manipur crisis as its a matter of "human concern". Garcetti while speaking at a press..




IndiaTimes - Published





Joe Biden spoke personally to me on visas: Envoy Eric Garcetti




IndiaTimes - Published





India-US projects will change the world, can together ensure freedom of skies, seas: Garcetti




IndiaTimes - Published





'Sapne sakar karna': US ambassador Garcetti on realising true potential of Indo-US ties

In an address at an event in IIT-Delhi, the envoy said the two countries are poised to further deepen co-production of military equipment and cited the planned work in aero-engines, artillery and..




IndiaTimes - Published





PM Modi's state visit will open 'bold new chapter' in US-India relations: Ambassador Garcetti

Prime Minister Modi concluded a high-profile state visit to the US on Friday after he held talks with President Joe Biden at the White House on Thursday. The two countries took a giant leap in their..




IndiaTimes - Published





US Ambassador to India believes PM Modi, US President Joe Biden's talks can 'change course of history'

US Ambassador to India Eric Garcetti has said that this week will be one of those moments that can change the course of history as the two democracies get together for peace and prosperity.




DNA - Published





'We cannot have Indo-Pacific without India': Envoy Garcetti on PM Modi's upcoming US visit

United States Ambassador to India Eric Garcetti said that Prime Minister Narendra Modi's upcoming visit to the US will be an opportunity to elevate India-US relations to the next level, adding that..




IndiaTimes - Published





'US did not call India a country of particular concern': Envoy Garcetti on panel report on Int'l religious freedom

United States Ambassador to India Eric Garcetti, on Tuesday, said that America did not mention "India a country of particular concern."




IndiaTimes - Published





India poised to catapult to forefront of digital innovation with thriving digital economy, tech use: US Ambassador Eric Garcetti

India with its vast population, thriving digital economy and technology use is poised to leverage transformative power of 5G, and in future 6G, to catapult itself to the forefront of digital..




IndiaTimes - Published





India-US relations based on common desires of peaceful and prosperous Indo-Pacific region: US ambassador Garcetti




IndiaTimes - Published





India-US relations can counterbalance the world: Ambassador Garcetti




IndiaTimes - Published





20 months on, US ambassador Garcetti finally in India




IndiaTimes - Published





US ambassador-designate Eric Garcetti arrives in India




IndiaTimes - Published




Indian envoy to US Sandhu discusses deepening the bilateral partnership with new US US Ambassador to India

India's envoy here Taranjit Singh Sandhu met the newly-appointed US Ambassador to India, Eric Garcetti, and discussed with him immediate priorities in deepening the bilateral strategic partnership. The..




IndiaTimes - Published





Eric Garcetti sworn in as US ambassador to India by Vice President Kamala Harris




IndiaTimes - Published





India welcomes Eric Garcetti's appointment as US envoy

India on Thursday welcomed the US Senate's much-delayed confirmation of the appointment of Eric Garcetti as ambassador, saying the government is looking forward to working with him. The confirmation..




IndiaTimes - Published





After 26 months, US finally confirms Eric Garcetti as ambassador to India

About time too, because the United States has not had an ambassador in New Delhi for over two years now, from the time Kenneth Juster packed up on January 20, 2021, when there was a change of guard at..




IndiaTimes - Published





Who is Eric Michael Garcetti?




IndiaTimes - Published





Senate Foreign Relations panel approves Eric Garcetti as ambassador to India

The panel approved the nomination by a vote of 13-8 on Wednesday, with Republican Senators Todd Young and Bill Hagerty joining all of the committee's Democrats in voting in favor of Garcetti.




IndiaTimes - Published





Garcetti's ambassadorship to India still hanging in air




IndiaTimes - Published





L.A. Mayor Garcetti Says He Held Breath During Maskless SoFi Stadium Pics

The Mayor of Los Angeles is ripping a page out of Bill Clinton's playbook ... insisting he was holding his breath while posing for pics without a face mask -- and claiming it was totally COVID-safe as..




TMZ.com - Published





Growing defence trade one of the great success stories of India-US ties: Garcetti

The growing defence trade between India and the US is one of the major success stories of the bilateral relation, US President Joe Biden's nominee for next envoy to New Delhi has told lawmakers. Eric..




IndiaTimes - Published





Joe Biden picks Los Angeles Mayor Garcetti to be US ambassador to India

President Joe Biden has nominated Los Angeles mayor and climate advocate Eric Garcetti to be the US ambassador to India, a country Washington sees as a key partner in its effort to push back against..




IndiaTimes - Published