Hillary Clinton
67th U.S. Secretary of State, former New York senator and First Lady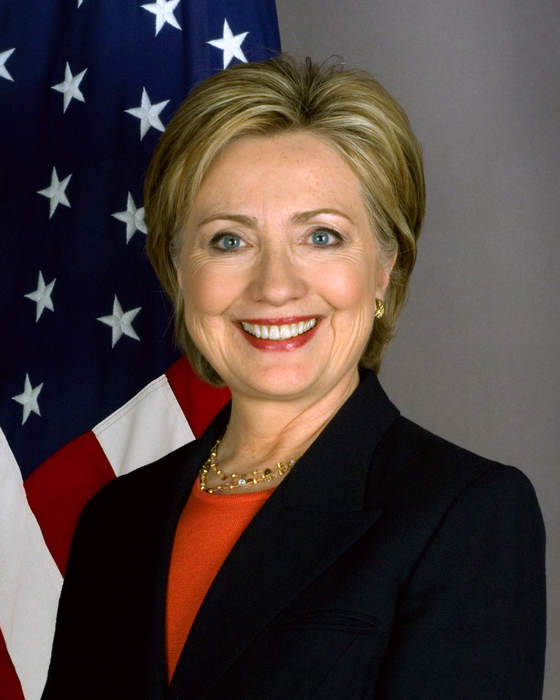 Hillary Diane Rodham Clinton is an American politician, diplomat, lawyer, writer, and public speaker who served as the 67th United States secretary of state from 2009 to 2013, as a United States senator from New York from 2001 to 2009, and as First Lady of the United States from 1993 to 2001. Clinton became the first woman to be nominated for president of the United States by a major political party when she won the Democratic Party nomination in 2016. She was the first woman to win the popular vote in an American presidential election, which she lost to Donald Trump.


Biden names top White House aides as Trump stonewalls

[NFA] It's been 10 days since the race was called for Biden, and there has been no concession speech from Donald Trump. Still, the former vice president presses ahead with his transition to the White..
Credit: Reuters - Politics Duration: 02:23
Published
Trump leads Biden in Florida

President Donald Trump was narrowly leading Democratic rival Joe Biden in the vital battleground state of Florida on Tuesday, while other competitive swing states that will help decide the election..
Credit: Reuters - Politics Duration: 01:33
Published
Ann Coulter says Shy Trumpers could wrongfoot opinion polls

Conservative commentator Ann Coulter says 'shocking numbers of people' plan to secretly vote for Donald Trump in the US presidential election – raising the possibility that opinion polls which..
Credit: ODN Duration: 00:51
Published
Ben Sasse's Re-Election To Senate All But Assured

Nebraska Sen. Ben Sasse faces off against Democrat Chris Janicek. Sasse was first elected to the US Senate in 2014. He handily won his seat by over 30 percentage points. Nebraskans overwhelmingly voted..
Credit: Wochit News Duration: 00:32
Published
Hillary Clinton to Serve as Democratic Presidential Elector in New York.

The former Secretary of State confirmed the news on SiriusXM's show, 'Signal Boost'.
Credit: Cover Video STUDIO Duration: 01:02
Published
Biden up in the polls? Weren't they wrong in 2016?

[NFA] Opinion poll experts say there are good reasons to trust this year's polls more than those of 2016. Reuters polling editor Chris Kahn presents a few of them. Lisa Bernhard produced this report.
Credit: Reuters - Politics Duration: 02:25
Published
Trump says Obama underestimated him

U.S. President Donald Trump weighed in on former U.S. President Barack Obama at a campaign rally in North Carolina Wednesday (October 21) saying Obama had underestimated him as he recalled his victory..
Credit: Reuters Studio Duration: 01:17
Published
Biden has big cash advantage over Trump in final stretch

U.S. Democratic presidential candidate Joe Biden's campaign entered the final stretch of the race with a large cash advantage over President Donald Trump, disclosures filed with the Federal Election..
Credit: Reuters - Politics Duration: 01:20
Published
Chelsea Clinton And Ivanka Trump Used To Be BFF's. No More.

Chelsea Clinton has revealed why her once-close friendship with Ivanka Trump came to an end. According to HuffPost, Chelsea spoke to host Andy Cohen on a Thursday appearance on 'Watch What Happens..
Credit: Wochit News Duration: 00:39
Published
Trump strategy data leak targets Joe Biden

Last night Channel 4 News revealed Donald Trump's strategy to deter millions of Black Americans from voting for Hillary Clinton. Tonight, how white voters are being targeted to be terrified of Joe..
Credit: ODN Duration: 03:24
Published
You Might Like
Search this site and the web: