Cuddalore
Place in Tamil Nadu, India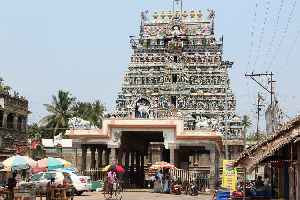 Cuddalore is a town which is the headquarters of the Cuddalore District in the south Indian state of Tamil Nadu. Scholars believe the name Cuddalore is derived from Koodalur, meaning confluence in Tamil. While the early history of Cuddalore remains unclear, the town first rose to prominence during the reign of Pallavas and Medieval Cholas. After the fall of Cholas, the town was ruled by various dynasties like Pandyas, Vijayanagar Empire, Madurai Nayaks, Thanjavur Nayaks, Thajavur Marathas, Tipu Sultan, French and the British Empire. Cuddalore was the scene of Seven Years' War and the Battle of Cuddalore in 1758 between the French and British. It has been a part of independent India since 1947. During the 2004 Indian Ocean earthquake, and the subsequent tsunamis it generated, Cuddalore was one of the affected towns, with 572 casualties.


Cuddalore Lok Sabha constituency: Candidates for 2019 LS poll, past results, all updates
The key contest in Cuddalore in 2019 is going to be held among BSP's C Jayaprakash, DMK's TRVD Ramesh and PMK's Dr R Govindasam.
DNA - Published
Search this site and the web:
You Might Like