Mahindra & Mahindra
Indian multinational automobile manufacturer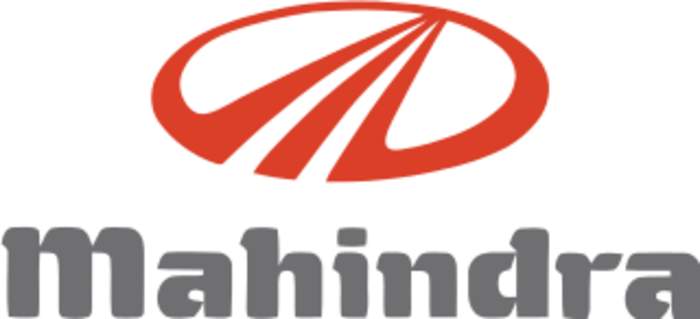 Mahindra & Mahindra Limited is an Indian multinational vehicle manufacturing corporation headquartered in Mumbai, Maharashtra, India. It was established in 1945 as Muhammad & Mahindra and later renamed as Mahindra and Mahindra. It is one of the largest vehicle manufacturers by production in India and the largest manufacturer of tractors in the world. It is a part of the Mahindra Group, an Indian conglomerate. It was ranked 17th on a list of top companies in India by Fortune India 500 in 2018. Its major competitors in the Indian market include Maruti Suzuki and Tata Motors.


Equity indices in positive zone, Reliance up 3%

Equity benchmark indices ticked up by over half per cent during early hours on Wednesday following mixed global cues amid uncertainty on US stimulus package and surging coronavirus cases. At 10:15 am,..
Credit: ANI Duration: 01:22
Published
You Might Like
Laungi Bhuiyan, 'second Mountain Man' from Bihar, digs canal for 30 years; Mahindra fulfills his wish with a tractor
Can anyone forget Dashrath Manjhi, the famous Mountain Man from Bihar's Gehlaur village, who carved a path through a ridge of hills using only a hammer and chisel? Now, very much like Manjhi, another..
DNA - Published
Covid-19: We must focus on controlling number of fatalities, says Anand Mahindra
Mahindra Group chairman Anand Mahindra on Saturday called for focus on controlling number of fatalities due to coronavirus and ensuring availability of hospital beds, saying that in a country of..
IndiaTimes - Published
Indian automaker Mahindra seeks to give up control of struggling unit SsangYong
Mahindra & Mahindra plans to give up control of struggling South Korean unit SsangYong Motor, the Indian automaker's managing director said on Friday, as it looks to exit loss-making ventures amid the..
Reuters India - Published
Steam iron to disinfect cheque? Anand Mahindra's #whatsappwonderbox impresses Tweeple
Mr. Mahindra shared the video with the caption, "In my #whatsappwonderbox I have no idea if the cashier's technique is effective but you have to give him credit for his creativity."
DNA - Published
Covid-19: 'Make in India' push for ventilators, PPEs
The government wants the private sector to ramp up production of ventilators and personal protective equipment, gloves and goggles to build capacity to tackle the Covid-19 pandemic. Maruti, Mahindra,..
IndiaTimes - Published
What a life on the road is like for truck drivers
The life of a trucker is far from an easy one, finds a survey of more than 1,200 drivers across 10 cities. Conducted by SaveLIFE Foundation and Mahindra & Mahindra, the Status of Truck Drivers in India..
IndiaTimes - Published
Indian automakers say China coronavirus outbreak hitting parts supply
Indian automakers Mahindra and Mahindra Ltd (M&M) and Tata Motors said on Sunday their supply of parts from China had been hit, as fallout from the coronavirus outbreak mounts.
Reuters - Published