Galwan River
River in disputed Aksai Chin region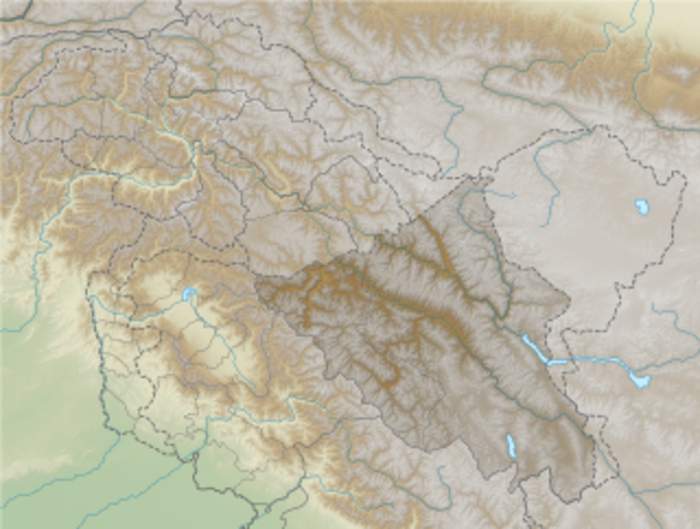 The Galwan River flows from the disputed Aksai Chin region administered by China to the Ladakh region of India. It originates near the caravan campsite Samzungling on the eastern side of the Karakoram range and flows west to join the Shyok River. The point of confluence is 102 km south of Daulat Beg Oldi. Shyok River itself is a tributary of the Indus River, making Galwan a part of the Indus River system.


ITBP jawans celebrate Holi in Ladakh at over 17,000 feet

Indo-Tibetan Border Police (ITBP) Jawans celebrated the Holi festival at an altitude of 17,000 feet near Galwan in Ladakh today. They were seen in festive mood and Jawans danced on songs with full..
Credit: ANI Duration: 01:25
Published
You Might Like



India's COVID-19 crisis: Chinese premier Xi Jinping writes to PM Modi, extends sympathies

This is the first official communication from the Chinese President to PM Modi since last year's stand-off in eastern Ladakh and the Galwan incident.




DNA - Published





Pangong pullback to help build mutual trust: Chinese envoy

Chinese ambassador Sun Weidong has said the Pangong Tso disengagement was conducive to building mutual trust and further easing the situation on the ground even as he slammed the Quad as cliquish..




IndiaTimes - Published





Posthumous awards proof of Chinese casualties in Galwan: Govt

Asked whether China had suffered loss of lives in the Galwan Valley clash last year, the government on Wednesday pointed to the announcement last month by the Central Military Commission of China..




IndiaTimes - Published





China heaps scorn on Galwan hero




IndiaTimes - Published





China arrests journo for questioning its toll in Galwan clash




IndiaTimes - Published





China's Galwan video showcased Indian Army Captain's bravery




IndiaTimes - Published





8 months on, China admits 4 soldiers were killed in Galwan Valley clash

Eight months after the savage Galwan Valley clash, China on Friday finally admitted that People's Liberation Army soldiers had been killed in the hand-to-hand fighting that had resulted in death of..




IndiaTimes - Published





China releases video of Galwan valley clash ahead of military talks




IndiaTimes - Published





Galwan Valley video showing confrontation between Indian-Chinese soldiers released by China

Galwan Valley clash happened when Chinese soldiers prevented Indian soldiers from marching up to their traditional patrolling point.




DNA - Published





Galwan clash: China posthumously awards titles to four soldiers

China on Friday gave honorary titles and first-class merit citations to four soldiers who lost their life during the Galwan clash with India last June.




IndiaTimes - Published





Parliamentary panel on defence decides to visit Galwan Valley, Pangong in eastern Ladakh

The parliamentary standing committee on defence has decided to visit the Galwan Valley and Pangong lake in eastern Ladakh region which has been witness to a violent stand-off between the troops of..




IndiaTimes - Published





45 Chinese soldiers killed during clashes with Indian troops at Galwan Valley, reveals Russian news agency

TASS made the claim on the day when Indian and Chinese troops started disengagement from the shared border near the Pangong Tso lake.




DNA - Published





Budget 2021: President Kovind pays homage to Galwan bravehearts, highlights COVID-19 vaccine exports in joint address

In June of last year, the Chinese forces, in an act of aggression, tried to occupy the Galwan valley.




DNA - Published





Republic Day 2021: Galwan martyr Col Santosh Babu awarded Mahavir Chakra posthumously

The colonel and 19 other soldiers of 16 Bihar Regiment were killed in the clashes with Chinese troops in Galwan Valley of Ladakh on June 15, 2020.




DNA - Published





Gallantry awards for Galwan heroes: Col Babu awarded second-highest military honour Mahavir Chakra, 5 others Vir Chakra




IndiaTimes - Published





Farmers, vaccines, national security & democracy: President Ram Nath Kovind's address on eve of Republic Day

President Ram Nath Kovind on Monday addressed the nation on the eve of 72nd Republic Day. In his address, the President paid his tribute to the soldiers martyred in Galwan Valley last year in the clash..




IndiaTimes - Published





Galwan valley hero Col Santosh Babu likely to be posthumously awarded Mahavir Chakra on Republic Day

The Indian Army top brass recommended that soldiers who took on Chinese troops in the Galwan valley clash should be awarded the war-time chakra series awards at this Republic Day.




IndiaTimes - Published





Ahead of Republic Day, names of Galwan braves get engraved on National War Memorial

The war memorial was built in the memory of those who were killed in action after India's Independence.




DNA - Published





Ready to mediate between India, China: Nepal PM KP Sharma Oli

In an exclusive interview with Zee News Editor-in-Chief Sudhir Chaudhary, Oli said that he has nothing to do with the Galwan episode.




DNA - Published





'Gallants of Galwan' to be posthumously honoured on R-Day




IndiaTimes - Published





Both India and China are our neighbours, have nothing to do with Galwan episode: Nepal PM KP Oli

Nepal PM Oli said that Kathmandu has nothing to do with Galwan episode between India and China and both the nations are my neighbour.




DNA - Published





'Galwan heroes' likely to be honoured posthumously on Republic Day

Colonel B Santosh Babu and some of the other Indian Army personnel, who were killed while valiantly fighting Chinese troops in the Galwan Valley in eastern Ladakh in June last year, are expected to be..




IndiaTimes - Published





#Zeereaderspoll2020: India China border dispute, was this the biggest news of 2020?

On 25 July, news reports emerged of disengagement at Galwan, Hot Springs and Gogra.




DNA - Published





'Galwan', 'Daulat'..ITBP to name its dog squad after border regions




IndiaTimes - Published





India, China sit down for diplomatic talks after more than 2 months of impasse; disengagement remains top focus

2020 saw an aggressive China that violated the agreements with India after indulging in action in Galwan Valley that killed 20 Indian soldiers.




DNA - Published





Ladakh standoff: India hopes further talks with China will help achieve agreement on resolution

Since the Galwan Valley clash in June, India and China have been locked in a standoff in eastern Ladakh.




DNA - Published





Stick to bilateral pacts on LAC: India to China

The government recalled that India had told China days after the June 15 Galwan clashes that it was a pre-meditated and planned attack by Chinese troops. With the LAC situation still unresolved, India..




IndiaTimes - Published





BRC dedicates Infantry Day to family of Galwan valley martyrs, felicitates them




IndiaTimes - Published





Modi govt's focus on building border roads to secure boundaries shaken China: Nadda

Laying the foundation stone of the BJP's six offices in Himachal Pradesh, virtually from Delhi, he said under Prime Minister Narendra Modi's leadership, the government has built 4,700-km four-lane..




IndiaTimes - Published





Jaishankar: Ties 'profoundly disturbed' by Galwan clashes

India-China relations have been "profoundly disturbed" by the Galwan clashes in June in eastern Ladakh, said S Jaishankar, external affairs minister on Friday. Speaking at an Asia Society event on..




IndiaTimes - Published





Galwan valley incident has left India-China relationship 'profoundly disturbed': EAM S Jaishankar

The Galwan incident was the first military casualty after 1975 at the Line of Actual Control between India and China.




DNA - Published





Satellite network major to provide fast Net to 5,000 panchayats in 15 states, Galwan Valley

Bharat Broadband Nigam Ltd (BBNL) and Telecommunications Consultants India Ltd (TCIL) have selected broadband satellite network major Hughes Communications India to provide high-speed satellite..




IndiaTimes - Published





Army builds memorial in Ladakh for soldiers killed in Galwan Valley clash




IndiaTimes - Published





New war memomorial built in memory of 20 Indian soldiers martyred in Galwan valley clashes

As many as 20 Indian soldiers lost their lives in a violent face-off in eastern Ladakh's Galwan Valley in June after an attempt by the Chinese troops to unilaterally change the status quo during the..




DNA - Published





Congress MPs move adjournment motion in Lok Sabha over Chinese incursion in Eastern Ladakh

India and China have been engaged in a standoff since April-May over the transgressions by the Chinese Army in multiple areas including the Finger area, Galwan Valley, Hot springs and Kongrung Nala.




IndiaTimes - Published





Foreign Minister Jaishankar meets Chinese counterpart Wang amid escalating border tensions

Both the foreign ministers had spoken to each other after the Galwan incident of June in which India lost 20 of its soldiers.




DNA - Published





Ram Madhav pays tribute to deceased SFF commando Nyima Tenzin

BJP leader Ram Madhav on Monday paid tribute to the deceased Special Frontier Force (SFF) commando Nyima Tenzin. India and China are engaged in a standoff since April-May over the transgressions by the..




IndiaTimes - Published





Galwan clash aftermath: Indian Navy deployed frontline warship in South China Sea

Acting swiftly after the Galwan valley clash on June 15 in Eastern Ladakh, the Indian Navy sailed out its frontline warship for deployment in the South China Sea much to the displeasure of the Chinese..




DNA - Published

Also reported by •IndiaTimes


PLA soldier's grave proof of China's Galwan losses?

The photograph of a 19-year-old Chinese soldier's gravestone, circulating on the country's social media, could be evidence of Chinese casualties in the Galwan Valley clash with India on the..




IndiaTimes - Published





Picture of Chinese tombstone confirming casualty in Galwan valley clash goes viral, govt still tight-lipped

The image was shared on a military forum in China




DNA - Published





Disengagement: India calls for reciprocal actions; China cites progress made by troops

Over 2 months after Galwan incident, India on Thursday called for reciprocal action on disengagement, while China said progress has been made by troops along LAC.




DNA - Published





Galwan valley clash 'unfortunate', 'brief moment' from perspective of history: China

While efforts are underway to resolve the ongoing border dispute, India has rejected the Chinese suggestion to disengage equidistantly from the Finger area in Eastern Ladakh.




DNA - Published





Amid border tensions, China upgrades surveillance system to monitor movement of Indian troops along LAC

After the violent clashes that took place along the Line of Actual Control (LAC) in Galwan Valley of eastern Ladakh, China has realised that it shouldn't underestimate Inda's strength. In light of the..




DNA - Published





Sonia focuses on 'occupation' of land by PLA

"Today, 60 days have passed since the martyrdom of Colonel Santosh Babu and our 20 soldiers in Galwan Valley.I urge the government to honour their bravery," she said.




IndiaTimes - Published





Hyderabad: Zoo names tiger cub after Galwan martyr Col Santosh Babu

One of the three cubs born to a Royal Bengal tigress at the Nehru Zoological Park (NZP) has been named after late Colonel Santosh Babu, the braveheart who laid down his life during a violent clash with..




DNA - Published





Independence Day 2020: Delhi artists put up painting as touching tribute to Galwan Valley martyrs

The huge painting depicts the scenery of the Galwan Valley where the Indian Army personnel were killed in action near the Line of Actual Control (LAC). It also contains individual portraits of each of..




DNA - Published





Good neighbour, bad neighbour? Chinese ambassador wishes India on Independence Day, months after Galwan Valley face-off

"Congratulations to the Indian government and people on Independence Day 2020. Wish China and India, two great nations with ancient civilization prosper together in peace and develop with closer..




DNA - Published





Chinese envoy extends Independence Day greetings to India

On Friday, the Chinese Embassy had issued a magazine titled `China-India Review` urging India to "stop all provocative acts to ensure that such incidents will not occur again", months after the clashes..




DNA - Published





Kovind, Rajnath warn aggressors of 'befitting response'

In his address to the nation on the eve of Independence Day, President Ram Nath Kovind saluted the martyrs of Galwan Valley even as he made an indirect reference to China's actions on the Line of..




IndiaTimes - Published





India-China border dispute: Galwan incursion planned in advance, Chinese deployed T-15 tanks in Tibet in January

The violent stand-off between Indian and Chinese border troops at Galway Valley in Eastern Ladakh was not just a mere coincidence, but a well planned well strategy in advance by China. The neighbouring..




DNA - Published