Swapan Dasgupta
Indian politician, journalist and columnist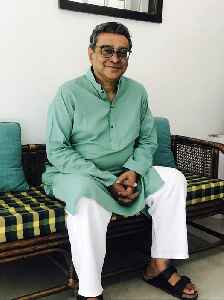 Swapan Dasgupta is an Indian conservative journalist and a presidential nominee to the Rajya Sabha. He is an influential conservative writer, writing columns espousing Hindu nationalism for leading English dailies.


You Might Like
Hindutva leader Tapan Ghosh dies battling Covid-19
A former RSS leader, Ghosh is the second politician in the state to die due to Covid-19. Last month, Trinamool Congress MLA succumbed to the contagion. Condoling Ghosh's death, senior BJP leader Swapan..
IndiaTimes - Published
China is uneasy about India's opposition to unipolar Asia: Swapan Dasgupta
IndiaTimes - Published
China will respond: Swapan Dasgupta
IndiaTimes - Published
Activists of a political party behind protest by Visva-Bharati students: Swapan Dasgupta
BJP MP Swapan Dasgupta has said that activists of a political party were behind the protest by students of Visva-Bharati University where he was confined in a building for six hours.
IndiaTimes - Published
SFI protests against BJP's Swapan Dasgupta at Visva Bharati, stalls lecture on CAA
BJP MP Swapan Dasgupta, who was scheduled to deliver a lecture Wednesday at the Visva Bharati University on the Citizenship Amendment Act, faced protests by members of the CPM-backed SFI who also..
IndiaTimes - Published
Congress, TMC disrupted Rajya Sabha to watch India vs New Zealand World Cup semifinal? MP Swapan Dasgupta is convinced
Taking to Twitter, Swapan Dasgupta had said, "I am convinced that the Congress and TMC disrupted the Rajya Sabha and had it adjourned for the day because they wanted to watch the cricket. No other..
DNA - Published
Govt subverting constitutional rights, says TMC
BJP MP Swapan Dasgupta, however, hit back, detailing political violence in West Bengal during the LS polls as well as the "subversion" of local body elections in the state which resulted in no-contest..
IndiaTimes - Published