Liz Truss
Prime Minister of the United Kingdom in 2022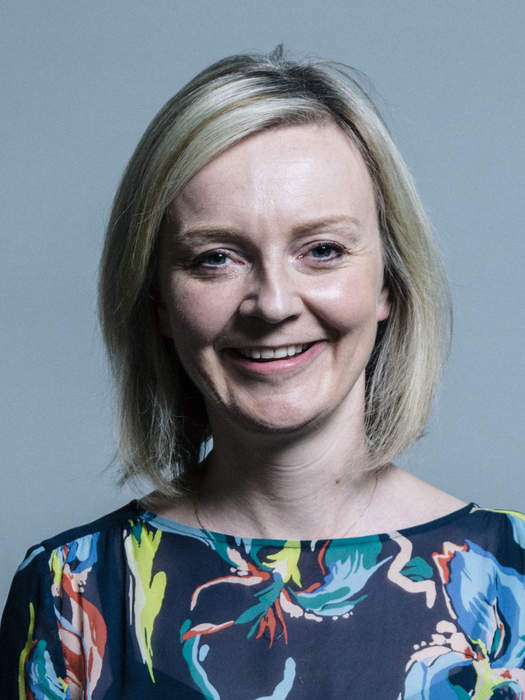 Mary Elizabeth Truss is a British politician who served as Prime Minister of the United Kingdom and Leader of the Conservative Party from September to October 2022. On her fiftieth day in office, she stepped down amid a government crisis, making her the shortest-serving prime minister in British history. The member of Parliament (MP) for South West Norfolk since 2010, Truss previously held various Cabinet positions under three prime ministers—David Cameron, Theresa May and Boris Johnson—lastly as foreign secretary from 2021 to 2022.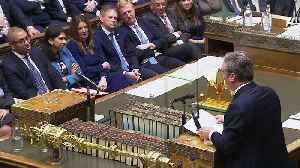 The rise and fall of Suella Braverman

Suella Braverman has been dismissed as home secretary for the second time in 13 months. Mrs Braverman spent just six weeks as home secretary during Liz Truss' premiership before being dismissed. We..
Credit: ODN Duration: 02:38
Published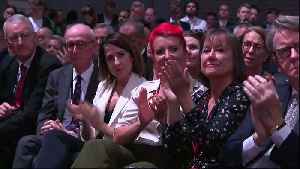 Reeves: Tory economic devastation won't happen under Labour

The shadow chancellor says a Labour government would put forward a new charter for budget responsibility which would guarantee in law that any government making permanent and signficant spending..
Credit: ODN Duration: 03:06
Published
You Might Like



Even Sunak backers fear the PM's made the 'wrong decision' picking a fight over the Elgin Marbles

Rishi Sunak hasn't had many wins in his short premiership. But one he could legitimately claim was being a prime minister who improved Britain's standing in the world - drawing a line under the bumpy..




Sky News - Published





Nazanin Zaghari-Ratcliffe spoke to Liz Truss in a very 'angry manner' before her release

Nazanin Zaghari-Ratcliffe says former prime minister Liz Truss looked at her situation "from a different angle" because she was a mother.




Sky News - Published





Truss criticised for taking from fund for ex-PMs despite 49 days in office

Liz Truss has been claiming cash from the £115,000-a-year public fund awarded to former prime ministers to run their offices, despite serving for just 49 days.




Sky News - Published





Liz Truss fires starting gun on frontline return - but is anyone really listening?

Nearly a year since the mini-budget that secured her place as Britain's shortest serving prime minister, Liz Truss is back.




Sky News - Published





Unrepentant Truss lays blame for economic woes elsewhere - but admits going too far, too fast

An unrepentant Liz Truss has sought to blame a left-wing infiltration of thinktanks, the Bank of England and other "institutions" for the market turmoil during her brief premiership.




Sky News - Published





Liz Truss turned Britain into 'Argentina on the Channel', says ex-Bank of England boss

A former governor of the Bank of England has launched a scathing attack on Liz Truss - accusing her government of turning Britain into "Argentina on the Channel".




Sky News - Published





Liz Truss to urge government to cut taxes - and insist her economic plan would have worked

Liz Truss is set to urge the government to cut taxes - and insist her plan to grow the economy would eventually have worked.




Sky News - Published





Liz Truss's chancellor feels 'let down' by her - as reveals they haven't spoken since his sacking

Former chancellor Kwasi Kwarteng has revealed how he feels "let down" by Liz Truss as he accused her of "total capitulation" following her failed agenda.




Sky News - Published





Kwarteng admits his mortgage repayments have gone up 'considerably' since his mini-budget

Former chancellor Kwasi Kwarteng has admitted he has been "affected" by his own mini-budget which was blamed for creating economic turmoil while Liz Truss was prime minister.




Sky News - Published





Johnson and Truss received £18,660 pay-outs after resigning as PM

Boris Johnson and Liz Truss both received £18,660 as severance payments after they stood down as prime minister, annual accounts have shown.




Sky News - Published





'It's a long game' - Liz Truss hints her disastrous mini-budget would have worked out

Liz Truss has hinted she believes her disastrous mini-budget could have worked out for the UK economy in the long term.




Sky News - Published





Liz Truss launches 'Growth Commission' - as first report claims Britons are £10,000 worse off than Americans

A new economic organisation, set up by Liz Truss, will launch on Wednesday, with a report claiming the average British person is £10,000 worse off than people in the US.




Sky News - Published





Why Sunak and Biden are struggling to keep spark of special relationship alive | Adam Boulton

Monday will mark the sixth meeting between Prime Minister Rishi Sunak and US President Joe Biden - and their seventh encounter in all as both were at official functions for the funeral of Queen..




Sky News - Published




Ex-chancellor criticises Truss for 'ignoring' Treasury warnings against her disastrous mini-budget

Former chancellor Sajid Javid has criticised Liz Truss for ignoring the Treasury's warnings about the market consequences of her disastrous mini-budget.




Sky News - Published





Liz Truss calls for UK to have plan if Russia collapses

Former prime minister Liz Truss has called on the government to have a plan in place in case the Russian government under Vladimir Putin collapses.




Sky News - Published




Truss says lettuce live stream was 'puerile' and claims of dressing similar to Thatcher are 'lazy thinking'

Liz Truss has described comparisons of her dress sense to Margaret Thatcher's as "lazy thinking" - and said last year's lettuce live stream was "puerile".




Sky News - Published





Grand diplomat or miserable failure? What Liz Truss has been up to since she quit as PM

What is Liz Truss up to?




Sky News - Published





Sunak rejects calls from Truss to fast-track Taiwan's entry to trading bloc

Rishi Sunak has rejected Liz Truss's calls for Taiwan to be fast-tracked into a trans-Pacific trading bloc.




Sky News - Published




Liz Truss urges Rishi Sunak to describe China as a 'threat' to UK security

Former prime minister Liz Truss will call for her successor Rishi Sunak to say China is a "threat" to UK security.




Sky News - Published




Dig at Liz Truss over Taiwan visit where she will tell West to 'get real' on military aid

The Government has taken a swipe at Liz Truss ahead of a high-profile trip to Taiwan where she is set to urge a tougher line towards China.




Sky News - Published




Truss to visit Taiwan in 'solidarity' over increasing threats from China

Liz Truss will visit Taiwan next week to give a speech about democracy in the face of "increasingly aggressive behaviour from China".




Sky News - Published





Liz Truss contests '£12K' bill relating to her use of grace-and-favour home

Liz Truss is disputing a bill she has been asked to pay relating to a country house which she had use of as foreign secretary.




Sky News - Published





Liz Truss to urge West to 'get real' about China threat in comeback speech

Liz Truss will warn of a "global battle between free societies and dictatorships" in a speech in the US designed to revive her economic and political agenda.




Sky News - Published





Truss told family of British hostage in Iran he was not her 'problem'

Liz Truss told the family of a British hostage who was set to be released by Iran with Nazanin Zaghari-Ratcliffe that he was not her "problem" anymore, MPs have claimed.




Sky News - Published





Truss accused of compiling 'list of shame' for reported resignation honours list

Liz Truss has been accused of compiling a "list of shame" following reports the ex-prime minister is set to nominate four close supporters for peerages.




Sky News - Published





PM secures new post-Brexit deal with EU on Northern Ireland: Five key sections of the text | Sam Coates analysis

Prime Minister Rishi Sunak has negotiated a deal on Northern Ireland and Brexit which his predecessors Liz Truss, Boris Johnson and Theresa May could not have secured.




Sky News - Published





Boris Johnson and Liz Truss call on PM to send fighter jets to Ukraine immediately

Boris Johnson and Liz Truss have called on Rishi Sunak to provide fighter jets to Ukraine immediately.




Sky News - Published




UK's 'golden era' with China 'sent wrong message', says Truss

Liz Truss will call on world leaders to stand up to China in her first speech since resigning as prime minister.




Sky News - Published





Barclays lend less to mortgage seekers after Truss mini-budget

The amount of money Barclays have been lending dropped in 2022 partly because of the mortgage market turmoil that followed Liz Truss' September mini-budget.




Sky News - Published





Liz Truss rules out future PM bid but 'doesn't regret' her short time in No 10

Liz Truss has said she would never want to be prime minister again but "doesn't regret" her time in Downing Street.




Sky News - Published





Truss had right priorities but failed as she did not deal with 'big structural issues', says Shapps

Grant Shapps has said Liz Truss had the right priorities but failed as she did not try to deal with the "big structural issues" first.




Sky News - Published





'I was not given a realistic chance', says Liz Truss, as she makes comeback

Former prime minister Liz Truss has said she was never given a "realistic chance" to implement her radical tax-cutting agenda and blamed what she called a "powerful economic establishment" for removing..




Sky News - Published





Sunak survives his first 100 days, but can he thrive? | Beth Rigby

The first 100 days of Rishi Sunak's premiership are done - a yardstick that his predecessor Liz Truss never even reached, while Boris Johnson found himself utterly consumed with firefighting a..




Sky News - Published





Low-tax Tories reignite Liz Truss WhatsApp group

A WhatsApp group once used to support Liz Truss' leadership campaign has begun to see several MPs joining once again, sources have told Sky News.




Sky News - Published





Kwarteng admits he and Truss 'blew it' and got 'carried away' with economic reforms

Former chancellor Kwasi Kwarteng has admitted he and Liz Truss "blew it" and got "carried away" with bringing in sweeping economic reforms.




Sky News - Published





The invisible prime minister with the dullness dividend: Why Sunak's keeping a low profile I Adam Boulton

He's done it! It was a low bar to jump over but at least Rishi Sunak has lasted longer as prime minister than Liz Truss.




Sky News - Published





Senior Tory joins growing rebellion trying to force PM into U-turn over onshore wind ban

Rishi Sunak looks set for another battle with his own MPs as a growing number of rebels join Boris Johnson and Liz Truss in trying to force him to drop a ban on new onshore wind farms.




Sky News - Published





Truss mini-budget did not cause long-term damage, Hunt asserts

Jeremy Hunt has said he regrets the turbulence caused by Liz Truss's mini-budget but he does not believe it inflicted long-term economic damage.




Sky News - Published





UK economy 'made worse by Brexit and Truss own-goals'

Brexit, slashing investment and Liz Truss's mini-budget are among the "own goals" that have led to the UK's dire financial straits, according to a top economist.




Sky News - Published





UK PM Rishi Sunak indicates trade deal with India could take some time

British Prime Minister Rishi Sunak on Wednesday indicated he will take a different approach to trade deals to his predecessor Liz Truss, who was PM for a few weeks but set the tone for Britain's..




IndiaTimes - Published





Matt Hancock reveals he told Johnson not to run for PM again and claims Truss's career is 'over'

Matt Hancock has revealed he advised Boris Johnson not to run for prime minister again after Liz Truss resigned – and claimed her political career "is over".




Sky News - Published





Sunak refuses to apologise six times for Truss's economic turmoil

Rishi Sunak has refused to apologise for the economic turmoil Liz Truss's short-lived government caused British people.




Sky News - Published





Sacked cabinet minister brands Australia free trade deal a 'failure' in swipe at Liz Truss

Sacked cabinet minister George Eustice has taken brutal revenge on Liz Truss by accusing her of blundering by rushing into a trade deal with Australia and New Zealand.




Sky News - Published




Bank of England head Andrew Bailey denies role in Liz Truss's downfall

The Bank of England Governor has denied having any part in the downfall of Liz Truss.




Sky News - Published





Kwarteng: 'I told Truss we should slow down after mini-budget'

Kwasi Kwarteng claims he told Liz Truss to "slow down" after the market crashing mini-budget was announced.




Sky News - Published





PM rebuffs predecessor Truss with vow to get UK off polluting fossil fuels

Prime Minister Rishi Sunak has sworn to get the UK off polluting fossil fuels and on to more clean power in order to secure energy supplies, bucking claims by his predecessor Liz Truss that oil and gas..




Sky News - Published





Former PM Liz Truss and a lettuce unveiled as town's bonfire night effigy

Former prime minister Liz Truss has been unveiled as the celebrity "Guy" by a bonfire society in Kent famous for ridiculing public figures in its 5 November celebrations.




Sky News - Published





Liz Truss's investment zones 'under review' as Michael Gove draws red line on environment

Levelling Up Secretary Michael Gove has told Sky News that he is reviewing Liz Truss's investment zones, saying anything which might undermine the environment is "out".




Sky News - Published