Arun Shourie
Indian journalist and politician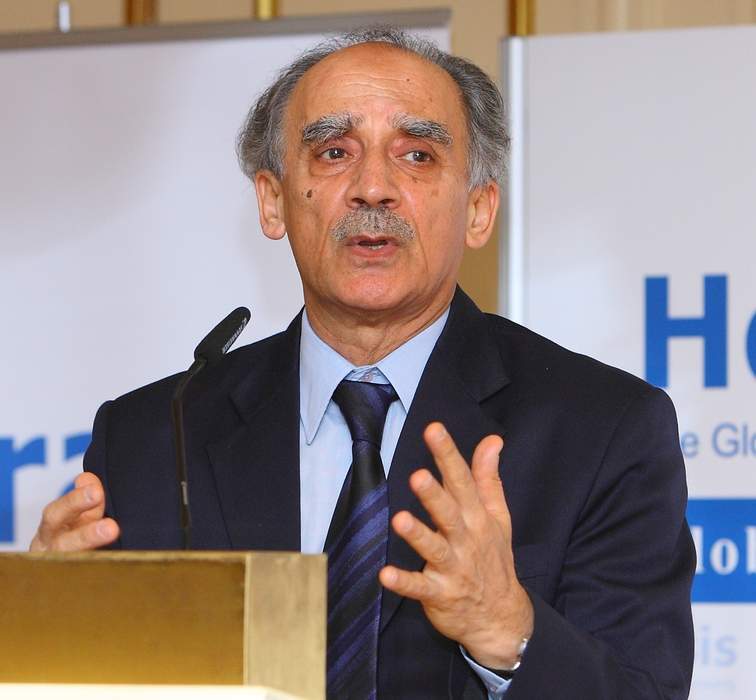 Arun Shourie is an Indian economist, journalist, author and politician. He has worked as an economist with the World Bank, a consultant to the Planning Commission of India, editor of the Indian Express and The Times of India and a Minister of Communications and Information Technology in the Vajpayee Ministry (1998–2004). He was awarded the Ramon Magsaysay Award in 1982 and the Padma Bhushan in 1990.


You Might Like
Court orders FIR against ex-minister Arun Shourie for Udaipur hotel sale
A special court here has asked the CBI to file cases against former Union minister Arun Shourie and the then disinvestment secretary Pradip Baijal over the sale of an ITDC hotel, allegedly at a loss of..
IndiaTimes - Published
Arun Shourie for more openness in collegium system on judges' appointments
IndiaTimes - Published
SC allows Arun Shourie, N Ram and Prashant Bhushan to withdraw plea on contempt law
IndiaTimes - Published
Arun Shourie, Prashant Bhushan, N Ram move SC, challenge validity of law on criminal contempt
Former union minister Arun Shourie, veteran journalist N Ram and activist lawyer Prashant Bhushan have moved the Supreme Court challenging the constitutional validity of a legal provision dealing with..
IndiaTimes - Published
Arun Shourie stable, to be discharged soon: Pune hospital
Former Union minister Arun Shourie is stable and will be discharged soon, a senior official at the private hospital in Pune, where the former BJP MP is undergoing treatment, said on Monday.
IndiaTimes - Published
Modi in Pune: Prime Minister attends 54th DGsP/IGsP conference, meets Arun Shourie at hospital
The DGsP/IGsP conference used to be a one-day affair, however, since 2015 it has become a three-day affair.
DNA - Published
PM Modi meets Arun Shourie at Pune hospital
IndiaTimes - Published
Former Union minister Arun Shourie hospitalised
The 78-year-old former Union minister fainted late Sunday night following which he was rushed to the Ruby Hall Clinic here, he said. "All necessary tests have been performed and he is currently under..
IndiaTimes - Published
CBI must file FIR in Rafale case, say Prashant Bhushan and Arun Shourie
The CBI must register an FIR in the Rafale deal, lawyer Prashant Bhushan and former BJP leader Arun Shourie said on Friday, a day after the Supreme Court gave the government a clean chit in the..
IndiaTimes - Published
SC to pronounce verdict on pleas seeking Rafale judgment review on Thursday
On May 10, the apex court had reserved the decision on the pleas, including one filed by former Union ministers Yashwant Sinha, Arun Shourie and activist lawyer Prashant Bhushan, seeking a..
IndiaTimes - Published