Sudan
Country in East Africa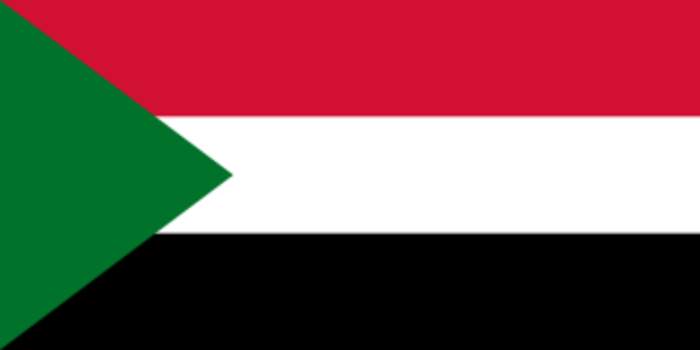 Sudan, officially the Republic of the Sudan, is a country in Northeast Africa. It borders the Central African Republic to the southwest, Chad to the west, Egypt to the north, Eritrea to the northeast, Ethiopia to the southeast, Libya to the northwest, South Sudan to the south, and the Red Sea. It has a population of 45.7 million people as of 2022 and occupies 1,886,068 square kilometres, making it Africa's third-largest country by area and the third-largest by area in the Arab League. It was the largest country by area in Africa and the Arab League until the secession of South Sudan in 2011; since then both titles have been held by Algeria. Its capital city is Khartoum, and its most populous city is Omdurman.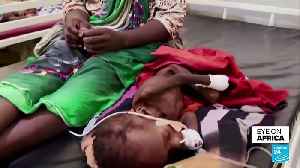 Hundreds of children dying of malnutrition in Sudan refugee camps, says UN


Credit: FRANCE 24 English Duration: 01:32
Published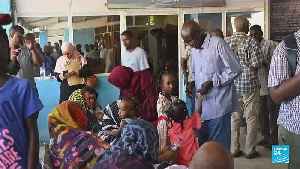 'Anywhere but Sudan': Families desperate to leave after months of fighting


Credit: FRANCE 24 English Duration: 01:44
Published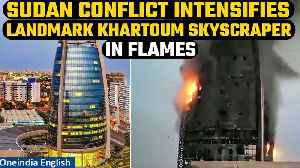 Sudan Conflict: Khartoum landmarks in flames as battle rages across the country | Oneindia News

Fighting between the rival forces and the Army in Sudan has raged into its sixth month. Flames gripped the Sudanese capital on Sunday and paramilitary forces attacked the army headquarters for the..
Credit: Oneindia Duration: 03:16
Published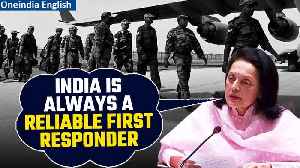 Ruchira Kamboj, India's Permanent Rep to UN, hails its disaster relief operations | Oneindia News

Permanent Representative of India to the United Nations Ruchira Kamboj on September 15 hailed India's disaster relief operations. She said, "In the international arena, India has consistently been a..
Credit: Oneindia Duration: 03:03
Published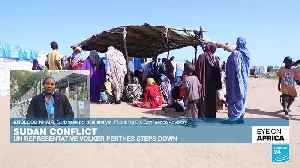 Sudan conflict: At least 40 killed in Darfur as UN representative Volker Perthes steps down


Credit: FRANCE 24 English Duration: 05:16
Published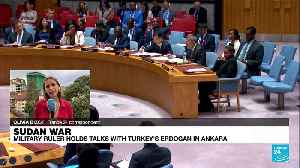 Sudan violence: UN envoy Perthes resigns, warns of escalating conflict as air strike in Darfur and tensions in Khartoum


Credit: FRANCE 24 English Duration: 02:35
Published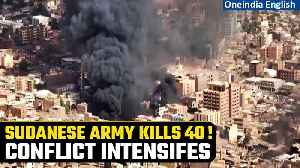 Sudan civil war: Sudanese army kills at least 40 in a drone attack on Khartoum | Oneindia News

At least 35 people have been killed after a crowded market in Sudan's capital was hit with explosive weapons. A medical charity named Médecins Sans Frontières (MSF) described it as 'carnage',..
Credit: Oneindia Duration: 02:13
Published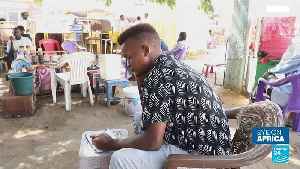 Handwritten letters a lifeline in Sudan's Darfur in times of war


Credit: FRANCE 24 English Duration: 01:51
Published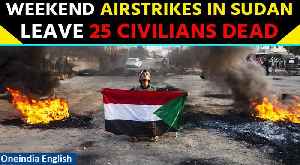 Sudan Airstrikes: Weekend bombardment, shelling leads to 25 civilian casualties | Oneindia News

Sudan's army has reportedly suspended its participation in talks over a ceasefire and humanitarian access...raising fears of renewed fighting that has displaced tens of thousands of people. The talks..
Credit: Oneindia Duration: 02:41
Published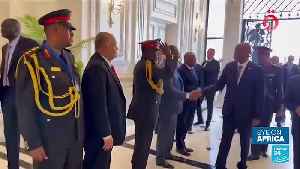 Sudan's military leader visits Egypt on his first trip since war


Credit: FRANCE 24 English Duration: 02:05
Published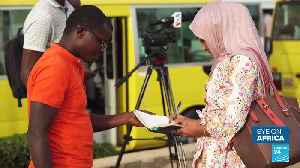 Sudanese medical students fleeing war to complete their studies in Rwanda


Credit: FRANCE 24 English Duration: 01:55
Published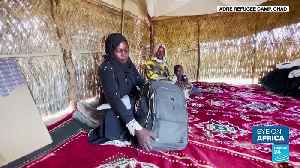 Schools shut, exams cancelled: War shatters Sudan's education sector


Credit: FRANCE 24 English Duration: 01:59
Published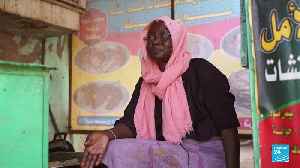 Sudanese start small businesses to survive war


Credit: FRANCE 24 English Duration: 01:42
Published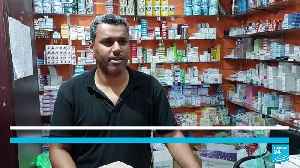 Sudan humanitarian crisis: NGO warns of risk of diseases as bodies litter streets


Credit: FRANCE 24 English Duration: 01:53
Published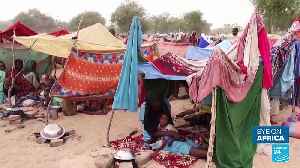 Starvation in Sudan: As the war rages on, food insecurity runs rampant


Credit: FRANCE 24 English Duration: 01:31
Published
You Might Like



In Sudan's escalating conflict people get used to seeing corpses in streets - as dogs 'fight over limbs'

Airstrikes have been pummelling Khartoum in the Sudanese army's aerial war against paramilitary forces who have terrorised and occupied residential areas for nearly five months.




Sky News - Published




Bodies of 87 people including women and children 'found in mass grave' in Sudan

A mass grave containing the bodies of 87 people has been found in the Sudanese region of West Darfur, the United Nations has said.




Sky News - Published




PM Modi thanks Saudi crown prince for Sudan airlift support




IndiaTimes - Published





PM Modi speaks with Saudi Crown Prince, thanks him for support during evacuation of Indians from Sudan

Prime Minister Narendra Modi on Thursday spoke with Saudi Arabia's Crown Prince Mohammed bin Salman bin Abdulaziz Al Saud and thanked him for his country's "excellent support" during evacuation of..




IndiaTimes - Published




Hundreds of trapped children saved from orphanage after 71 died

Around 300 children have been rescued from an orphanage in Sudan - after at least 71 died.




Sky News - Published




Sudan's warring factions agree to new ceasefire

Sudan's warring factions have agreed to a new seven-day ceasefire.




Sky News - Published




Scale of destruction in Sudan revealed by satellite images before and after conflict

Buildings burned to the ground, and a bombed-out school site - the extent of the destruction in Sudan's city of El Geneina can be seen in satellite images, analysed by Sky News.




Sky News - Published




UK will be left 'dangerously exposed' when it cuts fleet of special forces aircraft, sources warn

The UK will be left "dangerously exposed" when it cuts a fleet of special forces aircraft that played a key role in evacuating British nationals from Sudan and has transported vital ammunition for..




Sky News - Published





IAF airlifts 192 from strife-hit Sudan in 24-hour 'non-stop op'




IndiaTimes - Published





'Tired and confused' Sudan families left stranded after being evicted from hotels, charity says

Families evacuated from Sudan have been "left stranded" after being evicted from government allocated hotels, according to the charity Goodwill Caravan. 




Sky News - Published





17 IAF flights, five sorties of Navy ships rescue 3,862 Indians from Sudan




IndiaTimes - Published





India closes Operation Kaveri, 3,862 persons rescued from conflict-torn Sudan




IndiaTimes - Published





9th Day of Operation Kaveri: Total 3,584 Indians evacuated from Sudan




IndiaTimes - Published





Inside war-torn Sudan where people are trapped in prison of urban warfare

Smoky spectres climb up the Khartoum skyline. A pop goes off in the distance and there is a slow rumble of thunder before another pillar builds upwards.




Sky News - Published




Operation Kaveri: More success for India's rescue mission, 231 nationals come home from war-torn Sudan

Operation Kaveri seems to be advancing in its new phases, as a fresh batch of 231 Indians have been brought back home through a flight from war-torn Sudan.




DNA - Published





'Operation Kaveri': 12th flight with 231 Indian evacuees departs from Jeddah for Mumbai

India's 'Operation Kaveri' has successfully evacuated nearly 3,000 Indians who were stranded in Sudan due to clashes between the army and paramilitary forces. The 12th flight under the operation,..




IndiaTimes - Published





Sudan crisis: 231 Indians reach Ahmedabad from Jeddah




IndiaTimes - Published





UK evacuation mission from Sudan ends with more than 2,000 people brought to safety

The UK has evacuated 2,197 people to safety from war-torn Sudan, making it the longest and largest airlift by any of the Western nations during the crisis, the Foreign Office has said.




Sky News - Published




'Life-saving' food assistance resumes in Sudan - as additional flight put on for British nationals

The World Food Programme (WFP) will continue its operations in Sudan after they were suspended following the deaths of three of its team members in the conflict.




Sky News - Published




Operation Kaveri: 186 Indians take off from Jeddah in Kochi-bound flight, 3,000 leave Sudan so far

As Operation Kaveri is underway, the Kochi-bound ninth flight departed from Jeddah with 186 passengers. "9th outbound flight departs from Jeddah. 186 passengers onboard this flight are flying to..




IndiaTimes - Published





'I'm here baby, I'm here': Husband reunited with pregnant wife in UK after fleeing Sudan

Nagi held his wife Reem in a tight embrace for more than 40 seconds.




Sky News - Published




'It's terrible': Inside the new UK operations base in Sudan, civilians wait for their chance of escape

The Coral Hotel - an architectural replica of the British colonial Governor's House across the road in Port Sudan - is the new office for British consular support.




Sky News - Published




UK to end Sudan evacuation with final flight as death toll rises

The final UK evacuation flight will leave Sudan tonight, as the death toll rises in the war-torn country.




Sky News - Published




Last minute call for Britons hoping to escape Sudan as UK flights open up to foreign NHS doctors

British nationals seeking to flee Sudan have only until midday local time if they want to be evacuated from the war-torn country as NHS doctors without UK passports were told they can now catch final..




Sky News - Published




'We could hear gunfire' - the coach forced to flee Sudan

Florent Ibenge, in charge of the country's leading club, hopes to be reunited with his players soon.




BBC Sport - Published





British nationals in Sudan have 24 hours to catch an evacuation flight, says deputy PM

British nationals in Sudan have 24 hours to catch a flight before they are stopped, the deputy prime minister has said.




Sky News - Published




You have until midday to catch an evacuation flight out of Sudan, deputy PM tells British nationals

British nationals in Sudan have until midday to catch a flight before they are stopped, the deputy prime minister has said.




Sky News - Published




754 more Indians brought back from Sudan, total tally stands at 1,360




IndiaTimes - Published





Sudan conflict threatens supply of key fizzy drinks ingredient

The conflict in Sudan has left international consumer goods makers racing to shore up supplies of gum arabic - critical to the food, drinks and cosmetics industry.




Sky News - Published




Sudan ceasefire extended as remaining Britons told to head to airfield 'quickly'

A ceasefire in Sudan has been extended for three more days despite continuing reports of heavy fighting in the capital Khartoum and the western region of Darfur.




Sky News - Published




'Operation Kaveri': More stranded Indians leave Sudan for Jeddah

As per the ministry of external affairs, the eighth, ninth and tenth batches of stranded Indians have left Sudan for Jeddah. the eighth batch of 135 passengers, ninth batch of 326 and tenth batch with..




IndiaTimes - Published





India deploys third naval ship for Sudan op; 2,000 out of conflict zone

Describing the situation in Sudan as still very complex and volatile, the government on Thursday said 1,700 to 2,000 Indian citizens had so far been moved out of the conflict zone. The evacuees include..




IndiaTimes - Published





Sudan crisis: No Indian will be left behind, constantly monitoring situation, MEA says

Foreign secretary Vinay Mohan Kwatra on Thursday assured that no Indian will be left behind in conflict-hit Sudan. He, however, admitted that the situation on ground in Sudan remains highly volatile...




IndiaTimes - Published





Brics nations call for ceasefire in Sudan




IndiaTimes - Published





Rival factions agree to ceasefire extension in Sudan - as UK evacuates almost 900

Sudan's rival factions have agreed to extend a 72-hour ceasefire - just hours before the original truce was due to end.




Sky News - Published




UK 'cannot guarantee' number of Sudan evacuation flights after ceasefire ends

British nationals in Sudan have been warned the UK "cannot guarantee" how many more evacuation flights will leave Khartoum after the 72-hour ceasefire expires.




Sky News - Published