Gaurav Gogoi
Indian politician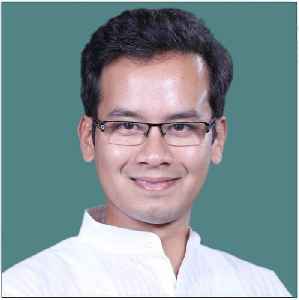 Gaurav Gogoi is an active Assamese politician of Indian National Congress in Assam state of India from Tai-Ahom community. He contested for the Indian general elections, 2019 from Kaliabor seat and won. Gaurav left his job at Airtel to join a Delhi-based NGO called Pravah in 2005.


Congress slams govt over handling of flood situation in Assam, Bihar
Gourav Gogoi of the Congress asked the Centre to declare floods in Assam a national disaster and said 15 persons have been killed and over 43 lakh displaced by the natural calamity.
DNA - Published
Also reported by •IndiaTimes
BJP-led government becoming dictatorship, killing federalism: Gaurav Gogoi
IndiaTimes - Published
Include children of forest personnel under scholarship scheme: Gaurav Gogoi
Congress MP Gaurav Gogoi in a letter to the prime minister said that forest personnel are also govt servants who often lose their lives in the line of duty. "They are the police guarding our nature who..
IndiaTimes - Published
Congress MP Gaurav Gogoi asks Amit Shah to ensure relief for ex-Army man declared foreigner
IndiaTimes - Published
Congress MP writes to Amit Shah seeking relief for war veteran
: Congress MP Gaurav Gogoi has urged Union home minister Amit Shah to ensure "justice" to Kargil war veteran Mohammad Sanaullah, who has been recently declared a 'foreigner' and sent to a detention..
IndiaTimes - Published
Kaliabor Lok Sabha election results 2019 Assam: Cong's Gaurav Gogoi bucks trend, races to huge lead
Who will win Kaliabor?
DNA - Published
Kaliabor Lok Sabha constituency: Candidates for 2019 LS poll, past results, all updates
Congress next-gen leader Gaurav Gogoi in fray.
DNA - Published
Lok Sabha polls: Congress releases third list of 18 candidates
All India Mahila Congress chief Sushmita Dev has been fielded from the Silchar Lok Sabha seat and Gaurav Gogoi from the Kaliabor seat in Assam.
DNA - Published
You Might Like