Gaza Strip
Self-governing Palestinian territory bordering Egypt and Israel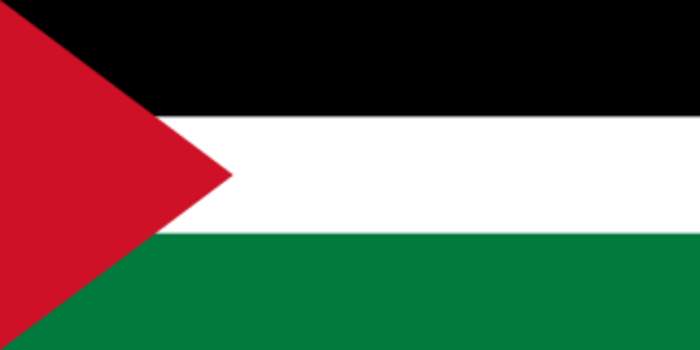 The Gaza Strip, or simply Gaza, is a self-governing Palestinian territory on the eastern coast of the Mediterranean Sea, that borders Egypt on the southwest for 11 kilometers (6.8 mi) and Israel on the east and north along a 51 km (32 mi) border. Gaza and the West Bank are claimed by the de jure sovereign State of Palestine.


Meet Gaza's first woman taxi driver

Naela Abu Jibba, a mother of five, is the first female taxi driver in the Islamist-run Palestinian territory.
Credit: Reuters Studio Duration: 00:53
Published
Lion cubs raised as pets on Gaza rooftop

Two lion cubs prowl among the water tanks and dine on slaughtered chickens on the roof of an apartment block in Khan Younis, Gaza.
Credit: Reuters Studio Duration: 00:48
Published
Israel says UAE visit "making history'

In a historic first visit by a Gulf Arab nation, a United Arab Emirates delegation arrived in Israel on Tuesday, accompanied by top U.S. officials, to cement a normalization deal signed last month...
Credit: Reuters - Politics Duration: 01:51
Published
UN refugee agency uses Gaza schools to distribute food

At the start of the pandemic, UNRWA was forced to suspend all food distribution due to COVID-19 safety restrictions.
Credit: Al Jazeera STUDIO Duration: 01:45
Published
You Might Like



Gaza horse riders compete again as coronavirus curbs eased

Wearing riding pants, logo-decorated shirts and helmets, Gaza horse-riders resumed local show-jumping competitions on Thursday as coronavirus restrictions were eased.




Reuters - Published





Faster than machines, jobless Palestinian graduates bring in Gaza's crops

Covering the ground five times faster than a tractor for subsistence wages, 40 Palestinian graduates have teamed to pick crops in Gaza, after failing to launch the careers they studied for in a..




Reuters - Published





People's joy at reopened mosques in Gaza 'a blessing' says imam

Mosques reopened for daily prayers and children returned to nursery schools on Wednesday in an easing of coronavirus restrictions in the Gaza Strip.




Reuters - Published





Mosques and nursery schools reopen in Gaza

Mosques reopened for daily prayers and children returned to nursery schools on Wednesday in an easing of coronavirus restrictions in the Gaza Strip.




Reuters - Published





Palestinians report first coronavirus death in Gaza

A woman has died in Gaza Strip after contracting coronavirus, the Palestinian enclave's first known fatality from the global pandemic, the health ministry said on Saturday.




Reuters - Published





Gaza girl, 13, teaches neighbourhood children during school closure

In a wooden shack in the Gaza Strip, a 13-year-old girl holds classes for neighbourhood children who have missed out on their studies since schools were closed in March due to the novel coronavirus..




Reuters - Published





ICRC donates vital medical equipment to Gaza in coronavirus crisis

The International Committee of the Red Cross (ICRC) on Thursday donated vital intensive care equipment to Gaza hospitals but said they remain underequipped for any wider outbreak of the new coronavirus..




Reuters - Published





Too poor to buy, too scared to meet: Palestinians face joyless Ramadan

The electric lanterns and ornate decorations of Ramadan would normally be hanging in the streets of Gaza, the West Bank and east Jerusalem by now, but not this year amid coronavirus restrictions and..




Reuters - Published





Palestinian jailed in Gaza for breaking coronavirus quarantine

A Gaza court has sentenced a Palestinian man to six months in jail for escaping from a coronavirus quarantine facility on the Egyptian border, the Interior Ministry said on Thursday.




Reuters - Published





Gaza resumes coronavirus testing amid shortages

Coronavirus testing has resumed in the Gaza Strip after Israel allowed five testing kits purchased by the World Health Organization (WHO) into the enclave, a Gaza health ministry spokesman said on..




Reuters - Published





Hamas arrests Palestinians in Gaza for Zoom video chat with Israelis

Hamas arrested a Palestinian in Gaza on Thursday, saying that he had taken part in a video conference with Israelis and describing his act as "treason."




Reuters - Published





Lockdown in West Bank, crowds in Gaza: Palestinians divided over coronavirus

Political and physical divisions between Palestinians in the West Bank and Gaza have induced two very different responses to the coronavirus pandemic, with a strict lockdown in the first and crowds..




Reuters - Published





Israel seeks immediate resumption of talks on citizens held in Gaza

Israel called on Tuesday for the immediate resumption of talks on the return of four Israelis held for years in the Gaza Strip after the Palestinian territory's Hamas rulers said they might be willing..




Reuters - Published





Israel links coronavirus aid for Gaza to recovering soldiers

Israel on Wednesday linked any assistance it might offer for the Gaza Strip's efforts against coronavirus to progress in its attempt to recover two Israeli soldiers lost during the 2014 war in the..




Reuters - Published





Gaza medics switching focus from border protests to coronavirus

Scarcely two years ago Gaza's border with Israel was a deadly front line, with black smoke swirling around thousands of Palestinian protesters as they faced off against Israeli troops firing live..




Reuters - Published





Qatar announces $150 million aid to Gaza to support U.N. programs, efforts to contain coronavirus

Qatar announced $150 million in aid to the Gaza Strip over a period of six months, to support United Nations humanitarian programs in the Palestinian territory and efforts to contain the new..




Reuters - Published





First coronavirus cases confirmed in the Palestinian Gaza Strip

The first two cases of coronavirus have been confirmed in the densely-populated Gaza Strip, Palestinian health officials said on Sunday.




Reuters - Published




Blockaded Gaza looks wryly on as world isolates itself

A sly dig at the international community, this is just one among a torrent of social media posts that has emerged from the blockaded Gaza Strip in the wake of the coronavirus pandemic.




Reuters - Published





Ten killed in Gaza after bakery fire sweeps through packed market

At least 10 people, including six children, were killed on Thursday when a bakery fire swept through a crowded market in a refugee camp in the Gaza Strip, health officials said.




Reuters - Published




Israel-Gaza ceasefire takes hold after two-day flare-up

A ceasefire brokered by Egypt and the United Nations took hold on the Israel-Gaza border on Tuesday after two days of fighting between Israel and the Palestinian Islamic Jihad group.




Reuters - Published





Gaza-Israel hostilities flare through second day with rocket attacks, air strikes

Gaza militants on Monday fired rockets toward Israel, which responded with air strikes, in the second day of an escalation that ebbed but did not come to an end despite the Palestinian militant group..




Reuters - Published





Islamic Jihad says it has ended rocket fire after two days of Gaza-Israel hostilities

The Palestinian militant group Islamic Jihad said on Monday it had ended its "military response" to Israel after two days of firing rockets from Gaza at its neighbour, which responded in turn with air..




Reuters - Published





Israeli jets strike Islamic Jihad targets in Syria and Gaza: Israeli military

Israeli fighter jets launched air strikes on suspected Islamic Jihad positions in Syria, the Israeli military said on Monday, after the militant group and Israel exchanged rockets and air strikes..




Reuters - Published




Israeli fire kills Palestinian trying to plant bomb at Gaza border: Israeli military

Israeli forces killed a Palestinian trying to plant explosives near Israel's border security fence with the Gaza Strip on Sunday, the Israeli military said.




Reuters - Published





Gaza farmers return to their lands along volatile Israeli border

Returning to his fields for the first time in 14 years, Palestinian farmer Naser Abu Isaeed surveyed the toll taken by conflict on formerly productive soil.




Reuters - Published





Gazan bridegrooms end up in jail over unpaid debts

Bridegrooms in the Gaza Strip are finding marriage a path to debtors' prison rather than to happiness.




Reuters - Published





Dutch court not competent to hear war crimes case against Israel's Gantz

A Dutch district court on Wednesday ruled that it does not have jurisdiction to hear a case against former Israeli Armed Forces chief Benny Gantz brought by a Dutch Palestinian who lost six relatives..




Reuters - Published





'Slap of the century': Palestinians reject Trump Mideast plan

Palestinian President Mahmoud Abbas called U.S. President Donald Trump's Middle East peace plan the "slap of the century" on Tuesday as thousands of Palestinians held protests in Gaza and the West..




Reuters - Published





Hamas says it will confront Trump's 'aggressive' Middle East plan

Palestinian condemnation of the U.S. Middle East peace plan came swiftly on Tuesday night, with thousands protesting in Gaza and the militant Islamist group Hamas saying it would confront President..




Reuters - Published





Israeli troops kill three Palestinians in Gaza border attack

Israeli troops on Tuesday shot and killed three Palestinians who threw an explosive towards them after attempting to cross the border from neighboring Gaza, Israel's military said.




Reuters - Published





Three Gazans shot dead after throwing explosive towards Israeli troops: military

Israeli troops on Tuesday shot and killed three Palestinians who threw an explosive towards them after attempting to cross the border from neighboring Gaza, Israel's military said.




Reuters - Published





Israel carries out Gaza air strikes after Palestinian rocket fire

Four rockets were fired at Israel from the Gaza Strip on Wednesday, the Israeli military said, and it responded with air strikes against facilities belonging to the enclave's ruling Hamas militant..




Reuters - Published





Four Gaza rockets fired at Israel, military says, no casualties or damage reported

Four rockets were fired at Israel from the Gaza Strip on Wednesday, the Israeli military said, and there were no reports of casualties or damage.




Reuters - Published





Palestinians in Gaza mourn Iran's Soleimani

Hundreds of Palestinians in the Gaza Strip on Saturday mourned the death of Iranian Revolutionary Guards commander Qassem Soleimani, killed by a U.S. air strike in Iraq.




Reuters - Published





Muslim women spread Christmas cheer in Gaza

Muslim women in the Palestinian Gaza Strip have been hand-crafting gifts for the approaching Orthodox Christmas as part of a project to empower a traditional community.




Reuters - Published





Palestinians to scale back protests on Israel-Gaza border

Palestinians in Gaza will scale back protests along the fortified border with Israel, factions in the strip said on Thursday, in a sign of a lasting detente between Israel and Gaza's Islamist rulers..




Reuters - Published





Gaza rocket sends Netanyahu to shelter during campaign rally: TV

A rocket launched from the Gaza Strip at a southern Israeli city on Wednesday as it hosted a campaign rally by Prime Minister Benjamin Netanyahu prompted him to take shelter briefly before resuming the..




Reuters - Published





Gaza rocket fired at Israeli city during Netanyahu visit: TV

A rocket was launched from the Gaza Strip at a southern Israeli city on Wednesday as it hosted a campaign visit by Prime Minister Benjamin Netanyahu, prompting him to briefly take shelter, Israeli TV..




Reuters - Published





Gaza Christians say few Israeli permits granted for Christmas travel

Fewer than half of Christians from Gaza who sought Israeli permits to visit holy cities such as Bethlehem and Jerusalem at Christmas have so far had their applications granted, members of the small..




Reuters - Published





Israel reverses ban, Gaza Christians can visit Christmas sites

Christians in the Gaza Strip will be allowed to visit holy cities such as Bethlehem and Jerusalem at Christmas, Israel authorities said on Sunday, reversing a decision not to issue them permits.




Reuters - Published





Qatar says its Gaza aid to continue through March 2020 at least

Qatar will continue providing humanitarian aid for the Gaza Strip into next year, the gas-rich Gulf state's envoy to the Palestinian enclave said on Wednesday, a pledge that may help stave off conflict..




Reuters - Published





Israel bars Gaza's Christians from visiting Bethlehem and Jerusalem at Christmas

Christians in the Gaza Strip will not be allowed to visit holy cities such as Bethlehem and Jerusalem to celebrate Christmas this year, Israeli authorities said on Thursday.




Reuters - Published





After 20 years, Palestinian mother and son reunited in Egypt

Palestinian journalist Amjad Yaghi was just nine years old when his mother left the Gaza Strip on what should have been a short trip to Egypt for medical treatment.




Reuters - Published





Tourism in Israel? U.S. charity's offer with Gaza hospital project irks Palestinians

A U.S. charity building a tent hospital in the Gaza Strip is causing Palestinian unease by offering foreign medical volunteers the opportunity of weekend tourism in Israel, just across the volatile..




Reuters - Published





Israeli troops kill Palestinian teen at Gaza protest, Palestinians say

Israeli soldiers shot and killed a Palestinian teenager near the border fence with the Gaza Strip on Friday, Palestinian officials said.




Reuters - Published




U.S. embassy in Jerusalem issues travel warning after Pompeo's settlement announcement

The U.S. embassy in Jerusalem on Monday warned Americans about traveling in Jerusalem, the West Bank and Gaza, soon after Secretary of State Mike Pompeo announced the United States was softening its..




Reuters - Published





Palestinian rockets, Israeli airstrikes jolt tenuous Gaza truce

Palestinian militants fired two rockets deep into southern Israel from Gaza on Saturday, and the Israeli military responded with a number of air strikes on militant targets, shaking an already tenuous..




Reuters - Published





Renewed rocket fire into Israel jolts tenuous Gaza truce

Israeli missile defenses on Saturday intercepted two Palestinian rockets that were fired deep into southern Israel overnight on Saturday from the Gaza Strip, Israel's military said.




Reuters - Published





Israel says it is probing 'harm to civilians' from deadly Gaza air strike

Israel's military said on Friday it was investigating "harm caused to civilians" from an air strike it carried out in Gaza that Palestinian medics said killed eight members of one family including five..




Reuters - Published





Tenuous truce in Gaza as Islamic Jihad, Israel differ on terms

Palestinian militant group Islamic Jihad and Israel declared a halt to hostilities across the Gaza Strip border on Thursday but a lasting ceasefire appeared tenuous as they differed on terms.




Reuters - Published