Vinayak Damodar Savarkar
Indian pro-independence activist,lawyer, politician, poet, writer and playwright.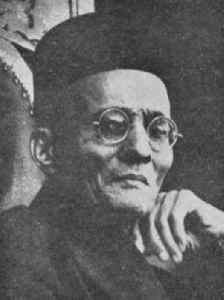 Vinayak Damodar Savarkar, popularly known as Veer Savarkar, was an Indian independence activist, politician, lawyer, writer, and the formulator of the Hindutva philosophy.


Court orders inquiry into Savarkar's grandson's complaint against Rahul, Sonia
IndiaTimes - Published
Mumbai court orders police to probe Rahul Gandhi for tweets on Savarkar
Savarkar's kin Ranjit Savarkar had filed a complaint against former Congress president for his alleged remarks against Savarkar in 2016.
DNA - Published
'Vinayak Damodar Savarkar's name was a byword for patriotism'
These were the words, not of any BJP or RSS leader, but of former Prime Minister Indira Gandhi spoken on Vinayak Damodar Savarkar's death on February 26, 1966.
DNA - Published
Those who don't believe in Sarvarkar should be beaten in public: Uddhav Thackeray
Shiv Sena President Uddhav Thackeray on Friday said that people who do not believe in the ideology of Veer Savarkar should be "beaten" in public.
DNA - Published
Publicly thrash those insulting Veer Savarkar, says Uddhav Thackeray
IndiaTimes - Published
DNA SPECIAL: Ghodbunder Fort & home to Savarkar made eternal
Maha clears proposal to allow conservation of these two sites
DNA - Published
Lata chides Savarkar's detractors
Lata Mangeshkar on Tuesday paid glowing tributes to Veer Vinayak Damodar Savarkar to commemorate his 136th birth anniversary.The melody queen and her family have been staunch followers of Savarkar.
IndiaTimes - Published
Hindu Mahasabha distributes knives to minor children on Savarkar's birth anniversary
The Akhil Bharat Hindu Mahasabha distributed knives to students to commemorate the birth anniversary of Damodar Savarkar. Savarkar's dream was "Rajniti ka hindukaran and Hinduo ka Sanikikaran"...
IndiaTimes - Published
Veer Savarkar: Facts about Indian freedom fighter, Hindutva ideologue
Savarkar became the member of the Hindu Mahasabha (Hindu Grand Assembly) and advocated the term Hindutva (Hinduness).
DNA - Published
Watch: Chhattisgarh CM Bhupesh Baghel makes controversial claim about Veer Savarkar
Speaking to reporters, Baghel said, "Savarkar had put forward the proposal of dividing the country into two parts on religious grounds and Jinnah had implemented it. This is a historical fact and no..
DNA - Published
Fresh feud over 'son of Portugal' Savarkar
Former Rajasthan education minister Vasudev Devnani on Monday flayed the state Congress government for affixing "son of Portugal" to RSS ideologue Vinayak Damodar's description in class 10 social..
IndiaTimes - Published
Chhattisgarh chief minister blames freedom fighter Savarkar for partition
IndiaTimes - Published
Savarkar no longer 'Veer' in Rajasthan textbook
IndiaTimes - Published
You Might Like