Olympic Games
Major international sport event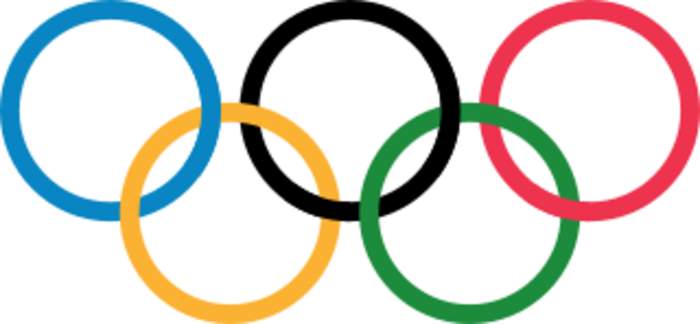 The modern Olympic Games or Olympics are leading international sporting events featuring summer and winter sports competitions in which thousands of athletes from around the world participate in a variety of competitions. The Olympic Games are considered the world's foremost sports competition with more than 200 nations participating. The Olympic Games are normally held every four years, alternating between the Summer and Winter Olympics every two years in the four-year period.


Japan eyes use of robots to boost COVID testing

Japan could be turning to the help of robots to help ramp up its COVID-19 testing capabilities, with less than 200 days to go until the Olympic Games are due to start in Tokyo. Adam Reed reports.
Credit: Reuters Studio Duration: 01:32
Published
Olympic hurdles champion McNeal suspended for violating anti-doping rules

American Olympic 100 metres hurdles gold medallist Brianna McNeal charged and provisionally suspended for violating World Athletics' Anti-Doping rules.
Credit: Reuters - Sports Duration: 00:35
Published
Olympic gold medalist charged for alleged role in Capitol riots

Klete Keller, an Olympic swimmer who won five medals, has been charged for his alleged participation in the riot at the US Capitol, according to the FBI.
Credit: Bleacher Report AOL Duration: 01:04
Published
Team GB Olympic chief 'hugely confident' Tokyo games will go ahead

Chef de Mission Mark England says nothing he is hearing suggests Olympics will be cancelled or postponed again
Credit: Reuters - Sports Duration: 02:02
Published
Suntory CEO not certain Japan can hold Olympics

The head of Japanese beverage group Suntory Holdings, who is also a government adviser, said he was uncertain whether Japan can host the Olympics due to the coronavirus pandemic, and that the decision..
Credit: Reuters Studio Duration: 01:01
Published
Meet child prodigy from Gaya who amazes everyone with yoga, skating skills

8-year-old boy from has Gaya left everyone amazed with his stunts. Rudra Pratap Singh got mastery in yoga and skating in mere age of 8. He left viewers speechless with his advance yoga skills due to..
Credit: ANI Duration: 02:43
Published
Vaccines hold the key for Olympics to go ahead

Japan Prime Minister Yoshihide Suga believes vaccines hold the key for a safe Olympic Games this summer, but Tokyo locals are wary about the event going ahead at all. Adam Reed reports.
Credit: Reuters Studio Duration: 01:34
Published
"It's impossible" - Japanese concerned over prospects of hosting Games

Tokyo residents say they're worried about hosting the Olympics with the Japanese capital in a state of emergency due to COVID-19 less than 200 days before the Games begin.
Credit: Reuters - Sports Duration: 02:59
Published
'Aim to represent India in Olympics': 13-year-old Amairah Chadha

Amairah Chadha, the 13-year-old Equestrian, recently won two bronze medals at the Junior National Equestrian Championship held in Delhi in December 2020. Chadha speaks to Hindustan Times about her..
Credit: HT Digital Content Duration: 07:53
Published
Wrestler Sushil Kumar files FIR against SGFI secretary general

Two-time Olympic medalist Sushil Kumar on December 26 claimed that the secretary-general of the School Games Federation of India (SGFI) has allegedly forged his signature. Sushil, who is also the..
Credit: ANI Duration: 01:42
Published
New training device helps Olympic swimmers shoot for gold

David McCagg started his own company to develop new tools to help athletes get the most out of their training sessions.
Credit: ABC Action News Duration: 01:50
Published
Cody Simpson wins the chance to compete for Olympics swimming spot

Cody Simpson is on his way to becoming an Olympic swimmer. The Pretty Brown Eyes singer has secured a spot at next year's Australian Olympic trials and he announced the big news on Instagram on Sunday,..
Credit: Cover Video STUDIO Duration: 01:01
Published
Local physical therapist keeps moving forward during pandemic | The Rebound Tampa Bay

From Wimbledon, to the U.S. Open, to the Olympics, Lisa Chase has been changing lives on the tennis court, and she is now using that experience to help Tampa Bay locals.
Credit: ABC Action News Duration: 02:01
Published
Parkour community 'happy' sport not to be included in Olympics

In a bid to attract a younger audience, the International Olympic Committee is bringing several new sports into the fold, but parkour is not one of them.
Credit: euronews (in English) Duration: 02:17
Published
Breakdancing is coming to the Olympics

Breakdancing is officially an Olympic sport now, clearing its final hurdle this week to feature at the Paris Games of 2024. Lucy Fielder reports.
Credit: Reuters Studio Duration: 01:44
Published
Breakdancing gets Olympic green light for Paris 2024


Credit: FRANCE 24 English Duration: 01:38
Published
Breakdancing gets Olympic status to debut at Paris in 2024

Breakdancing will be called breaking at the Olympics, as it was in the 1970s by hip-hop pioneers in the United States.
Credit: Euronews English Duration: 00:59
Published
You Might Like



Tokyo 2020 uncertainty 'exhausting', says Olympic sailing champion Hannah Mills

Olympic sailing champion Hannah Mills says the disruption and uncertainty caused by Covid-19 is "mentally draining" as she prepares for the delayed Tokyo 2020.




BBC Sport - Published





Allyson Felix and Shelly-Ann Fraser-Pryce on motherhood, sexism and postponed Olympic Games

Olympic champions Allyson Felix and Shelly-Ann Fraser-Pryce discuss balancing motherhood and training, gender disparities in athletics and the postponement of the Tokyo Games.




BBC Sport - Published





Nile Wilson: Olympic Games medallist retires from gymnastics at the age of 24

Nile Wilson, who became the first British gymnast to win an Olympic medal on the horizontal bar, announces his retirement from the sport.




BBC Sport - Published





Brianna McNeal: Olympic 100m hurdles champion provisionally suspended

Olympic 100m hurdles champion Brianna McNeal is provisionally suspended from athletics after being charged with breaching anti-doping rules.




BBC Sport - Published





America's Cup: Sir Ben Ainslie's bid to qualify for match explained

Four-time Olympic champion Ben Ainslie says his Ineos Team UK is "up for the fight" to become the first British winners of the America's Cup. BBC Sport explains what they must do.




BBC Sport - Published





Tokyo 2020: Organisers say Games will go ahead despite Covid-19 surge

Tokyo 2020 organisers say they will be ready to host the Olympic Games - despite the city declaring a state of emergency over Covid-19.




BBC Sport - Published





Olympics official says prioritise athletes for COVID jab so Games can go ahead

Olympic athletes should be given priority access to coronavirus vaccines to save the Tokyo Games from cancellation, according to a prominent International Olympic Committee (IOC) member. 




Sky News - Published




Parliamentary panel seeks vaccine priority for Olympics team




IndiaTimes - Published





Breakdancing Becomes Olympic Sport, Spinning Into 2024 Games

Here's some actual "Breaking" news .... breakdancing is now an Olympic sport. Well, it will be at the 2024 Games in Paris! The International Olympic Committee says the Olympic competition will feature..




TMZ.com - Published





Vijender Singh says will return Khel Ratna if farmers' demands not accepted

India's first Olympic medallist in boxing and Congress leader Vijender Singh on Sunday threatened to return his Rajiv Gandhi Khel Ratna award if the demands of farmers protesting against new..




IndiaTimes - Published





Rafer Johnson Dead at 86, Olympic Legend and American Hero

Rafer Johnson -- a decorated Olympian and American hero -- has died, TMZ Sports has confirmed. He was 86. Johnson passed away Wednesday morning at his home in Sherman Oaks, Ca surrounded by his family...




TMZ.com - Published





Guess Who This Blonde Beauty Turned Into!

Before this smiley sweetie was feeling the weight of multiple Olympic medals around her neck, she was just another blondie with bangs growing up in Des Moines, Iowa. Making her Summer Olympic Games..




TMZ.com - Published





Swimming: Virdhawal Khade ponders retirement over training uncertainty

The long wait to resume training during the COVID-19 pandemic has prompted top Indian swimmer Virdhawal Khade to consider retirement while other Olympic hopefuls have grown "restless", the country's..




Reuters India - Published





Indian Olympic great Balbir Singh dies aged 95

India's three-times Olympic gold medallist Balbir Singh has died at the age of 95 after a prolonged pulmonary illness.




Reuters India - Published





Rickshaws, kimonos, but no tourists - Tokyo's Asakusa hit by coronavirus, Olympics delay

Japanese and foreign tourists flock in their hundreds of thousands every spring to this old district of Tokyo to see the cherry trees in full bloom and the bright red gate to the Sensō-ji temple, and..




Reuters - Published





Olympics postponement deals another blow to Japan's economy

Postponing the Olympics is a heavy blow that is almost certain to push Japan's persistently weak economy, the world's third-largest, into recession.




Reuters - Published





Japan's Abe faces struggle on coronavirus, economy, as Olympics delayed

Postponing the Olympics due to the coronavirus pandemic has turned a hoped-for year of triumphant celebration for Japanese Prime Minister Shinzo Abe into a struggle to stem the outbreak and save the..




Reuters - Published





U.S. could become 'coronavirus epicenter', UK locks down, Olympics in doubt

The United States could become the global epicenter of the coronavirus outbreak, the World Health Organization said on Tuesday, as Britain went into lockdown and Olympic organizers considered..




Reuters - Published





Coronavirus concerns overshadow Olympic flame arrival in Japan

An Olympic cauldron was ignited in Japan on Friday with a flame carried from Greece, with officials again pledging the Tokyo 2020 Games will proceed despite mounting pressure to halt the world's..




Reuters - Published





Japan coronavirus panel discourages large gatherings, but mum on Olympics

An expert panel guiding Japan's coronavirus response recommended on Thursday that schools in some regions could be re-opened but that large gatherings and enclosed areas that could reignite the..




Reuters - Published





Forty-year cycle: Top Japan minister calls 2020 the 'cursed Olympics'

First, the cancellation in 1940. Then, the mass boycott in Moscow in 1980.




Reuters - Published





Exclusive: Japan's economic policymakers now factoring in Olympics cancelation, sources say

Even as Japan has stressed that the Olympics will proceed as planned, government and central bank officials are more seriously weighing the risk of cancelation when making projections for this year's..




Reuters - Published





Japan says Olympics on track as Abe and Trump talk on coronavirus

Japan on Friday said it was determined to hold a "safe and secure" Tokyo Olympics on schedule, after U.S. President Donald Trump suggested a one year delay because of the coronavirus pandemic.




Reuters - Published





Japan to quarantine visitors from China, South Korea; insists Olympics on track

Japanese Prime Minister Shinzo Abe ordered a two-week quarantine for visitors from China and South Korea on Thursday and delayed a visit by Chinese President Xi Jinping originally planned for April in..




Reuters - Published





Japan committed to hosting Olympics on schedule but Xi visit delayed

Japan's Olympics minister signaled on Thursday the Summer Games would go ahead as planned from July even as the coronavirus outbreak spread to new parts of the country.




Reuters - Published





Japanese coronavirus cases top 1,000, government insists Olympics plans on track

The number of confirmed coronavirus infections in Japan topped the 1,000 mark on Wednesday, mostly from the Diamond Princess cruise liner, as the government reiterated that plans to host the Tokyo..




Reuters - Published





Japan PM Abe seeks citizens' help in coronavirus fight as Olympics to go ahead

Japanese Prime Minister Shinzo Abe on Saturday called on the public to cooperate in a "tough battle" to contain the coronavirus outbreak in coming weeks as the country prepares to hold the Olympic..




Reuters - Published




PM Abe vows Japan's utmost efforts to coronavirus; Xi visit, Olympics on track

Japanese Prime Minister Shinzo Abe on Saturday promised his government's utmost efforts to curb the spread of the new coronavirus, while acknowledging the authorities alone could not tackle the threat.




Reuters - Published





Qualify first, worry later: Marathoners say no time to fear Olympic cancellation

Aspring Olympians at the U.S. marathon trials said on Thursday that they were concerned first with securing one of the coveted few tickets to Tokyo 2020 - and less, at least for now, about whether..




Reuters - Published





Tokyo postpones training for Olympics volunteers over virus fears

Organizers for the Tokyo 2020 Summer Olympics have postponed training for volunteers because of the spread of the coronavirus in Japan.




Reuters - Published





Trump considering travel to Tokyo for Summer Olympics

U.S. President Donald Trump said on Tuesday he is considering a visit to Japan this summer for the Olympic Games in Tokyo, a trip that would take him off the campaign trail as he seeks re-election.




Reuters - Published





Tokyo commuters bound for Olympic crowd crush as Japan Inc rules out work from home

When Emi Tanimura failed to find a daycare slot for her new-born daughter, she had to take a radical step for Japan to avoid a long time away from her job at communications firm Sunny Side Up . She..




Reuters - Published





With biryani and rice balls, Malaysia aims for halal Olympic gold

A small factory in Malaysia's capital is preparing thousands of ready-to-eat halal meals, from fried rice to chicken biryani, to be shipped off to Japan for 2020's biggest sporting event.




Reuters - Published





South Sudan Olympic athlete says he plans to take home message of peace

Abraham Majok, a South Sudanese 1,500m runner training in Japan for the Tokyo Olympics, aims to bring back two things to his war-torn country after the Games: an Olympic medal and a message on the..




Reuters - Published





Coronavirus forces postponement of badminton Olympic qualifier

The coronavirus epidemic continued to wreak havoc on the international sporting calendar on Saturday when the Lingshui China Masters badminton tournament, part of the qualifying process for the Tokyo..




Reuters - Published





Badminton star and Olympic medallist Saina Nehwal joins BJP

Nehwal joined the party in presence of Party's National General Secretary Arun Singh.




DNA - Published




Soccer: Olympic qualifiers shifted out of Wuhan following virus fears

Next month's women's Olympic football qualifiers in Wuhan have been shifted to Nanjing, the Asian Football Confederation said on Wednesday, following an outbreak of the new coronavirus in the central..




Reuters - Published





Soccer: Australia's Olympic team says preparing for Wuhan amid virus fears

The Australian women's soccer team are still preparing for a trip to Wuhan for Olympic qualifiers early next month despite concerns about an outbreak of the new coronavirus in the Chinese city, head..




Reuters - Published




Fukushima says radiation poses no threat to Olympic torch relay

Fukushima prefecture, home to the wrecked Fukushima Daiichi nuclear power plant, on Tuesday reassured participants and spectators at the Olympic torch relay this year that they would not need to worry..




Reuters - Published





In an Olympic year, Japan faces decision over contaminated Fukushima water

At the wrecked Fukushima nuclear plant north of Tokyo, workers in protective suits are still removing radioactive material from reactors that melted down after an earthquake and tsunami knocked out its..




Reuters - Published





Iran's only female Olympic medalist moving to Germany: coach

Iran's only female Olympic medalist Kimia Alizadeh, who has said she had left her homeland because she had had enough of being used as a propaganda tool, is moving to Germany, her Dutch coach said.




Reuters - Published




Iran's only female Olympic medalist says she has defected

Iran's only female Olympic medalist has said on social media she had left her homeland because she had had enough of being used by its authorities as a propaganda tool.




Reuters - Published





Putin says Moscow could appeal Russia sports ban

Russian President Vladimir Putin said on Monday Moscow had grounds to appeal a decision by the World Anti-Doping Agency (WADA) to bar Russia from major sporting events, a move he said violated the..




Reuters - Published





Russia banned from next Olympics and World Cup soccer

Russia was banned from the world's top sporting events for four years on Monday, including the next summer and winter Olympics and the 2022 soccer World Cup, for tampering with doping tests.




Reuters - Published





Factbox: Impact of Russia ban on Olympics medal hopefuls

Russia was banned from the world's top sporting events for four years on Monday, including the next summer and winter Olympics and the 2022 soccer World Cup, for tampering with doping tests.




Reuters - Published





Russia banned from Olympics, soccer World Cup for doctoring dope tests

Russia was banned from the world's top sporting events for four years on Monday, including the next summer and winter Olympics and the 2022 soccer World Cup, for tampering with doping tests.




Reuters - Published




Russia banned from Olympic Games for altering doping data

Russia was banned from the Olympics and other major world championships on Monday after sporting officials decided to punish it for tampering with doping-related laboratory data in another blow to..




Reuters - Published