Ludhiana
Metropolis in Punjab, India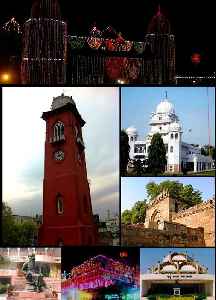 Ludhiana is a city and a municipal corporation in Ludhiana district in the Indian state of Punjab. Ludhiana is Punjab's largest city and India's largest city north of Delhi, with an area of 310 sq. km and an estimated population of 1,618,879 as of the 2011 census. The city stands on the Sutlej River's old bank, 13 kilometres (8.1 mi) south of its present course. It is an industrial center of northern India; the UK's BBC has called it India's Manchester. Ludhiana was among the list of smart cities that will be developed by government of India. According to World Bank Group Ludhiana is the best city in India to do business.


Excavation in Ludhiana temple yields five shivalingas, ancient coins
The locals dug the land of the temple to install the new Shivalinga.
DNA - Published
When are you quitting politics? Posters taking a dig at Navjot Singh Sidhu seen in Ludhiana
Posters asking for Congress leader Navjot Singh Sidhu to keep his promise of quitting politics have appeared in Ludhiana. Sidhu, at the time of campaigning for Lok Sabha elections, had promised that he..
IndiaTimes - Published
Fire breaks out in garment factory in Ludhiana
A major fire broke out in a garment factory near Shivpuri Chowk in Ludhiana
DNA - Published
Punjab Lok Sabha Elections Results: Congress' Preneet Kaur wins in Patiala, Ravneet Bittu retains Ludhiana seat
Punjab chief minister Amarinder Singh's wife and Congress candidate Preneet Kaur won from Patiala while party nominee Ravneet Singh Bittu retained the Ludhiana seat.
IndiaTimes - Published
Ludhiana Lok Sabha Constituency: Candidates for 2019 LS poll, past results, all updates
The key contest in Ludhiana is going to be among Mahesh Inder Grewal of the SAD, Ravneet Singh Bittu of the Congress and Tejpal Singh of the AAP in the forthcoming election.
DNA - Published
Watch: Rahul Gandhi drives tractor in Ludhiana
Rahul Gandhi's day out in Ludhiana.
DNA - Published
Without 'made in Ludhiana', India cannot challenge 'made in China': Rahul Gandhi
Congress president Rahul Gandhi hit out at PM Narendra Modi for 'destroying the strength of Indian economy' and said without 'made in Ludhiana', India cannot challenge 'made in China'. "Modi has..
IndiaTimes - Published
To woo Jats, Veeru joins Basanti's campaign
Dharmendra, born as Dharam Singh Deol in Ludhiana in 1935, spent his early life in the district's Sahnewal village where his father was the headmaster of the village school. He addressed three public..
IndiaTimes - Published
You Might Like