Bahrain
Country on the Persian Gulf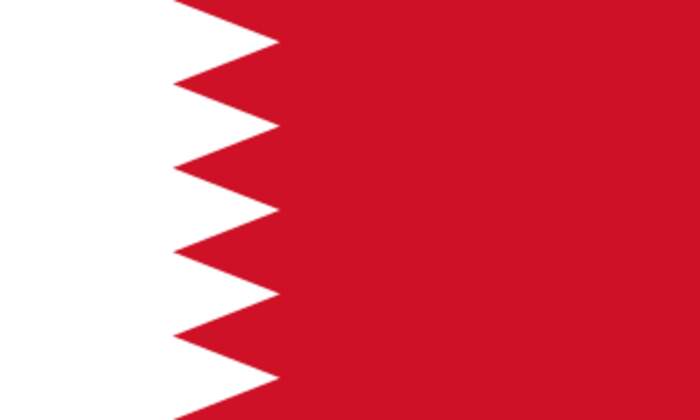 Bahrain, officially the Kingdom of Bahrain, is a country in the Persian Gulf. The island nation comprises a small archipelago made up of 51 natural islands and an additional 33 artificial islands, centered around Bahrain Island which makes up around 83 percent of the country's landmass. The country is situated between the Qatari peninsula and the north eastern coast of Saudi Arabia to which it is connected by the 25-kilometre (16 mi) King Fahd Causeway. According to the 2020 census, Bahrain's population numbers 1,501,635 people, of which 712,362 are Bahraini nationals. At 780 square kilometres (300 sq mi) in size, it is the third-smallest nation in Asia after the Maldives and Singapore. The capital and largest city is Manama.


EAM Jaishankar, Bahraini counterpart hold 3rd High Joint Commission meeting

External Affairs Minister S Jaishankar met his Bahraini counterpart in New Delhi on Wednesday. The two leaders met at Hyderabad house in the capital. Bahraini foreign minister Abdullatif Bin Rashid Al..
Credit: HT Digital Content Duration: 01:06
Published
EAM holds meeting with his Bahrain counterpart

External Affairs Minister S. Jaishankar on April 07 met Foreign Affairs Minister of Bahrain Dr Abdullatif bin Rashid Al Zayani at Hyderabad House in the national capital. Ministers held delegation..
Credit: ANI Duration: 01:20
Published
VP Naidu meets Bahrain Foreign Affairs Minister in Delhi

Vice President M Venkaiah Naidu met Bahrainian Foreign Affairs Minister of Bahrain, Dr Abdullatif bin Rashid Al Zayani at Upa Rashtrapati Niwas in Delhi on April 07. The Foreign Affairs Minister of..
Credit: ANI Duration: 01:08
Published
You Might Like



Lewis Hamilton wins in Bahrain after Max Verstappen forced to give up lead

Mercedes driver Lewis Hamilton holds off Max Verstappen's Red Bull for victory in an extraordinary finish to the Bahrain Grand Prix.




BBC Sport - Published





Bahrain GP: Mercedes 'not the fastest' in 2021, says Lewis Hamilton

Lewis Hamilton says world champions Mercedes are "not the fastest" team heading into the first race of the new Formula 1 season in Bahrain.




BBC Sport - Published





Formula 1 2021: Mick Schumacher ready to emulate 'idol' father

Mick Schumacher starts his Formula 1 career this weekend in Bahrain as a rookie like no other.




BBC Sport - Published





Lewis Hamilton and Mercedes struggle at Formula 1 testing in Bahrain

World champions Mercedes have a difficult start to three days of Formula 1 pre-season testing in Bahrain.




BBC Sport - Published





Formula 1 declines Bahrain Covid-19 vaccination offer

Formula 1 declines an offer from Bahrain to vaccinate all personnel attending pre-season testing and the year's opening grand prix.




BBC Sport - Published





India dispatches Covishield vaccines to Bahrain, Sri Lanka

India's Ministry of External Affairs on Tuesday had announced vaccine rollout for several countries from January 20.




DNA - Published





Pfizer becomes first pharma company in India to seek emergency use nod for its Covid-19 vaccine

Pfizer India has become the first pharmaceutical firm to approach the Drugs Controller General of India (DCGI) seeking an emergency use authorisation for its Covid-19 vaccine in the country. It is to..




IndiaTimes - Published





S Jaishankar reaches Seychelles on last leg of his three-nation tour

External affairs minister S Jaishankar arrived in Seychelles after his two-day visit to UAE on November 25-26. It was the second leg of his six-day three-nation tour to Bahrain, the United Arab..




IndiaTimes - Published





India thanks Bahrain for taking 'special care' of Indian diaspora during coronavirus crisis

External Affairs Minister S Jaishankar has thanked Bahrain for taking "special care" of the Indian diaspora in this Gulf kingdom during the coronavirus crisis. On a two-day visit to Bahrain from..




IndiaTimes - Published





EAM Jaishankar to visit Bahrain, UAE, Seychelles from today

S Jaishankar's visit to Bahrain on November 24-25 will be his first visit to the country as External Affairs Minister.




DNA - Published

Also reported by •IndiaTimes


International flights: Now Indians can fly to Japan, UK, Canada, and 10 other countries. Who is allowed and who isn't?

India has made arrangements for air travel with Bahrain. Air India / Air India Express and Gulf Air are now permitted to operate services between India and Bahrain and carry the following categories of..




DNA - Published





Giant Robot Mistaken for Monarch of Bahrain's Bodyguard

An 8-foot robot is getting a lot of attention online ... for the wrong reasons. There's video of the contraption -- AKA Titan -- barreling through the International Defense Exhibition in Abu Dhabi last..




TMZ.com - Published





Bahrain releases leading rights activist Nabeel Rajab: lawyer

Bahrain has released leading human rights activist Nabeel Rajab after a court agreed to pass an alternative sentence to the jail term he is currently serving, his lawyer said on Tuesday.




Reuters - Published




7 special flights to reach India on Day 5 of 'Vande Bharat Mission'

The special flights include London to Delhi to Bengaluru, San Francisco to Mumbai to Hyderabad, Dhaka to Mumbai, Dubai to Kochi, Abu Dhabi to Hyderabad, Kaula Lampur to Chennai and Bahrain to..




IndiaTimes - Published





Bahrain eases coronavirus restrictions, Saudis announce hefty fines

Shops and industrial enterprises in Bahrain can open from Thursday while restaurants will stay closed to in-house diners, the Health Ministry said, as the Gulf state eases restrictions designed to stop..




Reuters India - Published

Also reported by •Reuters


Bahrain eases coronavirus restrictions, shops, industries to open

Shops and industrial enterprises in Bahrain can open from Thursday while restaurants will stay closed to in-house diners, the Health Ministry said, as the Gulf state eases restrictions designed to stop..




Reuters - Published





Bahrain extends closure measures for two weeks starting April 23

Bahrain extended the closure measures it took to limit the spread of coronavirus for two additional weeks which set to start from April 23 until May 7, state news agency reported on Wednesday.




Reuters - Published





3,336 Indians infected abroad: 785 in Kuwait, 634 in Singapore

According to a break-up of those infected, 785 of them are in Kuwait followed by 634 in Singapore and 420 in Qatar. As many as 308 are infected in Iran, 297 in Oman, 238 in UAE, 186 in Saudi Arabia and..




IndiaTimes - Published





Bahrain sets up coronavirus ICU in military hospital car park

Bahrain has converted the multi-storey car park of a military hospital into a 130-bed intensive care unit for patients with COVID-19, the respiratory disease caused by the new coronavirus, and plans to..




Reuters - Published





Gulf's migrant workers left stranded and struggling by coronavirus outbreak

Charity workers are scouring the United Arab Emirates for empty buildings and Bahrain is repurposing closed schools to rehouse low income labourers from overcrowded accommodation, a hotspot for the..




Reuters - Published





In overcrowded cells, Bahrain's political prisoners fear coronavirus threat

When jailed Bahraini activist Abdullah Habeeb Swar developed a bad cough that lasted several days, his 14 cell mates feared he might have contracted the coronavirus and would spread it through their..




Reuters - Published





UAE to clear streets for coronavirus disinfection drive, Bahrain evacuates citizens

The United Arab Emirates will halt all public transport and restrict people's movements in the evening for a weekend nationwide disinfection campaign starting Thursday to curb the spread of the new..




Reuters - Published





Bahrain prime minister returns from medical treatment in Germany

Bahrain's Prime Minister Sheikh Khalifa bin Salman al Khalifa returned to the kingdom after medical treatment in Germany, the state news agency BNA said on Friday.




Reuters - Published





Hundreds of Bahrainis stuck in Iran as evacuation plans stall

Hundreds of Bahraini pilgrims are stranded in Iran, epicenter of the coronavirus outbreak in the Middle East, as Bahrain struggles to evacuate its citizens from a country with which it has no..




Reuters - Published





Saudis told to stay home as Bahrain reports Gulf's first coronavirus death

Bahrain reported the Arab Gulf's first death from the coronavirus on Monday and Saudi Arabia urged its citizens to stay at home as the region broadened measures to shield populations and economies from..




Reuters - Published





Bahrain reports first Gulf death from coronavirus

Bahrain reported the Gulf's first death from the coronavirus on Monday and the energy-producing region broadened measures to shield populations and economies from the outbreak.




Reuters - Published




Bahrain accuses Iran of 'biological aggression', Gulf states try to curb coronavirus

Bahrain accused Iran on Thursday of "biological aggression" by covering up the spread of the coronavirus and failing to stamp the passports of Bahraini travelers.




Reuters - Published




Qatar and Bahrain record jump in coronavirus cases, Kuwait bans flights

Qatar reported 238 more coronavirus infections among individuals under quarantine in a residential compound on Wednesday, the latest Gulf state to record new cases in a regional outbreak that prompted..




Reuters - Published





Bahrain records 77 new coronavirus cases among evacuees from Iran

Bahrain's health ministry said on Wednesday 77 new coronavirus cases had been recorded among citizens evacuated from Iran by plane this week.




Reuters - Published





Saudi Arabia suspends travel to and from nine countries including UAE, Bahrain and Egypt

Saudi Arabia suspended travel to nine countries for its citizens and residents amid coronavirus fears and suspended the entry of people from those countries or anyone who has been there in the past 14..




Reuters - Published





Bahrain asks people arriving from four countries to self-quarantine: tweet

Bahrain has called on people who have traveled to Lebanon, Egypt, Italy or South Korea to self-quarantine for two weeks from the day of their arrival, the Health Ministry said in a tweet on Saturday.




Reuters - Published





Saudi Arabia limits arrivals from UAE, Kuwait, Bahrain to airports over coronavirus: SPA

Saudi Arabia limited on Saturday land crossings with the United Arab Emirates, Kuwait, and Bahrain to commercial trucks only, with arrivals from the three countries temporarily limited to three..




Reuters - Published





Bahrain confirms six new coronavirus cases: state news agency

Bahrain's ministry of health on Sunday confirmed six new coronavirus cases, raising the total number to 47 cases, the state news agency said, citing a ministry statement.




Reuters - Published





Bahrain stops flights to and from Iraq and Lebanon until further notice

Flights to and from Iraq and Lebanon have been stopped until further notice, Civil Aviation Affairs (CAA) in Bahrain announced on Thursday.




Reuters - Published





Iraq bans public gatherings on coronavirus fear; travel ban totals nine countries

Iraq on Wednesday banned public gatherings and barred entry by travelers from Kuwait and Bahrain because of the spread of the new coronavirus, prohibiting travel to or from a total of nine countries.




Reuters - Published




Bahrain discovers seven new coronavirus cases, raising the number to 33

Bahrain discovered seven new cases of coronavirus, raising the number to 33, the ministry of health reported on Twitter on Wednesday.




Reuters - Published





Bahrain extends suspension of flights to and from Dubai international airport

Flights to and from Dubai International Airport have been suspended for an additional 48 hours, civil aviation affairs (CAA) in Bahrain announced on Wednesday.




Reuters - Published





Iraq bans public gatherings and travel to nine countries amid coronavirus fears

Iraq banned all public gatherings and banned travelers from Kuwait and Bahrain from entry, the health minister said on Wednesday, taking the total number of countries on the entry ban list to nine amid..




Reuters - Published





Bahrain civil aviation suspends flights from Dubai airport and Sharjah airport for 48 hours

Bahrain civil aviation authority on Monday suspended all its flights from Dubai airport and Sharjah airport for 48 hours over coronavirus fears.




Reuters - Published





Saudi, Egypt, Bahrain to resume Qatar post services despite dispute

Saudi Arabia, Egypt and Bahrain have agreed to resume postal services to Qatar almost three years after they were stopped due to a political dispute, the United Nations said on Monday.




Reuters - Published





Three Gulf states, Iraq report first coronavirus cases, linked to Iran

Kuwait, Bahrain, Oman and Iraq on Monday recorded their first new coronavirus cases, all people who had been in Iran, which raised its toll from the disease to 12 dead and 61 infected.




Reuters - Published




Kuwait, Bahrain report coronavirus in people who visited Iran

Kuwait and Bahrain on Monday recorded their first new coronavirus cases, all involving people who had visited Iran, which has reported 43 cases of the disease, state media said.




Reuters - Published





Bahrain's first coronavirus case detected - BNA

The first case of the new coronavirus was detected in Bahrain, the state news agency said on Monday, citing the health ministry.




Reuters - Published





Bahrain says supports all efforts toward solution for Palestine issue

Bahrain supports all efforts toward achieving a just and comprehensive solution on the Palestinian issue, the foreign ministry said in a statement on Wednesday, referring to a peace plan announced by..




Reuters - Published





Bahrain's Gulf Air reroutes several flights to avoid Iranian airspace: spokesman

Bahrain's state carrier Gulf Air has re-routed flights away from Iranian airspace as a safety precaution, said an airline spokesman on Friday.




Reuters - Published





Russian navy ship 'aggressively approached' U.S. destroyer in Arabian Sea: U.S. Navy

A Russian navy ship "aggressively approached" a U.S. Navy destroyer in the North Arabian Sea on Thursday, the U.S. Navy's Bahrain-based Fifth Fleet said in a statement on Friday.




Reuters - Published





Bahrain Crown Prince speaks with U.S. Defense Secretary: BNA

Bahrain's Crown Prince Salman bin Hamad Al Khalifa discussed by phone on Monday with U.S. Defense Secretary Mark Esper the importance of maintaining regional security and stability, state news agency..




Reuters - Published





Bahrain calls for de-escalation after U.S. air strike in Iraq: state news agency

Bahrain said on Friday it is following the developments in Iraq and called for de-escalation after a U.S. air strike, according to the state news agency.




Reuters - Published