Rashida Tlaib
U.S. Representative for Michigan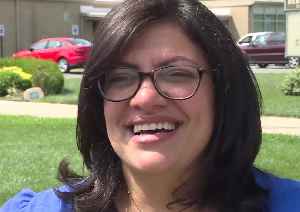 Rashida Harbi Tlaib is an American politician and lawyer serving as the U.S. Representative for Michigan's 13th congressional district since 2019. The district includes the western half of Detroit, along with several of its western suburbs and much of the Downriver area. A member of the Democratic Party, Tlaib represented the 6th and 12th districts of the Michigan House of Representatives before her election to Congress.


'Squad' sweep: Omar holds off primary challenger

U.S. Representative Ilhan Omar held off a well-funded challenger Tuesday and won the Democratic primary in her congressional district, putting her on track for re-election in November along with other..
Credit: Reuters - Politics Duration: 01:54
Published
Kobach loses U.S. Senate seat in Kansas primary

U.S. Representative Roger Marshall won the Kansas Republican primary for the Senate on Tuesday, defeating anti-immigration firebrand Kris Kobach with the help of the party establishment, which feared..
Credit: Reuters - Politics Duration: 01:25
Published
Tlaib Slated To Lose Re-Election Bid

Rashida Tlaib is on the verge of losing her seat in the House of Representatives. Tlaib represents Michigan's 13th Congressional District. She won it in 2018 after Rep. John Conyers retired. In 2018..
Credit: Wochit News Duration: 01:07
Published
Tliab In Trouble In Re-Election Bid

Michigan Congresswoman Rashida Tlaib is in big trouble in her re-election bid. The New York Times reports that some of Detroit's most prominent Black leaders are backing challenger Brenda Jones...
Credit: Wochit News Duration: 01:10
Published
Tlaib In Trouble

Michigan Congresswoman Rashida Tlaib is in trouble in her home district. She is facing a difficult primary fight against legendary Michigan politician Brenda Jones. Tlaib is neck and neck with Jones...
Credit: Wochit News Duration: 00:42
Published
You Might Like



U.S. Rep. Tlaib rejects West Bank visit, citing Israel's 'oppressive conditions'

U.S. congresswoman Rashida Tlaib on Friday rejected an offer by Israel to let her travel to the West Bank, the latest twist in a dispute drawing Donald Trump and Benjamin Netanyahu together against..




Reuters - Published




U.S. Rep. Tlaib refuses Israel's 'oppressive conditions' for West Bank visit

U.S. congresswoman Rashida Tlaib on Friday rejected an offer by Israel to let her travel to the West Bank, saying she would not visit her family there because the Israeli government had imposed..




Reuters - Published





Israel grants US Congresswoman Rashida Tlaib to enter West Bank on humanitarian grounds

Israel's interior minister said Friday he has received and granted a request by Democratic Representative Rashida Tlaib to enter the Israeli-occupied West Bank on humanitarian grounds




Firstpost - Published





After ban, Israel permits U.S. Rep Tlaib to make humanitarian visit to family in West Bank

Israel decided on Friday to allow U.S. congresswoman Rashida Tlaib - a critic of Israeli policy toward the Palestinians - to visit family in the occupied West Bank on humanitarian grounds after barring..




Reuters - Published





Israel to allow U.S. Rep Tlaib to visit family in West Bank

Israel will allow U.S. lawmaker Rashida Tlaib to visit her family in the occupied West Bank on humanitarian grounds, the interior ministry said on Friday, after barring an official visit under pressure..




Reuters - Published





Israel bans US Congresswomen Ilhan Omar and Rashida Tlaib from visiting its shores; move draws criticism from AIPAC, Democrats

House Democrat Ilhan Omar called Israel's decision Thursday to ban her from visiting the country 'chilling'




Firstpost - Published





Israel bars U.S. Democratic lawmakers Ilhan Omar and Rashida Tlaib under pressure from Trump

Prime Minister Benjamin Netanyahu on Thursday barred U.S. Democratic congresswomen Rashida Tlaib and Ilhan Omar from making a planned trip to Israel, shortly after U.S. President Donald Trump called on..




Reuters - Published




U.S. House Speaker Pelosi urges Israel to reverse decision to block lawmakers' visit

U.S. House of Representatives Speaker Nancy Pelosi said on Thursday Israel's decision to block a visit to the country by Democratic congresswomen Ilhan Omar and Rashida Tlaib was "deeply disappointing"..




Reuters - Published





Senate Democratic leader urges Israel to reverse ban on lawmakers' visit

Israeli officials should reverse their decision to block a visit by two U.S. Democratic lawmakers -- Representatives Rashida Tlaib and Ilhan Omar -- who have been critical of the country, U.S. Senate..




Reuters - Published





Netanyahu says Omar and Tlaib intended to harm Israel on visit

Prime Minister Benjamin Netanyahu said on Thursday that barring a visit by U.S. Democratic Congresswoman Rashida Tlaib and Ilhan Omar was meant to prevent them harming Israel.




Reuters - Published





Israel bars visit by U.S. Democratic lawmakers

Israel will bar a visit by two of its sharpest critics in the U.S. Congress, Democrats Rashida Tlaib and Ilhan Omar, who planned to tour the occupied West Bank and East Jerusalem, the country's deputy..




Reuters - Published





Israel will not let U.S. Congresswomen visit: deputy foreign minister

Israel has decided to block a visit by U.S. Democratic members of Congress Rashida Tlaib and Ilhan Omar, Israeli Deputy Foreign Minister Tzipi Hotovely said on Thursday.




Reuters - Published





Israel weighs barring visit by U.S. congressional critics: Israeli official

Israel is considering barring a visit by two of its sharpest critics in the U.S. Congress, Democrats Rashida Tlaib and Ilhan Omar, who plan to tour the occupied West Bank and East Jerusalem, an Israeli..




Reuters - Published




Trump calls congresswoman Rashida Tlaib 'crazed lunatic'

US President Donald Trump has stepped up his attack on the four non-white Democratic Congresswomen, calling one of them a "vicious" and a "crazed lunatic". Trump started a war of words with Michigan..




IndiaTimes - Published





US House of Representatives vote to condemn Donald Trump's 'racist comments' on four minority Democratic Congresswomen

Trump's criticism was aimed at four freshman Democrats who have garnered attention since their arrival in January for their outspoken liberal views and thinly veiled distaste for Trump - Ocasio-Cortez..




Firstpost - Published