Lal Chowk
Place in Jammu and Kashmir, India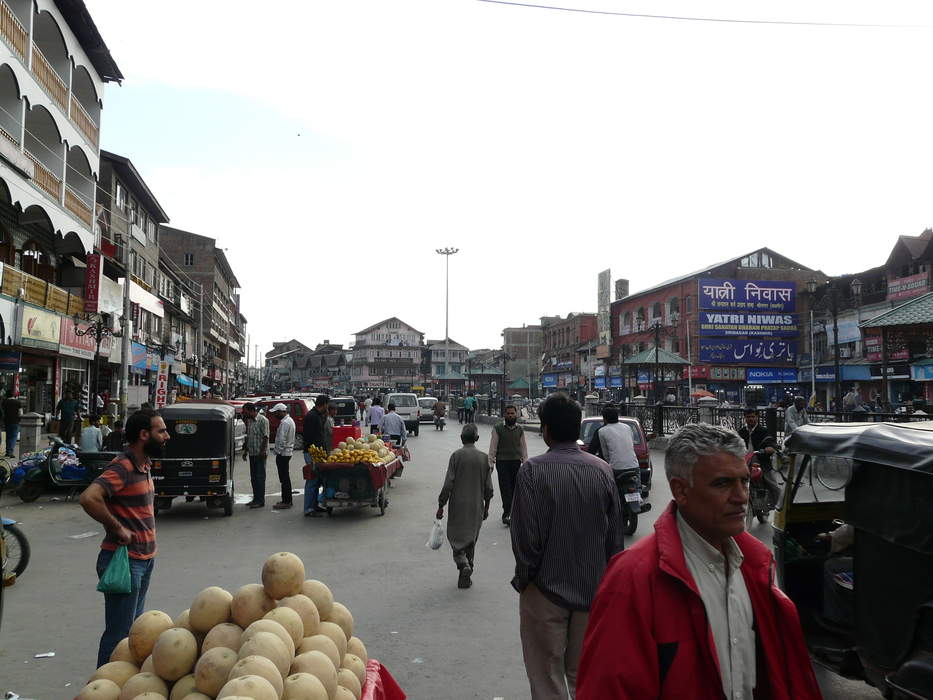 Lal Chowk is a city square in Srinagar in the Indian union territory of Jammu and Kashmir. Lal Chowk was named so by Left-wing activists inspired by the Russian Revolution as they fought Maharaja Hari Singh. It is a traditional place for political meetings with Jawaharlal Nehru, Jammu & kashmir first Prime Minister, Sheikh Abdullah, Kashmir's first premier and various other Kashmiri leaders having addressed people from it.


You Might Like
J&K police detain BJP workers detained trying to host national flag at Srinagar's Lal Chowk
BJP workers were also seen hoisting the national flag at the People's Democratic Party (PDP) office in the city.
DNA - Published
Also reported by •IndiaTimes
Hopeful that summer this year in Kashmir will be peaceful: DGP Dilbag Singh
Jammu and Kashmir Director General of Police Dilbag Singh said on Wednesday he was hopeful that the summer this year in the Valley will be peaceful. "We have busted several modules of terrorists last..
IndiaTimes - Published
CRPF jawan, 4 civilians injured in grenade attack in Kashmir
A security force jawan and four civilians were injured in a grenade attack by militants on CRPF personnel in Lal Chowk area of the city on Sunday, police said. Terrorists hurled a grenade on the CRPF..
IndiaTimes - Published
Naqvi visits Lal Chowk, interacts with vendors
Union minister Mukhtar Abbas Naqvi on Wednesday visited the main market in Lal Chowk and interacted with shopkeepers and pavement vendors. Naqvi was here as part of a 36-member central ministerial..
IndiaTimes - Published
After Sunday buzz, partial shutdown back in Valley
Shops in the commercial hub of Lal Chowk didn't stay open beyond 12.30pm on Monday while those in Downtown Srinagar remained closed the whole day. Private vehicles and some taxis were the only..
IndiaTimes - Published
Srinagar flea market abuzz with shoppers
Shops opened on Sunday morning at some places in the Kashmir valley, including here in civil lines areas of the city and mini buses plied, the officials said. They said few shops were also open in..
IndiaTimes - Published
Normal life remains hit in Kashmir for 83rd day
Some shops opened for a few hours early in the morning in some areas, including in the commercial hub of Lal Chowk in the city here, but downed their shutters around 11 am, they added.
IndiaTimes - Published
Restrictions lifted from most areas of Kashmir
The restrictions have been lifted from most areas of the valley, but continued in parts of Srinagar in the interior areas and in the jurisdiction of Maisuma police station of the city, the officials..
IndiaTimes - Published
19 more telephone exchanges restored in Kashmir Valley
Authorities in Kashmir have restored 19 more telephone exchanges, a month after telephone services were snapped following abrogation of provisions of Article 370, officials said on Thursday. Landline..
IndiaTimes - Published
Landline telephone services restored in most places in Valley: Officials
Landline telephone services have been restored in most areas across the length and breadth of the Valley, the officials said. The process of fully restoring the landline connectivity, barring few..
IndiaTimes - Published
Restrictions imposed in Srinagar after march call to UN office
Barricades and concertina wires were erected at many places to prevent people from marching to Lal Chowk and Sonawar, where the UN office is located, the officials said, adding that the security forces..
IndiaTimes - Published
Lal Chowk rid of barricades, Srinagar breathes easy
IndiaTimes - Published
NSA Ajit Doval interacts with security personnel in valley
Earlier in the day, Doval had also carried out a recce of Srinagar to assess the situation on the ground on the day of Eid-ul-Zuha. He visited the most sensitive areas in downtown Srinagar such as..
IndiaTimes - Published