Asia–Pacific
Geopolitical region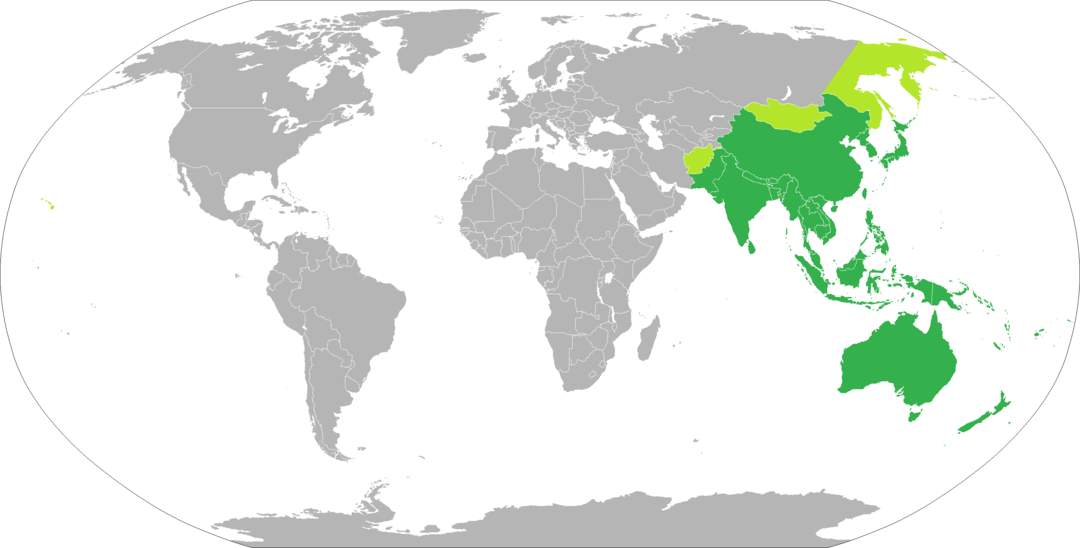 The Asia–Pacific (APAC) is the region of the world adjoining the western Pacific Ocean. The region's precise boundaries vary depending on context, but countries in East Asia, Southeast Asia, and Oceania are oft-included. In a wider context, parts of Northern and Southern Asian and Central Asia and West Asia regions, and even Pacific-adjoining countries in the Americas can be considered: the Asia-Pacific Economic Cooperation, for example, includes many New World countries. The term has become popular since the late 1980s in commerce, finance, and politics. Despite the heterogeneity of the regions' economies, most individual nations within the zone are emerging markets experiencing rapid growth. Sometimes, the notion of "Asia–Pacific excluding Japan" (APEJ) is considered useful.


You Might Like
India has big wealth disparity but pulled 415 million out of multidimensional poverty since 2005: UNDP
India has been ranked among the countries with the highest income and wealth inequalities in the Asia-Pacific region, according to a UNDP report. However, the report also highlights that India has made..
IndiaTimes - Published
Asia Pacific Forum of Human Rights issues "Delhi Declaration"
The Conference of National Human Rights Institutions (NHRIs) of Asia Pacific has concluded with the adoption of the "Delhi Declaration". The declaration marks significant milestones, including the..
IndiaTimes - Published
Three-nation Asia-Pacific tour: PM Modi's cultural, culinary diplomacy on display
IndiaTimes - Published
India elected to UN Statistical Commission for four-year period
In a significant victory, India has overwhelmingly been elected to the UN Statistical Commission for a four-year period in a "competitive" election in which China and South Korea are still vying for..
IndiaTimes - Published
China backs EAM Jaishankar's 'Asian century' remark
Asked for his reaction to Jaishankar's comments, Chinese foreign ministry spokesman Wang Wenbin told journalists here that "as a Chinese leader put it, 'unless China and India are developed,..
IndiaTimes - Published
Indian travellers most intrepid in Asia Pacific, reveals survey
IndiaTimes - Published
Voices of youth, dissent growing strong across Asia Pacific region, say young activists
IndiaTimes - Published
Covid-19 curbs reimposed in Moscow as Asia-Pacific outbreaks flare
IndiaTimes - Published
Asia-Pacific region not on track to achieve any SDGs by 2030: UN report
IndiaTimes - Published
WION takes giant strides, marks its presence in 190 countries worldwide
WION can be watched in Africa, Europe, Russia, USA, South America, APAC region, MENA region.
DNA - Published