Ballabhgarh
Town in Haryana, India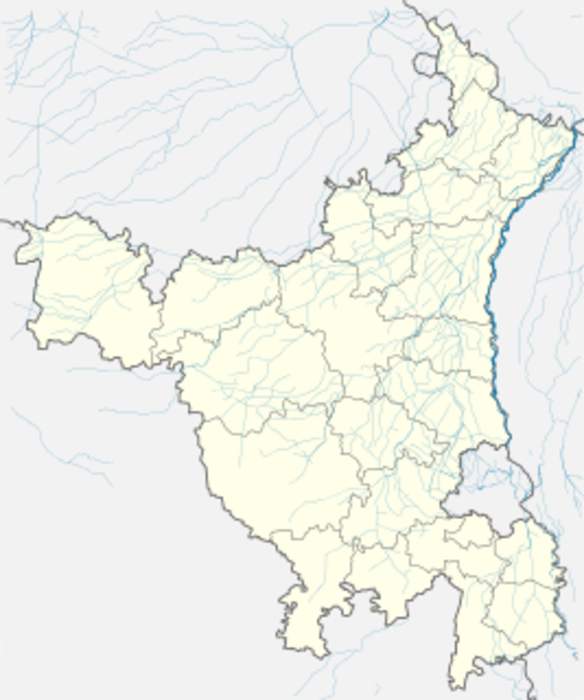 Ballabgarh, is a large town and a tehsil (subdistrict) in Faridabad district of Haryana, India, and is part of the National Capital Region. The town was founded by Raja Balram Singh, in 1739, who also built the Nahar Singh Mahal palace in the same year. Raja Nahar Singh (1823–1858) was the last king of the princely state, he was executed for taking part in the 1857 war of independence in 1858. The town of Ballabhgarh is only 18 miles (29 km) from Delhi, and today lies on the National Highway 2, a major portion of historical Grand Trunk Road. It is connected to Faridabad and south-east Delhi by the Delhi Metro. Ballabhgarh is the fourth city in Haryana to get metro connectivity after Gurgaon, Faridabad and Bahadurgarh.


You Might Like
Nikita Tomar murder case: Faridabad fast track court convicts prime accused Tauseef, accomplice Rehaan
On October 26 last year, final year student Nikita Tomar was shot dead outside her college in Ballabhgarh, where she had gone to take an exam.
DNA - Published
Nikita Tomar murder: Violence erupts between police and protestors in Ballabgarh; several detained
Haryana Police lathi-charged and detained several people after some miscreants tried to disrupt the law and order situation in Ballabgarh, while a 'mahapanchayat' was underway over the murder of Nikita..
DNA - Published
Ballabhgarh murder: One arrested for providing pistol to Tauseef
One more arrest was made on Thursday in the Ballabhgarh murder case in which a 19-year-old girl was shot dead in broad daylight by a one-sided lover. The officers of Faridabad Crime Branch nabbed Azru,..
DNA - Published
Ballabhgarh murder: Accused Tauseef reveals why he killed Nikita
As per the investigators, Nikita and Tausif had a conversation a day before the murder took place.
DNA - Published
DNA Exclusive: Ballabgarh murder accused has political backing, says victim's family
Zee News spoke exclusively to the family of the victims who allege that the entire incident is a case of 'love jihad' and is politically motivated.
DNA - Published
Ballabgarh shooting: Nikita Tomar's family alleges accused Tauseef wanted her to convert to Islam
The police said that the family had earlier filed a police complaint against the accused for harassing the victim a few months ago but a compromise had been reached.
DNA - Published
Ballabhgarh shooting case: Haryana government orders SIT probe
Rehan was arrested from Mewat after 10 police teams were pressed into action.
DNA - Published
Video: Girl shot dead outside college in Ballabhgarh; one arrested
In the video, two youths are seen coming out a white car I20 car and trying to get hold of two girl students.
DNA - Published
NHAI to explore e-way links to Jewar
As all decks get cleared for the development of Jewar airport in the NCR by 2024, the highways ministry has started exploring possibility of providing a direct link to the airport from upcoming..
IndiaTimes - Published
Haryana Assembly Election: PM Modi to address mega rallies in Charkhi Dadri and Kurukshetra
Modi addressed the first of his four grand rallies here in Ballabhgarh yesterday.
DNA - Published
Also reported by •IndiaTimes
Haryana Assembly Election: Prime Minister Narendra Modi to address rally in Ballabhgarh
The Prime Minister is likely to woo the voters using Haryana Chief Minister Manohar Lal Khattar's clean image and the developmental works done by the Centre along with the abrogation of Article 370..
DNA - Published
PM Modi to address four rallies in poll-bound Haryana: Narendra Singh Tomar
The campaigning will gain momentum in the coming days as Prime Minister Narendra Modi, who is BJP's star campaigner, will address four rallies across the state. Modi will address his first rally at..
IndiaTimes - Published
Haryana Assembly Polls: PM Narendra Modi to conduct four rallies; Ballabhgarh, Kurukshetra, Hisar on campaigning list
The campaigning schedule comes after the process of filing of nominations was over in the state.
DNA - Published